Progress report for GW19-200
Project Type:
Graduate Student
Funds awarded in 2019:
$24,997.06
Projected End Date:
12/31/2021
Grant Recipient:
UC Davis
Project Information
Summary:
My project, Natural pest control in a working agricultural landscape: Investigating the impact of rodent control on beneficial hawks and owls, will investigate the frequency of secondary exposure to rodenticides in raptors that provide natural pest control on farms in the Western United States. In the agricultural landscape, the majority of a raptor's diet consists of rodent pest species that reduce yields and damage infrastructure. Integrated pest management (IPM) strategies for rodent pests frequently incorporate natural pest control provided by raptors, however, rodenticides are often applied concurrently. Rodenticide exposure can cause lethal or sub-lethal secondary poisoning in raptors, ultimately lowering the pest control they provide and increasing farmers' need for rodenticide use.
We have little understanding of how rodenticide exposure in raptors varies across seasons and between species in agriculture. Furthermore, studies to date have focused primarily on spring and summer months for both understanding the role that raptors play in providing pest control and for monitoring rodenticide exposure—whereas both occur year-round. To address these knowledge gaps, I plan to investigate rodenticide exposure rates in hawks and owls across multiple seasons and varied crop types, and as a function of proximity to rodenticide application sites to answer two critical questions: 1) How does barn owl rodenticide exposure and diet vary over an annual cycle? 2) How do rodenticide exposure rates compare between diurnal and nocturnal raptors?
To accomplish this task, I will collaborate with ongoing barn owl research projects, pest management specialists, raptor biologists, and producers who are interested in data driven research on natural pest control. My ultimate objective is to conduct research that will enhance the understanding of simultaneous use of raptors and rodenticides in agriculture on a year-round basis to help formulate IPM recommendations for producers and to communicate these findings with a wide audience.
Project Objectives:
Objectives:
Quantify differences in rodenticide exposure frequencies in wintering and breeding barn owls.
Quantify differences in rodenticide exposure frequencies between wintering diurnal (red-tailed hawks) and nocturnal raptors (barn owls).
Describe the diet of overwintering barn owls.
Create stakeholder-verified recommendations for the use of rodenticides and raptors for effective IPM systems for rodent pests, in conjunction with Kross et al. ongoing barn owl–rodenticide research.
Publicize findings through to the scientific community, producers, and the general public through presentations, publications, and field workshops.  
My project will be closely coordinated and in collaboration with an ongoing Western SARE project (SW18-063) investigating impacts of barn owls and rodenticide exposure on sustainable agriculture in the breeding season. My proposed project will add two additional components to the ongoing project and will help provide a complete year-round picture of the interaction of rodenticides and raptors in an agricultural context. First, I will provide a second year of testing for rodenticide exposure in wintering owls, as the ongoing project has funding to look at wintering owls for 1 winter field season. A second winter of exposure rates can help identify year-to-year variation in exposure. Second, I will provide a comparison of exposure rates in a second group of raptors (diurnal red-tailed hawks). Diurnal raptors provide a large portion of pest control services on farms, especially in winter months, and may experience different rodenticide exposure rates than nocturnal raptors.
Figure 2: Flowchart of interaction between project objectives, methods, and outcomes.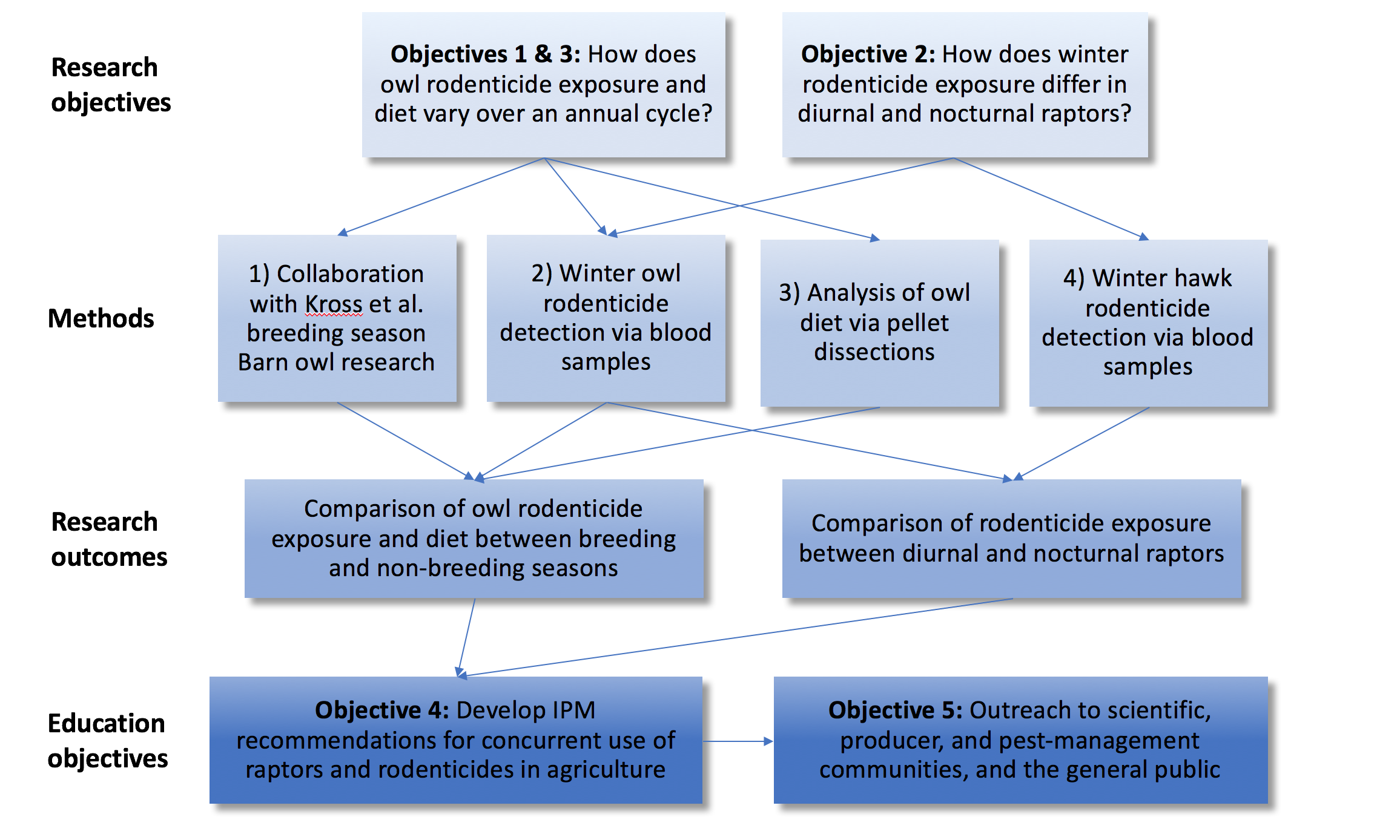 Timeline:
My proposed starting and ending dates are September 1, 2019 through December 31, 2020. This project will use samples collected over two field seasons, however the funding from the Western SARE Graduate Student Grant will be used to cover all costs from the second field season in addition to the cost to screen hawks for rodenticide exposure from the first field season. The vertical dashed line in the timeline below indicates the approximated beginning of the funding period in 2019.
During fall 2019, hawk samples will be sent to the lab for rodenticide screening and supplies for the second field season will be purchased. Data analysis will begin once results are received.
From mid-November to mid-March a second year of field work will be conducted including blood sampling from both hawks and owls and owl pellet collection. During this time, we will also work with producers to map the date, location, and types or rodenticides applied to the landscape.
Spring and summer 2020 will consist of rodenticide screening, pellet analysis, and data analysis. Once results are finished, these will be used to develop scientific publications, final report, and pamphlets/fact sheets.
In winter 2020 official farmer field day will be held, publication(s) and the final report will be submitted. Throughout the duration of the project, research will be publicized though outlets described Education Outreach Plan.
Figure 3: Timeline for completing proposed project.
Cooperators
Research
Materials and methods:
Due to unforeseen circumstances impacting our field sampling (see below) we plan to request a no-cost extension to complete field work in an additional season. 
Collaboration with Kross et al. (SW18-­063) breeding season research (Objective 1) – Proceeding as planned
In collaboration with Kross et al., we have additionally teamed up to write a note on how extreme weather events in spring 2019 have impacted breeding populations of local Barn owls and other nest box dependent species (see below for explanation). I also collaborated with the team to expand our rodenticide sampling in the breeding season as part of their project to increase the impact of both studies. Both projects, Kross et al. and this project, have one more field season to complete before data analyses and completing final objectives for the studies.
Winter barn owl rodenticide exposure (Objectives 1 & 2) – Additional fieldwork planned
Our Barn owl team had a major setback with the breeding season of 2019. This year was characterized by extremely wet weather late into the season followed by high temperatures. This was especially detrimental to species that use artificial nest boxes because the rain delayed breeding attempts, and summer heat brought thresholds above heat tolerant levels before chicks could fledge in many cases. This resulted in a poor breeding season across many of the species that utilize nest boxes in the region, such as American kestrels, Western bluebirds, and Tree swallows. We have collaborated with other researchers to compare nest success for these nest box dependent species across several years in comparison to temperature and precipitation. Additionally, much of the flooding that ensued likely caused a drop in the burrowing rodent population which is the predominant prey base for Barn owls. Due to having a poor breeding season and likely low food availability, many owls including breeders and young that would typically stick around became absent from the boxes on the farms we are working with in the winter 2019-2020 season. This problem resulted in a lowered sample size than we expected for the season because it was difficult to find owls that we could sample. Because of this, we plan to request an extension and to utilize the remaining funds to sample in the winter on 2020-2021. Currently, collaborating farmers have communicated that rodents are booming again, which means that there will likely be an influx of Barn owls available to continue our study.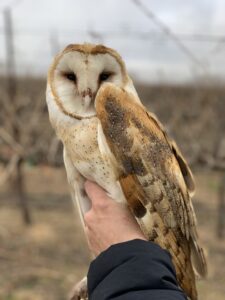 Winter hawk exposure level (Objective 2) – Additional fieldwork planned
Similarly to owls, we observed unusually low number of wintering Red-tailed hawks on the landscape. Likely due to poor breeding success or low prey availability in the area, numbers of juvenile Red-tailed hawks have only been this low one winter in the past 20 years (A. Hull unpublished data). We plan to request an extension and to utilize the remaining funds to sample in the winter on 2020-2021 to reach our target sample sizes. As an alternate method for addressing our research objectives, we have collected additional blood samples from injured hawks found in known locations in our sampling area and brought to rehabilitation centers.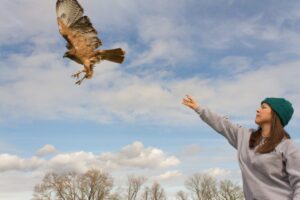 Diet analysis (Objective 3) – Additional work planned
Pellets have been collected from owls sampled in the winter season as planned, however, the original timeline for dissection of 2019-2020 pellets has been delayed due to COVID restrictions. Because of the mandated reduced capacity in lab space campus-wide, access to our (shared) lab with necessary proper ventilation hoods is restricted. I am currently working with our lab managers to get on the list for consideration to use the space before restrictions are lifted and considering the viability of other options, such as using an outdoor space. While this data was collected to compare diets of non-breeding Barn owls to breeding Barn owls sampled by Kross et al., additional insights comparing exposure between groups (diurnal vs. nocturnal) may be gained. (See pellet analysis discussion)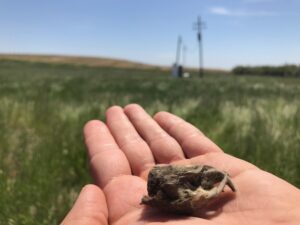 Education and outreach (Objectives 4 & 5) – Additional work planned
Thus far I have been able to reach a broad audience from academics and ag professionals, to a diverse array of farmers with preliminary results and raptor natural history through various presentations and open houses. Due to COVID-19 several talks and open houses this spring were canceled, postponed, or moved to a virtual platform. Despite restrictions and changes, I was able to hold a small field demonstration and present virtually on two occasions, at a national and international virtual conference. Other alternative ways I have been disseminating information include a worksheet created for winery customers and a planned video with Wild Farm Alliance in place of the canceled talks (See below in Education and Outreach Activities for a full list of activities, including postponed and planned). In the upcoming year, if the restrictions for COVID begin to lessen, I believe an outdoor farmer field day and the postponed in person presentations will still be possible. I look forward to continuing the study this fall and winter and working towards the final results in order to share with this audience.
Research results and discussion:
Rodenticide screenings to date
Preliminary results:
Barn owls blood samples – no positive anticoagulant rodenticide detections
2018-19 owls sampled: 30
2019-20 owls sampled: 24
Red-tailed hawk blood samples – 5 positive anticoagulant detections
2018-19 hawks sampled: 9 juveniles, 5 adults, 14 total (5/9 juveniles positive; see below)
2019-20 hawks sampled: 5 adults
Summary of compounds detected in positive Red-tailed hawks –
Bromadialone: 2 juveniles
Difethialone: 1 juvenile
Bromadiolone + Difethialone: 1 juvenile
Brodificoum + Difethialone: 1 juvenile
Discussion:
In 2018-19 the positivity rate in all Red-tailed hawks sampled was 35.7% (5/14) with the positivity rate being even higher 55.6% (5/9) when only juvenile hawks are considered. Vulnerability to anticoagulant rodenticide exposure among the juvenile age class (1st year birds) may be due to their inexperience with hunting and higher likelihood of attacking easier prey that could be weakened due to exposure to rodenticide compounds. Interestingly, all compounds detected were of the second-generation type, which are typically used around buildings for commensal rodents and not at the field-scale. These preliminary findings may indicate mice and rats are the pathway to exposure for juvenile hawks in this system in the winter months when other typical prey is less common, such as California ground squirrels. While these sample sizes are small and difficult to draw conclusions from, we hope to increase our understanding of exposure in the system with the upcoming field season.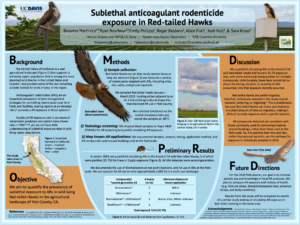 Winter pellet analysis to date
Preliminary results:
Of 94 Barn owl pellets dissected from 2018-19 field season we found 343 mice, 40 voles, 3 gophers, 6 black rats, 1 cottontail, 2 shrews, and 68 field crickets.
Discussion:
While we do not know what hawks are consuming with certainty, as they do not leave such extensive pellets in easy to find locations, this information is interesting given the exposure found in juvenile hawks may be from mice and rats. So, despite also consuming mice and rats on the same landscape at the same time period, Barn owls may not be experiencing as high secondary anticoagulant rodenticide exposure rates as juvenile hawks. Alternative explanations for the exposure rate variation between the owls and hawks may deal with differences in metabolism of the compounds between species or differences in hunting locations. Again, we hope to increase our understanding of the exposure rate of the two groups with additional samples.
Participation Summary
4
Farmers participating in research
Educational & Outreach Activities
6
Curricula, factsheets or educational tools
8
Webinars / talks / presentations
2
Other educational activities: California Raptor Center open house booth (see below); Women in Science elementary school open house booth (see below)
Participation Summary:
2
Ag professionals participated
Education/outreach description:
  Consultations:
7/2020 – Checked occupancy and status of local land owner's Barn owl boxes we advised about installation last winter. Discussed natural pest control, species consumed by Barn owls, and our current research.
Curricula, factsheets, educational tools:
5/2020 ­– Provided information for Matchbook Winery coloring sheet and Barn owl facts to be distributed with customer orders for 1 month.
For other products see talks/presentations (1 poster; 3 powerpoint for conference talks; 1 powerpoint for continuing farmer education)
Journal articles:
3/2020 – eOrganics journal article submitted: Promoting beneficial raptors: identification, pest control services, and management. In review. – Contributed by co-authoring sections on Barn owl and Red-tailed hawks.
On farm demonstrations:
5/10/2019 – Group of 12 6th graders from Woodland, CA came to one of vineyard study sites to learn about Barn owl natural history and role as natural pest control in agriculture. We were accompanied by the vineyard manager who also talked about pest control and growing vines from his perspective.
12/2019 ­– Visiting international pest management research professional, Dr. Jens Jacob from the Julius Kühn-Institut in Germany, came to learn about Barn owl boxes, placement, and role of Barn owls and other raptors as natural pest control in agriculture.
6/2020 – 7 grade school aged children from Sacramento, CA came to a Barn owl box at Matchbook Winery learn about Barn owl natural history and role as natural pest control in agriculture.
6/2020 – Local land owner/farmer from Dixon, CA came to a Barn owl box at Matchbook Winery learn about Barn owl boxes, placement, and role of Barn owls and other raptors as natural pest control in agriculture.
Online trainings - 0
Published press/newsletters:
Scheduled for fall 2020 – Invited blog post on Barn owl nest boxes for Cornell Lab of Ornithology newsletter.
Tours - 0
Webinars, talks, presentations: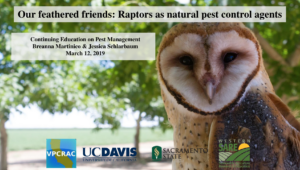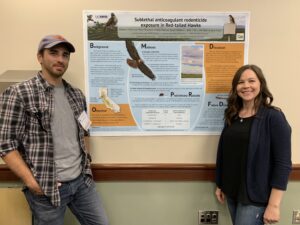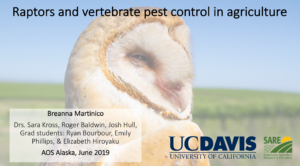 Postponed talk* 4/14/2020 – Wild Farm Alliance Farmer to Farmer Field Day: All Things Avian Pest Control on the Farm, Sonoma, CA – Barn owl nest boxes and rodenticide impacts
Postponed talk* 4/16/2020 – Wild Farm Alliance Farmer to Farmer Field Day: All Things Avian Pest Control on the Farm, Watsonville, CA – Barn owl nest boxes and rodenticide impacts
Postponed talk* 5/12/2020 – Wild Farm Alliance Farmer to Farmer Field Day: All Things Avian Pest Control on the Farm, Colusa, CA – Barn owl nest boxes and rodenticide impacts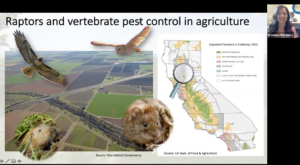 Planned 8/2020 – North American Ornithological Conference, recorded online presentation invited Lightening symposium: Protecting and restoring bird habitat in the agricultural matrix: net benefits for birds and farmers – Raptors, Rodenticides, and Rain in California's Agroecosystems https://naocbirds.org/
Planned 9/2020 – Wild Farm Alliance Video: How 

farmers

 can support birds and benefit from their pest control services
*talks postponed until Fall 2020 or later date
Workshop/field day:
6/2019 – AOS Agroecosystems workshop, Anchorage, AK, discussed net benefits of ecosystem services provided by raptors in agriculture and future research directions and possibilities.
3/2020 – Field day with Sonoma County Wildlife Rescue, Sonoma, CA, to discuss and teach field research techniques and protocols for rodenticide screening samples from wild Barn owls for collaboration on breeding work.
Scheduled for fall 2020 – Training by BOMP Coalition, Sonoma CA. Certification for best practices in Barn owl box use and maintenance developed by team of rehabilitation and research professionals. http://www.bompco.org/
Other educational activities:
5/4/2019 – California Raptor Center open house booth with material discussing Barn owls and other raptors on farms. (approx. 150-200 participants)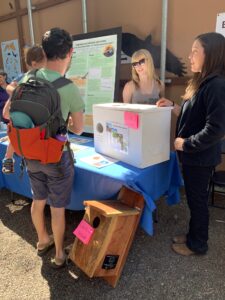 2/29/2020 – Peregrine Elementary School and greater community event, booth at Women in Science, Davis, CA – Raptor conservation and role in agriculture (approx. 250 participants)
Canceled 5/2020 – California Raptor Center open house booth, however, I plan to attend future events.
Project Outcomes
Did this project contribute to a larger project?:
Yes
2
New working collaborations
Knowledge Gained:
While conducting the work and educational components of this project, I have learned that most people cultivating land in our region share positive views of sustainable agriculture and are interested in incorporating sustainability into their practices, from large corporate vineyards to independent land owners. What I realized is lacking is the knowledge, tools, and available research that is needed to guide implementation of beneficial practices. Based on my experience and interactions working on this research, I believe this project is a start to help to bridge that gap of implementing natural pest control on farms, however, there is much more work to be done.
Information Products