Final report for GW20-211
Project Type:
Graduate Student
Funds awarded in 2020:
$24,997.00
Projected End Date:
07/31/2022
Host Institution Award ID:
G181-21-W7902
Grant Recipient:
University of Hawai'i
Project Information
Summary:
The economic and cultural values of Hawai'i's endemic sandalwood (Santalum) forest tree species can motivate large-scale sustainable agriculture through a silvicultural approach to restoration. Many forests in which sandalwood was once common were converted to livestock grazing or crop production and now a majority are abandoned with uncertain futures. However, reforesting suitable areas with sandalwood for timber production and oil distillation has emerged as a viable means to keep land in sustainable agriculture and diversify Hawai'i's agricultural products. Sandalwood is biologically and ecologically unique as a hemiparasitic tree requiring suitable hosts to survive. Sustainable sandalwood production, therefore, will require supporting diverse forest communities. The goal of our project is to improve the survival and establishment of planted sandalwood seedlings. The objectives are 1.) to better understand resource allocation between sandalwood and potential native host species and 2.) to evaluate the shade tolerance of planted sandalwood seedlings among already established host trees. Seedling survival, performance, and physiology will be measured to evaluate host suitability and sandalwood shade tolerance. Project success includes stronger partnerships with collaborating producers, as well as outputs both producers and researchers can utilize, including recommendations, scientific presentations and publications, K-12 lesson plans, and community outreach events. Outcomes include better understanding why certain native plants make more suitable hosts, how sandalwood host suitability and physiology in varying environments, increased confidence of land managers in establishing and managing diverse sandalwood forests, and greater awareness, knowledge, and appreciation of native Hawaiian species among students and communities. 
Project Objectives:
The overall goal of our project is to improve the survival and establishment of outplanted native 'iliahi seedlings in order to support sustainable production. Successful propagation and planting are essential within the production cycle. Outcomes include understanding why certain native plants make better hosts, how 'iliahi physiology responds under varying environments, increased confidence of land managers in establishing and managing diverse 'iliahi forests, and greater awareness, knowledge, and appreciation of native Hawaiian species among communities.
Specific objectives are:
1.) Host plant suitability: to better understand resource allocation between 'iliahi and potential native host species
2.) Underplanting 'iliahi: to evaluate the shade tolerance of underplanted 'iliahi seedlings among already established host trees
For both objectives, seedling survival, growth, biomass allocation, nutrient transfer, photosynthesis, and water potential will be measured to evaluate host suitability and shade tolerance of 'iliahi. The objectives will be met by the leadership team members within the two-year project period (see timeline), with potential to continue monitoring the planted seedlings after the project has concluded with 5 and 10-year follow up measurements.
Timeline:
Please see the attached timeline document for proposed dates in order to accomplish both Objectives 1 and 2, as well as to accomplish outreach activities. Major activities are outlined and the month(s) highlighted indicate expected activity completion.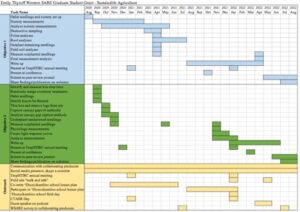 Cooperators
- Technical Advisor (Educator and Researcher)
Research
Materials and methods:
For Objective 2: Underplanting ʻIliahi, we measured and monitored the planted ~1-year-old ʻiliahi, Santalum paniculatum, seedlings under 10-year-old established koa, Acacia koa. The koa were originally planted on a grid so we planted the ʻiliahi on a offset grid to be between the koa trees. Overall the 'iliahi seedlings have done really well. They put on a lot of height and diameter growth and look very healthy. Our collaborators are very happy with the results and incorporated underplanting into management plans.
At the other underplanting site where we thinned naturally regenerated koa we have also seen regeneration success of underplanted ʻiliahi seedlings. For both sites we cleared the competing vegetation mechanically with weedwackers. We cleared a weedwacker length radii (~2 foot radius) around each seedling. We did this competition removal every three months for one year or until the ʻiliahi seedlings are primarily above the competing vegetation height.
For Objective 1: Host Plant Suitability, we had to change our course of direction because of methodology issues. In our first report we wrote that we were not able to set up the project yet, but intended to in December 2021. In December 2021 we learned that the 'iliahi we were going to use did not have any haustoria (specialized root organ where the hemiparasitic relationship occurs) formation occurring which is essential to the experiment. Therefore, we pivoted to focus on a field experiment that was already established and looked at two different host species (Acacia koa and Dodonaea viscosa) in the field and at different planting distances (<0.2, 0.5, 1, 2 meters apart). While a different experiment, we feel like we have still been able to address Objective 1.
Research results and discussion:
For Objective 2: Underplanting ʻIliahi, we continued to have high establishment and survival success. At the first site, 18 months after planting we had 98% survival and seedlings on average increased their diameter by 4.26 mm and height by 57.63 cm. A potential emerging pattern with seedling height and diameter data is that greater koa canopy openness is resulting in greater growth. It will be helpful to add the additional data from August 2022 which is 24 months after planting. For the second underplanting site, we had 92% survival 12 months after planting. Anecdotally from the regular weedwacking, we noticed that the 'iliahi seedlings at both sites took a few to six months to adjust and then their growth appeared to really take off.
For Objective 1: Host Plant Suitability, we had relatively high 'iliahi survival at 73% after 36 months. Both host species had 90+% survival rates. It appears that 'iliahi paired with the nitrogen-fixing Acacia koa perform better than when paired with another native plant, Dodonaea viscosa. 'Iliahi paired with Acacia koa perform better at the closer planting positions than when farther apart. It is important to note that these results are for early establishment and only accounts for 36 months after planting. Long-term monitoring and considerations need to also be taken into consideration for management implications.
Participation Summary
5
Producers participating in research
Research Outcomes
Recommendations for sustainable agricultural production and future research:
Learning more about all the parts of the process from growing seedlings in the nursery to distilling timber has been illuminating. I am much more familiar with the nursery, planting sections, and initial harvest than the distillery work from prepping timber to the final product. I have learned that haustoria formation can be quite variable and unpredictable, even when roots are forced into a small space. Nitrogen transfer to ʻiliahi from nitrogen-fixing hosts for early ʻiliahi host, but survival can be improved equally well with non-nitorgen-fixing hosts. Having a better knowlege of the whole process gives me greater appreciatation of the complexities of sustainable agricutlure and better understanding of where my skillset fits into the puzzle. Having early sources of revenue from forestry efforts helps financially support operations. There are many parts that make sustainable agriculture work and I am glad I have been able to learn more about it.
3
Grants received that built upon this project
1
New working collaborations
Education and Outreach
5
Curricula, factsheets or educational tools
5
Webinars / talks / presentations
Participation Summary:
2
Ag professionals participated
Education and outreach methods and analyses:
The activites listed above ranged from working with the producers listed on the grant as well as local school groups from K-12 and home school groups. I also have regularly interacted with a local hālau (traditional hula school) at my field sites. I contributed to an Earth Day video for public schools on island and I recorded videos at my field sites that were shared at a conference virtual field day tour and with a local non-profit for their outreach website. During the second year of the grant I continued to work with the collaborators, local school groups, and hālau. I also gave more conference presentations. I have been working on preparing two journal articles, one for each objective. We aim to submit one to a journal by the end of 2022 and the second article we aim to submit by mid 2023.
Education and outreach results:
Having a better understanding of the regeneration component of ʻiliahi (Hawaiian sandalwood) is critical to having a sustainable product. Since the harvesting of ʻiliahi and distillation of its oil is destructive, we must conisder the regeneration of the plants after harvest. If we can ensure the harvest of ʻiliahi can be sustainable then future jobs and economy diversification can be done with more confidence. Harvesting from natural forests leads to additional ecosystem services for the environment leaving a better net result than other agricultural options.
1
Farmers intend/plan to change their practice(s)
1
Farmers changed or adopted a practice
Information Products