Final report for LNC17-398
Project Type:
Research and Education
Funds awarded in 2017:
$199,999.00
Projected End Date:
10/31/2020
Grant Recipient:
University of Minnesota
Project Information
Summary:
Sugar beet is an economically important crop in the North Central Region, with substantial acreages in Nebraska, North Dakota, Minnesota, and Michigan. However, sugar beet production can have negative environmental impacts as no residue is left on the soil surface over winter to prevent erosion and offsite movement of N and P. New winter-annual oilseed crops such as winter camelina [Camelina sativa (L.) Crantz] can be planted following sugar beet harvest to provide both economic and environmental benefits to farm systems through protection of soil (e.g., reduction in wind and water erosion) and off-site movement of nutrients, while affording the farmer the opportunity to harvest an additional cash crop. The objectives of this research and education project are to Obj. 1) demonstrate the viability of winter camelina for integration in sugar beet crop rotations, Obj. 2) quantify the economics associated with this new cropping system, and Obj. 3) establish supply chain connections necessary for farm-scale production and marketability of winter camelina. Winter camelina production following sugar beet will be evaluated on three farms across the sugar beet production region of Minnesota. Participating farmers will track economic inputs throughout production and harvest of the winter camelina, and will receive contracted compensation for the harvested crop. Crop growth and management (of both winter camelina and subsequent soybean), as well as environmental benefits will be demonstrated through on-farm research and outreach, winter grower meetings, and a summer field event, along with a series of web based educational publications.
Processing of the oilseed and product analyses will be facilitated through partnership with the Agriculture Utilization Research Institute (AURI), establishing intermediate supply chain connections. This project aims to establish farmer awareness and knowledge of winter camelina as a valuable crop, and the environmental significance of maintaining vegetative cover throughout the growing season.
Project Objectives:
Learning outcomes: Approximately 3800 sugar beet producers will gain knowledge of winter camelina as an economically viable winter annual crop. Additionally, they will learn about soil health benefits winter annual crops can contribute to summer annual cropping systems.
Action outcomes: Producers will gain market awareness, agronomic production knowledge, and cost benefit analysis of adding winter camelina into their rotation.
System or condition changes: Increased adoption of winter camelina will lead to improved soil health and better environmental outcomes for sugar beet cropping systems. Supply chain connections established for camelina oil will improve economic sustainability of farmers in the Upper Midwest
Introduction:
Sugar beet is an economically important crop to farmers in the North Central Region, but it also presents a great need to identify more sustainable cropping options for increased soil health. In 2015, national sugar beet sales totaled $1.7 billion (USDA-NASS, 2016). The North Central Region accounted for 73% of national sugar beet acreage (849,000 acres) and 68% of national production in 2016. The average sugar beet crop rotation is a 4-year cycle with three years between sugar beet crops. Our proposed rotation is sugar beet/winter camelina, soybean, corn, and corn. Therefore, the total area affected in the North Central Region is approximately 3.4 million acres. Conventional sugar beet management and harvest practices are destructive to soil structure and provide little or no surface residue, leaving exposed soil vulnerable to erosion and loss of N and P during the late-fall, winter, and most notably early-spring. Previous SARE research has explored management options to increase the sustainability of sugar beet cropping systems with alternative tillage strategies and reduced herbicide use (project ID: FNC92-013) as well as crop rotations to decrease pest populations (project ID: SW97-018). However, economically viable winter-annual cropping options have not been explored in sugar beet rotations.
Winter-annual oilseed crops such as winter camelina [Camelina sativa (L.) Crantz] have been identified as viable options for integration into conventional, summer-annual cropping systems. (Gesch and Cermak, 2011; Gesch et al., 2014; Berti et al., 2015). Winter camelina, an oilseed brassica, exhibits several characteristics (e.g. extreme winter hardiness, short life-cycle, pollinator refuge, and valuable oil-based products; Berti et al., 2016) well-suited for the integration in a wide range of cropping systems in the upper Midwest. For example, sugar beet is harvested early enough in the fall for successful establishment of winter camelina in early- to mid-October (Gesch and Cermak, 2011). Soybean can then be relay- planted into the winter camelina the following spring (Fig. 1, Attachment 1), or short-season soybean and dry bean can be double-cropped following winter camelina harvest in the early summer. The relay-camelina-soybean rotations can match or exceed season total oil yields of conventional mono-cropped soybean (Fig. 1, Attachment 1, Gesch et al., 2014).
Maintaining a living crop in the field through the late fall, winter, and spring will reduce periods of vulnerability to erosion and off-site movement of nutrients, preserving agricultural soils and enhancing soil health while protecting water quality. Winter crops effectively reduce erosion by providing soil cover that reduces raindrop impact and slows down the velocity of wind and water, and by improving soil aggregation (Dabney et al., 2001). Related brassica species were noted for their potential to reduce erosion by improving rooting of summer annuals (Project ID: LNE03-192). Forage radish, another brassica species, also had a positive impact on soil aggregation (Project ID: LNE06-235). Improvement in soil aggregate stability was particularly noted on a poorly structured soil under conventional tillage with the use of canola+rye or turnips+wheat mixtures (Project ID: LNC98-140).
Soil aggregates form from biological activity, including fungal hyphae, root exudates, and microbial exopolysaccharide secretions. Soil aggregate stability is particularly informative about soil resistance to wind and water erosion (Barthès and Roose, 2002). Though increased soil organic matter is also an established soil health benefit from the use of cover crops (Snapp et al., 2004), detecting measurable changes in associated soil health indicators (soil organic C, microbial biomass, etc.) may not be possible within the time frame of one sugar beet to winter camelina rotation cycle. However, microbial respiration has been established as a sensitive indicator of change in soil health (Schloter et al., 2003). Further, aggregate stability is known to change in response to management and other agronomic activity within a seasonal period (Abiven et al., 2009). Therefore, assessment of soil health will focus on the evaluation of soil aggregate stability using standard protocols (Arshad et al. 1996) and soil respiration using the Solvita® test system.
In addition to the ecological benefits of living ground cover throughout the winter and spring, fall-seeded winter camelina can also provide adequate weed suppression to reduce the need for herbicide inputs in the subsequent soybean crop (Gesch and Cermak, 2011). Since the first documented discovery of glyphosate-resistant weeds in Minnesota in 2006; common ragweed, giant ragweed, and kochia have all become species of concern (Heap, 2014). The decline in glyphosate effectiveness and the rise of glyphosate-resistant weeds cost soybean growers an average of $8.00/acre in 2012 and reduced returns by $22.00/acre that same year (Livingston et al., 2015). Glyphosate can no longer be depended on to control resistant species of weeds. Alternate control of weeds can be achieved by inserting competitive winter-annual crops into the corn-soybean rotation. Previous work demonstrated weed suppression of 91% was afforded by winter camelina and 94% by winter canola in a corn-soybean rotation, compared to corn-soybean with winter fallow (Fig. 3, Attachment 1, Forcella unpublished data, 2013).
Preliminary herbicide testing has shown that the establishment of winter camelina is largely unaffected by pre-emergence herbicides applied in the spring prior to planting. Herbicides containing atrazine as an active ingredient have inhibited winter camelina establishment; however, atrazine is also damaging to sugar beets and is not used in sugar beet rotations. Although studies have shown significant early season weed control by winter camelina, two herbicide groups (3 and 15) can be used PRE or POST to control weeds when winter camelina is present in the rotation (Betts unpublished data, 2017). The weed suppressive ability of winter camelina, as well as its compatible herbicide options, provide growers with additional tools to combat herbicide-resistant weeds.
Preliminary economic inputs for relay-cropping winter camelina with soybeans have been assessed at the farm-scale (Gesch et al., 2014). However, economic analyses (e.g. cost of production) need to be extended to include transportation, processing costs, and costs associated with marketing and commercialization, to characterize the end-product value of winter camelina integrated into sugar beet cropping systems. To fully characterize economic viability, the supporting supply chain infrastructure needs to be demonstrated. Local and regional businesses, as well as international corporations, have expressed interest in marketing sustainable products of winter camelina. The wide range of viable end-uses has potential to support long-term market diversity. Assessment of current infrastructure and regional enterprises indicates that the "nearest-to-market" uses of camelina are oil extraction for biodiesel production and livestock feeding of the seed meal, as these processing stages and end-use applications are already in place for local processing and use of soybean. Reported barriers to wide-scale adoption of this crop as an animal feed or biofuel feedstock include lack of an open market, low seed yield, low price for the seed, and farmer perception of camelina as a weed (Berti et al., 2016; Jewett, 2015). This work will confront these challenges simultaneously by raising farmer awareness of winter camelina as a crop, demonstrating yield potential on-farm, fostering key market connections and identifying price points for economic viability.
Winter camelina oil is valued as a food-grade heart-healthy product, high in omega-3 fatty acids (Waraich et al., 2013; Berti et al., 2016) as well as vitamin E; but at a more immediate industrial scale, it is a viable biofuel feedstock suitable for producing biodiesel or renewable jet fuel (Berti et al., 2016). Upon oil extraction, camelina seed meal is approved as a feed source for swine (Almeida et al., 2013; Kahindi et al., 2014), although anti-nutritional qualities have also been reported (Waraich et al., 2013; Berti et al., 2016), which warrant further investigation. When properly implemented, these new cropping strategies can bolster the economic stability of farm systems while improving environmental conditions.
The proposed work will integrate a range of supply chain partners--from farmers and processors to distributors and businesses--throughout the planning, implementation, and analysis of research. Greater Minnesota farmers will host on-site tours. Rural, intermediate scale processors will do product development and testing. Rural and regional businesses will be enlisted in market testing, educational programming and identifying viable avenues for winter camelina as a commodity. This integration will jump-start critical connections and build investment and awareness among supply chain partners who will be the necessary players to bring camelina products fully to market. Development of farmer-to-end user marketing channels proposed in this grant may positively impact participating farmers and agricultural businesses by providing new and diversified revenue streams. In addition, the work of this proposal may potentially have a ripple effect of positive social and environmental impacts in surrounding communities. New crops and markets have the capacity to involve enterprises of a widely varying scale, advancing the prosperity of agricultural communities and businesses together as a whole.
Cooperators
(Educator and Researcher)

(Educator and Researcher)

(Educator and Researcher)

(Educator and Researcher)
Research
Hypothesis:
Objective 1 is the research-intensive objective where the agronomic viability of winter camelina for integration in sugar beet crop rotations is evaluated. Winter camelina, when successfully integrated into the sugarbeet rotation, will reduced extractable soil nitrate concentrations when compared to the best management practice non-winter camelina treatment. In addition to reducing soil extractable nitrate concentrations in the winter camelina treatments, early emerging weeds will also be reduced relative to the non-winter camelina treatments. Winter camelina seed yield will not be impacted by PRE-emergent herbicide applications. Objective 2 will quantify the economics associated with this new cropping system where the double-crop winter camelina and soybean production system will have an equivalent economic return as the non-winter camelina systems. Objective 3 will lay the supply-chain connections necessary for farm-scale production. 
Materials and methods:
The objectives of this research and education project are to Obj. 1) demonstrate the viability of winter camelina for integration in sugar beet crop rotations:
Members of the project team will meet individually with farmers to plan field trials, address questions, challenges, and observations, and discuss projected management implications in their systems. Field trials will be established at three farms across the sugar beet production region of Minnesota in collaboration with Mike Schneider (Morris, MN), and Brian Ryberg (Renville, MN; Image 1).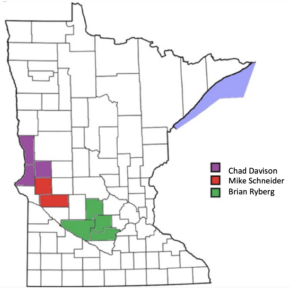 Each field trial will be a randomized complete block design with four to six replications. Experimental treatments will characterize winter management following sugar beet. Four treatments will be included in this experiment with variable winter crop and herbicide factors: Treatment 1 (weed free, winter camelina), Treatment 2 (fallow, weedy check), Treatment 3 (fallow, weed free), and Treatment 4 (winter camelina, weedy check). Weed-free and weedy check treatments will characterize the degree of weed control in the winter camelina treatments (Table 1).
Following sugar beet harvest, soils will be sampled at 0- to 15-cm (0- to 6 inches) and 15- to 30-cm (6- to 12 inches) to obtain a composite of six cores per experimental unit for soil N analysis. Immediately following soil sampling in the fall, winter camelina will be direct-seeded into the corresponding experimental units. While still in the rosette growth stage the following spring, winter camelina establishment (plant density), and percent ground cover will be assessed prior to soybean no-till relay planting. Biomass samples of camelina will also be taken in the rosette stage to assess the net uptake of N, as a measure of the winter-annual crop's ability to sequester N, protecting it from loss. Weed data will be collected at the time of camelina harvest, including biomass, species, and percent cover. To assess oilseed harvest efficiency, camelina yield will be hand-sampled from two representative 0.5 m2 (5.4 ft2) areas in each experimental unit, then all camelina plots will be harvested and yields will be measured with a plot combine. At oilseed harvest, soil samples from 0-15 cm and 15-30 cm, will be evaluated again for available soil N, and weed stand assessments will be made in all experimental units. During the same growing season, soybean will be harvested with a plot combine to measure yields. Winter camelina and soybean yields will be used for assessments of agronomic and economic viability.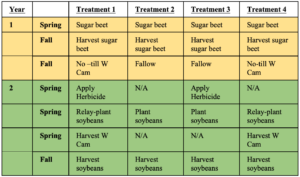 Soil health indicators will be assessed after the spring thaw and prior to camelina harvest. For aggregate analysis, soil samples will be taken in the spring to assess the impact of fall-winter camelina growth on soil aggregate changes and potential impact on erosion resistance. Soil aggregate stability will be measured again at winter camelina harvest to evaluate effects of spring growth on aggregate changes that would protect the soil from spring rainfall-induced water erosion. Surface soil samples (0-5 cm depth) will be removed from a 10 x 10 cm within-row area in each plot by least-disturbance methods using a hand shovel. Samples will be air dried, weighed and rotary-sieved to determine size distribution by mean weight and diameter of five size classes from 0.5 to 8 mm. The 1-2 mm size class will be subjected to wet stability analysis following the method of Arshad et al. (1996). For this step, 4-g oven dried (40°C) subsamples are placed on a 50-?m mesh sieve and subjected to repeated immersion in deionized water. The aggregates remaining after accounting for sand from this process are the wet stable aggregate fraction. For soil respiration, a sub-sample of the soil collected for aggregate analysis at camelina harvest will be evaluated using the Solvita® CO2-C burst method following standard Solvita ® procedures. All oilseed grain will be harvested and transported to AURI. 
Cooperators with the Agriculture Utilization Research Institute (AURI) will work with the project team to address camelina processing efficiency, end-use suitability, infrastructure needs, and market viability. Research personnel with AURI will facilitate seed drying and storage, and demonstrate oil extraction on batches of seeds using a scale-able oil press to gauge processing cost and efficiency. The resulting oil and seed meal will undergo lab analysis and market testing for commercialization.
In addition to product development and testing, AURI is extensively involved in the commercialization of products from agricultural commodities. Supply chain development personnel will map the current supply chain infrastructure to identify bottlenecks and pinpoint key partners needed to build supply chain capacity. The supply chain development personnel will conduct ongoing outreach, communication and relationship-building throughout the project to ensure a feedback loop of information between the research team and supply chain partners that disseminates research, gauges market viability, identifies commercial barriers, develops pricing models that will integrate with the cost of production assessed in Obj. 2., and builds commercial awareness for winter camelina. The supply chain personnel will track and monitor the development of the supply chain partnerships to ensure that the market capacity for camelina scales in tandem with farm production. Market viability, pricing models, and supply chain capacity will also be central components in educational programming and outreach efforts to farmers, as a thorough understanding by farmers of enterprise economics, processing, distribution, and marketing will be critical to moving camelina into wide-scale farm production.
The project team will work with farmer collaborators and AURI to identify and track all expenses associated with camelina production, transport, processing, and marketing, as well as the projected market value of camelina products. Total costs and returns will contribute to enterprise budgets for overall assessment of economic feasibility. These economic analyses will extend the concept established by Gesch et al. (2014) to define 'break-even' values for camelina by accounting for processing and marketing inputs in addition to production costs. Throughout this project, educational programming will target farmers and processors at a broad regional scale, and at a personal level. Each farmer collaborator will receive field-specific reports throughout the duration of the project highlighting the benefits received by the system (i.e. soil characteristics measured) as well as potential caveats to navigate. One-on-one meetings with farmer collaborators and local processors will provide insight to changes in attitude, perception or behavior, and will inform educational programming on system potential and limitations. Broad outreach efforts will disseminate findings through sugar beet co-ops and extension outlets. Extension materials and educational events will raise awareness and provide information on the potential benefits and limitations of this new crop, and establish realistic expectations of winter camelina growth and production.
Research results and discussion:
To demonstrate the viability of winter camelina following the harvest of sugar beet, baseline soils samples were taken from top 30-cm soil depth to analyze extractable nitrogen content after sugar beet harvest. Winter camelina was planted at two grower's field in September 2017. However, winter camelina failed to establish at one of the farmer sites which was attributed to herbicide residue in the soil. Winter camelina on other grower's field performed well (Image 2).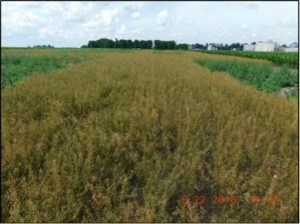 Prior to the harvest of winter camelina in July 2018, weed assessments were done to measure the influence of winter camelina on weed growth (Images 3). The four treatments included: winter camelina with and without herbicide, no camelina (fallow) with herbicide, and no camelina (fallow) without herbicide. The weed-free (plus herbicide), and weedy check (no herbicide) treatments were used to characterize the degree of weed control affected by winter camelina. Early in the spring, the herbicide Dual II Magnum (metalochlor) was sprayed at a rate of 1.67 pts/A on the weed free plots. The percent weed coverage was assessed in the first week of July before the harvest of winter camelina. The following photo was taken on July 6, 2018, which illustrates the intense weed pressures at the site, as well as the weed suppression provided by the winter camelina (Image 3).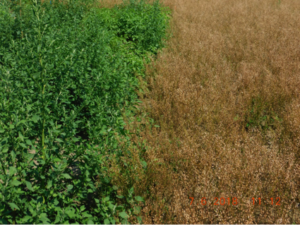 Year one results demonstrated that winter camelina along with the application of herbicide provided excellent control of weeds (Figures 1). The total percent ground covered by weeds in winter camelina sprayed with metalochlor was 5%, however percent ground cover by weeds was 20% without winter camelina (fallow plots). Without the application of metalochlor, the percent cover of weeds was 12% in winter camelina and 44% with no winter camelina planted (i.e. fallow plots) (Figure 1). Thus, the research demonstrated that winter camelina inhibits weeds as well or better than metolachlor, as there was no statistical difference between the effects of metolachlor and winter camelina on weed cover. Including winter camelina in a sugar beet, cropping system can increase economic benefits by reducing the need for applying herbicides.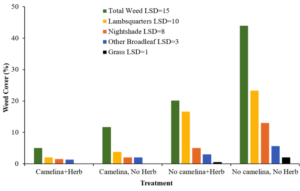 Winter camelina oilseed yields at the site were lower than oilseed yields previously observed in wheat-camelina rotations (Figure 2). However, winter camelina oilseed yield performance was lower than expected across a range of experiments in 2018. In 2019, herbicide treatment played a larger role in winter camelina grain performance (P < 0.05). Although herbicides did impact camelina grain yields 570 and 810 kg/ha for with and without herbicides respectively, yields were lower than typically observed (e.g., 1500 kg/ha). In 2019 herbicide treatments did reduce yields.  For both years regional reduction in winter camelina oilseed production was likely influenced by the late spring thus delaying maturation and development. Although winter camelina was lower than previously observed, herbicide treatment only impacted oilseed development and subsequent yield during the 2019 year. Following the harvest of winter camelina, short-season soybeans were planted and then hand-harvested in October 2018 and 2019 yielding 20 to 25 bu/ac. The combination of short-season soybean and delayed soybean planting dates did reduced soybean yield in 2018. After the harvest of soybeans, soil samples were again taken to evaluate them for soil health parameters such as extractable nitrogen, aggregate stability, and soil respiration.  Soil health parameters and soybean yield data will be included in the completion of the project in Oct. 2020.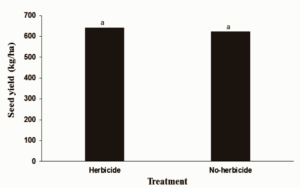 The second-year of data will be collected this year. After the completion of the project, (Obj. 2) economics associated with this new cropping system will be determined. 
Supply chain connections necessary for farm-scale production and marketability of winter camelina are on-going (Obj. 3). Year One of Supply Chain work has focused on identifying the current market infrastructure that could support camelina production and processing and, then, the best potential, near-term market opportunities for camelina in Minnesota. End-uses that identified included feed (meal), food (oil), fuel (bio-fuel/oil). With virtually no identified acreage or dedicated infrastructure available for winter camelina at the launch of the grant (2017), it was decided that the best course of action was to identify existing small to mid-scale oil presses in Minnesota and begin outreach to these processors to understand their market barriers, challenges, and opportunities for incorporating a new oilseed into their production. Partnership with AURI has been highly beneficial, as they have many existing contacts in the oilseed crushing industry and have been able to confirm preliminary interest from some of the identified crushers. At the same time that this grant was launched, there was a surge in interest in hemp production, with a focus on CBD and hemp oil. Connections were made with the MDA Hemp Pilot Program and the list of potential oilseed crushers expanded to include hemp producers who have been investing in oil pressing facilities. Again, AURI has been helpful in this arena, as they have been working with hemp producers throughout the state.
AURI Oil Press - Waseca -- up and running in June, 2018.
Highlighted supply chain, market opportunities, and provided an opportunity for supply chain stakeholders to learn and connect. Attendees included farmers, processors, educators, culinary professionals, extension educators, SWCD, AURI. (Attendee list available)
Conversation and outreach with Beth Dooley, Minneapolis Culinary Professional. She remains interested in camelina oil and has used it in the past. (Connection to the Bataldin/Maiden Oil on-farm business). She is committed to writing about it or talking about it via MPR/St.Tribune
On-Going Market research and development: Identified small-to-mid scale oil press operations in Minnesota/SD that may have potential interest/availability to incorporate camelina into their operations.
Midwest Protein, Grove City
MN Hemp Farms, Hastings
Stengel Oils (Flax), Milbank, SD
Smude, Pierz
Clearbrook Elevator, Clearbrook (Northern mn)
White Earth Reservation (Zach Paige -- Hemp oilseed processing)
Olivia MN - plans for hemp oilseed processing
AURI - Waseca
Researched Camelina constituents (including antioxidant and fatty acid profile) and potential end-use markets for Camelina oil and cake (food, cosmetics, nutritional supplements, animal feed, and biofuel) to roughly assess potential costs and profitability respective to various scales of production.
Conducted research on current oilseed processing equipment utilized at all scales of production - from on-farm sized press machines such as KernKraft 40 to storage and equipment utilized by large-scale CHS canola and soy processing facilities within Minnesota. Research included seed cleaning and seed storage specifications. The research included exploration of cold-pressed, heat and solvent extraction, and supercritical (CO2) extraction.
Created a questionnaire for on-site interviews at small and mid-scale processing facilities which considers factors such as level of interest and previous knowledge and/or experience working with Camelina, processing facility capabilities and capacity, equipment utilization, seed and oil storage capacity, quality control and assurance, and relationships with downstream partners for transportation and access to end-use markets. One onsite interview has been conducted, one planned for 12/13 (to be rescheduled), and two additional interviews were verbally agreed to by processors and tentatively set for January of 2020.
In spring of 2019, synergies between the emerging hemp industry and opportunities for Camelina industry development were identified in relationship to production and processing scale, interest and willingness of processors to invest in new and emerging commodities, and interest amongst hemp growers to explore opportunities to incorporate cover crops such as Camelina, intercropping, and interest in more diverse crop rotations into their production. Attendance at hemp industry events to foster producer and processing relationships and verbally promote winter Camelina continued through summer and fall of 2019.
Six potential processing partners for winter Camelina have been identified through attendance at several regional conferences and events, including 2019 FarmFest, Food Ag Ideas Week, AURI's Building a Hemp Industry in Minnesota, and Minnesota Hemp Conference & Expo.
A potential producer relationship with high interest in winter Camelina is currently being fostered with a cluster of 8-10 growers in SE Minnesota, with each grower farming roughly 700-1000 acres. The lead contact for this farm group has been in communication with a mid-scale food production company for which they currently partner with for the production of other specialty food products, and this food company has expressed a strong interest in selling a Camelina product which may help them meet environmental targets. Interest in the opportunity to market their products as "regenerative" was also expressed.
Winter Camelina Supply Chain Development& Regional Opportunities for Oilseed Processing
Report with Camelina-Supply Chain Development and Opportunities for Processing
Research conclusions:
This research demonstrated that winter camelina can be successfully planted following early harvested sugar beet. In average years early sugar beet harvest can happen in mid to late September. However, greater frequency of rain events though early autumn further constrains the already limited field workability days. As we learned on-farm, limiting sugar beet herbicide programs (e.g., soil residuals) isn't ideal, especially when growers were dealing with problematic weeds. Due to residual herbicide issues we lost on-farm sites, and for any cover crop program to move forward in sugar beet integrate weed management is needed to ensure soil residual herbicides do not limit the growth and productivity of the following cover crops. When pre-camelina herbicide management wasn't an issue we demonstrated that winter camelina can produce grain yield even under extremely high weed populations. Albeit the camelina yields were lower than typically observed in wheat/soy/corn cropping rotations, there were a host of soil quality impacts provided by the camelina. The life-cycle educational approach was well-received, and participants consistently stated reported learning gains and when markets come online, participants will adopt technologies that improve farmgate revenue.
Opportunities and Challenges for Winter Camelina Processing Partnerships
The development of oilseed processing partnerships is an important piece for future supply chain growth of winter camelina. As acreage on the landscape increases, oilseeds will need to be properly processed before entering the marketplace. Processor scale and the types of processing functions necessary will depend largely on the specifications necessary for different end-use applications. Interviews with small and midscale processors identified key opportunities and potential challenges in forming future processing partnerships.
While small processors may present unique opportunities for partnerships if supply chain intermediary support is available for making direct linkages with growers and buyers, most small scale processors lack the necessary mix of capabilities and capacity for partnership without making investments in storage, cleaning, and other processing equipment. These costs may be too high for capturing processor interest. Additionally, most small scale processors are not able to process products entering high-value food markets, as they lack the necessary facilities and controls required for ensuring quality and food safety. This limits the marketing channels for which camelina products can enter into when growers partner with smaller processors.
Opportunities with midscale processors in the upper Midwest are more likely, as these processors have expressed interest in pressing for winter camelina. They also have the capacities and capabilities necessary to process for new oilseeds with only minor investments in new equipment and production infrastructure. However, midscale processors may require multi-year contracts with a reputable buyer in order to recoup their fixed-cost investments. In the short-term, there might not be enough harvested oilseed acreage to meet minimum production runs, or changeover costs could lead to higher costs for finished products. The leap from small scale processing to midscale is significant, and investments may be necessary to bridge the gaps in processing production scale.
Additionally, strong and continued market demand for other specialty oilseeds may also present a high opportunity cost to midscale processors that are focused on building market share and efficiencies of scale through specialization and reducing the number of crops for which they process.
Recommendations for Future Supply Chain and Market Development
Commercial release of any new crop involves the coordinated effort of supply chain stakeholders, stakeholder investment and the proper allocation of resources to address supply chain development bottlenecks. Winter camelina is no exception. Insights gathered over the course of this 36-month research, many of which have been previously identified and discussed in this report, lead to the following recommendations for the future research and supply chain development efforts:
1. Secure GRAS designation for winter camelina to increase market demand. A current plan for this is established, but securing funds necessary for GRAS dossier development is essential and was identified as a market barrier in ALL primary interviews conducted under this NCR-SARE.
2. Increase engagement with potential midscale and large-scale buyers to communicate winter camelina's potential to meet sustainability targets, offer information, determine level of interest in winter camelina, and identify any barriers interested buyers may have to engage or invest. Support buyer engagement in research and development with necessary materials. While MBOLD is a key partner in this effort, increased efforts to engage small and midscale buyers could lead to entrepreneurial innovations that could launch winter camelina supply chains quickly and bring increased media attention to continuous living covers. Make available product samples that meet buyer specifications for product development or novel end-uses.
3. Increased allocation of resources for fixed asset investments—or partnership investment—in scale-appropriate processing and other supply chain infrastructure. Efforts are underway through support from AURI to increase research and pilot-scale press capacity. The identification of additional resources necessary for successful scale-up and securing funding for those resources will prevent unnecessary bottlenecks of commercial scale-up for winter camelina and other emerging crops. 
4. Continued agronomic research on winter camelina in a rotation with spring wheat and soy, including targeting areas of agronomic opportunity for winter camelina that intersect with agroecological objectives/goals. Development of a coordinated and unified system to effectively disseminate and share agronomic data and research with growers is important as Forever Green continues to grow, as growth with lack of personnel capacity can lead to information silos. While some agronomic data is readily available to growers, the pace of new data is outstripping the pace of information dissemination to growers. Additionally, growers engaged over the course of this research continually expressed the need for more certainty on agronomics specific to their local area.
5. Continued research to quantify ecosystem benefits and collaboration with interest-aligned policy partners to lobby for federal, state, and local funds to be allocated to farmers in the form of subsidies and other incentives to de-risk grower adoption of a novel and higher-risk cover crop.
6. Increase personnel capacity for Forever Green supply chain development and market development. Building new supply chains and new markets involves end-to-end coordination, and for Forever Green that means from germplasm research all the way to the end consumer. Current FTE allocation stretches personnel resources thin, as staff are functioning in multiple capacities to engage with industry partners and university researchers, communicate vital information to growers and supply chain partners, manage multiple projects, conduct marketing and outreach, and grant write.
Participation Summary
2
Farmers participating in research
Education
Educational approach:
Educational events will implement active learning strategies to drive interaction among participants and promote critical and practical consideration of the material. Following the first camelina harvest and seed processing, a convening event will be hosted as a networking opportunity for producers, processors, and businesses to see and learn about camelina products. In late-spring of the second crop cycle, prior to oilseed harvest, an educational event will be hosted in conjunction with the University of Minnesota and AURI in Waseca, MN, where both institutions have research facilities. The event will highlight findings from on-farm trials and engage participants in learning about soil health and the potential soil health benefits of using winter camelina or other winter-annual crops. Activities will include farmer-led discussions of winter camelina integration with sugar beet regarding management challenges and strategies. The research team in concert with AURI will facilitate similar discussions and demonstrations of winter camelina seed processing and product development.
Project Activities
Educational & Outreach Activities
1
Curricula, factsheets or educational tools
1
Published press articles, newsletters
3
Other educational activities: Key people attended: MN Organic Conference, MN State SFA Conference, and the State Fair Outreach.
Participation Summary:
50
Ag professionals participated
Education/outreach description:
Two winter Camelina Open House full-day field events were hosted during the first and second year of the project. The University of Minnesota Southern Research and Outreach Center and Agricultural Utilization Research Institute (AURI) in Waseca, MN, was selected to host the events. Since AURI had a pilot-scale oilseed crush plant, we decided to focus on the life cycle aspects of the oilseed system, starting with a discussion on general agronomy and ending with a meal prepared with Generally Recognized as Safe (GRAS) certified winter camelina oil. Working with the UMN Rural Regional Partnerships, our team was able to connect to small and mid-scale crushers, food industry personnel, soil water conservation managers, consumers, and farmers. The central theme for the Winter Camelina Open House was to announce winter camelina as a value-added cash crop that did not displace corn and soybean acreage, and show how winter camelina can fit across a wide range of cropping systems (e.g., sugarbeet, sweetcorn, and spring wheat). We wanted participants to leave the field day thinking broadly about environmental sustainability, and show that camelina tastes great, is highly flexible in terms of end-user products, and can address the externalities associated with summer annual row cropping systems that dominated the agricultural landscape. The field days were step up with an open house format and highlighted each stage of the winter camelina life cycle. Topics covered included environmental externalities of summer annual row crop production systems, and overview of winter camelina; pilot-scale crushing demonstration, organic swine production, oil quality, and potential end-users; discussion on the protein highway, and how winter camelina is positioned to meet the growing demand for plant-based proteins. Lastly, there was a cooking demonstration that replaced both olive and canola oils with camelina oil in the foods prepared. The meal included (first year): prime rib, roasted vegetables, hummus and pesto, freshly fried corn chips and pita, salad with several dressings, and carrot cake, and (second year) smoked pork and bacon from hogs with inclusion of camelina in their diets. The field days resulted in knowledge gains and adaptation by participants:
"The presentation was excellent and I can see how camelina could have a place on my small farm. I keep
Honey bees and I have a 10-acre field adjacent to 50 acres of CRP and would like to try double cropping
with soybean and see how early blooming of the camelina would affect the honey production of my bee hives" Loren Stomberg.
 "I love this style of educational programing [sic]." Anonymous
 "Great idea to feature "Camelina Oil 1 million ways" and to have a chef who could speak about uses and using right there on site. Anonymous
The culmination of the events along with additional outreach and education related to winter annual oilseeds has increased awareness. In the Winter Camelina Open house, only 20% of the respondents were not familiar with camelina before the event, and during the 2019 event, winter camelina agronomic learning gains (e.g., pre and post-testing) were greater than 50% among all attendants. In addition to the learning gains, 90% of respondents stated they have situations in which they can use what they have learned from the Winter Camelina Open House. Even though 87% of the respondents from the 2019 Winter Camelina Open House reported that the program was useful, there were a few critical points made in the written section. The winter annual oilseed program is designed to enhance the profitability and environmental sustainability of Midwestern farmers. The issue is that the profitably hinges on the development of end-user markets and supply chains. The notation of profitability didn't go unnoticed by the participants.
"Economic value of the crop is needed." Anonymous
"This was very informative! Cost is always a factor with farming, so next time, maybe a small economic assessment of how much the seed costs and how much it would actually sell for would be helpful. No matter the ease and benefits, money is always an issue with farmers." Anonymous
"Generally, the majority of MN farmers are not involved in growing Camelina at this time. However, its value as a cover crop with benefits of low turnaround time for planting other crops on the same fields as Camelina has been grown on, the potential for environmental, economic, and sociability sustainability could be realized by many MN farmers in the future." Anonymous
Through the education efforts associated with this project, farmers are more knowledgeable in early and late season cover crops across the summer annual row crops systems of the Upper Midwest. The average program evaluation of my cropping systems Extension education program from 2017 to 2019 follows: The 1250 participants ranked the quality of the educational programming high (84%), 90% indicated a deeper understanding of cover crops, and more stated that the subject matter was framed and stated clearly (92%).
The Southern Research and Outreach (SROC) Winter Camelina Open House was a joint operation with the Agricultural Utilization Research Institute (AURI), USDA-ARS, and University of Minnesota (UMN). The main theme for the SROC field day was to announce winter calmeina as a value-added cash cover crop. We wanted participants to leave the field day thinking broadly about environmental sustainability, and show that camelina is real, taste great, highly flexible in terms of end-user products, and can address the externalities of a corn/soybean dominated agricultural landscape. The field day was step up with an open house format and highlighted each stage of the winter camelina life cycle. Topic covered: environmental externalities of the corn/soybean production systems, and an overview of winter camelina; pilot-scale crushing demonstration, and a discussion on oil quality, quantity and potential end uses; discussion on the protein highway, and how winter camelina is positioned to meet the growing demand for plant-based proteins; lastly a cooking demo replacing either olive or canola oil the meal included: prime rib, roasted vegetables, hummus and pesto, freshly fried corn chips and pita, salad with several dressings, and carrot cake. Participants were surveyed and results are below.
Questions and Responses:
How would you rate your camelina knowledge before today's event?

The event was divided into for sections: General Agronomy, Pilot Scale Crush Plant, and Food Science. Respondents were asked of the four sections, which was the most informative?

Respondents were asked as a result of the educational programming, how would they rate their knowledge (i.e., knowledge gains post-event)? Scale: Not at all knowledgeable = 1; and extremely knowledgable (i.e., expert) = 5.

When respondents were asked if markets were in place, would the integrate camelina into their current cropping systems? Eight-one percent of the respondents said they would. 
Due to COVID-19 we will not be hosting our 3rd Annual Winter Oilseed Open House. We are, however, working on a digital format designed to reach a much larger audience. There are three days of programming with Agronomy, Breeding, and Ecosystem Services on day 1, Food Science and cooking demos on day 2, and supply chain and industry partner round table on day 3.
Learning Outcomes
8
Farmers reported changes in knowledge, attitudes, skills and/or awareness as a result of their participation
2
Agricultural service providers reported changes in knowledge, skills, and/or attitudes as a result of their participation
Key areas taught:
NA
General Agronomy
Soil Science
Biology
Project Outcomes
2
Farmers changed or adopted a practice
Key practices changed:
We are too early in the life-cycle to assess farmer adoption. However, the key practices we are targeting is the integration of cash cover crops into sugarbeet rotations.
2
Grants applied for that built upon this project
2
New working collaborations