Progress report for LNC19-423
Project Type:
Research and Education
Funds awarded in 2019:
$199,803.00
Projected End Date:
12/31/2023
Grant Recipient:
University of Minnesota
Project Information
Summary:
This project entitled Summer Cover Crop System Management: New options for upper Midwest vegetable systems, improves grower knowledge of summer cover crop use, including species selection, planting date, and impact of growing season length. Growers are increasingly interested in adding cover crops to rotations to improve soil health, break disease cycles, and provide ecosystem services. However, identifying appropriate timing is challenging. Growers must balance cash crop goals and timing with limited availability of labor, land, and equipment. Summer cover crops are an often overlooked and minimally researched option for growers in the Upper Midwest.
This farmer-driven project will engage minority farmers to provide data on summer cover crop management systems in collaboration with UMN researchers. Objectives include to 1) Identify summer cover crop management best suited for north central growers, 2) Determine nitrogen derived from legume cover crops, including management to maximize fertility provision, and 3) Develop cover crop legume resources for immigrant and minority farmers. Growers will evaluate three cover crop species and two planting dates. Plant biomass, weed biomass, and soil will be tested at key crop management timepoints to quantify timing of plant available nitrogen, potential for nitrogen loss via leaching, cover crop productivity, and weed suppression capacity. Farmer evaluation of cover crops will provide additional qualitative data on ease of management and effectiveness of cover cropping systems. This knowledge aligns directly with SARE tenets by allowing farmers to more profitably and confidently include cover crops in seasonal rotations, improving nitrogen management for cash crops following summer cover crops, and reducing nitrogen losses that can lead to environmental degradation. Reductions in off-farm nitrogen purchase may also lead to improvements in farm economics.
Results will be shared through print fact sheets, web resources, relevant newsletters and at grower meetings and 2 grower-led field days.
Project Objectives:
Objective 1: Identify summer cover crop management best suited for north central growers. Learning outcome: 100 growers learn improved summer cover management. Action Outcome: 10 growers increase cover crop use.
Objective 2: Quantify nitrogen derived from legume covers, including identification of management strategies to maximize fertility provision.  Learning outcome: 5 educators/researchers learn to maximize nitrogen provided by cover crops. Action outcome: Educators develop and distribute recommendations to 200 farmers.
Objective 3: Develop resources for immigrant and minority farmers. Learning outcome: 50 growers learn management to maximize nitrogen. Action outcome: Growers reduce off-farm nitrogen inputs, expense, and negative environmental impacts.
Introduction:
Immigrant specialty crop farmers are a growing and often overlooked segment of our North Central region's agricultural economy, and are particularly interested in improving soil management (McCamant 2014). The system-wide outcome of this project is to increase capacity of underserved farmers to engage in sustainable soil fertility-building practices by maximizing productivity of summer cover crops in vegetable production systems.
Nitrogen pollution as a result of fertilizer leaching from agricultural production is a major concern for ecological sustainability in the Upper Midwest and around the world. Synthetic fertilizers produced by the Haber-Bosch process have significantly contributed to the global increase of reactive nitrogen (Nr) in the past century (Galloway et al. 2006). While this process has been instrumental for increased food production, elevated Nr levels can have numerous detrimental environmental effects on air and water quality when Nr leaves agricultural soils and enters waterways. In vegetable production systems, which have high nutrient requirements and are often irrigated, there is high-risk of nitrate leaching from farm fields (Agostini et al. 2010), and thus fertilizer applications can have particularly detrimental effects. Furthermore, vegetable farmers face pressure to meet financial sustainability by maximizing production, often achieved by growing multiple crops in temporal succession, resulting in reduced soil quality.
Cover crops, which are crops grown in agricultural rotations for a primary purpose other than food, forage, or fiber, can mitigate Nr pollution by using inorganic soil nitrogen that would otherwise by subject to leaching from bare soil, and then providing Nr back to the soil during decomposition. Legume cover crops, because of their ability to form symbiotic relationships with soil rhizobia that fix atmospheric nitrogen, can also contribute Nr to the soil, thereby increasing the fertility of agroecosystems without fertilizer. The input of nitrogen from legumes may be less likely to lead to pollution because it enters the system as part of plant biomass, and must be processed by microbes before it is susceptible to leaching. Additionally, because the N-fixation from the legume-rhizobia symbiosis is responsive to endogenous soil nitrogen levels, legume cover crops may be used as a self-regulating fertility source (Blesh 2018). This benefit may be enhanced by combining legume and non-legume species. Grass-legume mixtures may simultaneously provide nitrogen fixation and retention benefits, resulting in reduced nitrate leaching, which effectively tightens the nutrient cycling loop in soil (Blesh 2018; Finney, White, and Kaye 2016). Apart from their effects on fertilization, legume cover crops also serve other ecosystem functions. Inclusion of legume species has been shown to affect microbial community structure and function by increasing overall microbial community biomass and the proportion of Gram-negative bacteria, and fungal populations (Finney, Buyer, and Kaye 2017). Importantly, legume cover crops are often grown until flowering, which provides resources for beneficial insects (Clark 2013). 
Most cover crop use is limited to cool-season over-wintering crops, which do not interfere with the summer annual cash crops that predominate in the Upper Midwest. However, vegetable production systems are well suited to take advantage of additional opportunities for cover cropping throughout the growing season, because farmers in these systems often grow both cool and warm season crops, which leads to multiple fallow periods during the growing season. A major fallow period in vegetable rotations is summer, when spring and fall vegetable crops are frequently separated by a short fallow that leaves soil bare and unused for 30-50 days in the height of summer. Unlike winter cover crops, summer cover crops do not need to be cold hardy, nor have a dormancy period. They are valued for quick, vigorous growth that may outcompete weeds. Previous research has shown that there are multiple legume and non-legume cover crops that are well suited for summer growth (Creamer and Baldwin, 2000; Grossman lab, 2018, unpublished data).
Almost no information exists to guide farmers in effectively using this summer cover crop niche. This project has objectives to both fill the research needs related to warm season summer cover crops, and develop materials to support farmer use of such crops.
Cooperators
Research
Hypothesis:
This project had two driving hypotheses:
Rotations including warm season cover crops and cool season vegetables (broccoli, greens) can be successful in the Upper Midwest, in terms of biomass production and successful production of a cash crop.
Warm season cover crops have the capacity to positively affect soil N cycling via supply of nutrient retention and nutrient provision ecosystem services.
Materials and methods:
Objective 1: Identify summer cover crop management practices, (including species selection, planting date, and crop duration) best suited for North Central vegetable systems.  NOTE: original design included planting density factor, which was later eliminated based on farmer preference for increased species inclusion, and limitations on field size and staffing due to covid-19.
This objective targeted reductions in nitrogen application by optimizing the success of summer legume cover crops in the upper Midwest, particularly on land farmed by underserved vegetable producers. Replicated field trials were planted collaboratively with Minnesota Food Association's (MFA's) Big River Farm using a randomized complete block design with 4 replications of each species, plus controls.
Two of the less common species identified as potential treatments, chickling vetch and Sunn hemp, were unavailable due to covid procurement and shipping delays.  Based on combined feedback from our collaborators, and covid restrictions on lab staffing that forced us to put limits on experiment size, the proposed density factor (two crop planting densities) was eliminated and instead additional cover crop species recommended by farmers were used as treatments, resulting in 6 cover crop species treatments and two controls (below). 
| | |
| --- | --- |
| Species | Functional group |
| Crimson clover | Legume |
| Buckwheat | Non-legume; high flowering |
| Phacalia | Non-legume; high flowering |
| Sunflower | Non-legume; high flowering |
| Oat/Pea | Non legume/legume mix |
| Sudex/Cowpea | Non legume/legume mix |
| Weedy Fallow | Control |
| Bare Fallow | Control |
All cover crops were planted in two rotational systems:
Early Cover Crops: Cover crops planted in early May into mid-summer, followed by broccoli in fall
Late Cover Crops: Lettuce planted in May, followed by cover crops in  late-summer into early fall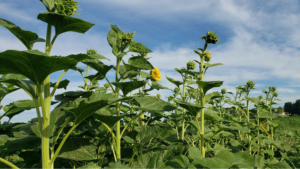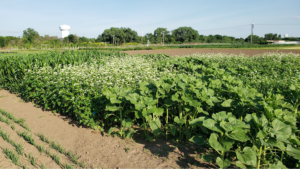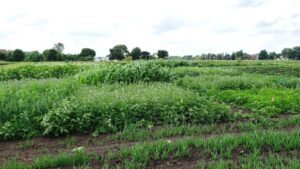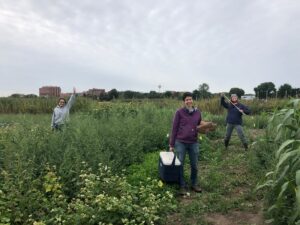 Additionally, unreplicated demonstration plots will be planted in 2022 at two or more additional farms. The Red Lake Nation's 4-Directions Development Gitigaanike Foods Initiative, farmers in contact with the White Earth Natural Resources Department, individual farmers associated with Big River Farm, and Cala Farm have all shown interest in hosting these plots. Farmers will choose species of interest from among the six cover crop treatments used in the replicated experiment.
Planting costs of research plots will be recorded, as seed costs for uncommon species can be high. The cash crop for both planting date systems will be a vegetable cultivar with a 50 day to maturity (DTM) period of our partner's choosing. In the first system the 50 DTM cash crop will precede cover crop planting. In system two, the 50 DTM cash crop will follow cover cropping. Both systems will be planted on June 1 and terminated in mid-September. Vegetable cash crop fertilizer rates will be adjusted to account for biomass N delivered by the cover crop.
We will collect data including both cover crop and weed biomass, to quantify capacity for weed suppression. Legume tissue N from each plot will be quantified using an Elementar vario PYRO cube EA-IRMS CNS analyzer (Elementar, Langenselbold, Germany) for carbon and nitrogen content. In addition to quantitative data, qualitative farmer feedback will be solicited related to impressions of cover crop viability, hardiness, weed competition, and ease of management.  We will form an advisory group of farmer representatives from all on-farm trials (compensated for time and effort).
Objective 2: Determine the fate of nitrogen (N) derived from cover crop legumes, including when nitrogen produced by cover crops is most available to crops or prone to loss, and the effect of species selection, planting density, and planting date on cover crop fertility provision.
This objective will quantify nitrogen availability at several time points following cover crop termination to determine optimal N availability for cash crops relative to cover crop timing and species, and opportunities to reduce external N application and N leaching. Soil samples from the field plots described in objective 1 will be collected at key management time points following cover crop termination to evaluate microbial activity, and soil carbon (C) and N pools, using permanganate oxidizable carbon labile C, available soil N, and microbial biomass assays.
Nitrogen availability in the soil profile will be monitored and quantified following cover crop termination using the buried anion resin bag method (Finney, et al. 2016). Bags will be inserted into soils at two depths, with at least one of the bags placed below the cash crop rooting zone to capture N prone to leaching losses. Bags will be removed at three time points corresponding to key management activities and in synchrony with soil sample collection. Anion resin bags will be extracted in the laboratory to measure nitrate leaching post cover crop termination.
Data from this work will provide farmers the knowledge they need to improve cover crop planting and termination timing, as well as species selection, to maximize legume cover crop derived nitrogen availability to cash crops.
Research results and discussion:
Objective 1: Identify summer cover crop management practices, (including species selection, planting date, and crop duration) best suited for North Central vegetable systems, and
Objective 2: Determine the fate of nitrogen (N) derived from cover crop legumes, including when nitrogen produced by cover crops is most available to crops or prone to loss, and the effect of species selection, planting density, and planting date on cover crop fertility provision.
Project Year 1 (2020):
Despite the impacts of covid-19 and restrictions placed upon us the University of Minnesota in terms of travel and research functions, we successfully carried out replicated experiments at both proposed sites, including the University of Minnesota St. Paul research station, and Big River Farms.  We hired a graduate student (Ezra Moses), who received fellowship support in their first and second years of graduate school, and will utilize grant support in subsequent years. 
Data collected from both rotations to meet objective 1 included cover crop and weed biomass, and legume tissue total N at termination. Early-planted cover crops generally excluded weeds well, and mean cover crop biomass production ranged from 3562 lb/A (crimson clover) to 7465 lb/A (cowpea/sorghum-Sudan mix) at St. Paul, and 2717 lb/A (phacelia) to 4824 lb/A (pea/oat mix) at Marine on St. Croix. Late-planted cover crop biomass production was generally lower, and weed competition more prominent, particularly in the sunflower and crimson clover treatments. To meet objectives 1-2 we quantified nitrogen availability monthly during cover crop growth and during cash crop growth following cover incorporation. This allowed us to monitor both uptake and release of N from cover crop tissues, in order to identify cover crop timing and species selections that can optimize N availability for cash crops and provide opportunities to reduce external N application and N leaching. While data processing is still underway, preliminary analysis indicates that all cover crop treatments, as well as weedy fallow, reduced available soil nitrate during their growth period, suggesting a N retention ecosystem service provided by cover crops as they took up soil N otherwise prone to loss. Potentially mineralizable N (PMN) was measured once during cover crop growth and once during cash crop growth as an indicator of N that is available for microbial breakdown, and thus mineral N release for future plant uptake. For all assays, workflow was significantly reduced by covid-19 restrictions place upon research teams, only allowing us to be minimally staffed in laboratories, and limiting hiring of research staff. Thus, although field operations proceeded normally at two sites, sample processing and analysis for Year 1 was slowed. All plant and soil samples have now been collected, dried, ground, and in some cases analyzed. The pandemic also made it difficult to plant demonstration sites as planned, and thus only White Earth Nation received seeds, via mail, for planting in Y1.
To measure soil N loss in both systems, mesh resin bags were buried beneath the root zone and removed for extraction at the end of the season. Nitrogen is currently being extracted from bags from 2020.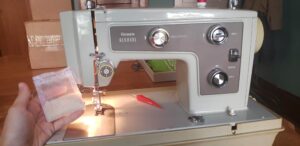 An undergraduate researcher, Sarah Duber, was hired to carry out project sample preparation (grinding, weighing, etc). She was recently awarded an Undergraduate Research Opportunity Program grant to conduct research to investigate the impact of cover crop treatments on soil moisture and temperature, and the relationship to soil N pools, using Decagon probes supported by this project.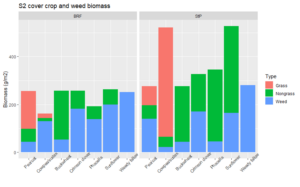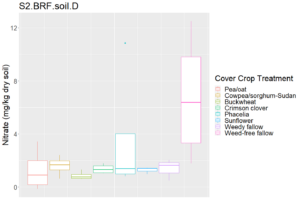 Project Year 2 (2021):
In the 2021 field season, we were able to plant replicated field trials at St. Paul, Big River Farms, with an additional trial at White Earth from which a limited set of data was collected. As in 2020, data was collected on cover crop and weed biomass production, monthly soil nitrate availability, potentially mineralizable N, and leached N as measured by buried resin lysimeters. Extreme heat and drought conditions caused severe stress in July-planted cover crops, requiring replanting of some treatments at the Big River site; however, we were ultimately able to collect the full planned dataset. Our project was joined by an additional graduate student, Gabriela Hidrobo, a Fulbright Fellow who is collecting data on the composition and activities of soil microbial communities as affected by incorporation of cover crop residue. This will be a valuable addition to our understanding of the broader effects of warm-season cover crops in the farm rotation and the soil ecosystem. Due to covid-related delays, processing and analysis of soil and biomass samples from 2020 continued in 2021, alongside processing of 2021 samples.
Soil nitrate in early- and late-planted summer cover crops, 2020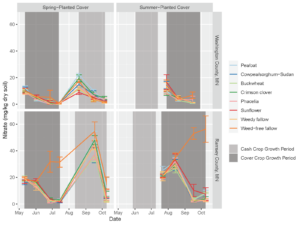 Cover crops, including legumes, took up available soil nitrate during their growth, reducing potential for leaching loss. Following incorporation of early-planted cover crops, nitrate was released from decomposing biomass, leading to soil nitrate availability similar to that of weed-free control. In a lower-fertility soil, legume cover crops may have resulted in increased nitrate availability compared to non-legumes.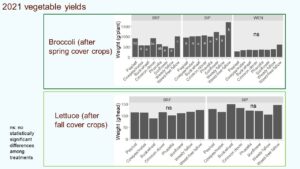 Summer cover crops did not produce immediate boosts to yields of following vegetable crops. At St. Paul, yields were highest following weed-free fallow, possibly due to soil moisture use  by cover crops and weeds. Moisture monitoring by undergraduate research program (UROP) student Sarah Duber in 2021 confirmed that soil moisture was significantly higher in weed-free fallow than in cover crop and weedy treatments, even when irrigation was applied. This indicates a need to emphasize in our outreach to farmers the importance of moisture management when planting vegetables following a cover crop.
A long, warm fall allowed ample time for summer-planted phacelia and sunflower to bloom at White Earth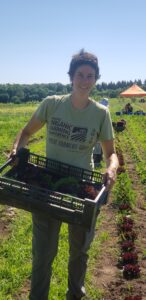 We harvested a lot of lettuce!
Project Year 3 (2022):
In the third year of the project, we successfully completed field trials at St. Paul, Big River Farms, and White Earth.  As in previous years, data was collected on cover crop and weed biomass production, monthly soil nitrate availability, potentially mineralizable N, and leached N as measured by buried resin lysimeters. Performance of July-planted cover crops was affected by midsummer drought, again requiring replanting of some treatments at the Big River site; however, we were again able to collect the full planned dataset. Processing of remaining 2021 samples was completed, and 2022 samples were processed largely as they were collected. Nitrogen assays on soil extracts for determination of nitrate availability, PMN, and leached N are nearing completion, and are expected to be finished in April 2023. Biomass weight datasets are complete; however, biomass composition analysis has been delayed by difficulties accessing the required instruments, due to backlogs that built up during covid-related disruptions and staffing issues. We anticipate that we should be able to complete the biomass analysis in summer 2023.
Three collaborating farmers planted unreplicated plots using one or more cover crop treatments of their choice, and reported their observations to the research team.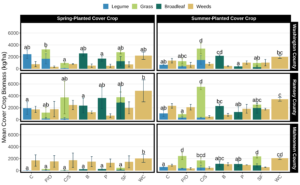 At St. Paul and Big River Farms, crimson clover produced the greatest legume biomass in spring plantings. Phacelia productivity was generally comparable to that of buckwheat, although we observed that its establishment suffered in high temperatures. Cover crops at White Earth struggled to overcome weed competition in early plantings.
Preliminary leaching table 2.27.23
On a cumulative basis over the study period to date, spring-planted cover crops reduced potential nitrate leaching compared to a weed-free fallow control. In summer plantings, only cowpea/sorghum-Sudan and oat/sunflower mixes reduced cumulative potential nitrate leaching.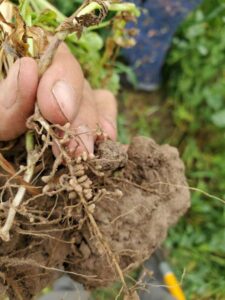 Peas nodulated beautifully at Big River Farms!
Participation Summary
5
Farmers participating in research
Education
Project Activities
Educational & Outreach Activities
4
Curricula, factsheets or educational tools
10
Webinars / talks / presentations
1
Other educational activities: Educational signage placement
Participation Summary:
125
Ag professionals participated
Education/outreach description:
Objective 3: Develop new cover crop legume resources, and make existing resources more available, for immigrant and minority farmers in the North Central region.
Ramping up activities associated with our third objective was delayed by Covid-19, due to the need for social distancing. Most outreach activities were postponed in 2020, but in-person events were possible on a limited basis in 2021, and continued in 2022.  Outreach activities included:
1. Consultations. At the request of staff at Big River Farms, we have consulted with them on plans to educate farmers on how to read soil tests, and developed a grant proposal related to this request that was funded by the UMN's Insititute on the Environment in 2022. We also consulted with BRF staff on fall cover crop options and planting dates.
2. Curricula, factsheets or educational tools. Natalie Hoidal, working in consultation with Grossman Lab members and using data and observations from this project, has developed three educational Youtube videos and an Extension website for vegetable farmers using or considering cover crops. The Xerces Society is also developing a 12-page educational document that will be available in print and online in March 2023:
Estimating Nitrogen from Cover Crops
https://www.youtube.com/watch?v=zumgLm_6HKY
Cover crops for Small Spaces
https://www.youtube.com/watch?v=nJTJvX-bY38
Cover Crop Selection for Vegetable Growers
https://extension.umn.edu/cover-crops-and-soil-health/cover-crop-selection-vegetable-growers
Summer Cover Crops for Vegetable Producers 
Pollinator Friendly Cover Cropping for Upper Midwest Vegetable Producers: a locally specific guide to cover cropping for insect benefits, compiled by Xerces partners, is in final design stages and is anticipated to be released in March 2023.
https://xerces.org/pollinator-friendly-cover-cropping-umw-vegetable-producers
Plans for 2023 include the production of a project summary and fact sheet including cover crop research results.
3. Journal articles. Manuscripts are in development that will describe agronomic performance and nitrogen cycling effects of summer cover crops in our field trials, as well as dynamics of cover crop biomass decomposition and microbial nutrient cycling.
4. On-Farm Demonstrations. Demonstration plots of cover crops took place at three farm sites in 2022. Collaborating farmers provided pictures and feedback on cover crop performance throughout the season.
5. Online trainings: Julie Grossman presented "Introduction to organic vegetable production: A training for NRCS service providers" (Led virtual 2h workshop, invited, 75 participants)
6. Tours: Field plots at St. Paul were presented during a field tour for visiting summer undergraduate research students.
7. Webinars, talks, and presentations
We were fortunate to have presented at the February, 2020 MOSES Organic Farming Conference, and the March, 2020 Great Lakes Indigenous Farming Conference before travel restrictions were put in place. Since restrictions have eased, the team has presented in person to farmer, ag professional, and academic audiences at the 2022 and 2023 MOSES (now Marbleseed) Organic Farming Conferences, the 2021 and 2022 ASA/CSSA/SSSA Annual Meetings, and the 2021 and 2022 Midwest Fruit and Vegetable Expo events.
One upshot of the pandemic is that it was easier than ever to share results virtually. Several additional invited presentations were given in a virtual format. These included presentations at the Great Lakes Fruit and Vegetable Expo and Midwest Cover Crop Council Conference in 2020.
6. Workshop/field days. A total of 3 insect ID workshops were held: on July 1, 2020, Xerces Foundation conducted a small 'Bee ID and Monitoring' workshop for project personnel and key staff from BRF, the Grossman lab, and White Earth. Five individuals attended, due to restrictions placed on Xerces for number of in-person attendees. In 2021, Xerces presented in-person workshops at Big River Farms and White Earth, which were attended by approximately 20 farmers and community members.
Julie Grossman and Adria Fernandez presented "Cover Crops" at Organic Management Strategies: a Field Day for Beginning Farmers at Big River Farms. Participants viewed cover crop species in field plots and learned strategies for establishment, management, and termination. We also presented at both virtual (in 2021) and in-person (2022) field days at White Earth, organized by Zach Paige.
7. Other education activities Aesthetically-pleasing signage (with SARE logo) was placed on all treatment plots at Big River Farms to learn about the cover crop species, benefits of summer cover crops, and project partners.  Big River Farms is an incubator farm serving emerging farmers. Signage allows for widespread dissemination of basic information on cover crop benefits to farmers (Estimated farmers reached: 50)