Progress report for LNE20-410R
Project Type:
Research Only
Funds awarded in 2020:
$49,824.00
Projected End Date:
12/31/2022
Grant Recipients:
Future Generations University; Marshall University
Project Information
Summary:
Problem, Novel Approach, and Justification
Centrifugation could provide an opportunity for maple and walnut syrup makers to reduce costs, increase environmental sustainability, reduce health risks, and increase profits. Producers typically use a filter press with diatomaceous earth (DE) as a filter aid (North American Syrup Producers Manual, 2006). This process creates waste in the form of spent diatomaceous earth, niter, and filter paper.  Inhaling DE's minute silica particles during handling also poses a possible health risk to producers.  For these reasons, many maple producers would prefer not to use DE. Centrifugation would also make it easier for walnut syrup producers to clarify their product which has higher pectin concentrations that quickly plug up conventional filter presses.
Hypothesis:
Our hypothesis is that with the proper knowledge inputs and engineering expertise a basket centrifuge can be designed and constructed to efficiently and safely clarify maple and walnut syrup.  Further, we hypothesize that this device will be a cost-effective improvement on presently used syrup clarification techniques.
Outreach Plan:
Research findings will be shared with farmers in the maple syrup production business through presentations at trade shows, and national-reaching trade publications like The Maple News and the Maple Syrup Digest. If successful, Project advisors will also facilitate discussions with maple equipment manufacturing companies to launch broader manufacturing and distribution of the new clarification technology.
Project Objective: 
The project objective is to design, test, refine, and scale a cost-effective centrifugal separator for maple and walnut syrup clarification.
Project Objective:
 To design, test, refine, and scale a cost-effective centrifugal separator for maple and walnut syrup clarification. 
Research
Materials and methods:
literature review of maple and walnut syrup composition
lab analysis of maple and walnuts syrups and sap composition
review of "off the shelf" option for centrifuge as filtration system: "Extreme Raw Power" Centrifuge
Photometric analysis of syrups filtered through centrifugation: Hanna Instruments maple syrup grading photometer
Moving forward into 2021, work has pivoted to focus on walnut sap and pectin. The reasoning behind the pivot includes that by February, Walnut sap-flow season will be underway and there will be a ready supply of fresh sap to experiment with.
The Marshall University team, Kolling and O'Dell, will be working with other faculty in the chemistry department to come up with analytical procedures to measure the amount of pectin in the sap. In the meantime, Greg Christian (Toms Creek Maple), will be taping walnut trees and collecting the sap for further analysis. Christian is planning on continuing his centrifuge experiments, working with various chelating agents to bind the pectin before centrifugation to remove it from the sap. The goal of the next few months is to reduce the pectin concentration in the sap to a level where it is practical to concentrate the sugars in the sap by running it through RO (reverse osmosis process).
Research results and discussion:
Centrifugation studies
3,000 rpm was a threshold speed for separating solids (called niter or sugar sand) from syrup.
8,000 rpm was a threshold speed for pellet (presumed pectin) formaton in walnut sap.
Late season sap spun at 8,000 rpm results in a gel (presumed pectin) as part of the pellet.
Centrifuge studies
The Extreme Raw Power centrifuge, spinning at 6,000 rpm, removes a significant portion of the niter or sugar sand. Issues remain with foaming.
Pectin can be spun out of walnut sap. We expect higher efficiencies with the proper filter aid.   
We received notice that the project was funded and less than one month later, our partners, Marshall University and RCBI were fully engaged reacting to the COVID-19 situation. This caused unforeseen delays in the research timeline and meant that most of the research work was not able to begin until their facilities reopened in June. At this point, a progress report brought everyone up-to date and a 6-month work plan was developed. The meeting was also important in that walnut sap and syrup needed for the lab work was delivered to Derrick Kolling at Marshall University.
Kolling was able to move forward by hiring undergraduate chemistry student Hayden O'Dell to begin the lab analysis on walnut sap and maple syrup. Additionally, an "Extreme Raw Power" centrifuge was purchased for Greg Christian to begin experimenting with the workings of an "off the shelf" machine. Also purchased was a Hanna Instruments Maple syrup grading Photometer for Marshall University to test the clarity of their centrifuge experiments.
In the summer of 2020, Marshall labs were more-or-less closed, therefore O'Dell worked on a literature review focusing on the chemical composition of maple say and syrup and in the lab on the maple and walnut syrup particle analysis whenever possible.
On September 24, 2020 a second research team meeting was held at RCBI. By this time, particle analysis work was nearly complete, and the analysis prepared by Hayden was reviewed. This analysis gave Christian the information he needed to use with the results of his experimentation with the Extreme Raw Power centrifuge and plan the modifications to move forward with the centrifuge redesign.
With the Marshall University labs reopening over the summer, 2021 was a much more productive year for this research. The focus of the research continued to be two pronged.
The pectin problem: Work with Marshall University focused on practical and field applicable ways to identify and reduce the amount of pectin in walnut sap. With pectin in the sap, walnut syrup producers are not able to concentrate the sugars using reverse osmosis (RO), a technique commonly used in the maple industry. Pectin also makes filtering of the syrup very difficult. Focusing on pectin was a pivot in the analytical work from a more general understanding of the chemical composition of walnut and maple sap and syrup to solving a problem holding back the advancement of the walnut tapping industry
Clarification of syrup: At Tom's Creek Maple, work continued using the "Extreme Raw Power" centrifuge to overcome problems with using centrifugation to remove niter (sugar sand) from maple syrup.
2021 Research Results:
Pectin:
Over the summer of 2021, Hayden O'Dell discovered that it was possible to use a lab centrifuge to separate and quantify small quantities of what is presumed to be pectin from walnut sap. Up to this time, these centrifugation studies at Marshall had focused on a size particle analysis of niter from maple syrup. It was known from previous studies at West Virginia State University that a distinct gray layer of presumed pectin separated in the centrifuge plug of walnut syrup. Through dry weight analysis, O'Dell was then able to quantify the pectin in the plug at various speeds and spin durations (figure 1). This is the first time that the small quantities of pectin found in sap could also spin out, opening the possibility of reducing the quantity of pectin in walnut sap through centrifugation (Appendix 1 Walnut Sap Dry Mass 9-9-2021)
Figure 1. Dry weight analysis of centrifuge plug for early and late season walnut sap.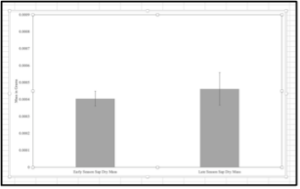 Hayden's work was on a bench centrifuge using 2ml samples. To be practical for a syrup maker the centrifuge would have to be a continuous flow machine. The most readily available and reasonably priced continuous flow centrifuge is a cream separator. Cream is light and floats on the heavier milk. Observations from the previous year indicated that pectin floats or rises to the top of the boiling syrup. A question raised is does pectin, with a high molecular weight, when moving into a matrix with sugars in the sap (gelling) form a layer that is lighter than the sap? To probe these questions and test an inexpensive continuous flow machine we did several experiments using commercial pectin with a cream separator (Appendix 2 Cream Separator). These experiments showed that, based on color, a separation did occur and that it could occur in a continuous flow machine.
The next step was to see if that translucent gray layer in the centrifuge plug is in fact pectin and then to do it in a way that is field applicable in a sugarbush. The team was looking for a technique that could be used to determine if the sap pectin level was low enough for it to be concentrated with an RO. Because what is refer to as "pectin" is comprised of a variety of similar but chemically different molecules; its analysis is complex and requires the sophisticated instrumentation of an organic chemistry lab. Something is needed that could be done in an environment more similar to the back of a barn.
Because pectin is a polysaccharide, made up of long chains of monosaccharides which are simple sugars, a refractometer was tried. Refractometers are found in every sugarhouse and are used to measure the brix (% sucrose, a simple sugar) in the sap. The hypothesis was that changes in sucrose concentrations could be used as a proxy for pectin. Hayden conducted several experiments over the summer and found that, although an interesting idea, it did not work (Appendix 4 Walnut Sap and the Pectin Problem).
With the discovery that it seemed as though pectin plug could be spun out from walnut sap using centrifugation, attention turned from "the barn" back to the chemistry lab to see if it was possible to positively identify and quantify pectin in the centrifuge tube plug. A literature review of analytical tools to identify and quantify pectin led to an acid/base titration method (Ranganna, 1995) as the preferred method due to its simplicity and applicability without the need sophisticated analytical instrumentation. O'Dell proved the technique using commercially available pectin but found that it could not be used with the small sample quantities available from centrifuging 2ml sap samples.
In the meantime, project PI Mike Rechlin wrote a literature review and summation of the issues related to pectin in a document "The Pectin Problem" (Appendix 4 Walnut Sap and the Pectin Problem). This was done to get a more wholistic view of the problem we were addressing, from tree to syrup, synthesize our research to date, and to provide direction moving forward towards solving the problem.
With the possibility of using centrifugation to reduce or eliminate pectin from walnut sap and Marshall University's chemistry labs now open, the team moved forward in the fall of 2021 with an experiment that combined the field work at Tom's creek Maple with the analytical work at Marshall University. In November, project PI Mike Rechlin and Greg Christian at Tom's creek spun the limited quantity of walnut sap still on hand (frozen from last sap flow season) through the "Extreme Raw Power" continuous flow centrifuge spinning the sap at 6,000 rpm (approximately 4,000xg) at a slow feed rate. The raw walnut sap and the sap that had been centrifuged were then taken into Marshall's lab where Hayden O'Dell used his desktop analytical centrifuge and spun both samples at 8,000rpm for 5 minutes. A visual analysis of the resulting centrifuge plugs showed a marked reduction in the size of the plug that had been spun in the extreme raw power machine, indicating that pectin levels could be reduced by centrifugation in the raw walnut sap (Appendix 5 Centrifuge Studies at Toms Creek).
Syrup Clarification
Having the size particle analysis from Marshal University at hand, work at Tom's Creek Maple focused on the removal of niter or sugar sand from the syrup. This work was conducted on the Extreme Raw Power commercially available continuous flow centrifuge, with 6,000RPM and achieving approximately 4,000xg, and a cost of approximately $1,600. The use of an off-the-shelf centrifuge instead of designing one from scratch was to have a tool that was affordable for the average syrup maker. The design strategy focused on modifying this existing product to make it better for clarifying syrup.
A 2017 syrup centrifuge study by Charles Chase (FNE 15-823) had problems with foaming of the centrifuged syrup. This research worked to eliminate this problem by the application of vacuum to the centrifuge chamber. The theory being that without air present foam would not form. The experiments were largely successful, removing most of the foam from the samples. This technique has the potential to eliminate all the foaming problem with a larger vacuum pump.
Niter removal studies continued with attempts to clarify maple and walnut syrup. This included designing and 3-D printing a basket to hold filter paper and diatomaceous earth, or other filter aid, to chelate the finer niter particles. These studies are continuing.
Figure 2 - 3-D printed basket that could be used with filter paper and a filter aid to clarify syrup.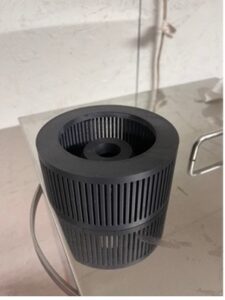 Literature consulted:
"Analytical tools used for the identification and quantification of pectin extracted from plant food matrices, wastes and by-products: A review." Antonela Nivcevic Grassino, Francisco J. Barba, Miaden Brucic, Jose M. Lorenzo, Luigi Lucini, Suzana Rimac Brncic. Food Chemistry. 2018.
"A Rapid Method for quantitative Determination of Pectic Substances." N.P. Shelukhina and L.G. Fedichkina. Actra. Bot. Neerl. June, 1994.
Participation Summary
1
Farmers participating in research
Education & Outreach Activities and Participation Summary
Educational activities:
2
Published press articles, newsletters
2
Webinars / talks / presentations
1
Other educational activities
Participation Summary:
10
Number of agricultural educator or service providers reached through education and outreach activities
Outreach description:
2020 Outreach activities, just like the research process, were curtailed by the pandemic. However, RCBI held a new syrup producer workshop in November at Tom's Creek Maple at which the work of this project was explained.
2021 (year 2 outreach) consisted of two webinars/presentations and the publication of an article in the Maple Syrup Digest on walnut sap flow, that included reference to the pectin issue, and an article promoting walnut syrup production in National Woodlands magazine. Additionally, the team worked on the establishment of a 1,000 tap walnut tapping operation that will be used in the year 3 research.
The first webinar was a presentation and round table discussion with researchers/technical service providers, and farmers/producers participating in current walnut research in the region. The second webinar was directed at the current and potential syruping community through a regular webinar series held monthly by Future Generations University. 
Appendix 6 – "Tapping into Sappy Non-Timber Forest Products for Fun and Profit." National Woodlands Magazine. Autumn 2021. (Appendix 6 Sappy_Rechlin_Autumn2021-lr (1))
Appendix 7 – "Tapping Walnut Trees: Studies in Walnut Sap Flow." Maple Syrup Digest. September 2021. (Appendix 7 Maple Digest Walnut)
Learning Outcomes
2000
Farmers reported changes in knowledge, attitudes, skills and/or awareness as a result of their participation
100
Service providers reported changes in knowledge, attitudes, skills and/or awareness as a result of project outreach
100
Educators or agricultural service providers reported changes in knowledge, skills, and/or attitudes as a result of their project outreach
Key areas in which farmers reported changes in knowledge, attitude, skills and/or awareness:
National Woodlands has a circulation of 46,000. The Maple Syrup Digest is circulated to members of 13 state affiliates, reaching 3,000 syrup producers. It is estimated that at least 2000 producers and 100 technical service providers gained new knowledge and awareness about tappable tree species and alternative uses for walnut trees as well as knowledge about resolutions to solve production issues in walnut syrup.
Project Outcomes
2
Grants applied for that built upon this project
2
Grants received that built upon this project
$75,000.00
Dollar amount of grants received that built upon this project
4
New working collaborations
Success stories:
There is a new large-scale (1000 tap) walnut syrup producer in West Virginia as a result of this work; this is the largest producer in the region, possibly in the US.
Assessment of Project Approach and Areas of Further Study:
After this second year of work, the team has concluded that the complete elimination of all niter compounds will not be possible using centrifugation. Depending on the site and the conditions under which the syrup is made, particles imparting cloudiness to syrup vary down to the point of being almost colloidal. Although centrifugation is theoretically possible, it is not practical or cost effective with a reasonably priced off-the-shelf centrifuge. It is believed that is it possible to remove the vast majority of the suspended particles but that the syrup will need to be polished using standard filtration techniques. In the last year of project, activities planned include determining the percentage niter that can be removed with a centrifuge and the reduction in the use of diatomaceous earth that results from centrifuging syrup prior to filtration.
Information Products