Progress report for LNE21-424R
Project Type:
Research Only
Funds awarded in 2021:
$98,539.00
Projected End Date:
02/28/2023
Grant Recipient:
University of Massachusetts Amherst
Project Information
Summary:
Farmers, landscapers, conservation land managers, government and the public are all invested in providing floral resources to promote pollinator abundance, diversity and health. Pollen and nectar from certain flowers can reduce pollinator infection by detrimental pathogens, but this has been examined for only a few plant species and almost entirely in laboratory settings. The Adler lab recently discovered that sunflower pollen dramatically and consistently reduced a common detrimental gut pathogen of bumble bees in the lab, and that farms with more sunflower had bumble bees with reduced infections. If pollen from other flowers in the sunflower family (Asteraceae) similarly reduces infections in bumble bees, promoting the planting of Asteraceae cut flowers could be an avenue for farmers, landscapers, horticultural growers and land managers to improve bee health while providing a source of income. We will test this hypothesis using a two-pronged approach. We will work with growers at three 'cut flower' farms (at least 3/4 acre of cut flowers from our target species) and compare with 3 'control' farms (1/10 acre cut flowers or less). We will deploy honey bee hives with pollen traps at the cut flower farms to collect pollen that we will sort, identify to species using DNA barcoding, and then test in the laboratory to determine effects of each cut flower species on pathogen infection. By testing the pollen of many species in the Asteraceae we will greatly expand our understanding of which pollen has medicinal benefits, may clarify underlying mechanisms, and will be able to make recommendations to stakeholders about species that promote bumble bee health. In addition, we will sample bumble bees twice from each cut flower and control farm (all will have honey bee hives to avoid confounding effects) and assess pathogen infections to determine whether cut flower plantings on farms reduce bee pathogens, as we found for sunflower. Stakeholders have shown overwhelming enthusiasm for this research, with over 97% of 2378 survey respondents saying that if we found specific flowers that reduce bee disease, they were 'highly' or 'very highly' likely to recommend or use these flowers in their farm/industry/garden. We have consulted with farmers on study design, cut flower selection and potential obstacles during proposal preparation, and will engage with farmers who host the cut flower and control sites. We will solicit input on study design and results via our advisory committee, and disseminate results widely via websites, listservs, fact sheets, our Research Buzz newletter, Vegetable Notes, Hort Notes, and presentations at stakeholder meetings. Taken together, this research will provide insights into how specific flowers may mediate pollinator health, and provide novel opportunities for low-input, non-chemical management practices that stakeholders can use to manage pollinator health and maintain sustainable agroecosystems.
Project Objective:
Our goal is to evaluate whether pollen from cut flowers in the sunflower family (Asteraceae) can reduce disease in bumble bees, based on our discovery of this effect in sunflower pollen. We will collect a diversity of pollen from farms growing Asteraceae cut flowers to test its effects on bee pathogens in lab trials, and will collect bumble bees at 'cut flower' and 'control' farms to assess impacts of cut flowers on wild bees. Our work is novel for innovating sustainable, low-input approaches to manage pollinator health by growing specific crops whose pollen could reduce pollinator pathogens while providing income.
Research
Materials and methods:
We conducted the on-farm study as described during summer 2021. We included the 3 'cut flower' and 3 'control' farms stated in our original proposal. We exceeded our proposal goals, collecting bumble bees and measuring floral resources three times per farm instead of twice as proposed.  We also expanded the scope of the original study by collecting all the common bumble bees at the farms, including Bombus vagans, bimaculatus and grisecollis, as well as B. impatiens as originally proposed. We ultimately collected data from 687 bumble bees, of which 600 were B. impatiens and the rest were relatively evenly spread between the other three species. Due to the low sample size we may only be able to report general patterns for the other species, but are glad we can see if patterns are similar.
We also collected pollen from the three cut flower farms, as described in our proposal, and spent the fall doing a preliminary sorting to ascertain which colors of pollen were Asteraceae (had spines) in each collection. Due to COVID-related delays, the machine to sort the pollen automatically by color is not yet operational; we will send pollen for DNA barcoding and conduct the bioassays to determine effect on Crithidia infe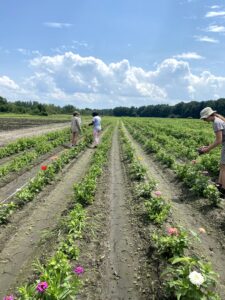 ction as s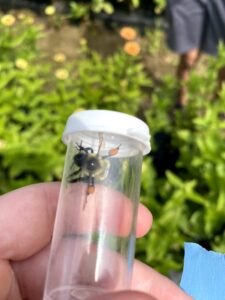 oon as the sorting is accomplished. 
We also spent the fall (1) measuring the marginal cell length from the field-collected bees as an estimate of  body size, which often correlates with infection intensity, and (2) entering data; the floral resource data set was large and this took quite a bit of time. 
Research results and discussion:
At this point we have only conducted exploratory analyses of Crithidia infection from the field-collected bumble bees; none of the patterns described below have been rigorously tested for statistical significance yet and so should be considered entirely preliminary. Bombus impatiens was an order of magnitude more common than any other bee species. Bumble bee abundance was highest at the farm that planted the most Asteraceae cut flowers. Infections were somewhat less likely in B. impatiens than the other species, but we have not yet tested statistical significance. We see no strong signal of Asteraceae cut flowers predicting Crithidia infection across sites; there may be some mild trend for Crithidia infection to decrease at cut flower farms more than control farms, but again we have not yet tested statistical significance. We have not yet added bee size or date as covariates to our models. 
Participation Summary
6
Farmers participating in research
Education & Outreach Activities and Participation Summary
Educational activities:
1
Webinars / talks / presentations
1
Other educational activities
Participation Summary:
10
Number of agricultural educator or service providers reached through education and outreach activities
Outreach description:
At this point we are still analyzing results and so not ready to disseminate broadly. However, we did participate in the annual South Deerfield Farm day, which I estimate was attended by 30 farmers and 10 extension educators, and I discussed the hypotheses and goals of this project.
I also trained 3 undergraduates and 2 graduate students who conducted the field work with me this summer. This may not be what is meant by an 'educational activity,' but I strongly believe in the power of these experiences to train a new generation of potential agricultural researchers.
I also ran our first Advisory Board meeting in April 2022 to describe our project context and get feedback on how to make it most effective. It was attended by two extension educators and three farmers (the members of the Advisory Board). We also conducted our research on 6 farm fields (run by 5 farms) and discussed the premise with all of the participating farmers. 
I am giving a research talk for UVM extension on Feb 17 and will be discussing this project amongst others.
Data analysis is in progress for a journal article that will result from this work, but will also incorporate the bioassay lab trials we plan to run this spring to make a more substantial manuscript.
Project Outcomes
1
Grant applied for that built upon this project
1
Grant received that built upon this project
$2,430,711.00
Dollar amount of grant received that built upon this project
3
New working collaborations