Progress report for LS19-316
Project Type:
Research and Education
Funds awarded in 2019:
$255,302.00
Projected End Date:
09/30/2022
Grant Recipient:
University of Arkansas
Project Information
Abstract:
There has been an increased interest in silvopasture in Arkansas due to incentives related to diversified production resulting in short term profits from beef production and long term profits from timber production, as well as, creating wildlife habitat and additional hunting land. Many small beef producers have attempted to adopt silvopasture, but have failed to establish grazing forage, discouraging further pursuit.
In Arkansas, there are typically two types of silvopastures, one in established loblolly pine (Pinus taeda) plantations and the second, in natural forests that have regenerated from a previous timber harvest or long-term fallow pasture. This project aims at evaluating forage species and establishment method for both silvopasture types.
In established plantations, this project will test eight different high quality perennial and annual grasses including novel-endophyte tall fescue (Lolium arundinaceum), Italian ryegrass (Lolium multiflorum), annual ryegrass (Lolium multiflorum), and orchardgrass (Dactylis glomerata); and also annual and perennial legumes including crimson clover (Trifolium incarnatum), arrowleaf clover (Trifolium vesiculosum), white clover (Trifolium repens), and alfalfa (Medicago sativa) in single 40-foot alleys. Forages will be measured for seasonal biomass distribution persistence, yield, and nutritive parameters including crude protein, neutral detergent fiber, in-vitro true digestibility, and neutral detergent fiber digestibility.
The second project aims to test the influence of decreasing levels of timber basal area in un-managed forests on growth and persistence of orchardgrass and crimson clover and arrowleaf and novel endophyte tall fescue. The main research will be completed at USDA-ARS Dale Bumpers Small Farms Research Center in Booneville, AR, which has both loblolly pine plantation and un-managed forests with mixes of hard and soft woods. Demonstration plots will be created on three cooperator farms in Arkansas to show variety in silvopasture types and create diverse environments for testing forage establishment. The success or failures on the on-farm demonstrations will allow researchers the opportunity to understand common forage establishment issues on farm, and will help to strengthen the researchers' applied knowledge, as well as the supporting educational materials.
Three field days will be held, one in every year, with each focusing on a different topic. All field days will involve farmer cooperation and local foresters. A step-by-step video database will be created to share knowledge from farmer cooperators, scientists, and forester consultants. The videos will cover six topics: an overview of silvopasture; timber management in existing plantations and natural forest; planning and starting silvopasture with new plantings; forage establishment, production, distribution; matching cattle requirements; and an economic model for silvopastures in Arkansas.
Project Objectives:
Determine the suitability (seasonal forage distribution, production, quality, and persistence) of annual and perennial legumes and cool season grasses in single row 40-foot alleys in Arkansas loblolly pine silvopastures;
Determine the suitability (seasonal forage distribution, production, quality and persistence) of orchardgrass/crimson clover mix and arrowleaf/novel endophyte tall fescue species in naturally regenerated hard and soft wood forests thinned to three different basal areas, a control no thinning (or minor thinning to approximately 60 sq. ft.), 40 sq. ft., and 20 sq. ft. per acre;
Develop an extensive video library that outlines and describes common methods for silvopasture establishment and management around the state;
Create a working group of farmers, NRCS, ARS, and University of Arkansas experts to support ongoing silvopasture management with current and perspective farmers involved in the project;
Evaluate the most economically viable system based considering both timber and forage growth, and estimates of cattle performance.
Cooperators
Research
Materials and methods:
We received funding in July 2019 and implemented the first research study in fall of 2019. Onsite research takes place at the USDA-ARS station in Booneville AR. There are two experiments: 1) annual and perennial grass and legume establishments in pine tree alleys; and 2) perennial cool-season forage grass establishment in a hardwood forest thinned at different levels. 
Pine plantation experiment:
Plots in the pine plantation were started with preparation for planting in August 2019, with planting occurring on October 3, 2019. Seedling counts were conducted on October 28. Further plot maintenance, including fertilization with P and K, occurred in fall, and with N fertilization in spring. Plot harvests occurred on April 3, May 21, July 10, with one more additional harvest for the perennials planned for late September. Data collected: yield, subsamples for later determination of botanical composition, and subsamples for forage quality. Botanical composition and forage quality will be determined in the lab over winter.
Plots were last harvested end of September. In that instance, we only harvested the perennial forage plots as the annual forages already senesced in early summer. Biomass was collected at the same dates for all forages throughout the growing season, 3 times between March and June, and 1 time in September for the perennials.
Annual forage plots were replanted in early October of 2020. Prior to planting, plots were terminated with glyphosate, disked lightly, and planted with the same seeding rates as the year prior. Forages replanted included annual ryegrass, Italian ryegrass, crimson clover, and arrowleaf clover
Fertilizer (P and K ) was applied after planting to those plots, while N fertilizer was applied in March of 2021
Hardwood forest experiment:
On June 18, 2019 we met with forester Tim White to discussion TSI on the hardwood stand. A plan was developed for the thinning. On July 2, 2019 Dirk, Robert, and Christine marked the 9 plots in the hardwoods. On October 28 and 29th 2019, Tim marked the trees necessary for removal to meet the desired basal areas. On May 21, 2020, Tim's crew competed the herbicide injection on the trees set for removal. Soil samples were taken by Christine Nieman, Robert Rhein (research associate), Dirk, and soil scientist collaborator, Mary Savin from the University from Arkansas, on June 30th and July 7th, these soil samples will be used for measures of soil health in the converted forest. This fall, small undesirable trees will be removed with a mulcher attached to skid steer, in order to make room for planting equipment. 
In early September of 2020, preparation work began in the hardwood area. A skid steer with a mulcher attachment was used to clear brush and small trees, and prepare the areas for future forage plantings. At times, work had to be paused because of wet conditions and equipment breakdowns, but as of late October most of the area was ready to plant. This is somewhat later than we planned, but we decided to still plant this fall, albeit later than anticipated. 
Research plots were established on November 19, 2020. This was later than planned, but still within the anticipated time frame. Forages planted were orchardgrass and novel endophyte tall fescue, as these are options that can be easily established for both research and demonstration purposes.
Forages were planted both at 20 lbs/acre. Plots were limed with 1500 lbs / acre and fertilized with P and K on December 8th, 2020.
These forages were planted on hill sides and bottom sites based on the topography of the hardwood area. In each experimental unit, two hill and two bottom sites were planted to account for the different hydrological conditions of the research area
Major progress was made on the expansion of soil data collection: we built 60 root core that will be installed early April in all experimental units of the hardwood area. Each core measure 9 x 30 cm, is made from wire mash, and wrapped in window screen. Soil with the approximately same volume will be removed from the ground, sieved to remove roots, and filled back into these cores which will then be inserted into the ground. We will monitor root growth in our forage research plots as well as in adjacent woody areas. This method has been referenced and will captures data on growth and development of finer roots that can penetrate the 1.5 x 3 mm window screen.
Soil samples obtained in summer of 2020 have been ground in February of 2021 for further analyses.
In January of 2021, we added a graduate student, Matt Janorschke, to the project. Matt will focus on the soil-scientific aspect of the project. His research project will focus on analyzing baseline samples obtained in summer of 2020, and collecting data in root growth from root cores to be installed in April of 2021.
Research/Demonstration on cooperator farm (Rennie Reynolds)
Demonstration plots were established on October 15th, 2020 on Rennie Reynolds cooperator farm
In mid-September, we selected multiple sites in a forested area that was treated with the "hack & squirt" methodology earlier in the year as part of our grant
A total of 12 sites over a 500 yard distance of forest were selected, each consisting a single planting of a forage species or side-by-side planting; forages species were novel-endophyte tall fescue, orchardgrass, or annual ryegrass
Those species were selected based on the research done in the pine trees and also based on the hardwood research site at USDA-ARS Booneville, AR
Each plot was 10 by 20 feet in size, and seeds were applied with a hand-held broadcast spreader; seeding rates used were 20 lbs/acre for each species
Established plots were visited on November 24th to check on seedling emergence and perform a basic seedling count/frequency. All seed emerged relatively well.
Research results and discussion:
As of November 2020, we are in the process of analyzing data collected during 2020 from the plot research in the pine tree alleys

this part of the project refers to 8 species of annual and perennial forages planted in existing pine stands

Data includes biomass accumulation in both annual and perennial forage species, species composition, and seedling emergence
Preliminary results are as follows (total biomass in 2020, pine alleys):
| | |
| --- | --- |
| Species | tons/acre |
| Alfalfa | 1.46 |
| Orchardgrass | 2.01 |
| Tall Fescue | 2.47 |
| White Clover | 1.79 |
| Annual Ryegrass | 1.94 |
| Arrowleaf | 1.56 |
| Crimson | 1.52 |
| Italian Ryegrass | 1.89 |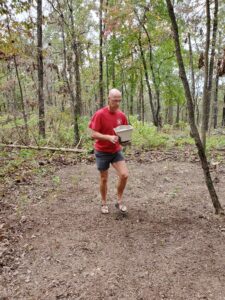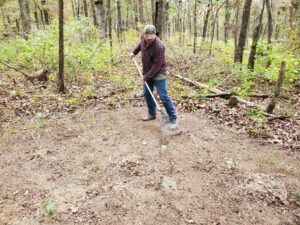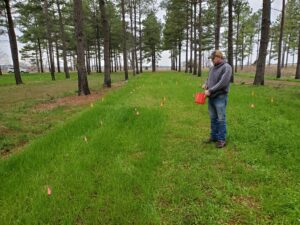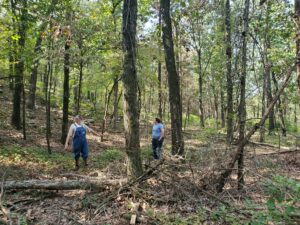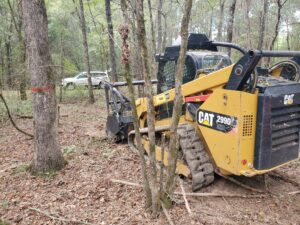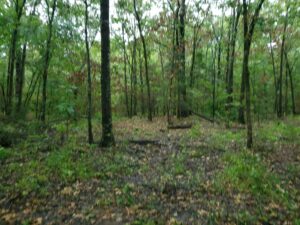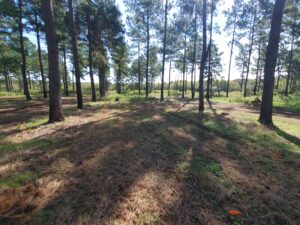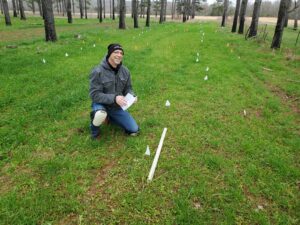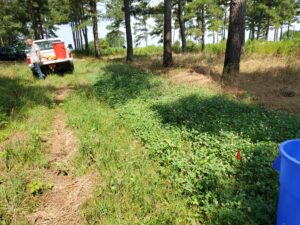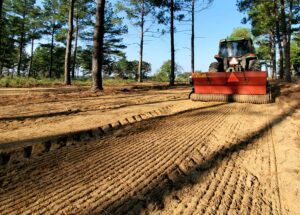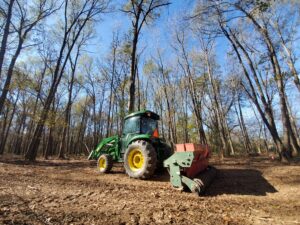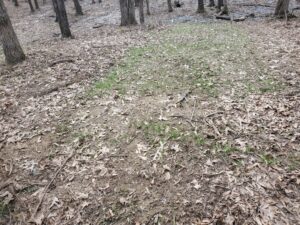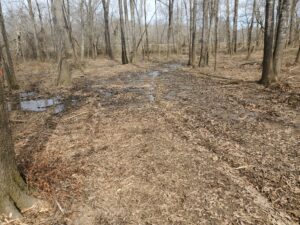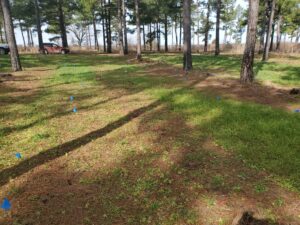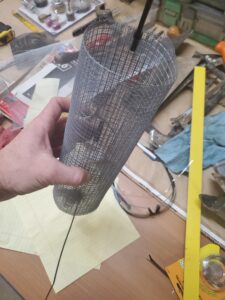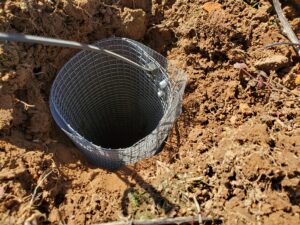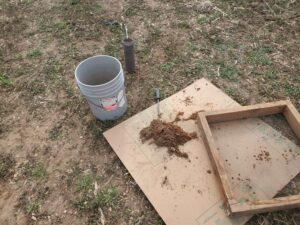 Participation Summary
1
Farmer participating in research
Education
Educational approach:
We are working most closely with a cooperating producer (Rennie Reynolds) to develop educational materials for producers and landowners. This will include a handbook on how to get started with silvopastoral systems including a video library describing forestland transition, thinning, and planting of forages. Due to the covid pandemic, we were not able to engage in substantial on-farm outreach throughout the year 2020, but were able to co-host a field day in fall of 2019 in cooperation with the University of Missouri - Center for Agroforestry. 
Educational & Outreach Activities
3
Curricula, factsheets or educational tools
5
Published press articles, newsletters
2
Webinars / talks / presentations
Participation Summary:
25
Ag professionals participated
Education/outreach description:
Outreach
A field day at Heifer Ranch was scheduled for fall 2019. Due to extremely excessive rainfall and flooding in spring of 2019, we were unable to plant annual species at Heifer Ranch and could not hold a field day. The plan was to move that field day to 2020, but due to COVID-19 we were unable to host a field day either at Heifer Ranch or USDA-ARS in Booneville. We hope to host field days at both locations in year 2, however, if the COVID-19 situation still does allow for field days, we will prepare a virtual field day. However, we were able to co-host a field day with the University of Missouri Center for Agroforestry in November 2019 and took advantage of the opportunity to speak about our SARE project at SSAWG in January 2020.
 Video Series
On Thursday July 9th, 2020, filming started at with Rennie and Tim at Rennie's farm. This part of the video series will focus on TSI, how its done, how to choose trees, what is basal area, etc.. During this visit footage also included interviews with Rennie and his motivation for utilizing silvopasture on his personal farm. Video footage will continue to be taken, with the final editing occurring in year 3. Additional footage has been recorded during planting activities in October and November 2020
Handbook
We started drafting and editing a handbook based on our research and experience establishing forages in both pine tree alleys and hardwood areas
The handbook will encompass all aspects of site preparation and forage establishment
The video library will be based on the outline of the handbook
Work with cooperators
Rennie Reynolds place, Subiaco, AR
The project PIs attended a Field Day hosted by Rennie Reynold's on November 9th, 2019 This field day was co-hosted by University of Missouri Center for Agroforestry, University of Arkansas Extension, Green Cover Seeds, and USDA-ARS Dale Bumpers Small Farms Research Center. We toured Rennie's farm and described the newly awarded SARE grant with participants (approximately 20 in attendance)
CO-PI Christine Nieman worked with Rennie Reynold's on a presentation of his experience developing silvopasture on his farm for Southern SAWG. This presentation was given by Christine Nieman, in place of Rennie Reynolds, on Saturday January 25th, 2020 in Little Rock, AR (approximately 40 in attendance).
On Thursday July 9th, 2020 Dirk Philipp and Christine Nieman visited with Rennie and forester Tim White on Rennie's farm. Scientists, Rennie, and Tim chose areas for the research site. Tim began the timber stand improvement (TSI) process, which continued over the following week. Dirk began filming for the informational videos focused on the TSI process and also interviewed Rennie for his part in the instructional video.
Learning Outcomes
5
Farmers reported changes in knowledge, attitudes, skills and/or awareness as a result of their participation
Project Outcomes
1
Farmers changed or adopted a practice
1
New working collaboration
Project outcomes:
We are only 1 year into this project. In addition, our outreach activities were hampered by the covid pandemic that restricted farm visits, holding field days, and hosting groups to showcase our activities. However, we had a good turnout for a co-hosted field day in fall of 2019 at a project cooperator farm, and we have highlighted our activities through extension newsletter wherever possible. We have also submitted grant proposals that built upon our experiences and broadened the overall scope of our project by including a soil research aspect in it. As we move forward, we hope to engage in field days during 2021 to gauge overall interest in silvopastoral systems by farmers in Arkansas. We are still certain that agroforestry/silvopastures can play a crucial role in achieving a high level of forage production sufficient for raising livestock in the light of increased climate variability.