Final report for ONC17-031
Project Type:
Partnership
Funds awarded in 2017:
$29,999.00
Projected End Date:
05/31/2018
Grant Recipient:
Iowa State University
Project Information
Summary:
The problem addressed was to be able to provide women farmers and landowners their own series of programs to increase agronomic capacity and decision-making for long-term farm sustainability.  This was pursued by developing four cohorts located in four different areas of Iowa. The cohorts were open to all interested women.  Each cohort met once or twice a month from April through September to address specific, in-field practices as well as once a month October, November, January, February and twice in March for a statewide, 2 hour program offered by ZOOM teleconferencing.  The educational approach employed knowledge base of extension and research professionals, NRCS staff, research farm staff and farmer to farmer learning.  Farmer adoption practices were by documented by verbal comments and feedback provided at the end of the series in surveys.  Adoption of such practices is difficult to measure due to the cyclic nature of farming where some practices may not be adopted or implemented up until a year or years later.  This bears the need for more follow-up. 
Project Objectives:
The objectives of this project are:  1) Increase agronomic skills of women landowners and farmers to strengthen and validate their decision-making for sustainable crop production.  This was accomplished by holding 2 hour, in the field session every other week (at at least monthly for two cohorts) where participants were taught specific agronomic skills which were followed up with discussion on economics of such practices.  
2) Provide Exposure to Conservation practices and water quality challenges to improve environmental sustainability. This was accomplished with tours of various water quality practices such as cover crops, strip-till or no till, buffers, bioreactors, etc., where each practice was described and impacts on water quality were discussed.  In one cohort each participant was given a RetaiN Kit so they could return to their farm or work with their tenant on measuring nitrate leaving in tile drainage. 
3) Through experiential learning opportunities created through partnerships with Extension staff, university research farm, experienced women farmers and the formation of a cohort participants could increase confidence in communication with spouse, farming partner, ag retailers, tenant, landlord ensuring overall goals for sustainable farming systems can be met.  This goal was achieved by explaining terminology, exposing participants to a wide-range of practices and offering time to develop social networks amongst the participants.  
Cooperators
(Educator and Researcher)
Research
Materials and methods:
This was not a research project. 
Research results and discussion:
This was not a research project. 
Participation Summary
Educational & Outreach Activities
29
On-farm demonstrations
101
Published press articles, newsletters
1
Other educational activities: We created an Agronomy in the Field Facebook page for women to follow that allows us to share in real time what we as the project coordinators were seeing in the field, but also allowed our participants to share photos or ask questions of us or other women. The Facebook page can be accessed at https://www.facebook.com/groups/121747958367541/
Participation Summary:
28
Ag professionals participated
Education/outreach description:
Agronomy in the Field was presented as biweekly, in-field, hands-on learning sessions to assist women farmers, landowners, retailers, conservation partners and other interested women gain more experience with agronomic knowledge and decision-making as well as to expose them to more conservation and water quality practices. Typical sessions would last from 90 to 120 minutes and might start with an introductory session in a classroom type setting prior to moving to the field. Time in the field would be spent showing attendees such things as how to stage plants, identity insects and their injury, identify crop diseases, weeds, crop injury and conduct pasture conditioning scoring.Not only would identification or assessments be demonstrated, but subsequent management strategies would be discussed. One example includes, how to identify soybean aphids, how to scout for soybean aphids, how to determine if treatment is warranted so that soybean aphid did not cause economic damage. The goal being that not only could we agronomically identify the pest, we could determine if the level of injury warranted treatment. Participants would be asked to partner with other participants or to work in groups to assess conditions or identify conditions. Pairing up participants facilitated confidence and communication among participants. 
The on-line trainings were conducted in October, November, January, February and two sessions in March. The session included seed selection, interpreting soil test results, food systems and GMOs, spring forage management, weed management and herbicide resistance and planter set-up. Sessions were offered by ZOOM, an online teleconferencing systems that allowed participants to join the speaker for more formal classroom type situations. Participants could ask live questions.  The winter sessions offer a lot more varied participation as women could join from anywhere in the state from the comfort of their own home or office. Each session was two hours long. Each session was recorded and archived so if participants could not join for the live presentation they could watch it later at their convenience. The ZOOM sessions were also supported by the use of cloud document storage. The slides, handouts, and supporting materials were made available by giving all participants access to our Agronomy in the Field Cybox account where they could access these materials as they desired. Our participants adapted very well to this technology. 
Prior to each field session or each on-line training, the 3 field agronomists would connect with members of their respective cohorts by sending them Agronomy in the Field Newsletters that not only served as reminders to each upcoming session, but would also provide a recap of the previous session for those who could not attend, provide links to the resources provided and subsequent information and resources. These newsletters also provided a means to communicate about other women in ag events or other field days or meetings that may have been of interest.
One example of these recaps can be found here:
The Facebook page created to support this effort turned out to be a great way for our participants to share what they were seeing or experiencing in the field or to ask us or other attendees questions. This page is open to all women. 
Learning Outcomes
66
Farmers reported changes in knowledge, attitudes, skills and/or awareness as a result of their participation
Key changes:
Corn Planting: A survey conducted after the corn planting session showed that 53% ('A Lot') and 35% ('Some') of attendees rated their knowledge of importance of growing degree day after the session vs. 22% as 'Some' and 0 for ' A Lot' prior to the session.

Grazing Cover Crops
Grazing and managing cover crops in the spring showed that 33% and 0% of participants rated knowledge as "some" or "very knowledgeable" respectively prior to the season, but 80% and 20% rated their knowledge as "some" or "very knowledgeable" respectively after the session.

Insect Management:
When asked to rate their knowledge prior to and after the session on how to effectively use insecticides for a profit and minimize negative environmental consequences, prior to the session 46% participants indicated 'no' knowledge, 38% indicated ' a little knowledge' and 16% stated 'some' knowledge; when asked the same question after the session, 23% indicated they had 'a little knowledge' 38% indicated they had 'some' knowledge and 38% indicate they had 'a lot of knowledge'.
Project Outcomes
4
New working collaborations
Project outcomes:
Agronomy in the Field was a series of educational workshops for women landowners, farmers, ag retailers, and service providers such as NRCS staff, designed to educate women on crop production and land management to make wise, sustainable decisions using knowledge, experience, and research from experience farm women, landowners and Extension professionals.  
In Iowa, woman represent 49% of farmland owners and they own 47% of the land.  This series, Agronomy in the Field, increased decision-making capacity in terms of crop production and land management that allows farms to be sustainable and provide economic stability for farm families. Not only were agronomic practices taught they were enhanced by providing in the field experience with hands-on activities that was followed by discussion on the economics of the practices.  Specific examples included the importance on plant spacing variability on yield and how better management at planting can impact yield;  the importance of scouting for pests, correct pest identification, understanding economic thresholds of pests and making treatment decisions for pests (insects and pathogens) that will provide an economic return on investment. 
When participants were asked if they would recommend Agronomy in the Field to a friend, 90% of participants responded "yes".  
This series not only increased agronomic and land management capacity, but also increased networking capacity and social benefits among women.  One participant shared, "I made valuable professional connections with other woman of my generation who work in the ag industry. I have already used these connections to provide better service to my clients and to assist other women with their understanding of certain ag issues and to achieve goals associated with their jobs".  Another participant shared, "These sessions provide freedom to ask questions and an environment which allows us to share experiences/situations of our own ag experiences without judgement. Yes, I have met woman in this group with whom I would feel very comfortable approaching to ask ag-related questions and share ideas". 
Due to the popularity of this series and the increased reach due to this SARE grant, project leaders were able to expand it's reach with two new cohorts in 2018 with additional funding from local entities. This program also helped promote other ISU educational programs that have not traditionally been attended by many women. For example, participants from the McNay cohort are now connected with the Greenhorn Grazing program which teaches improved management skills for grazing and pasture management.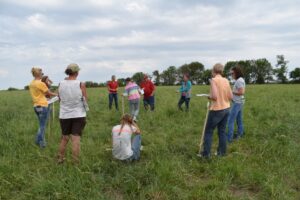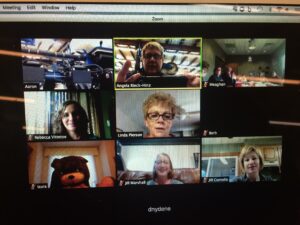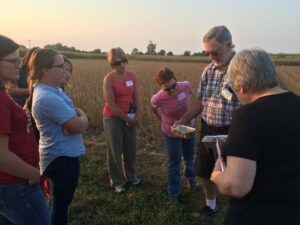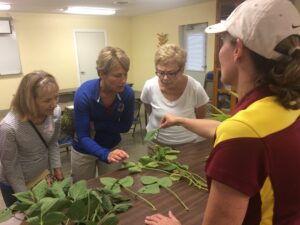 Success stories:
All participants were asked "do you feel these sessions have helped to improve your confidence in discussing agronomic issues with your farming partner, landlord, tenant, ag retailer and or customer/growers?" Below are some of the responses to this question. We can't describe their business or locations because the feedback was provided anonymously and because women traveled from several counties to participate in these cohorts.  We can safely say all participants were from Iowa. 
"The sessions have given me the background information to be able to talk to my siblings about our family's farm. I have the confidence to be able to ask the right questions and use accurate terminology"
"These session have provided me with a better depth of knowledge. Before I felt I knew a little bit about this or that but now I feel I can discuss the topics with someone and learn more"
"They have improved my confidence by providing the context in which I conduct activities"
"I know understand at least the terminology of crop production and have greater confidence in interpreting field conditions (stand counts, staging, diseases, etc.). I feel more comfortable speaking with farmers, as I am now more fluent in topics they spend time and money on."
"I feel more engaged when talking with my tenant"
"I have gained confidence in making input decisions"
"This is a great series.  I would like to see more of these offered across Iowa."