Progress report for ONC18-046
Project Type:
Partnership
Funds awarded in 2018:
$29,999.00
Projected End Date:
11/01/2021
Grant Recipient:
FairShare CSA Coalition
Project Information
Summary:
The effects of climate change are being felt on organic vegetable farms in the upper Midwest. Bigger and more frequent rain events cause erosion, delay planting, and hamper weed control. This project will explore using living aisles and no-till planting strips to mitigate the impacts of intense rains linked to climate change. Both practices are known to reduce erosion, improve soil permeability, and increase soil quality, making them logical choices for resilient farming systems. However, concerns about reduced yield, increased labor, and overall weed control mean that neither practice is commonly used on organic vegetable farms. This project is designed to address farmers' concerns and develop no-till techniques that can be incorporated into diversified vegetable systems.
Clover aisles established in fall will improve weed control through two cropping years; winter-killed cover crops in the planting strips will create an in-situ mulch to be planted without tillage (even when the ground is wet); and occultation with black tarps will create a stale planting bed to minimize weeds. This research will use broccoli and peppers and will also inform other transplanted crops. Organic vegetable farmers in southern Wisconsin will cooperate on this research, which will be relevant in the upper Midwest.
Project Objectives:
Assess the effectiveness of three planting strip treatments between living clover aisles
Evaluate yields and management costs of living aisle/planting strip treatments as compared to open ground/conventionally-tilled control
Share information with growers through a field day (expected attendance 35 to 40)
Create an illustrated info sheet and video with results and recommendations to be posted on the FairShare website and social media accounts, disseminated through our farmer database (280 contacts), and made available at the annual Organic Vegetable Production Conference (expected attendance over 200)
Contribute information to the development of longer, multi-year, reduced-tillage vegetable rotations
Cooperators
Research
Materials and methods:
Three diversified vegetable farms in south central Wisconsin are participating in this project.  All farms are organic and have between 9 and 15 years of experience with vegetables and cover crops.  Each farm has three replicates of three treatments and a control for Green Magic broccoli and Ace green peppers.  All treatments are applied to a 30" planting strip and include a 30" clover living aisle between planting strips.  The treatments are 1) tillage immediately prior to planting, 2) no-till planting into undisturbed oat/pea residue after occultation, and 3) no-till planting into undisturbed oat/pea residue and black landscape fabric mulch.  These treatments are compared to a tilled, open ground control with no living aisles.
Year 1 (Fall 2018 to Fall 2019)
Prior to establishing the trial, all the plots were in the regular tilled vegetable rotation for each farm.  Any last vegetable or cover crop residue was tilled under in late August 2018 before seeding the trial.  Cover crop seeding was scheduled for 9/1/18, but early September rains delayed seeding.
9/11/18 - Aisles and planting strips were measured out and sown by hand, and then tilled shallowly to incorporate the seeds and take down any weeds. Aisles were sown to white clover at the rate of 20 lbs/acre with a nurse crop of oats sown at 64 lbs/acre.  Vegetable planting strips were sown to a mix of oats (112 lbs/acre) and peas (100 lbs/acre). 
9/25/18 - Clover, oat, pea, and weed populations were counted.
10/30/18 – Oat and pea population counts were repeated and biomass samples were taken.
4/16/19 – Visual inspection of all plots showed that oats and peas winter killed, as expected. At TO (Two Onion) all the clover died in winter frost heaves.  BM (Blue Moon) and EQ (Equinox) had sparse clover populations.
4/19/19 (TO) and 4/22/19 (BM & EQ) – Clover and oats were over-seeded in the aisles at TO at the full seeding rate. Clover was over-seeded in the aisles at BM & EQ at half the original seeding rate and without the oat nurse crop.  Silage plastic (6ml) cut to size were secured black side up in the broccoli occultation plots.
4/30/19 (BM & EQ) and 5/7/19 (TO) – Occultation tarps were moved to pepper occultation plots. Broccoli was planted in a single row with 12" between plants through all treatments.  One pint of compost was added to every planting hole and all seedlings were watered in and covered with row cover after planting.
5/22/19 (EQ) and 5/23/19 (BM & TO) – Removed all row cover from broccoli and weeded.
5/28/19 (BM & TO) and 5/30/19 (EQ) – Occultation tarps were removed and Ace peppers were planted in a single row with 18" between plants through all treatments. Every plant was given one pint of compost in the planting hole at the time of planting.
6/3/19 – Harvested all broccoli, which had all buttoned.
7/9/19 – Mowed down broccoli stalks and seeded annual rye (25 lbs/acre) in all broccoli planting strips. Annual rye seed was tilled in the Tillage treatment and the Control, and worked in with stirrup blade on a wheel hoe in the Occultation and Mulch treatments.
7/23/19 – 9/17/19 – Harvested green peppers weekly. Weeded planting strips and mowed living aisles as needed.
Year 2 (Fall 2019 to Fall 2020)
COVID-19 caused a delay in the project for 2020.  We submitted and received a no-cost extension to continue the work in 2021.  The farmers kept the plots mowed for the summer of 2020 and the vegetable trial will continue in 2021.
Planting method by treatment for both broccoli and peppers:
Tillage: Plots were tilled with a walk-behind tiller the day before planting.  A wheel hoe with a plow blade was used to make a furrow down the middle of the tilled planting strip.  Compost was dropped at the appropriate spacing, followed by seedlings.  Seedlings were planted by hand covering the root ball and compost with native soil.
Occultation: Tarps were removed from the occultation treatments immediately before planting.  A narrow trowel was used to make planting holes at the appropriate spacing.  Compost and seedlings were dropped into the holes.  Seedlings were planted by hand covering the root ball and compost with native soil.
Mulch: Black woven landscape fabric with 2" diameter holes burned at the appropriate spacing was laid on the planting strip and secured along one long side with 8" sod staples.  Planting holes were dug through the landscape fabric using a narrow trowel.  The fabric was then pulled to one side and compost was added to each planting hole.  The fabric was then pulled back over the plot and fully secured.  Seedlings were dropped in the planting holes and planted by hand covering the root ball and compost with native soil through the burn hole.
Control: Same as 1) tillage above except that the living aisles were terminated and the plots tilled with a tractor mounted rotovator one to five days before planting.  Living aisles were left in place for all treatments except the control.
Weed and clover densities and biomass, labor time, and vegetable yield were recorded.  Data will be analyzed after data from the second year of the project is collected.  The second year was to be 2020, but has been postponed to 2021 due to travel and physical distancing restrictions stemming from COVID-19.
Research results and discussion:
Cover Crop Establishment – Living Aisles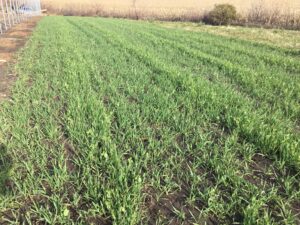 Visual assessment of the of the clover/oat aisles in October 2018 was a bit better than expected given that planting was delayed due to early September rains.  Population counts for the white clover averaged from 54 (Blue Moon), to 65 (Equinox), to 69 (Two Onion) plants per square foot 14 days after seeding.  These counts were less than desired based on our previous work with living aisles in 2015 and 2016.  In those trials the average population density of the white clover was 120 plants per square foot.
Assessment of the clover aisles on 4/19/19 showed that all the clover at Two Onion (TO) had died over the winter and that the population densities at Equinox (EQ) and Blue Moon (BM) were not adequate to exclude weeds.  The aisles at TO were reseeded at the full original seeding rates for both the clover and oats on the day of the visual inspection and filled in very nicely though the spring and summer.  The aisles at EQ and BM were reseeded with only clover and at half the rate of the original fall planting, just to fill in gaps.  These aisles also filled in nicely through the season.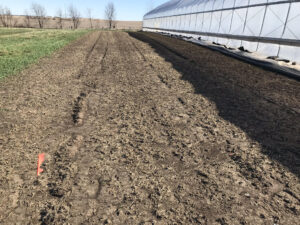 Cover Crops – Planting Strips
Fall dry biomass of the oats and peas in 2018 was also less than desired.  This winter-sensitive cover crop was planted to form an in situ mulch for two of the no-till planting strip treatments in the spring of 2019.  The more biomass in the fall, the more residue that should be in place as a mulch in the spring to exclude weeds.  Though we did not expect to produce enough biomass to exclude weeds for the full 2019 growing season, we did hope to at least exclude weeds through pepper planting in late May.  The biomass as detailed in the numbers below, was far less than our goal of 5,000 pounds per acre, and indeed was not enough to exclude weeds through pepper planting.
Dry Biomass in lbs/acre on 10/30/18
| | | | |
| --- | --- | --- | --- |
| Farm | Oats | Peas | Total |
| Blue Moon | 391 | 328 | 719 |
| Equinox | 675 | 194 | 870 |
| Two Onion | 552 | 227 | 779 |
Weed Control
Individual weed population counts taken 14 and 49 days after cover crop seeding in 2018 ranged from 0 to 19 weeds per square foot across the three farms and averaged 1.9 weeds per square foot.  The vast majority of these weeds were annuals which did not produce seed before dying over the winter.  Annual weeds were suppressed by clover and mowing in the aisles and with occultation, mulch, or tillage in the planting strips in 2019, as expected.  The few perennials in the mix were more problematic and were managed by mowing the aisles and hand-pulling the planting strips.
Broccoli Yield
Every broccoli plant in every trial and control plot at every farm buttoned in 2019.  Though the seedlings looked healthy when planted, they were in their cells for about a week longer than planned when The total broccoli harvest was taken 6/3/19 and yield was recorded, though the data is not expected to be of much use in comparing the treatments.  Yield data will be analyzed after the second year of the trial in 2021 (postponed from 2020 due to COVID-19 restrictions.) 
Pepper Yield
Marketable green peppers were harvested weekly, sorted into first and second quality fruits, and weighed.  Non-marketable peppers were left in the field.  First quality fruits were mostly blemish free, with one occasional small blemish on a large fruit.  Second quality fruits were small in size or had larger healed blemishes.  Non-marketable fruits were very small, diseased, or had open wounds. 
Visual observation of the plots and the raw yield data both seem to indicate that the control outperformed all three no-till treatments with living aisles.  Generally it appeared that the peppers were both larger and more numerous in the control plots.  Yield data will be analyzed after the second year of the trial in 2021 (postponed from 2020 due to COVID-19 restrictions), and at that time we will know if there are statistical differences among the treatments and the control.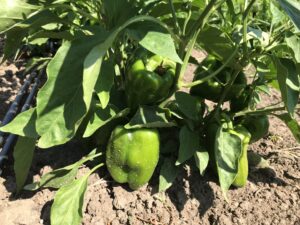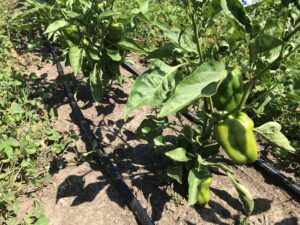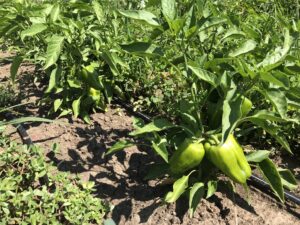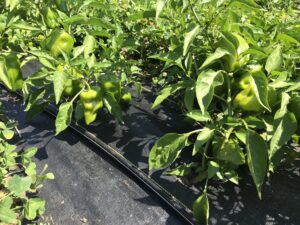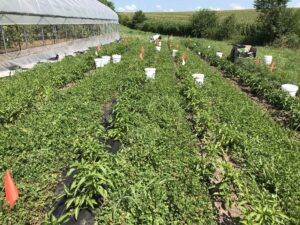 Labor
Management time for each treatment was tracked in minutes for planting and maintenance (weeding plots and mowing aisles). Because harvest labor is primarily dependent on yield and is not affected by the treatment, it was not tracked and is not included in the labor totals.  The chart below shows the total average labor in minutes for a 100' bed by crop, treatment, and activity.  This data will be analyzed after the second year of data collection in 2021.  Meanwhile, it does appear there will be some significant differences in labor time.  As a reminder, the Control is tilled and clean cultivated without living aisles.  The three treatments are all no-till and include living aisles.
2019 Average Labor per 100' Bed in Minutes
| | | | | | | | | |
| --- | --- | --- | --- | --- | --- | --- | --- | --- |
|   | Broccoli |   |   |   | Peppers |   |   |   |
|   | Control | Tilled | Occultated | Mulched | Control | Tilled | Occultated | Mulched |
| Planting | 44 | 48 | 67 | 104 | 30 | 30 | 64 | 72 |
| Maintenance | 48 | 42 | 47 | 44 | 96 | 162 | 153 | 93 |
| Total | 92 | 90 | 114 | 148 | 126 | 192 | 217 | 165 |
Participation Summary
4
Farmers participating in research
Educational & Outreach Activities
Participation Summary:
2
Ag professionals participated
Education/outreach description:
The numbers above reflect the farmers and researchers involved in the trial, plus several farmers who have requested individual consultations about no-till and/or living aisles.  A field day, farmer bulletin, and video are all planned for 2021 when research results are final.
Project Outcomes
Project outcomes:
Though cover crops are commonly used on organic vegetable farms, using them as a base for reduced tillage techniques is still an area for experimentation and is far from common.  Farmers cooperating on this project are especially interested in living aisles as a way to reduce tillage, prevent erosion, and capture water during the more extreme rainfall events that are becoming more common with climate change.  If this project is successful in demonstrating that yield and labor between the living aisle/no-till treatments are similar to the clean cultivated control, we will contribute important information to farmers on how to reduce tillage and increase farm resilience.