Progress report for ONC20-077
Project Type:
Partnership
Funds awarded in 2020:
$39,906.00
Projected End Date:
06/01/2022
Grant Recipient:
University of Nebraska Eastern Nebraska Research and Extension Center
Project Information
Summary:
The use of cover crops has increased as a sustainable means of improving soil health and suppressing weeds in agricultural systems. However, recent reports have shown a potential risk of insect pests transitioning from cover crops to corn in the Midwest due to the timing of cover crop termination relative to corn planting. Unexpected losses from insect pests in cover crop systems have resulted in some farmers adopting the use of tank-mixed insecticides at cover crop termination as a preventative strategy to minimize pest pressure. To date, there is not enough information to help farmers make an informed decision on if and when they should use insecticides in a cover crop-corn system. This project seeks to form collaborations with four corn-soybean farmers in eastern-Nebraska, two of which collaborated on a previously funded NC-SARE graduate student grant. To address insecticide use in cover crop systems, large plot research will be conducted on-farm studies with the objective to evaluate the use of insecticides as a tank-mix or delayed application around cover crop termination impact on pest and beneficial insects. The results from this research would serve as a cornerstone for best management practices with insecticides in a cover crop to corn systems.
Project Objectives:
The objectives of this project will be to; 1) evaluate the impact of insecticide application timing as a tank mix with herbicides and delayed on pest and beneficial arthropods, 2) determine the potential risk for insect pests and beneficial insect activity to assist farmers in making profitable and sustainable decisions, and 3) share research results with farmers, extension professionals, researchers, and students through field days, presentations, and peer-reviewed publications.
Cooperators
Research
Materials and methods:
This project was conducted on three farmer fields as a randomized complete block design with four replications. In each field, treatments will consist of a herbicide only (control), herbicide with tank-mixed pyrethroid insecticide and herbicide with a delayed pyrethroid insecticide application to coincide with cover crop death time. Each experimental unit will be 90' wide x 150' long, with the whole experiment encompassing approximately five acres. This experiment will be repeated in 2020/21 with same farmers.
Rye will be planted during the fall of 2019 and with a target to terminate 1-5 days after planting corn. Several cover crop, corn, and arthropod parameters will be measured including:
Cover crop extended leaf height (ELH) at the termination. A ruler will be used to take the ELH at three locations with each plot.
Cover crop biomass will be collected just prior to cover crop termination. Two subsamples per experimental unit will be collected.
Pitfalls traps will be placed in the center of each plot to account for arthropod abundance and diversity just prior to each treatment application. A pitfalls trap will be placed approximately 15 days before the first treatments to evaluate the arthropod population before any treatment application.
Corn insect damage assessment at V3-V4 corn stage. This evaluation will be done due to the limited ability of pitfalls traps to account for insect's pests. Plant damage assessments will consist of analyzing individual corn plants in a 15 ft corn row in each plot. Each plant will be analyzed for any insect injury, incidence and severity of feeding. Any insect that is found feeding on the corn is collected for further identification.
Cages to capture wheat stem maggot (WSM) will be placed in two of the four locations. The objective is to capture emergence and population densities to identify the risk of WSM in cover crop to corn transition.
Corn yield will be collected by hand at the end of the season.
Research results and discussion:
Data were collected from three sites in 2020. With one year of data, no analysis has been conducted yet. Some trends in a reduction in the number of arthropods were observed when an insecticide was used, however, a more detailed analysis, as well as another year of data, will be needed to draw any conclusions.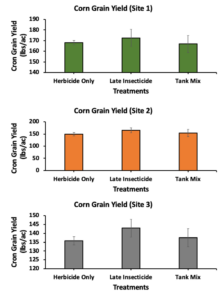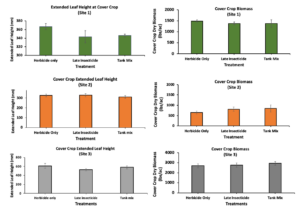 Site 1

Arthropod Taxa

Treatment

Pitfall I

Pitfall II

Pitfall III

Total

Herbicide only

751

690

367

Tank mix

729

427

286

Late insecticide

687

822

287

Nitidulidae

Herbicide only

84

13

16

Tank mix

123

35

35

Late insecticide

88

22

35

Zopheridae

Herbicide only

161

347

16

Tank mix

155

204

35

Late insecticide

132

416

35

Aphididae

Herbicide only

385

1

16

Tank mix

299

0

35

Late insecticide

353

0

35

Araneae

Herbicide only

54

9

8

Tank mix

58

9

12

Late insecticide

42

12

7

Collembola

Herbicide only

25

228

97

Tank mix

45

99

138

Late insecticide

40

279

116
Site 2

Arthropod Taxa

Treatment

Pitfall I

Pitfall II

Pitfall III

Total

Herbicide only

506

902

697

Tank mix

519

447

767

Late insecticide

435

854

777

Nitidulidae

Herbicide only

117

166

70

Tank mix

100

127

66

Late insecticide

94

134

67

Zopheridae

Herbicide only

251

69

93

Tank mix

290

82

94

Late insecticide

185

79

48

Acari

Herbicide only

2

5

131

Tank mix

2

1

29

Late insecticide

0

8

96

Araneae

Herbicide only

11

11

22

Tank mix

4

23

16

Late insecticide

5

20

21

Collembola

Herbicide only

91

198

270

Tank mix

85

66

457

Late insecticide

103

177

423
Site 3

Arthropod Taxa

Treatment

Pitfall I

Pitfall II

Pitfall III

Total

Herbicide only

234

379

645

Tank mix

265

316

386

Late insecticide

201

344

393

Nitidulidae

Herbicide only

58

110

159

Tank mix

60

111

143

Late insecticide

55

114

121

Zopheridae

Herbicide only

40

68

18

Tank mix

44

18

16

Late insecticide

88

34

19

Aphididae

Herbicide only

0

57

11

Tank mix

2

26

7

Late insecticide

0

50

1

Araneae

Herbicide only

13

13

13

Tank mix

11

29

7

Late insecticide

6

20

7

Collembola

Herbicide only

101

99

176

Tank mix

93

77

146

Late insecticide

35

88

99
Participation Summary
3
Farmers participating in research
Educational & Outreach Activities
Participation Summary:
Education/outreach description:
Data from the arthropods in collected from pitfalls traps was only recently processed this fall due to limitations in the number of personnel with Covid-19 restrictions. Results from this past year will be presented this year through webinars and field days.
Learning Outcomes
3
Farmers reported changes in knowledge, attitudes, skills and/or awareness as a result of their participation
Project Outcomes
Project outcomes:
With the completion of the first year of this project, it is not clear what the economic, environmental, or social benefits will be. Over the past year, we were able to collect cover crop leaf height, biomass, and grain yield from three sites. At least five arthropod taxa were identified and counted across the three sample periods with pitfall traps from those sites. The data shows some potential reduction in the number of arthropods with insecticide applications. The reduction in arthropod number as a result of an insecticide application varied between taxa. Arthropod count data is complex and as a result, it will likely require a principal component analysis of the treatments and arthropod groups will be needed to better understand the impact of insecticide use in cover crops. If insecticide use in cover crops at termination continues to show a negative response for beneficial arthropods and a lack of differences in yield it would provide growers with the justification to avoid insecticide tank-mixes at cover crop termination resulting in a more sustainable system, with less environmental impacts and greater economic return.
Success stories:
With Covid-19, grower interactions were very limited so no opportunities have been presented to access any success stories.
Recommendations:
We have no recommendations as of now but the data from 2020 indicates a potential negative impact on beneficial arthropods in cover crop systems when an insecticide is tank-mixed at the termination time of the cover crop. No significant yield differences were reported indicating that there was no financial benefit to tank-mixed insecticides in 2020 sites.