Final Report for ONE14-200
Project Type:
Partnership
Funds awarded in 2014:
$14,030.00
Projected End Date:
12/31/2016
Project Leader:
Andrea Bye
Organization for Refugee and Immigrant Success
Project Information
Summary:
The Organization for Refugee & Immigrant Success (ORIS)'s "From Incubators to Independence" project sought to ensure the long-term sustainability of refugee farmers' agricultural businesses through training and technical assistance, in particular with establishing long-term land tenure, access to capital, and business planning support.  The primary stakeholders of the project were Somali Bantu, Congolese, Bhutanese and other refugee farmers residing in Manchester, NH.  A surprise finding arose to the initial proposal intended to move farmers from the incubator site in Dunbarton, NH to new farm sites; after interviews and feedback from the farmers about their wants and goals, ORIS staff instead decided to transition land management of the Dunbarton site over to the farmers, while searching for a new incubator farm training site.
Key accomplishments include that 9 farmers who participated in ORIS's incubator farm training program developed their own independent cooperative, which is functioning as its own entity and establishing long-term land tenure. In addition, 8 farmers applied and opened Individual Development Account matched savings accounts, totally $36,000 in capital to be used towards developing their small businesses.  Both the accomplishments and challenges encountered described in this report can be applied by other programs transitioning farmers from an incubator farm to their own self-sustaining operation.  The experiences of this project will be particularly meaningful to multilingual, intercultural groups; producers with limited English proficiency or limited literacy; and/or new American producers facing barriers to developing viable farm businesses in their new country.
Introduction:
In this project, ORIS built off of the successes of participants in the New American Sustainable Agriculture Project (NASAP) and provided training and technical assistance to new Americans to develop independently operated farm-based businesses that are both economically and environmentally sustainable.
Most of the participating farmers would not be able to understand the material presented at workshops, conferences and farm trainings if not for translation into a familiar language.  Therefore, ORIS provided interpretation and other culturally appropriate assistance at meetings, workshops and trainings in order to facilitate the farmers' participation and learning. 
NASAP participants have varying levels of agricultural backgrounds, skill sets and competencies; this project targeted the farmers with the most experience farming in New Hampshire. Prior to the project, ten refugee farmers were already accessing markets independently for the past several seasons and have been honing their production and marketing plans. The next phase of whole farm planning was to address land access in a way that ensures sustainability beyond the next grant cycle. There was also a need to consider financial plans and refugee farmers' access to credit. ORIS coordinated trainings on land access, financial planning, and cooperative models that are appropriate for learners with limited English and limited literacy.  
ORIS provided technical support with land access/land tenure. This included 1) identifying opportunities for established farmers to access long term land tenure on their growing sites and 2) identifying new land for ORIS's incubator farm site.  
The participating farmers were Meshake Barahora, Sylvain Bukasa, Isha Kerow, Hajiya Libanga, Isho Mahamed, Laxmi Mishra, Fatuma Mohamed, Asli Yussuf, Murjan Yussuf and Khadija Alio.
Project Objectives:
ORIS identified the following objectives:
15- 20 farmers participate in advanced trainings related to: cooperative development, access to credit, and access to farmland
20 farmers will receive technical assistance with finding and assessing farmland
8-10 farmers develop plan for long-term land access, including to transition from "incubator farm site" in Dunbarton
8-10 farmers develop financial plans, including annual cash flow and access to capital/ credit
Conduct evaluation and share resources and best practices with other refugee training programs throughout New England and the country
The following was accomplished:
Farmers were interviewed at beginning of project period; feedback informed the practices/methods ORIS used related to training and TA with accessing capital and land.
ORIS contracted New Entry Sustainable Farming Project in 2014 to share resources and best practice for transitioning farmers off of an incubator farm. ORIS staff compiled a questionnaire that was used as a discussion guide for this "trainers of trainers" conference call. ORIS staff facilitated the conference call with 1 staff member from New Entry, 2 staff from Cultivating Community, and 2 staff from ORIS. The call focused on the following topics: Specific strategies for transitioning farmers off of the incubator farm; Major challenges and how New Entry is addressing them; farmland matching services, and technical assistance provided to farmers after they leave the incubator farm.
ORIS implemented a winter training series in 2015 that included workshops on cooperative development, finding and accessing farmland, secure and affordable land tenure, and financial literacy. ORIS collaborated with Cooperative Development Institute, Land for Good, and New Entry Sustainable Farming Project to deliver these projects.
ORIS staff interviewed farmers individually to identify and document long-term land access priorities. These interviews revealed that all of the farmers wished to remain on the farm in Dunbarton. When asked how they would manage the daily farm operations without ORIS staff, the farmers said they wanted to "work together." Based on this feedback, ORIS approached long-term land access support from a different angle than initially proposed in this project. Rather than seeking to transition farmers out of the incubator farm site, ORIS has been transitioning the active management of the Dunbarton site to the existing group of farmers who formed their land based cooperative, while ORIS seeks land elsewhere for its incubator farm.
ORIS connected early on with the Russel Foundation, a non-profit committed to conserving and supporting the viability of active sustainable farm and forest land in NH. The Russel Foundation provides customized assistance to accelerate the pace of important farm and forest land conservation and to secure access for farmers. They have provided support to ORIS with the potential purchase of the Dunbarton site from the current landowners, which would provide long-term land tenure for the cooperative.
ORIS provided technical assistance to the cooperative to elect two farmer members to serve as representatives in the land purchase conversations and facilitated a meeting in February, 2016 between the new American farmer representatives and a representative from the Russel Foundation.
ORIS staff have been identifying sites for new incubator training sites and initiating conversations with potential partners. The most promising sites that ORIS will continue pursuing are 2 vacant plots owned by Catholic Medical Center on the West Side of Manchester, which would be highly accessible to Manchester residents with limited transportation seeking an urban farm.
ORIS staff provided TA to 12 farmers to complete their farm business annual profit and loss assessments for 2014 and 9 farmers in 2015. These were utilized in helping farmers to create annual cash flow projections for 2015 and 2016 respectively, and informed the cooperative's budget.
ORIS staff had meetings with farmers to develop holistic farm business plans and an action plan for transitioning their businesses toward independence.
After accessing the farmers' needs related to capital/credit, it became apparent that loans are not culturally appropriate, especially for Muslim farmers. ORIS staff reached out to the NH Community Loan Fund, which oversaw a Small Business Individual Development Account (IDA) program with an 8:1 match. In this IDA model, entrepreneurs can save up to $500, with a match of $4,000 that can be used toward the purchase of business related expenses. This money has to be saved for a minimum of 6 months, ad a maximum of 18 months. After several discussions, the NHCLF and ORIS partnered to enroll up to 10 farmers. 10 farmers went through the application process, and 8 were approved. In order to qualify, the individuals had to fill out the IDA application to prove income eligibility, completed 8 hours of financial literacy training, completed a business plan, and demonstrated the ability to save money without hurting their family' financial health. ORIS delivered 10 hours of financial literacy training to 13 refugee farmers, which included helping farmers develop monthly household budgets and cash flow statements.
Cooperators
Research
Materials and methods:
Farmer Training Materials: Business Plan Template
Farmer Training Materials: Pictorial Income/Expense Template
ORIS staff adopted a participatory project approach; at the beginning of the project period, staff interviewed individual farmers to identify their individual goals, background, skill levels and specific training needs, relative to land access and transitioning their businesses off of the incubator farm.  
ORIS contracted for a one-on-one technical assistance in the project planning phase with The New Entry Sustainable Farming Project.  ORIS staff attended in 2015 and 2016 New Entry's National Incubator Farm Training Initiative (NIFTI) trainings to network and learn from other similar programs. ORIS utilized lessons learned to avoid replicating ineffective strategies, and to build off of successful methods.
ORIS staff collaborated to deliver workshops on cooperative development, access to credit and access to farmland, mentioned above.  Guest speakers complemented curriculum by introducing relevant programs and services available to farmers to enhance the success of their operations. 
ORIS staff provided one on one support for farmers developing holistic farm business plans.  Staff worked with farmers to identify and document long-term land access priorities, created annual cash flow projections, and created an action plan for transitioning businesses towards independence.  Farmers received ongoing technical assistance throughout the life of the project in achieving participant identified goals. 
Staff assessed farmers' needs related to capital/credit. ORIS provided support to participants whom are seeking credit to invest in their businesses by providing assistance with completing the Community Loan Fund's Individual Development Account (IDA) applications and facilitated interpretation.
Research results and discussion:
Nine (9) farmers completed holistic farm business transition plans.
Thirteen (13) farmers attended training workshops and received technical assistance:
Thirteen (13) farmers attended financial literacy training workshops.
Ten (10) farmers attended an informational training workshop about the Community Loan Fund and Individual Development Accounts.
Twelve (12) farmers received technical assistance with completing farm business annual profit and loss assessments.
Eight (8) farmers accessed the Community Loan Fund's Individual Development Account to implement farm transition plans.
Nine (9) farmers transitioned their farm businesses off of an incubator by forming their own independent cooperative and establishing long-term land tenure in Dunbarton, NH.
Participation Summary
Education & Outreach Activities and Participation Summary
Participation Summary:
Education/outreach description:
ORIS staff posted on the Fresh Start Farms website to increase public awareness about the participating farmers' "graduation" from the incubator and transition to independence, establishment of the cooperative, and long term land access efforts.  This, in addition to verbal communications and newsletters with customers and community members, was effective in communicating the transition.
https://freshstartfarmsnh.org/2016/05/05/follow-the-new-american-farmers-cooperative/
ORIS staff also provided technical assistance to the New American Farmers Cooperative to create their own facebook page to outreach to the community.  This was effective in establishing the cooperative as their own entity in the eyes of the public and customers.
https://www.facebook.com/NewAmericanFarmersCoop/?fref=ts
ORIS staff participated in a conference call with the organizations New Entry Sustainable Farming Program and Cultivating Community to discuss the project. ORIS staff also participated in a conference call in February 2016 with partner organizations offering technical assistance to other socially disadvantaged groups to develop cooperatives. The most relevant was New Roots Farm, a cooperative of Somali Bantu farmers graduating from the NASAP-Maine and accessing land in Lewiston, Maine.
ORIS staff attended the National Incubator Farm Training Initiative conference in 2015 and 2016 and shared results of the project with other incubator farm training sites, including those targeting new American populations.
A project participant and New American Farmers Cooperative Board member (Treasurer/Clerk), Sylvain Bukasa, attended the New England Food Summit through Food Solutions New England.  He conducted outreach about the establishment of the new cooperative and shared his perspectives and experiences as a new American farmer developing a successful, sustainable farm enterprise.
Charlene Higgins has been a member of the NH Food Strategy through the NH Food Alliance throughout the project period and attended numerous NH Food Strategy meetings, including the statewide gathering.  At these meetings she shared results of the project, including the cooperative's long-term land tenure in Dunbarton, with other organizations related to sustainable agriculture, farmer education, and food access.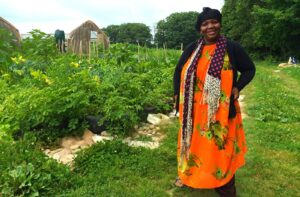 Co-op President at her farm site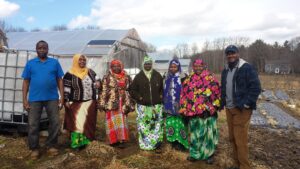 New American Farmers Cooperative founding members (not in photo: Laxmi Mishra, Murjan Yussuf)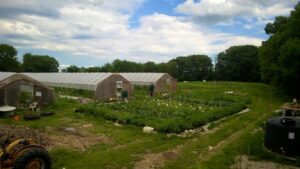 Dunbarton Farm Site
Co-op farmer showing his growing techniques in his high tunnel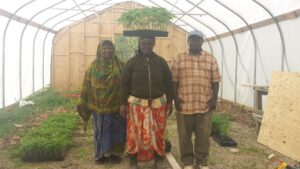 Co-op farmers getting ready to plant
Farmers and Project Director at the market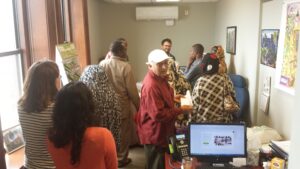 Coop farmers after a meeting.
Project Outcomes
Project outcomes:
Farmer Adoption
We initially thought the project would assist farmers in accessing lending opportunities, such as the Farm Service Agency Microloans. However, the majority of farmer participants offered feedback that this was not a culturally-appropriate option and inconsistent with their religious beliefs. This led to the idea of matched savings account being a more appropriate and effective.  Eight farmers have adopted savings practices for over 1 year.
Participating farmers also offered the feedback that they felt they had invested a lot of time, effort and resources into their growing sites at the Dunbarton farm, including amendments to the soil and construction of their high tunnels. Therefore they desired to stay at that farm and offered the feedback that instead of finding a new farm they would find it more valuable to learn the skills and access the resources to be able to take on land management responsibilities there themselves.  Nine farmers have adopted additional land management responsibilities and decision making for long term land access.
Assessment of Project Approach and Areas of Further Study:
Areas needing additional study
While the project was successful in transitioning 9 farmers to independence through the establishment of their own self-sustaining cooperative with access and management of land in Dunbarton, NH in the long-term, ORIS still needs additional work to identify and secure additional farmland for its incubator training site for new, beginner farmers entering the New American Sustainable Agriculture Project.  An effective incubator site will be accessible for refugee farmers residing in New Hampshire's city centers, specifically Manchester and Concord, NH, which has been a primary challenge of the project. Research into available farmland similar to the Dunbarton site and/or research into innovative alternatives, such as establishing urban farms in nontraditional locations, studying/teaching growing practices that maximize space such as vertical gardening, or other solutions would be beneficial to the next phases of the New American Sustainable Agriculture Project and refugee farmers in New Hampshire.