Progress report for ONE19-330
Project Type:
Partnership
Funds awarded in 2019:
$28,600.00
Projected End Date:
11/30/2022
Grant Recipient:
Agricultural Stewardship Association, Inc.
Project Leader:
Janet Britt
Agricultural Stewardship Association, Inc.
Project Information
Project Objectives:
This project seeks to demonstrate that farmers can markedly improve soil health in silage cornfields using interseeded, multi-species cover crop mixes alone and with the addition of adaptive grazing. Farmers will learn to monitor soil health indicators for changes in functionality over time, using a water infiltration test and slake test for aggregate stability.
Our goal is to provide technical support to innovative farmer-leaders who will demonstrate successful regenerative practices on their farms and inspire increased adoption of a full suite of soil health practices in our farming community using on-farm, farmer-to-farmer demonstrations.
Participating in the project will result in increased use of multi-species, interseeded cover crops in corn plantings. Soil health improvements will be measured through annual soil tests and on-farm monitoring. Information will be shared with other farmers and agricultural educators and service providers through field days. Demonstrated successful practices will be adopted by other farmers in the area.
Farmers using these soil health practices reduce their inputs of fertilizers and pesticides while increasing their farm's resilience to the extremes of precipitation.
Introduction:
Recent research has greatly improved our understanding of soil health. It highlights the central role of soil microbial life in improving soil health and reveals the importance of creating a hospitable environment for microbial communities in order to regenerate soil health. The adoption of soil health principles - minimizing soil disturbance, crop diversity, use of cover crops and integrating livestock - offers many benefits to farmers. By applying these principles, farmers can build soil organic matter and create stable soil aggregates that resist erosion and nutrient loss while improving water holding capacity and nutrient availability. Improved soil health provides benefits not only to farmers but also to society at large. Soil health improves water quality, reduces soil erosion, fosters a reduction in herbicide, pesticide and fertilizer applications, and removes atmospheric carbon and returns it to the soil via photosynthesizing green plants in symbiotic relationship with soil microbial life. Adaptive grazing has been shown to support the soil microbial community and accelerate the formation of soil organic matter.
Practices that improve soil health are only slowly being adopted. Estimates suggest that farmers plant cover crops on 1-5% of U.S. cropland acres, practice crop rotation on 25% of acres, and employ conservation tillage on just 25% of cropland. The recently published New York Soil Health Roadmap identified several barriers to adoption including management complexity, lack of technical assistance and policy disincentives.
Farmers also face logistical constraints including the difficulty in establishing late season cover crops after harvest and the lack of access to appropriate machinery for interseeding cover crops into a standing row crop. These are barriers to cover cropping in corn silage, nearly 1 million acres of which is grown in New York.
The New York Roadmap fails to acknowledge two of the regenerative practices demonstrated on numerous Midwestern farms through the Pasture Project and by the other farm innovators: the integration of livestock into crop production through adaptive grazing of cover crops, both during the growing season and in fall/winter, and the use of complex cover crop mixtures to accelerate improvements of soil health. Adaptive high stock density grazing is a form of grazing management that rapidly builds soil health and productivity by employing high stocking densities, frequent moves and long rest periods for paddocks. Grazing cover crops also produces direct economic benefits by providing additional livestock feed. These two benefits can make cover crops more financially viable, thus overcoming an important barrier to their adoption.
A NESARE-funded project in New York conducted cover crop trials on two dairy farms and two vegetable farms and held three field days. The project demonstrated use of various cover crops species established with several methods, including interseeding into a corn crop. The project provided valuable information on cover crop selection, methods and timing of seeding but did not focus on the effects on soil health.
Our project will provide needed expert on-farm technical support for each of the farmer-demonstrators, financial support for covering the cost of cover crop seed, and training to allow the farmers to measure changes in soil health over the life of the project. The project will also provide opportunities for farm neighbors and others to attend field days and learn from the farmers what has worked for them. The goal is to expand the farm's use of cover crops into their silage corn acreage resulting in improved soil health and reduced input costs. Improved soil health can also mitigate damage from extreme weather events, reducing soil erosion, nutrient run-off and crop loss.
Cooperators
Research
Materials and methods:
Consultant Allen Williams spent time at three farms in October, 2019. At each farm, he talked at length with the farmers about their management practices and goals for participating in this grant project. An area for the demonstration plot was identified on each farm taking into account the ability to manage grazing as part of the treatments. Each plot will be divided into three treatments; silage corn, silage corn interseeded with a multi-species cover crop at the V4-V5, and silage corn interseeded with a multi-species cover crop at the V4-V5 stage and adaptively grazed after corn harvest. Soil sampling at each location is delayed until spring, 2020 due to early onset on cold soil temperatures. Soil samples will be taken annually in each plot for analysis using the Haney and PLFA tests, as well as soil penetrometer and water infiltration measurements.
The farmers will meet in January, 2020 to discuss the demonstration plots and cover crop choices in consultation with Allen Williams. They will also work together and with consultant David Brandt to retrofit a corn seeder to allow for interseeding of cover crops in standing corn. Planting will take place in Spring 2020 as conditions allow. The Project PI will maintain regular contact and visits with the farmer-demonstrators to monitor progress, document growth over the season. Allen Williams will return in the fall of 2020, meet again with all farmer-demonstrators and lead a field day at one or more of the farms for the public to see the results from year 1. Farmers will share what worked, identify challenges and successes.
Soil samples were collected from the three plots on the three demonstration farms in May 2020. Water infiltration and soil compaction measurements were also collected. Soil samples were sent to Regen Ag Lab in Nebraska for Haney and PLFA analysis as per request from project consultant Dr. Allen Williams.  Dr. Williams had phone conversations with farmers regarding soil analysis results and made recommendations on cover crop mix.
Silage corn was planted as usual on demonstration plots. A cover crop mix based on Dr. Williams recommendations was purchased through a local Kings Agri seed dealer and included annual rye, buckwheat, crimson clover, flax, turnip, cow pea, and hairy vetch. The cover crop was sown in demonstration plots at Tiashoke farm at a rate of 25# per acre on July 11th using a Interseed Technologies seeder. Corn was approximately 2.5' tall.
Research results and discussion:
Plans to modify a corn seeder in the winter of 2020 were not initiated. The Washington County SWCD had applied for a grant to purchase an interseeder but has been delayed in receiving the grant. The PI spent time over the winter and early spring months trying to locate equipment that could be used for interseeding the cover crop into V4/V5 corn. We were able to borrow an Interseeder Technologies interseeder from the Fulton County NY SWCD but were not able to use it until after their farmers were done seeding. By the time we got the seeder in July, only one farm was able to use it to interseed the cover crop. The other two demonstration farms determined that the corn was too tall and too much damage would ensue from use of the interseeder.
The PI observed use of the interseeder at Tiashoke Farm and visited later in the summer to observe growth of cover crop. Hickory Hill Farm and Otter Creek farm were encouraged to try to sow the cover crop mix if the silage corn was harvested early enough. They determined that it was late to establish many of the components of the mix, and both farms use a no-till seeder to sow grain rye in the fall.
Due to covid travel restrictions, Dr. Williams was not able to travel to New York State to meet with farmers in fall 2020. Morgan Hartman, who is an associate of Dr. Williams and lives in western Massachusetts, was available to meet with farmers. Mr. Hartman consulted with Otter Creek Farm and attended a field day in early November 2020 to view the demonstration site at Tiashoke Farm and a visit to Hickory Hill Farm. Service providers from Washington County Soil and Water Conservation District and Cornell Cooperative Extension also attended the field day. The stand of interseeded corn on the Tiashoke Farm was well established. Farmer Brian Ziehm commented on how much the cover crop grew once the corn was removed. At Hickory Hill Farm we viewed the demonstration plot area which was sown with annual rye. We also viewed cropland where a cover crop had been sown into grain corn at the V4 stage using a spin seeder. Timely rain fall had resulted in an excellent stand of cover crop in the grain corn. We discussed the option of using the spin seeder to establish cover crops in the demonstration plots if we are unable to secure the use of an interseeder for the 2021 growing season.
The benefits of the intersown cover crop were discussed in terms of late season and winter forage, as well as providing cover to reduce erosion and nutrient loss, and to benefit soil organic matter and biological activity.
This winter we will again seek to locate an interseeder or other appropriate equipment to use for interseeding at the V4/V5 stage in silage corn. The PI will consult with Dr. Allen Williams on timing of 2021 soil sampling considering that there was not an early cover crop established on two of the demonstration farms in the 2020 growing season. Planning for a fall consultation visit by Dr. Williams including a public field day will be made assuming that travel and public meetings may be possible by October or November 2021.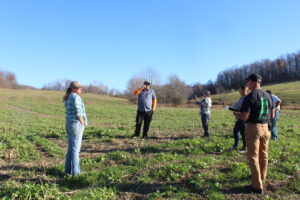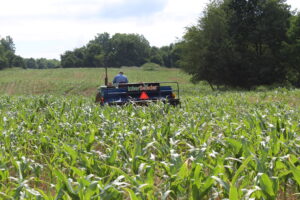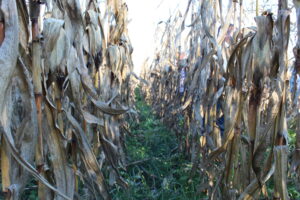 Research conclusions:
An early onset of cold weather in fall 2019, equipment availability issues, and Covid restrictions all played a role in preventing us from following our planned methods and meeting our goals for the year. The farmers are still committed to experimenting with increased cover crop use and the benefits of interseeding at the V4/V5 stage. We also noted how growing conditions in any year dramatically affect how successful cover crop establishment is. On the Tiashoke Farm where the cover crop was interseeded, conditions were very dry all summer and the cover crop, while established, did not put on much growth until after the corn crop was harvested and more rain occurred. Growth was probably also reduced due to height of corn at time of seeding. On Hickory Hill Farm, the identified demonstration plot was not seeded, but a separate field which was sown using a spin seeder had an excellent cover crop stand due to timely rain. The farmers talked about what would be needed in terms of equipment to make widescale use of interseeded cover crops.
Participation Summary
4
Farmers participating in research
Education & Outreach Activities and Participation Summary
Participation Summary:
2
Number of agricultural educator or service providers reached through education and outreach activities
Education/outreach description:
On   November 9, 2020 a field visit was made to Tiashoke Farm to view the demonstration plot where the cover crop had been interseeded on July 11. The demonstrator farmers, and service providers from Washington County Soil and Water Conservation District and Cornell Cooperative Extension attended as well as the project PI and project consultant Morgan Hartman who was filling in for Dr. Allen Williams who was not able to travel due to Covid restrictions. We also visited Hickory Hill Farm and saw successful interseeded cover crop in grain corn which had been applied with a spin seeder at the V5 stage.
Learning Outcomes
3
Farmers reported changes in knowledge, attitudes, skills and/or awareness as a result of their participation
Key areas in which farmers reported changes in knowledge, attitude, skills and/or awareness:
Use of Interseeder Technologies equipment for establishment of cover crop early in season.
Possible use of spin seeder for cover crop application as a low-cost, and relatively fast method of seeding into V4/V5 corn.