Progress report for ONE19-348
Project Type:
Partnership
Funds awarded in 2019:
$29,917.00
Projected End Date:
04/30/2022
Grant Recipient:
Vital Communities
Project Information
Summary:
Climate disruption is a growing threat to Upper Valley food producers and the communities that rely on them. Having spoken with several local producers about what would best assist their response to our changing climate, Vital Communities' Valley Food & Farm (VFF) staff proposed a series of regularly scheduled, farmer-directed gatherings to focus on peer-to-peer learning, discussions with experts, on-farm models and demonstrations, and access to other resources that could improve farm resiliency.
Many resources are available for producers seeking adaptive solutions to climate change, including information on farm practices that would mitigate greenhouse gas production. However, discussions with local producers revealed their lack of familiarity with available resources and their frustration in finding the time to seek them out and individually navigate the complexities of climate adaptation. Nevertheless, understanding the importance of resilience and the economic threats posed by climate disruption, they are deeply interested in our hosting a regular venue to build connections, share resources, and invite expertise and technical assistance from beyond the region.
Having hosted many similar issue-based forums and programs for the region's farmers in the past, VFF is ideally positioned for this work. It is our practice to consult with our farmer-partners on the format and approach that best suits their schedules, experience, and interests. This often entails an informal advisory group to work with our VFF program coordinator (and farmer-in-residence) to co-lead project development. Therefore, this grant has polled farmers, assemble an advisory cohort, determined a format, identified priority topics as well as topical resources and expertise, publicized activities to producers beyond the formal grant partners, and we will develop a toolkit for post-grant use
Project Objectives:
As indicated, there is significant expertise among our farmer base and we have cultivated a culture of convening and sharing. This project seeks to directly assist approximately 35 farmers in adapting their farm practices to climate instability through education, awareness-building, technical assistance, and peer support. They will also be coached to take a leadership role in securing our region's food supply by creating food system resiliency in their communities.  An additional 75 farmers will benefit from by-products of the project: powerpoints, reports, and other residual materials online.  Objectives include
– Building a community of farmers focused on sharing knowledge, equipment, production, or other resources needed for the coming decades;
– Providing a central clearinghouse to make relevant resources continuously available to Upper Valley producers;
– Collaborating with farmers to develop a convening format that accommodates their busy schedules, including content they find practical and relevant;
– Facilitating individual farms and/or the group as a whole in identifying gaps in resources needed over the short term to meet their farm and community goals related to climate change.
Introduction:
Our project will engage state and regional research and experts, within the context of local relationships. Vital Communities has worked with producers in small-group settings for decades, most recently convening three themed producer groups: farm businesses invested in shared food facilities, on-farm employee education, and small-group peer-to-peer learning. Producers trust us to identify and share resources, and are interested in building community around this topic. Our region is home to significant climate expertise on both sides of the Connecticut River, all of which will benefit producers.
The State of Vermont (climatechange.vermont.gov) predicts both threats, such as heat stress on livestock and a steady decline in maple sugar production, and opportunities, presented by an extended growing season and milder winters. University of Vermont's (UVM) extension service has a Farming & Climate Change Program (www.uvm.edu/extension/sustainableagriculture/farming-climate-change-program), part of its Center for Sustainable Agriculture, with a fulltime Farming & Climate Change Coordinator on staff.  Videos on the website showcase New England farmers, including Edgewater Farm and Vermont's Intervale, who are already experimenting with new crops and practices adapted to changing hardiness zones.
New Hampshire, on the other hand, is highly focused on fisheries and coastal weather events.  Agriculture topics on the University of New Hampshire (UNH) extension service website (extension.unh.edu/topics/agriculture-horticulture) mention climate change only incidentally, all the more reason for regional programs like ours to assist our region's New Hampshire farmers in understanding and preparing for climate adaptation.
Since 2017, Vital Communities has taken on the Upper Valley Adaptation Workgroup as a new program. (UVAW, vitalcommunities.org/adaptation). UVAW is a coalition of leaders from relevant stakeholder groups  focused on building climate resilient communities in our region. Our project will leverage their expertise, both states' extension services, and the USDA Northeast Climate Hub.
Our project also draws on two other sources.  A 2013-14 study of 15 Vermont farmers after Tropical Storm Irene conducted by Dr. Rachel Schattman, a USDA Northeast Climate Hub researcher for the University of Vermont indicated that farm response to climate change was based largely on personal experience with extreme weather, especially flooding (www.climatehubs.oce.usda.gov/sites/default/files/NortheastClimateHub_ResearchTemplate_UVM_schattman_072017_web%20FINAL%20TAGGED.pdf).  Her recommendation that farmers share adaptive practices is reflected in the SARE-funded 2017-18 New England Adaptation Survey for Vegetable and Fruit Growers, a UVM survey of 193 growers across the region.  Farmers' top preference for "the best source of information and adaptive approaches to new challenges" was other farmers (88%), followed by university extension (62%), conferences (59%), personal experience and innovation (53%), and 17 other choices (p. 19). 
Of the survey's 193 respondents, 66 were from Vermont and 28 from New Hampshire. We contacted project researcher Alissa White for more detailed information on the ten who responded from the four counties comprising the bulk of our region (0 Sullivan Co, NH; 2 Grafton Co, NH, 5 Orange Co, VT; 3 Windsor Co, VT). The mere fact that there were so few Upper Valley respondents evidences the need for outreach and education.  Upper Valley respondents farmed an average of 16.5 acres, 6.4 in organic production.  All but two were beginning farmers with less than ten years experience.  Half were female and the average age was 45. 
Practices already in use to mitigate increased precipitation were many and varied.  Six farmers (all Vermont) were already using 10 to 18 of 30 suggested practices, the rest two to nine.  Their top five concerns, in descending order, were reduced snow cover, increased disease and fungus, unpredictable spring temperatures, increased insect and pest threats, and loss of nutrients due to precipitation. Nearly all agreed (mean score: 4.8 of a possible 5) that "increased intensity of droughts, storms, and floods is a result of climate change," and that their farmland "was vulnerable to extreme weather conditions" (4 of 5).  Their confidence that "community and social networks will support my farm in recovering from severe impacts… including crop insurance" scored 2.9 of 5, possibly because none had water management insurance.  (Nor had any conducted financial analysis and planning for climate adaptation, indicating likely topics for our project.)
Finally, Upper Valley respondents agreed with their New England peers (67%) that grants would be the incentive/resource most helpful in making changes needed to manage climate disruption. However, they deviated by ranking demonstrations equal to grants, while New England growers as a whole ranked demonstrations fifth of six choices.  Following grants and demonstrations, Upper Valley farmers ranked the remaining choices in descending order: technical assistance and equipment access (tied for second place), followed by cost shares and Other Resources, which elicited two responses: education and one-on-one advice.
Cooperators
Research
Materials and methods:
The Farmer Climate Network kick off event in October 2019 attracted 21 farmers for a presentation by Josha Faulker, UVM Farming and Climate Change Program Coordinator. Dr. Faulkner shared climate trends and projections for Vermont and the region and the resulting impacts for farms and our food system. Farmers shared how they are being impacted and how they are mitigating and adapting for climate.
Farmers participated in a group activity to design future network educational events and creative solutions to current and looming challenges. Farmers formed 8 groups according to topics they would like more information about/training on/resources invested in and then the group, by consensus, designed the types of activities they would find useful and attend. The information gathered from the groups included the type of event (webinar, workshop, online reading, etc), goal for event, time of year, location, and possible presenters. A few examples:
No-till education with a workshop/conference component in the winter along with an on-farm demonstration in the summer 
Regional resilience by limiting farm inputs with webinars with expert presenters and online reading and resources
Water management workshop to better understand erosion control, drainage, and irrigation systems
In November 2019 Edgewater Farm hosted 16 people, including 4 farmers and 3 service providers. The event started with a presentation by Chris Skoglund from the NH Department of Environmental Services "Preparing Local Food Systems for Climate Change".  Pooh Sprague (Edgewater Farm owner) shared his experiences farming in a changing climate and we toured the farm to learn about the adaptation practices the farm has implemented over the past several year.
In February 2020 we hosted a two-part workshop with "Renewable Energy Funding for Farms and Small Businesses" in collaboration with Rural Development with the goal of providing the information and resources needed to move forward with a renewable or energy efficiency project. The series included a webinar overview of the Renewable Energy for America Program (REAP) and an in-person workshop with The Rural Development Energy Coordinator for Vermont and New Hampshire, a farmer and solar installer who recently completed a REAP project, and Vital Communities' Climate Projects Coordinator. Three farmers attended both sessions and Eight farmers attended either the webinar or the workshop. Session recordings, and energy efficiency and renewable energy resources were shared with all event attendees and shared with 140 farmers via email.
We were in the midst of planning a six-part in-person community educational series "Climate and Community Resilience: Lessons from the Soil" for the spring when COVID-19 required the transition to virtual events. This free series was in collaboration with many partners including Vermont Healthy Soils Coalition. The series ran from late March to mid-May with the following sessions: 
Earth's Cycles: Foundations of Energy and Matter, Historical Landscape: Learning from the Past, Here and Now: Human Impacts, Systems Collapse: Climate and Ecological Crisis, Revolutionary Resilience: Creating a Different Future, Fertile Ground: Reclaiming Power and Possibility
This workshop series was open to the public and highly promoted to farmers as the content focused on soil health in increasing climate resilience. The final session included a panel with five farmers sharing how they are adapting to climate change and/or farming with regenerative practices. Each session included time for breakout conversations among attendees to build relationships and community around climate resilience. The virtual logistics for this series made it difficult to report how many farmers participated in this series, but we approximate at least 12 farmers attended at least one of the sessions. Recordings of the entire workshop series were shared with 143 farms via email.
In October and November we hosted three virtual events "Resilience Through Local Food Security" in the New Hampshire communities of Lebanon/Mascoma Valley, the Kearsarge region, and Claremont/Newport. The pandemic has highlighted the critical importance of local farms and working lands and these events included hearing farmer stories about their land challenges and successes as they stepped up to feed our community during the past year and land access technical assistance from project collaborator, Land for Good. The goal of the series was to build community and facilitate connections that increase resilience through local food production and working lands in these three micro-regions in New Hampshire. The Lebanon/Mascoma Valley event included stories from a local dairy and attracted five farmers. The Kearsarge event focused on stories about farmers working with the community to make sure that neighbors weren't hungry during the early days of the pandemic and included six farmers. The Claremont/Newport conversation focused increasing working lands through conversation and had five farmers participate. We followed up the sessions with land access resources and technical support for farmers and community resilience building resources for all.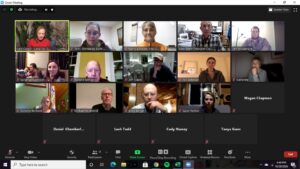 Participation Summary
7
Farmers participating in research
Education & Outreach Activities and Participation Summary
5
Webinars / talks / presentations
Participation Summary:
8
Number of agricultural educator or service providers reached through education and outreach activities