Progress report for ONE20-373
Project Type:
Partnership
Funds awarded in 2020:
$29,997.00
Projected End Date:
07/31/2022
Grant Recipient:
Haskin Shellfish Research Lab (Rutgers University)
Project Information
Summary:
Environmental change has presented new challenges for hard clam farmers, while a growing demand for limited shellfish leases creates a pressing need to utilize idle farm leases. The issue we will address is two-fold. First, cownose rays, a major predator of hard clams, have become a significant threat to hard clam farms as the species has increased in range and abundance.  Second, a significant amount of viable leased bottom is lying fallow because it is in relatively deep water, not suitable for established hard clam predator protection measures - screens. The objective of this project is to use farm-scale, collaborative experiments to assess the application of shell hash as a deterrent of cownose ray predation.  If successful, this strategy would provide the means to make hundreds of idle acres productive, while reducing labor costs.  We will evaluate predator losses and clam growth at three replicate plots of each of three treatments (9 plots total): unshelled bottom, shelled bottom, and predator screens. Further, we will monitor predator activity at each of these plots. Results will be conveyed to commercial shellfish aquaculturists, scientists, and extension specialists at state growers forums and national conferences.
Project Objectives:
This project seeks to test if shell cover protects farmed clam seed from cownose ray predation. The questions we will answer are:
Does clam survival increase when shell is applied to the sediment surface, relative to unprotected and screened clam seed?
Does clam growth and condition (shell thickness and body mass) increase when planted beneath shell on the surface?
Do cownose rays avoid feeding on plots covered with shell?
If this project is successful, it will provide information to help clam farmers prevent cownose ray predation losses, and a means to use deep water leases that are not suitable for netting. It will also provide important information about potential increases in natural clam recruitment at farm sites planted with shell.
Introduction:
Farmed shellfish production increased 34% in the U.S. from 2013 to 2018 advancing national aquaculture production targets (USDA, 2019, NOAA Fisheries, 2019). Demand for molluscan shellfish is strong and the potential for growth is significant. However, unlike most other farmed shellfish species, the production of hard clams experienced a decline during this same period.  In New Jersey, 6,461,000 farmed had clams were produced in 2019 and 20 farms were permitted (Pers, Communication NJDEP, R. Schuster). Barriers to increased growth in the hard clam sector include predation, disease, and limited availability of appropriate farm sites. The problem we will address is increasing predator pressure in the Northeast that is limiting the opportunity for clam farmers to make use of underutilized leases located in deeper water. These leases represent a substantial opportunity for expansion of farm production while limiting additional labor costs, thereby increasing the profitability and sustainability of existing farms. Cownose rays are a major clam predator, often feeding in large schools preferentially on dense patches of clams (Collins et al, 2007), as would be found on farms. These large feeding schools can decimate patches of bivalves (Mann et al., 2016), and anecdotal observations by coastal shellfish farmers support the notion that the abundance and range of cownose rays are expanding, and that predation problems have become more persistent. A number of news articles have focused in recent years on shellfish farmers' expression of frustration with cownose ray predation, and their calls for a solution. To allow clam farmers to bring the significant amount of viable leased bottom that is lying fallow back into production, we must begin to identify viable solutions to deterring cownose ray losses. These leases tend to be located in relatively deep water, not suitable for use of predator screens which are the established predator protection measures used on shallow water leases. Not only would shelling be a viable protection that could be applied in deeper water lease areas, it also is a predator mitigation measure that would not need the maintenance required for screens, thereby allowing farmers to revitalize these fallow leases with little additional labor and maintenance costs.
Cooperators
Research
Materials and methods:
In our experiment, we will address our objectives by planting seed clams at each of three bottom treatment types: shell over clam seed, clam seed under netting, and unprotected clam seed. Comparison of growth and survival of the seed across these three treatments will allow us to statistically test whether clam survival and growth is improved by shell planting, relative to traditional screens, and compared to unprotected controls.
On August 11, 2020 we visited the experimental farm site with the farmer partner and marked 3 replicate plots of each of the three treatment types (a total of nine total experimental units) using pvc poles. The plot layout is provided in the attached Figure 1. The farm lease is 5 acres at Cape Horn in Great Bay, NJ, owned by our farm partner, Parson's Seafood. Our farm partner selected this site because it has sufficient access to deploy and sample the experiment, and it has regular and annual predation pressure by cownose rays. Each treatment plot will be 20 feet by 14 feet (the equivalent footprint of a clam screen), and is surrounded by a 20 foot buffer to ensure no edge effects from neighboring plots and to allow the treatment to extend slightly past the edge of the plot for complete plot coverage. 
The farmer partner returned to the site on Sept. 18, 2020 to apply crushed oyster shell will on the bottom on the three shell treatment plots. The shell was brought to the site by barge and washed overboard with a hose. On Nov. 10, the research team returned to the site to take sediment samples. Three cores were taken at each of the nine treatment plots. These cores were frozen and will be used to evaluate sediment grain size at each plot prior to commencement of the experiment. Thickness of the shell layer on the shelled plots was also evaluated. 
Seed clams averaging 20 mm (+/- 2mm st. dev.) were acquired from our farmer partner's nursery grounds on Nov. 24th, 2020. These seed were spawned in spring 2019, held in a land-based nursery until they were ~12mm, then outplanted to a field nursery in August 2019. The next day, the research team and farmer partner planted seed on the experimental plots. Each of the nine plots was seeded with ~3000 clam seed, for a planting density of 10 seed per square foot. The three plots to be netted were covered with clams screens after seeding. A subsample of the seed were returned to the lab to evaluate size at the time of planting.
Cownose rays typically return to the area in May or June. Prior to that in 2021, we will set up four hydrophones at the four corners of the study area such that they overlap to produce a trilaterating positioning array. From that we will be able to measure sub meter resolution tracks at 3 second intervals using Lotek hydrophones to detect tagged cownose rays (see Figure 2 for an example of fish movement data from a previous study using these methods). This will allow us to evaluate the amount of time rays are spending at each of the treatment types as well as path tortuosity as proxies for feeding because rays tend to stay in one location while feeding. We will tag cownose rays (ten or more) near the experiment site by capturing them in a gillnet then applying tags. This tagging effort will be led by Dr. Grothues, an expert in fish tagging and observing.
In September of the following year, each of the nine plots will be sampled. Cores will again be taken (3 x 10cm cores per plot) to evaluate the thickness of the shell layer, and to assess sediment type (grain size and organic content). The entirety of each 20x20 foot plot will then be harvested using a suction dredge and the contents passed through a 0.5 inch mesh. The contents will be separated into live clams, clam hinges (these are what often remains after a cownose ray eats a clam), and whole dead clam shells. The number of live, hinge, and whole dead clams will be counted at each plot, a volume subset of live clams (1 litre) will be measured for shell length to establish a length frequency at each plot that will allow us to assess whether wild recruitment was enhanced on our shelled plots. A subsample (n=20) of live clams from each plot will be returned to the lab for analysis of size, meat weight, shell weight, and condition.
All of the data collected will be analyzed statistically using analysis of variance (ANOVA) to evaluate differences in response variables among our three treatment types.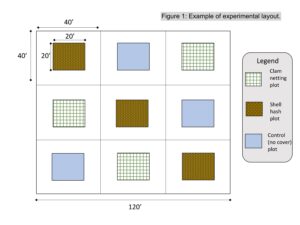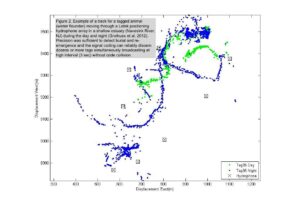 Research results and discussion:
Experimental plots have been established, sampled for sediment characteristics and depth of shell hash applied, and seeded following our proposed plan. The photo below shows researcher Grothues and farm partner Parsons deploying clam screens at the experimental site.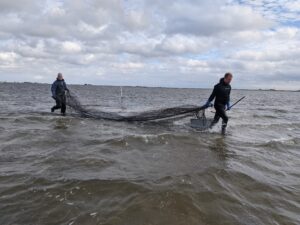 A video of the shell being deployed to the experimental plots is attached. PlantingShell
Participation Summary
1
Farmer participating in research
Education & Outreach Activities and Participation Summary
Participation Summary:
Education/outreach description:
Primary beneficiaries of this work will be hard clam farmers in New Jersey and other Mi-Atlantic and southern New England states. The results will be disseminated via several outreach mechanisms including oral presentations, published reports, manuscripts and a FAQ sheet.  A key venue for presenting the results of this work to shellfish growers in New Jersey is the well-developed and well-attended Shellfish Growers Forum, a bimonthly seminar series hosted by the Haskin Shellfish Research Laboratory that has been engaging shellfish farming stakeholders since 2012.  The Forum provides an opportunity for farmers and fishers to interact directly with researchers, regulators, and other experts.  Results will also be presented at the Milford Aquaculture Seminar, a regional annual conference that attracts shellfish aquaculturists, researchers, and government agents from the Mid-Atlantic and northeast region.  Additionally, a FAQ sheet will be developed and shared via relevant email lists, including the popular East Coast Shellfish Growers Association, and via post to the Haskin Shellfish Research Laboratory website. The FAQ sheet will provide recommended practices for cownose ray predation control, should the project demonstrate effective measures.  Finally, a manuscript will be developed for publication in a peer-reviewed journal, supporting broader worldwide outreach.