Progress report for OS18-119
Project Type:
On-Farm Research
Funds awarded in 2018:
$14,811.00
Projected End Date:
09/14/2021
Grant Recipient:
Texas A&M University
Project Information
Abstract:
U.S. wheat acres have dropped to the lowest since the early 1900s (USDA-NASS, 2017). In general, producers need more crop options in their cropping systems to diversify and take advantage of alternative markets, but this is especially true for wheat.
Wheat is a cool-season crop and is one of the two top crops planted in Texas (4.7 million acres; USDA-NASS, 2017). All other dominate crops in Texas are warm season. Since there are few cool season crop rotation options, rotating warm season crops with wheat generally leads to a prolonged fallow period from early summer through the following spring before the subsequent crop can be planted. Fallow ground is less economically productive in areas with adequate rainfall and it does not provide any soil health benefits. Alternatively, a cool season rotational crop would shorten fallow periods and be a more sustainable choice by providing ground cover for more months out of the year.
In response, work is underway to evaluate canola production in Texas. With the identification of adapted cultivars, more agronomic work needs to be done to identify proper management practices. One of the biggest obstacles in canola production is getting a good stand establishment. While canola can be a robust crop and tolerate many weather extremes once established, it is quite vulnerable as a young seedling (Martin et al., 2001). A nutrient deficiency at this stage is likely to reduce plant stands and plant vigor, but little to no work has been done on canola fertility on Texas soils, particularly in the Texas Blacklands Region. One proven method to assist in stand establishment and early season vigor is through the use of starter fertilizer.
This project aims to increase sustainability by promoting the adoption of canola, a potential rotational crop for the Blacklands Region of Texas, which if successful would shorten fallow periods in wheat rotations, and improve weed control through better chemical rotation. By focusing on fertility, this study will determine best in-furrow rates for starter fertilizer that maximize economic returns for canola, and reduce residual nutrients in the soil, lowering risk of off-site movement into waterways.
Project Objectives:
This project aims to increase sustainability by promoting the adoption of canola, a potential rotational crop for the Blacklands Region of Texas, which if successful would shorten fallow periods in wheat rotations, and improve weed control through better chemical rotation. By focusing on fertility, this study will determine best in-furrow rates for starter fertilizer that maximize economic returns for canola, and reduce residual nutrients in the soil, lowering risk of off-site movement into waterways.
Cooperators
Research
Materials and methods:
The fall of 2018 was exceptionally wet throughout the region. As such, planting of the trial was delayed until December 3, which is approximately 4-5 weeks past the targeted planting date. The trial was planted with a five foot wide, single cone, double disc plot drill. Plots were three passes wide so individual plot size was 15′ wide x 30′ long. The experiment was set up as a three replicate, randomized complete block design. Due to limited spring canola seed, a facultative canola cultivar 'CC17069' was planted on 7.5″ row spacing at 3.5 lb/acre. The soil type is a Houston Black Clay. Initial soil sampling indicated the following residual nutrient levels already present in the soil: 
0-12″ Depth: 15 ppm nitrate-N, 5 ppm P, 370 ppm K, 14,759 ppm Ca, 243 ppm Mg, 10 ppm S
12-24″ Depth: 5 ppm nitrate-N, 3 ppm P, 349 ppm K, 14,132 ppm Ca, 304 ppm Mg, 8 ppm S 
Prior to planting, canola seed and fertilizer treatments were packaged into separate envelopes to prevent seed-fertilizer contact. Seed and fertilizer envelopes were then emptied simultaneously into the drill for each respective plot during planting. Cultivation prior to planting was necessary due to heavy corn residue, however, wet field conditions at the time of cultivation led to poor seedbed conditions at planting. Planting could not be delayed longer as more rain was forecasted. To avoid planting issues with the drill discs due to muddy soil, discs were raised so that seed was dribbled onto the soil surface and then pressed into the soil using the press wheels. This was the only option or the trial would not have been planted this year from the constant rains.
Fertilizer treatments consisted of 15 treatments total. In-furrow treatments consisted of MAP and DAP products that were standardized so that each product was applied at three N rates: 5, 10, and 15 lb of N/a. This provided two phosphorus rates per N rate applied. Also, every MAP and DAP treatment occurred with and without zinc sulfate applied at 14 lb/a. For comparison, a broadcast application of DAP was surface incorporated at a rate of 139 lb/a. This rate represents roughly 1/3 of total N required, which corresponds with current fall fertilizer recommendations and also meets phosphorus needs for a crop expected to yield 1500 lb/a (30 bu/a).  A control treatment with no fertilizer applied was also included.
Due to late planting, cool soil temperatures and saturated soil conditions all fall and winter, canola was very slow to emerge. Plots were checked in mid-January and plants were still emerging at that time. Therefore, fall data on stand counts and plant height were delayed until March 19 once germination was complete. Since fall stem diameter and crown height are related to freeze damage potential and plants did not finish emerging until mid-March, the risk of freeze damage had passed and these notes were not taken. Plants were still in the vegetative stage on March 19 when nitrogen was topdressed over all plots at 120 lb/acre using dribble tips and 32-0-0. Flowering notes will be taken in early-April once plants begin to bloom. Final notes on plant height, lodging, and shattering will be taken just prior to harvest. 
So far the trial is free of insects, weeds, and disease. Scouting will continue throughout the season.
Research results and discussion:
As mentioned in the methods and materials, the 2018-19 growing season was abnormally wet and led to planting difficulties. This may have impacted results due to seed placement, poor seedbed conditions and fertilizer movement in the soil. The photo below (left) shows an example of plant stand and size on January 15, 2019. Because planting was delayed until December, soil temperatures were cold at planting and canola continued to emerge into February. Overall, stands were acceptable (averaged 2.6 plants per linear row of foot), but this likely led to additional variability throughout the trial and may mask true treatment differences. The photo below (right) shows trial condition March 28, 2019. Stands were still acceptable and plants are bolting and just beginning to flower. Harvest will likely be delayed 2-3 weeks this spring due to delayed planting in the fall.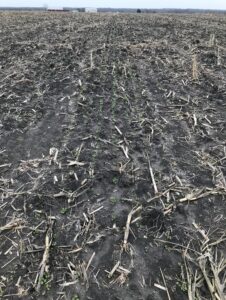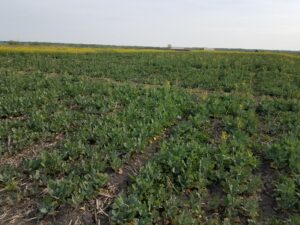 Data was collected on visual scores, stand counts, and canopy height on March 19. Visual scores were the only measurement that showed a significant difference among treatments. Here, the broadcast treatment of 139 lb DAP was the only treatment that was better (p=0.03) than the untreated control. There was a general trend that higher rates of the same product or product combination led to better visual scores. (i.e. 136 lb MAP was better than 45 lb MAP). Scores were very similar between MAP and DAP and between treatments with or without ZnS indicating that N applied was the major driver of this trend. This is supported by the fact that the broadcast 139 lb DAP was significantly the highest treatment and also received the most N of any treatment.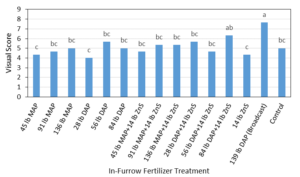 While canola stands were not improved by in-furrow fertilizer treatments, they also were not injured by the higher rates of in-furrow fertilizers which is typically seen with many crops from salt injury. This is particularly true with canola. A possible explanation for the lack of injury is the high rainfall and wet soil conditions experienced at and following planting. Rain likely diluted fertilizer quickly away from the seed zone to limit seed exposure to the high concentrations of N. Numerically, the broadcast control treatment ranked the highest for stand, similar to the visual scoring.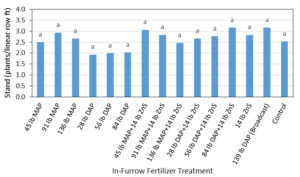 Measurements of canopy height were also taken on March 19. Like stand counts, no significant differences were detected, however the 139 lb DAP broadcast treatment once again ranked the best, while the no fertilizer control ranked the lowest. The difference was roughly 2.5″ in height. While treatments were not significantly different using a standard ANOVA analysis, a simple correlation comparing canopy height to total N received at planting indicated a strong positive relationship between the two. There was a positive relationship between canopy height and total phosphorus received, but it was much weaker, and there did not appear to be any relationship between zinc sulfate and height. No obvious relationship was observed between stand and any nutrient.
Based on this limited data set, it would appear that rate is more important than placement of fall fertilizer for early season canola growth, however previous research indicates that banding fertilizer is less important on wet years. In dry years, where root growth is more restricted, fertilizer placement near the seed may become more important. However, conventional wisdom suggests high rates of in-furrow fertilizer will increase the likelihood of salt injury and thus broadcast nitrogen may be a better approach if canola requires more than 10 lb/a of N to maximize fall growth.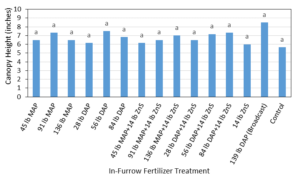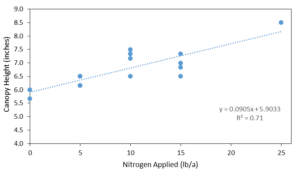 Participation Summary
1
Farmer participating in research
Educational & Outreach Activities
Participation Summary
Education/outreach description:
The project began in fall of 2019, so no outreach activities have occurred yet. An end-of-year report will be generated and posted on our website (http://varietytesting.tamu.edu/cool-season-oilseeds/) following harvest of canola plots to summarize findings from the first year. We plan to host a field day in April at the trial to promote canola use in the region and share preliminary findings on early season plant vigor from treatments.