Progress report for OS20-138
Project Type:
On-Farm Research
Funds awarded in 2020:
$20,000.00
Projected End Date:
09/30/2022
Grant Recipient:
Texas A&M AgriLife Extension
Project Information
Abstract:
Legume cover crops have potential to offset N fertilizer inputs, provide a high-value supplemental forage source for the regional livestock industry, and improve the health of agricultural soils in the Southern Rolling Plains and Permian Basin of western Texas. The fallow period between harvesting wheat and planting cotton often exceeds eight months (July–February), and the fallow period in continuous wheat systems is generally July–October. Annual precipitation in this region has a bimodal distribution, with the majority of rainfall occurring in the late spring (April, May, June) and early fall (August, September, October). The fallow periods in wheat–cotton and wheat–wheat systems are a valuable opportunity to take advantage of fall precipitation and grow a cover- or dual-use-crop. 
We propose a research and extension effort expanding upon the work of SARE project OS19-131, supported by on-farm projects and farmer cooperators, to investigate management options for legume cover crops in continuous winter forage, wheat (or grain sorghum)-cotton, and continuous cotton systems. Successful cover crop management can contribute surface residue, soil organic matter, and organic N, reducing fertilizer input costs. In addition to potential agronomic benefits and soil health, many cultivated legumes are high-protein forage crops that may offer dual-use potential in integrated animal systems. Texas is the leading state in goat, sheep, and cattle production for the U.S. All three of these livestock species are major regional enterprises in western Texas. Many cotton and wheat farmers also manage livestock on native rangeland or improved pasture, and wheat is often managed in a dual-use system to provide winter grazing, as well as a grain crop. The proposed cover crop practices could provide a high-quality forage source to supplement livestock production during critical periods, although optimum species and seeding rates are unknown.
Warm-season cover crop species of interest include different varieties of cowpea (Vigna unguiculate (L.) Walp.) and sunn hemp (Crotalaria juncea L.). Cool-season cover crops (in continuous cotton) include hairy vetch (Vicia villosa), Austrian winter pea (Pisum sativum L. ssp. sativum var. arvense), and Silver River sweetclover (Melilotus albus). Growing these cover crop species in a biculture with common grass crops such as cereal rye (Secale cereale L.) in the winter and pearl millet (Pennisetum glaucum (L.) R. Br.) in the summer may provide greater biomass, benefit to the soil, and potential forage.
Project Objectives:
The objectives of this research are to:
Assess adaptability and production potential of both warm and cool season legume options as cover/forage crops in West Central Texas annual crop rotations. 
Determine economically optimum seeding rates according to legume species and variety.
Assess the effect of including a grass in mixture with the legume (rye in winter and millet in summer). 
Observe and quantify any effects on subsequent crop growth.
Cooperators
Research
Materials and methods:
Warm-season legume trials were initiated following grain sorghum harvest at two sites in Tom Green and Runnels Counties in 2020, and at three sites following grazed-out winter forage or failed winter small grains in spring 2021. Trials consist of a 3 × 3 × 2 factorial set of treatments including three legumes: 'ACE' cowpea, 'Iron & Clay' cowpea, and sunn hemp, at three different seeding rates, each with and without hybrid pearl millet. The experimental design is a randomized complete block with four replications. Individual plots are 5 ft wide × 20 ft long and were planted with a cone drill. Cool-season legume trials were coordinated following grain sorghum or cotton harvest at three sites in Runnels, Tom Green, and Reagan Counties, and following grazed out summer forages at two sites in Callahan and Runnels Counties. Treatment structure was similar, with three species (hairy vetch, Austrian winter peas, and Silver River sweetclover) planted at four different seeding rates, each with and without rye. The design for cool-season trials was a randomized complete block with three replications. 
Cover crop biomass was (or will be) hand sampled per plot at peak biomass production, or prior to termination for planting of the subsequent crop. Samples are being dried, ground, and analyzed via wet chemistry for total N content (informing crude protein), as well as acid detergent fiber (ADF), and neutral detergent fiber (NDF). These measurements and analyses will inform total biomass (kg ha-1), total N contribution (kg N ha-1), and forage nutritive value. If needed, cover crops will be terminated using an appropriate herbicide prior to planting the subsequent crop. If warm-season cover crops reach mature seed production, then samples will be harvested to assess potential as a double crop, or for farmers to harvest, save, and replant cover crop seed. Following the establishment of the subsequent crop, crop tissue samples will be collected from the no-cover check, the grass-cover-only treatment, and the legume cover crop treatments contributing the greatest kg N ha-1 to determine cover crop impacts on subsequent crop N uptake.
All measurements will be subject to statistical analyses to quantify agronomic, economic, and environmental implications (i.e. potential fertilizer savings and associated reduction of negative environmental impacts). All findings will be integrated into extension programming, and presented at grower meetings as well as a cover crop field day.
Research results and discussion:
Results have not been finalized from these research trials. However, clear visual effects occurred between species and seeding rates in the recent cool-season and current warm-season trials. Sample processing and analyses are underway to finalize results. 
Participation Summary
7
Farmers participating in research
Educational & Outreach Activities
1
Curricula, factsheets or educational tools
10
On-farm demonstrations
1
Webinars / talks / presentations
Participation Summary:
7
Ag professionals participated
Education/outreach description:
A field tour was hosted at one of the cool-season trial sites in Runnels County on April 15, 2021. Thirteen producers and ag professionals were in attendance and spent >2 hours touring and discussing the plots and production implications relative to their operations. 
A second field tour was hosted at the cool-season trial site in Callahan County on May 7, 2021. 24 producers and industry professionals attended and toured plots.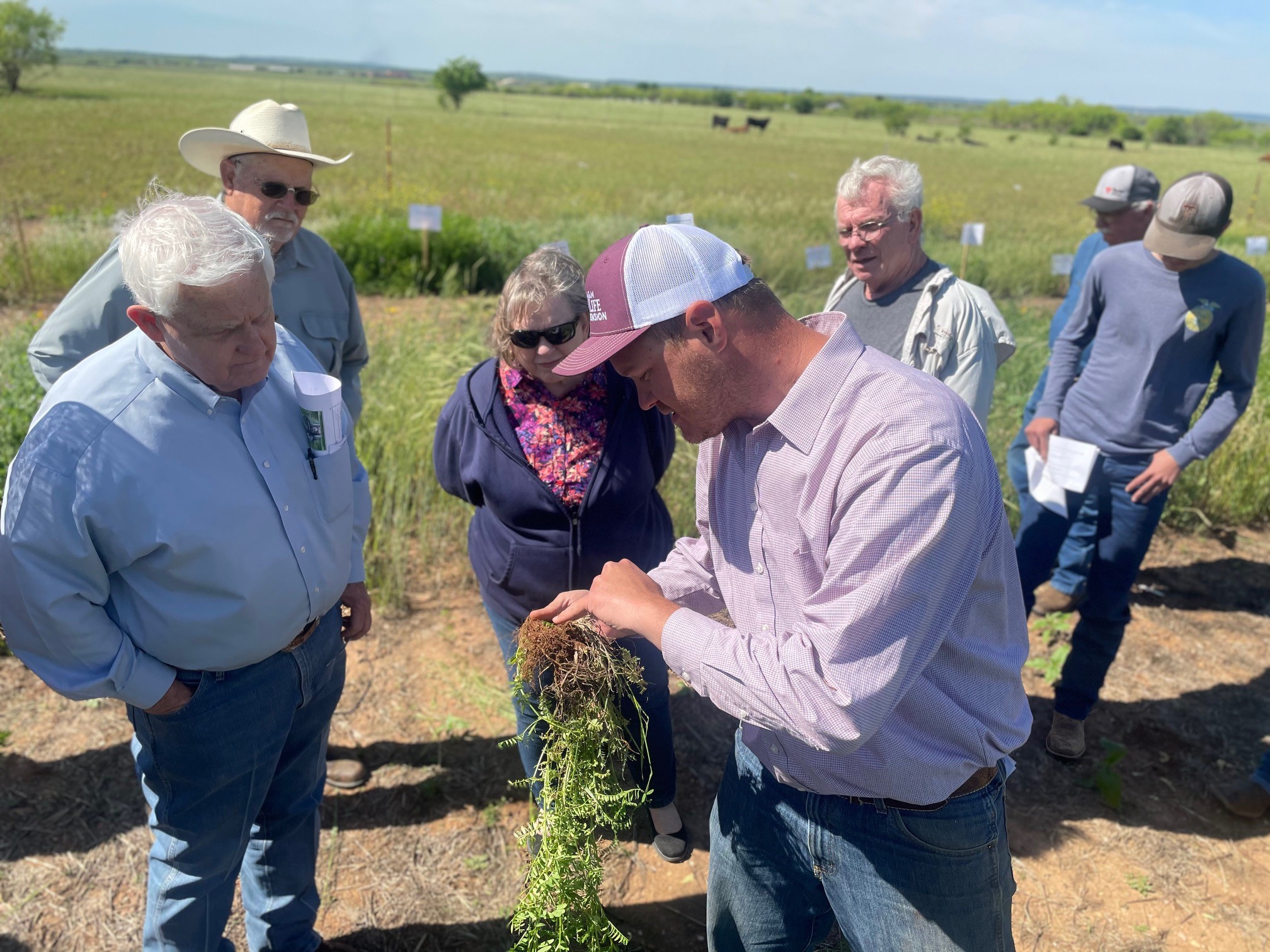 Future field tours will be held at warm-season sites, and educational materials will be generated and dispersed when project results are finalized. 
Learning Outcomes
3
Farmers reported changes in knowledge, attitudes, skills and/or awareness as a result of their participation
Project Outcomes
Project outcomes:
Project outcomes are yet to be determined, and will be measured with interviews and surveys upon completion of the project. 
Participants
No participants