Progress report for OW18-031
Project Type:
Professional + Producer
Funds awarded in 2018:
$49,177.00
Projected End Date:
03/31/2022
Grant Recipient:
Fairbanks Soil and Water Conservation
Project Information
Abstract:
Crop pollination is one of the most important aspects of agriculture, both economically and ecologically. Worryingly, many pollinators are known to be decreasing worldwide. Anecdotally, many Alaskan farmers have observed similar trends and have had to rely on either the importation of commercially-reared pollinators or hand-pollination for successful crop production. This is especially true for greenhouses and high tunnels, as they act as an additional barrier to insect pollination.
With a short growing season, indoor crops are a necessity for Alaskan producers, which results in the importation of honey bees and/or bumble bees to supplement pollination. This is of great concern because of the possible presence of novel pathogens or parasites which may be transmitted to local native bumble bees. In addition, the cost of bee packages has soared due to the destructive presence of the Varroa mite and colony collapse disorder, and the great shipping distance to Alaska. Hand pollination is an alternative to purchasing pollinators, but this is a time-consuming and tedious process for farmers.
Blue vane traps have recently become a common tool for bumble bee and honey bee monitoring studies. However, the success of the traps at attracting thousands of bumble bees provokes intriguing questions. Can blue vane traps be used to direct native bumble bees into indoor growing areas? Will the traps attract sufficient numbers of pollinators to be an efficient and cost-effective alternative to importing bees to Alaska? This 3-year study will assess whether modified blue vane traps can be used to attract pollinators to increase pollination success in high tunnels. We will work with farmers to implement on-farm research as well as provide on-farm consultations. FSWCD will also provide educational and outreach activities and materials at events throughout Interior Alaska, presenting information on the SARE project, native pollinators, pollinator habitat, and crucial roles of pollinators in general.
Project Objectives:
1. Assess a simple method of attracting native pollinators to high tunnels with modified blue vane traps to enhance pollination success.
a. We will evaluate whether or not native pollinators will be attracted into high tunnels by comparing a small high tunnel with and without modified blue vane traps near their entrance. We will monitor pollination success through pollinator visit data collection and the successful production of fruit on tomato. This will occur at the Georgeson Botanical Gardens with the use of 4 small greenhouses. (2019-2020)
b. In year two we will expand the study to on farm trials. We will work with farmers to evaluate pollination success differences between tomatoes with and without blue vane traps within high tunnels. (2019-2021)
2. To engage local partners, farmers, and the public in discussions related to the importance of pollinators to agriculture, and factors affecting pollinator health.
a. Outreach events will be held at events throughout interior Alaska, such as a University open field day, and attending and presenting information at various conferences. We will also work with Calypso Farm and Ecology Center to talk with students at their science camps. Furthermore, we will design educational material in collaboration with the Georgeson Botanical Garden, and establish a native pollinator demonstration garden at one community garden in the Fairbanks area. (2019-2021)
Cooperators
Research
Materials and methods:
2018: Materials and supplies were purchased over the winter of 2018 for use in starting in both on-farm demonstrations and paired comparisons at UAF. Due to wetter than normal climatic conditions in the summer of 2018, we intend to apply for an extension to have 3 complete field seasons, 2019-2021.
2019: We set-up two pairs of small high tunnels (4 total) for a paired comparison trial at the University of Alaska Fairbanks Georgeson Botanical Garden.  A treatment high tunnel (blue vane traps hanging from entrance) and a control (no blue vane traps) served as a study comparison pair and were place approximately 30' apart. A duplicate of this pair was placed approximately 190' away, to control for any location effects. The high tunnels are 6' x 8' x 6.5' in size. 6 Stupice variety tomato were planted in 5 gallon growing containers and fertilizers were standardized among all the treatments. Data collection included tomato yield, tomato girth, and pollination success rate (filled and unfilled seeds).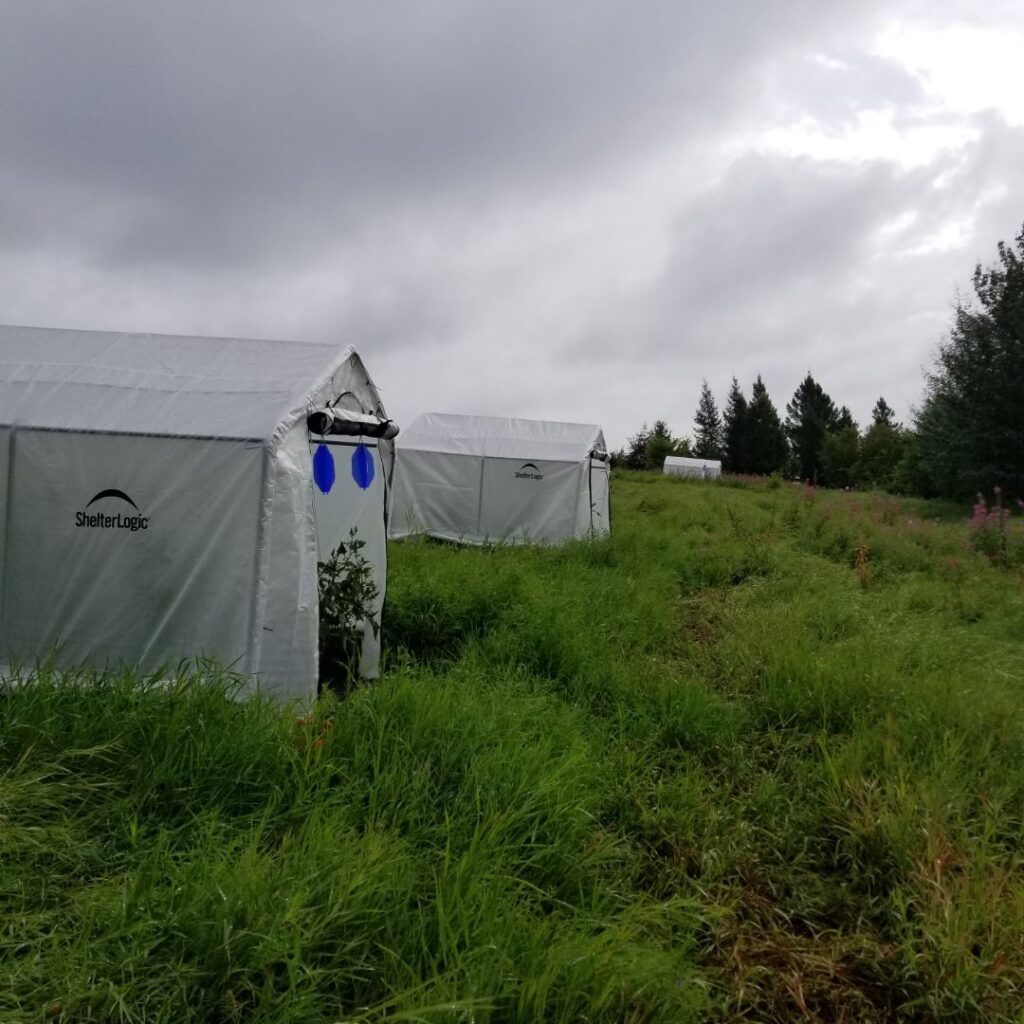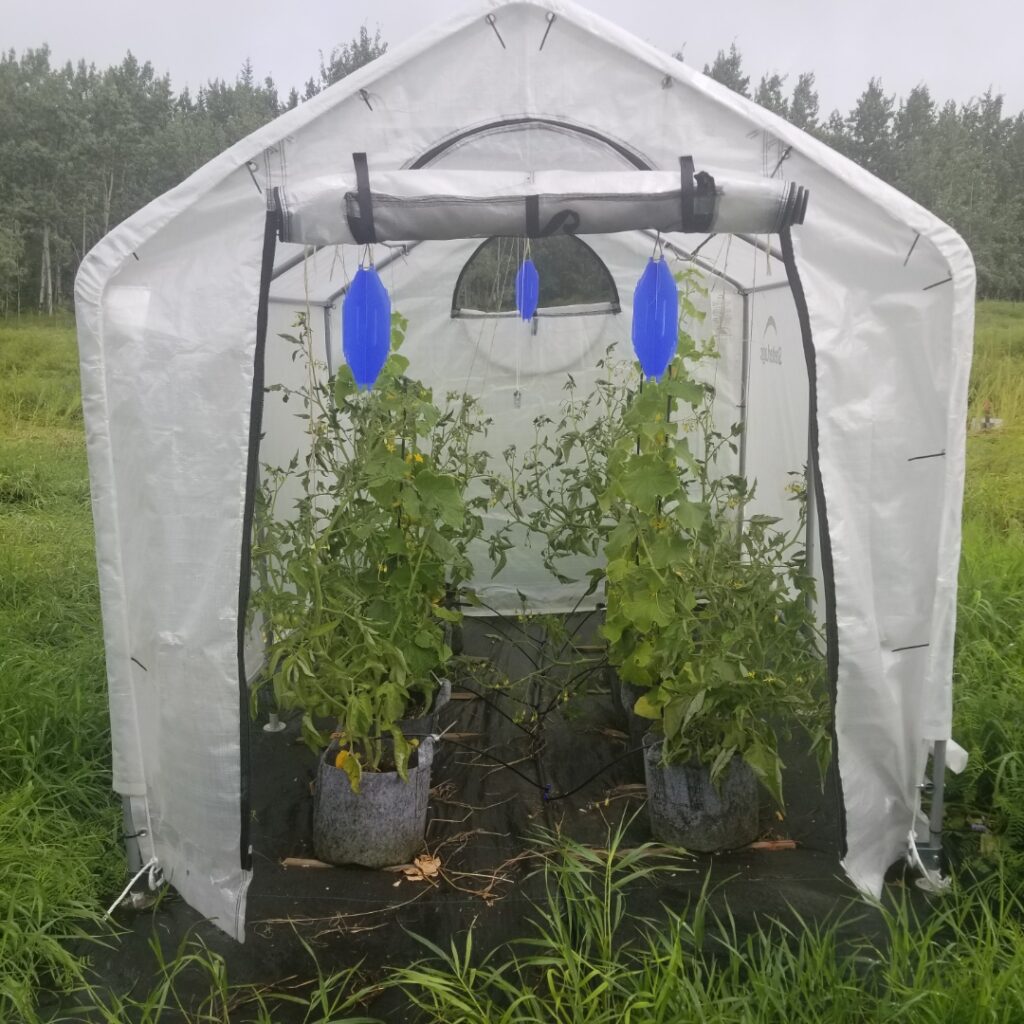 2020: We completed year two of the paired comparison trial of the mini high tunnels at the University of Alaska Fairbanks Georgeson Botanical Garden. Variables were identical to 2019, with the exceptions of a different tomato variety (Early Girl), and a higher number of blue vane traps as attractants around the entrance to the mini-high tunnels.
We also collaborated with 3 farms for on farm research trials. Moose Creek Farm and Frosty Acres Farmstead participated by placing pieces of blue vane traps on tomatoes, with a treatment and control replicated twice within a high tunnel. They weighed, counted, and recorded tomatoes weekly, or as they were harvested. Spinach Creek farm participated by hanging blue vane pieces throughout the center of a field of zucchinis, to see if this would attract early season pollinators to increase pollination success. Data was not collected but observations were recorded.
Research results and discussion:
2019: Tomato yield (weight), girth and filled seed percentage, were all measured throughout the growing season. Filled seed percentage is the percentage of seeds within an individual tomato that was successfully pollinated. Pollinated seeds are full and plump, while seeds that were not pollinated are very small and shriveled. This does not distinguish pollination success from insects, wind, or self-pollination.
While there were slight trends to the data, no results were statistically significant. This might be due to the small scale and sample size of the study. It may have also been influenced by the number and placement of the blue vanes which were meant to attract pollinators into the high tunnel. We will adjust the treatments in 2020 to test a higher number and different arrangements of blue vanes.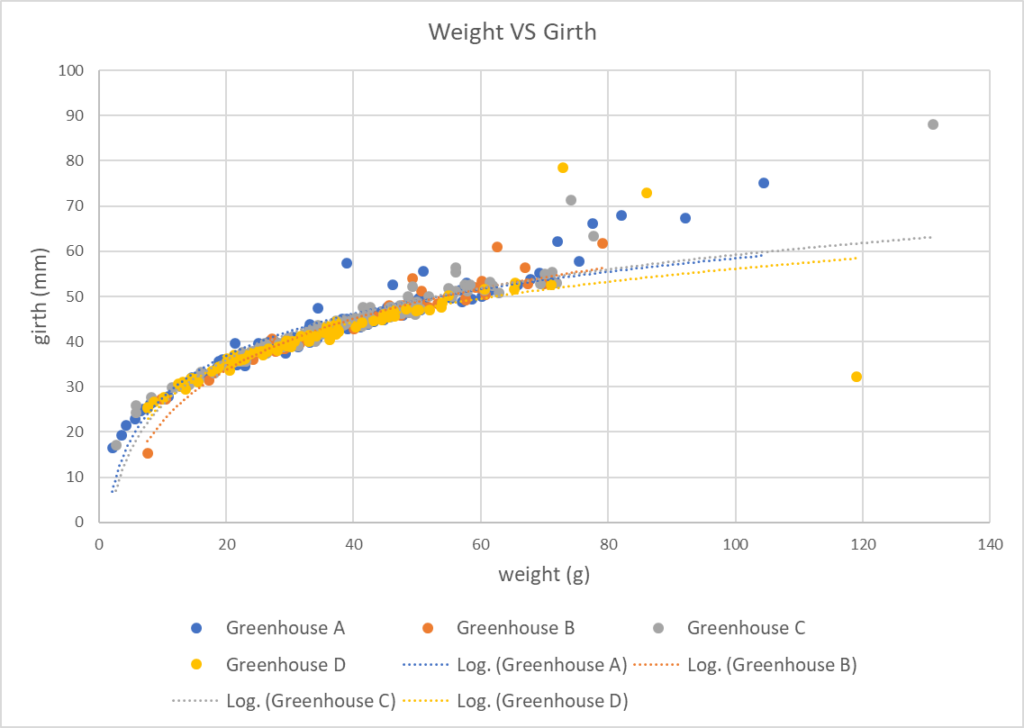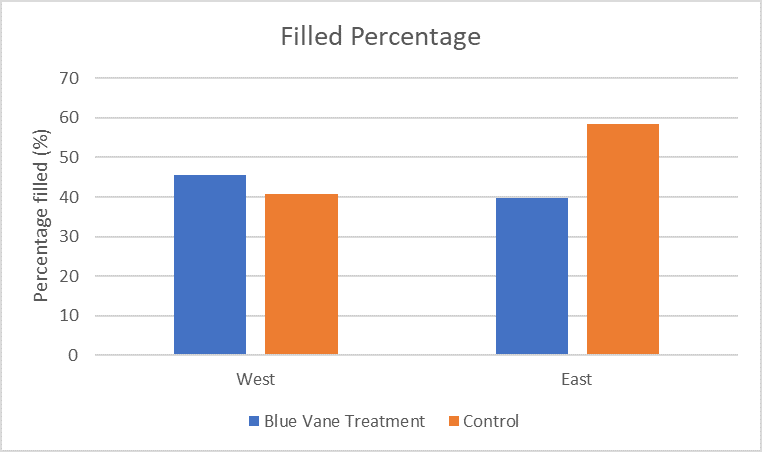 2020: Results from the UAF Geogeson Botanical Garden trial were similar to 2019, with no statistically significantly results between control and treatment.
Participation Summary
4
Farmers participating in research
Educational & Outreach Activities
1
Curricula, factsheets or educational tools
2
Published press articles, newsletters
1
Webinars / talks / presentations
1
Other educational activities: survey to Interior Alaska farms
Participation Summary:
Education/outreach description:
2019: We've collaborated with several farmers and UAF faculty in preparation for the 2019 field season. FSWCD discussed the upcoming project and importance of pollinators at several outreach events, including the Tanana Valley State Fair, the Alaska SARE Conference, and at the Great Lakes Expo and Conference in Grand Rapids, Michigan.
During 2019, the following outreach and education activities were completed, or are still in progress:
A pollinator survey was conducted with 19 Interior Alaska farm respondents
Educational activities to 400+ elementary students at Ft. Wainwright Earth Day celebration
Outreach activites, including a farm pollinator habitat diorama and informational booth, at the Tanana Valley State Fair
Presentation to UAF NRM undergraduate students about pollinators
On-farm consultations (3) about pollinators and their role in farm productivity within high tunnels
UAF community garden pollinator habitat flower beds
Newsletter to all FSWCD cooperators
Social media posts to FSWCD Instagram and Facebook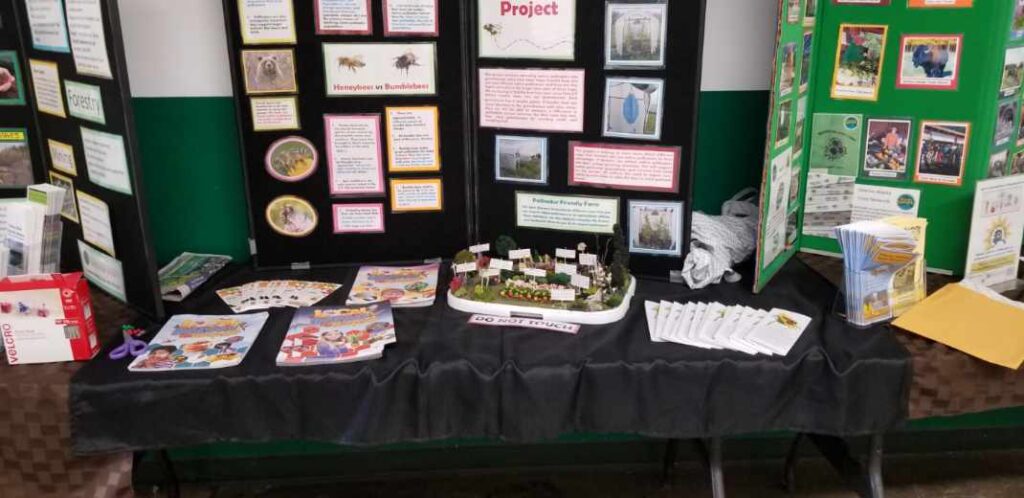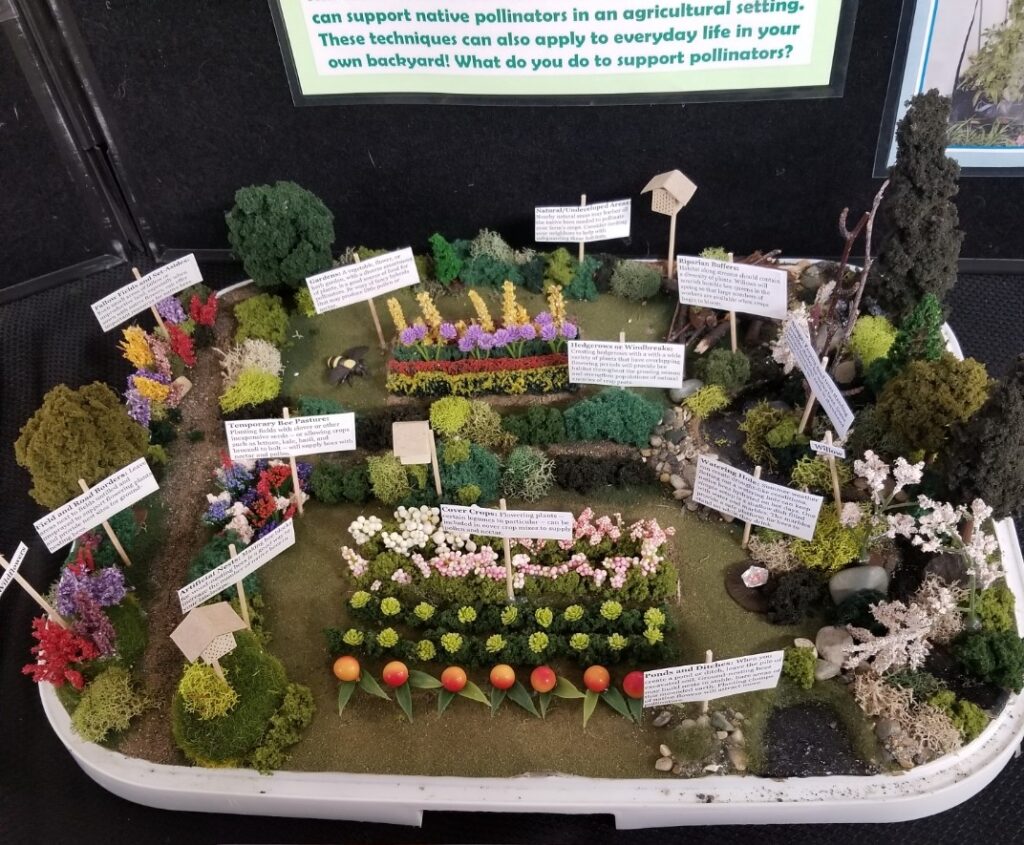 2020: Overall, educational and outreach activities were greatly limited due to the Covid-19 pandemic. We had 3 additional on-farm consultations about native pollinators and pollinator habitat in 2020.
We began a collaboration with the Georgeson Botanical Garden to create an interactive "scavenger hunt" for native pollinators in Interior Alaska. This interactive activity will consist of custom made artwork and signs by our entomology specialist and artist Renee Nowicki. Signage will be located throughout the botanical garden for both adults and children to learn about identification, habitat, behavior and ecological importance of local pollinators. We will continue to work on this garden activity in 2021 and hope to have it completed this summer.