Progress report for OW19-349
Project Type:
Professional + Producer
Funds awarded in 2019:
$49,139.00
Projected End Date:
06/01/2022
Host Institution Award ID:
G104-20-W7502
Grant Recipients:
Amador Resource Conservation District; University of California Regents, UC Cooperative Extension
Project Information
Abstract:
The Amador Rangeland Soil Health Research and Education Project's goal is to increase the implementation of best management practices that will improve soil health, and address a number of key issues facing livestock producers.
Livestock producers in the area are challenged with multiple landscape scale issues. Rangelands are typically on shallow soils that are nutrient poor and low in organic matter. Climate variabilities including winter drought and infrequent precipitation decrease winter forage availability and the length of the growing season. As a result, invasive weeds thrive and outcompete desirable vegetation. These compounding issues result in less forage for livestock and make it economically difficult for producers.
Studies have shown a direct benefit from the one-time application of compost to rangelands, including increases in water holding capacity, forage productivity, and carbon sequestration (Silver et al 2010, Ryals and Silver 2013). Based on these preliminary studies, the research component of the project will further test the one-time addition of compost to annual rangelands in an area that currently lacks localized data. By adding compost to the soil, we expect to increase soil fertility and water holding capacity which will ultimately increase the ability of desirable vegetation to be more resilient to climate variability and better able to compete against noxious weeds. In addition, the added fertility will make desirable forage more nutritious and more abundant for livestock, ultimately resulting in a financial benefit to the producer.
The essences of a successful outreach effort precipitates from the ability to provide real-word, ground-truthed information to producers. The research component will provide localized data and demonstrations of outcomes. This data and on-the-ground demonstrations will be used in on ranch tours to educate livestock producers, agricultural professionals, policy makers, elected officials and other land managers regarding the benefits of particular soil health best management practices.  
Project Objectives:
Provide localized data on the effectiveness of a one-time application of compost on annual rangeland using the following parameters:

Species composition
Forage production
Forage quality
Soil aggregate stability
Organic matter
Infiltration rates
Organic carbon

Determine if the application of compost on rangelands can increase the resiliency of desirable forage species to outcompete the noxious weed medusahead (Taeniatherum caput-medusae)
Determine if the application of compost on rangelands can extend the growing season of desirable forage species
Determine if reseeding with desirable forbs and/or the addition of compost will increase forage quality and quantity.
Objectives 1-4 will be achieved by conducting research on five livestock ranches in Amador County. Compost and seeding application with take place in 2019 on five (5), five (5)-acre plots. Data collection and analysis will be conducted over three years, 2020, 2021, 2022.
Increase understanding and the ability of local agricultural professionals and producers to assist producers in the implementation of 'carbon farm planning' and soil health best management practices by providing farm tours and workshops detailing the results of the conducted research. This will be achieved through the hosting one (1) project kick-off meeting, Five (5) ranch tours on the research sites throughout the project, and a booth at the Amador County Fair for two (2) years. At least five (5) outreach materials will be developed including: two (2) power point presentations, one (1) soil health fact sheet, one (1) cost benefit analysis fact sheet and (2) press releases to be distributed locally and statewide.
Develop cost/benefit analyses for compost application on rangeland incorporating known local barriers, market information, and local data on increased soil health benefits to be provide to producers.
Timeline:
Project Timeline

Start Date: June 1st 2019             End Date: June 1st 2022

Year

Month

Objective

Milestone Description

2019

June

Objective 5

Kick-off Meeting

2019

July

Objective 1-4

Sampling Protocol establishment conference

2019

August

Objective 1-4

Plot site finalization, prep for baseline soil testing and compost application.

2019

Sept./Oct.

Objective 1-4

Baseline soil sampling and treatment application

2019

Sept/Oct.

Objective 5

Soil Health Workshop/Application Tailgate.

2020

April/May

Objective 1-4

Vegetation & Soil Sampling

2020

June/July

Objective 1-4

Species Comp (mostly annuals)

2020

June

Objective 5

Amador County Fair Outreach Event

2020

November

Objective 5

Fall Range Tour

2021

April/May

Objective 1-4

Vegetation & Soil Sampling

2021

May

Objective 5

Spring Range Tour

2021

June/July

Objective 1-4

Species Comp (mostly annuals)

2021

June

Objective 5

Amador County Fair Outreach Event

2021

November

Objective 5

Fall Range Tour

2021

November

Objective 6

Develop cost benefit analysis using preliminary results

2022

April/May

Objective 1-4

Vegetation & Soil Sampling, Species Comp.

2022

May

Objective 5

Spring Range Tour
Cooperators
Research
Materials and methods:
Objective. 1 – 4: Facilitated by University of California Cooperative Extension in collaboration with the Amador Resource Conservation District and cooperating ranchers.
The research component will be conducted on five livestock ranches in Amador County. The sites have been chosen based on varying soil types, slope, and tree cover. All are characterized by annual rangelands dominated by desirable annual grasses/forbs and the noxious weed medusahead. The research protocol is derived from the Conservation Field Trial (GM 403.3) Range Compost Application that was developed by the United States Department of Agriculture – Natural Resource Conservation Service, Davis CA.
At each site, three, 2-acre plots will be staked and marked with GPS coordinates.  Each 2-acre plot will be divided in half, with one side receiving a one-time application of ½ inch layer of compost and the other side without compost. Each subplot will be further split into equal halves. One half will be seeded with a mix of clovers/legumes, and the other half will not be seeded. At the center of each one-acre plot will be an exclosure measuring 32' by 32'. The entire two-acre plot will be grazed (except for the exclosure). Sampling will be taken along a 300' transect that will bisect each subplot.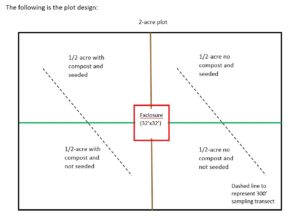 Baseline conditions will be measured and documented well inside the boundaries in order to account for edge effect.  The following baseline items will be measured at each site:
Soil carbon

Lab analysis

Species composition, using line-point intercept,

3000 ft. transect; data collection locations every 3 paces with up to three data points at each location

Soil aggregate stability

Slake test: ranked from 0 to 6

Soil Series

NRCS Web Soil Survey

Peak vegetation production

Biomass sampling of forage every 30 ft. with a 0.96 ft2 hoop on same 150 ft. transect used for species composition

Infiltration rate

Double-ring infiltrometer

Compaction

Penetrometer and observational data

Total nitrogen in soil solution

Spectrophotometer

Bulk density

Field and lab analysis;

Soil texture

Particle size analysis

pH

pH meter, electrode & probe

Percent cover of medusahead
Forage analysis

Lab analysis
Within the exclosure, vegetation will be clipped annually at the end of growing season to characterize gross productivity and species composition. 
In each 2-acre plot, (3) monitoring transects will occur:
On the ½ acre compost treated side with seeded and non-seeded
On the ½ acre no compost side with seeded and non-seeded
Within the excluded subplot
Objective 5: Facilitated by the Amador Resource Conservation District with advisory roles for producers and University of California Cooperative Extension.
Objective 6: Joint effort between Amador Resource Conservation District, producers, and University of California Cooperative Extension.
Participation Summary
Educational & Outreach Activities
2
Curricula, factsheets or educational tools
2
Published press articles, newsletters
2
Webinars / talks / presentations
1
Other educational activities: YouTube Video
Participation Summary:
45
Ag professionals participated
Education/outreach description:
The Amador RCD, UCCE and ranchers have been successful in the second year of this project accomplishing the goals planned for this time period, that were possible to achieve. COVID-19 restrictions and event cancellations, out of the hands of ARCD, have caused difficulties in accomplishing outreach event deliverables.
A kick-off meeting was held at PT Ranch, which is one of the research sites. All ranchers were in attendance. The kick-off meeting held on June 13th 2019 provided a review the goals of the project and answered questions of the ranchers (Event Photos). An article highlighting this project was included in the Summer 2019 Farms of Amador Newsletter (Farms of Amador Newsletter attached). On October 15th 2019 an outreach event was held on PT Ranch in conjunction with the California Rangeland Trust. The event had a total of 80 people in attendance. The compost had been applied at PT Ranch and this project highlighted during this event, both ARCD District Manager and UCCE Farm Advisor discussed the project (Event Photos). 
Spring 2020 follow-up data was collected on forage productivity, forage quality, and plant diversity.  In Summer 2020, a report summarizing this data was created and shared with partners, ranchers, and interested members of the public (Compost on annual rangelands annual report 2020).  Spring 2021 vegetation and soil sampling is currently being conducted.
In response to COVID-19 restrictions the planned fall tailgate was cancelled. ARCD and UCCE developed a video update that was distributed and is available on the ARCD website, to meet this deliverable (video link). The 2020 Amador County Fair was cancelled, currently we are unsure of the status of the 2021 County Fair and whether it will be safe to have an outreach booth. The ARCD is planning an outreach event for summer 2021, this will be an outdoor event and number of participants will be limited to ensure proper social distancing. This will be the first in-person outreach event held by the ARCD in over a year and it will highlight the SARE program.
Learning Outcomes
50
Farmers reported changes in knowledge, attitudes, skills and/or awareness as a result of their participation
Project Outcomes
1
Grant received that built upon this project
1
New working collaboration
Project outcomes:
In Spring 2019 trials were set at each of the 5 ranches. Each ranch has four treatments with each treatment replicated 3 times. Each treatment measures 0.5 acre with a block of all four treatments taking up 2 acres. The four treatments are as follows: 1. compost applied, 2. seeded with clover mix, 3. compost applied & seeded with clover mix, 4. no treatment. Extensive initial soil sampling was conducted in spring 2019 to get a baseline of soil conditions, staff of the ARCD, NRCS, and UCCE conducted this soil sampling.
In Fall 2019, 200 yards of compost was delivered to each ranch. We have collected data for the first year of event after compost application, the report for this data has been completed (Compost on annual rangelands annual report 2020). Spring 2021 data is currently being collected.