Final report for STN18-001
Project Type:
PDP State Program
Funds awarded in 2018:
$55,555.00
Projected End Date:
06/30/2021
Grant Recipient:
University of Tennessee
Project Information
Abstract:
Beginning with the 2018-2019 program year, the Tennessee Model State Program will be revised under the direction of the co-coordinators (Rob Holland and Roy Bullock) and a new advisory committee. Program plans will continue to be developed through great input from County Extension Agriculture Agents, regional program leaders, collaborating agencies and other stakeholders. The Model State Program will be developed to include all facets and programs of USDA SARE. As the Tennessee Model State Program is developed in 2018 and beyond, emphasis will be placed assessment of needs, identification of focus areas, program planning, program evaluation, program reporting, outreach and communications. The University of Tennessee and Tennessee State University have made a strong commitment of resources to train agricultural professionals in the concepts of sustainable agriculture. The Program Assistant and SARE State Co-Coordinators will enhance our efforts related to training, outreach and promotion/publicity – we expect the program in Tennessee to contribute to the overall mission of Southern SARE and meet the needs of Tennesseans.
Project Objectives:
Specific program objectives will be developed for the 2018-2019 program year by the state co-coordinators, program assistant, advisory committee and others with interest in a successful state program. Areas targeted for enhancement include:
1. Seamless outreach, promotion and publicity of all parts of the SARE program (PDP, On-Farm Research, Sustainable Community, Producer and Graduate Student Grants)
2. Greater inclusion of County Extension Agriculture Agents in training program planning, educational programs and outreach to farmers and participation in training programs/opportunities.
3. Greater inclusion of other agricultural leaders in sustainable agriculture training and educational programs (Extension area specialists, NGO personnel, state and local government employees, industry leaders and leaders from collaborating agencies)
4. Enhanced promotion, publicity, outreach and awareness of and for SARE, sustainable agriculture and training/educational programs. This will involve a greater outreach, a stronger presence as well as greater emphasis on publications produced in-house.
5. Greater coordination and communication of and among those involved in sustainable agriculture programs, initiatives and projects (grant-funded and otherwise). This will allow for tremendous growth in the expansion of knowledge and adoption of sustainable agriculture practices that are economically viable, environmentally sound and good for all members of the community.
6. Expand the development, testing, demonstration, teaching and evaluation of technology and systems that will create and maintain sustainable (efficient, competitive, profitable, environmentally and socially acceptable) farming operations into the future. Programs will also focus on the quality of life in both the overall rural areas engaged in agriculture and at the farm-level where production occurs.
7. Overall, our outreach efforts will be aimed at improving overall communications, reaching new audiences, enhancing efforts with traditional audiences and providing a consistent message about sustainable agriculture.
Introduction:
The overall strategic plan for sustainable agriculture programs in Tennessee will be revised in the 2018-2019 program year. As in the past, the state plan will be based on local needs and will continue to be dynamic in order to react to new information and new opportunities for growers and producers. The plan will continue to be steeped in educational outreach and training opportunities for a broad base of participants and a broad combination of livestock, crop, management and marketing subject matter. Future programs will build on past success in the areas of small ruminant, fruit, vegetable and green industry enterprises. We will continue to build on the past success of these programs, while identifying emerging needs such as direct marketing, entrepreneurship, value-added enterprises and crop diversification.
Advisors
Education
Educational approach:
The primary audience for the professional development sessions that will be implemented for the Tennessee Model State Program is County Extension Agriculture Agents, Subject Matter Specialists and other agricultural leaders in Tennessee. These audience members are well positioned to transfer information they learn about sustainable agriculture to farmers, growers and producers in local communities throughout the state. The Professional Development Program (PDP) is based upon the traditional method of "Train the Trainer," which has been effective with the SARE program.
Education & Outreach Initiatives
Fruit, Vegetable and Food Safety
Objective:
Train Extension Agents to increase their level of knowledge and awareness in fruit and vegetable diseases/insects and food safety relating to produce.
Description:
Two In-Service Trainings were held for Extension Agents in Tennessee.  The first training was held in the Eastern Region (Knoxville) and the second in the Central Region (Nashville).  Thirty-five Extension Agents attended the two trainings that covered the following topics:
Water Treatment Options for Irrigation Water
Fruit and Vegetable Updates - New Varieties
Food Safety Modernization Act
Mock On-Farm Readiness Review (OFRR)
Fruit and Vegetable Updates on Diseases/Insects
Economic Updates relating to Fruits and Vegetables
Evaluations from agents attending the in-services were based on four areas in each presentation on the subjects above.  The subject area with the greatest increase in knowledge gained was the insect update; the subject area rated as having information as most relevant was the fruit update as it also indicated the speaker's preparedness was the best and there was a tie for the subject area with the highest rated resources provided in the vegetable update section and the Mock On-Farm Readiness Review.
Information about the SARE program in Tennessee was presented during lunch at each training.  At the Nashville location, agents received a pack of SARE books, flash drive and promotional material about SARE that the agents can use in their local programs to promote SARE.  This information/books/handouts is being prepared for every agriculture Extension agent in Tennessee.
Outcomes and impacts: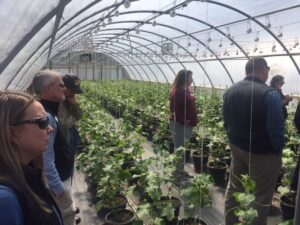 Agents tour a local farm in Nashville, TN, conducting a mock On-Farm Readiness Review during In-Service Training.
Cover Crops
Objective:
The Southern Cover Crop Conference will bring researchers, Extension personnel, farmers, and ag industry specialists together to discover the latest information related to cover crops in the South.
Description:
This event will cover topics such as:
Soil Biology
Nutrient Management and Soil Fertility
Varieties and Mixtures
Physical Soil Properties and Soil Moisture Management
Cover Crop Grazing
Weed Suppression
Field Equipment Demonstrations
Outcomes and impacts:
We have paid registration fees for six Extension Agents and one Extension Specialist to attend; amounting to 17.5% of the total budget set aside for this training.
The agents participating in this event learned more information about cover crops.  One agent indicated that he learned that all cover crops are not the same and that he would use a couple of varieties of cover crops in his crop variety trials locations to evaluate the effectiveness of these cover crops relating to soil cover, fertilization benefits and ease of planting into cover crop the following year.
The agents also learned about how to work with cover crops in order to maximize benefits intended from the cover crop material.  This also takes into thought what cover crops to use, dealing with weed management in cover crops, the possibility of grazing cover crops, using cover crops in a conventional and/or organic vegetable system and the overall basics of cover crop management.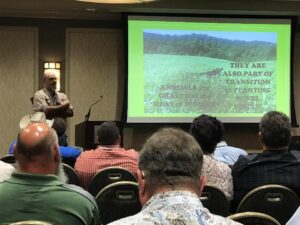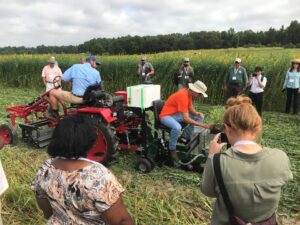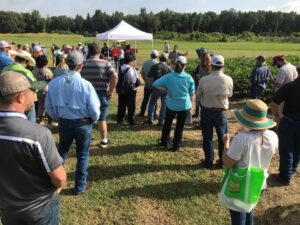 Farm & Financial Management (This program used a portion [33%] of the Enhancement Funds Tennessee received).
Objective:
To deliver timely, high quality and practical financial tools and economic information to Area Farm Management Specialists on topics concerning farm and financial management, sustainable agriculture, livestock and agriculture asset mapping for selected counties in Tennessee.
Description:
Area Farm Management Specialists received training they can present to Extension Agents by participating in the:
• Agricultural & Resource Economics & Area Specialists Farm Management Workshop in Murfreesboro, December 2018.
Topics Covered Included:
County Level Agricultural Impact Analysis
Dairy Financial Benchmarking Report
Farmland Legacy Update & Opportunities
County Level Asset Mapping
Annual Cost of Beef Cows
Tennessee Land Transaction Publication
Sustainable (SARE) Programs in Tennessee
Industrial Hemp Budget
Crop Insurance Update/Management Decision-Making
Outcomes and impacts:
Comments from Attendees:
The Farm Management Specialists were given information that directs them to a better understanding of the balance sheet and income statement, allowing them to assist producers to improve their farm financial and management performance.
Financial Benchmarking of an enterprise is important each year but increasingly important in years when the enterprises (dairy and beef) are witnessing downturns in output product price.  This program helps producers identify aspects of their operation where they are currently efficient and inefficient.  The ability to identify inefficient aspects of the operation and make management changes will assist in the long-term survivability of the operation.  Most often, the management changes necessary to improve efficiencies include economic sustainable production practices and labor management.
The information on the annual cost of keeping a beef cow is an important way to remind producers and Extension agents of the importance of having a good culling program in the beef herd.
Ten area specialists and three state specialists received training in the above mentioned areas.  This will enable them to present information to Extension Agents and producers on farm and financial management, with the aim to improve the agent's knowledge on these subjects and assist the producers in making better and more informed financial decisions for their farms.  (SARE Funds covered approximately 82% of the cost of all agents and specialists in attendance).
Horticulture & Specialty Crops (This program used a portion [64%] of the Enhancement Funds Tennessee received).
Objective:
The Pick Tennessee Conference provide Extension agents with training on a variety of horticultural, small fruits, vegetables and agritourism topics. It also allows Extension agents the opportunity to network with up to eight different Tennessee Producer Associations.
Description:
The Pick Tennessee Conference presents sessions on vegetable production, agritourism, marketing, beekeeping, organic production, wineries, flower production, farmers market management and much more.  This three day event is conducted by eight different Tennessee Producer Associations with assistance from the University of Tennessee and Tennessee State University.
Outcomes and impacts:
Comments from a portion of the 16 Extension Agents that attended the Pick Tennessee Conference using the SARE Enhanced Funding Monies:
Agri-tourism - Learned the importance of recordkeeping and how you could use financial statements such as a balance sheet to make decisions.  Learned about the five keys to profit:  production/gross sales, cost control, efficiency, capacity and industry skills.  I learned that successful farm business owners and managers review key essential business management proficiencies regularly and develop systems to operate their agricultural businesses.
It is important to learn sustainable practices that can be implemented by producers.  I learned about pollinators and creating sustainable habitats for bees, marketing fundamentals for small farms, and the regulations involved with USDA organic certification.
Urban Agriculture - I learned about vertical farming and the concept of planting food crops in small spaces.
"Less Mowing, More Growing" - Learned about designing functional home or community spaces to become permaculture habitats, also known as Foodscaping.  This concept consists of using the low maintenance plantings of locally adapted plants that provide a useful and sustainable food source such as fruit trees and edible plants.
I learned more about the use of beneficial insects to reduce the use of pesticides.  There were great suggestions from a commercial greenhouse flower grower in West Tennessee.
The hands-on grafting class of tomatoes was one of my favorite sessions.  This type of grafting has become a growing trend to help with disease resistance in tomatoes in the South.
The sustainability of a local farmers market is vital in today's economy.  One of the workshops that I enjoyed the most was related to marketing concepts and techniques.  I plan to share some of these ideas during a vendor's meeting prior to the opening of our local farmers market.  Improved marketing skills will increase the sustainability of all of our vendors.
Herb gardening was a very interesting topic for me.  Information on the different varieties of plants that can be used to help with your health and diet was of interest to me.  I will be using this information during my master gardener training class this year.
Foodscaping and permaculture are an interest for many people.  This is seen as a means of creating welcoming and comforting backyard or community spaces that provide benefit through a supply of fresh food for the stakeholders.  The knowledge gained from this presentation will be shared professionally through Extension programs.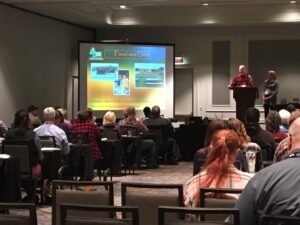 Extension Agents had the chance to learn first-hand what makes up a successful agri-tourism enterprise.  Keeping good financial records, taking time to plan financially and program-wise while also knowing the proper and right kind of facilities to have in place, are just a few things to consider for your operation to become established and profitable.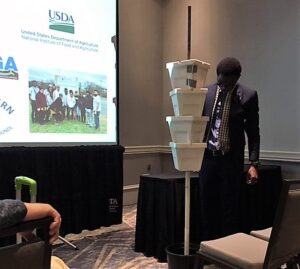 Dr. Dilip Nandwani, Tennessee State University Extension, demonstrates to the audience of growers and Extension Agents, what the idea of vertical farming is and how to use this in an Urban Agriculture setting.  The demonstration explained the concept of planting food crops in small spaces.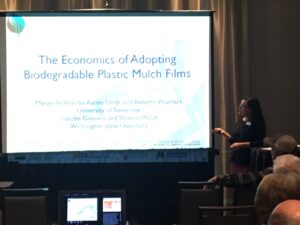 Dr. Annette Wszelaki, University of Tennessee Extension, presents information on the economics of adopting biodegradable plastic mulch films.  This may be an answer to the plastic mulch which is a burden to the producer to remove from the field and then disposing of it.
Stocker Cattle -(This program used a portion [3%] of the Enhancement Funds Tennessee Received).
Objective:
Stocker Cattle Conference aimed at Extension Agents and producers as they learn about sustainability in the beef herd, studying economic returns, improving their knowledge of forages for beef cattle, providing proper nutrition for cattle and keeping the stocker calf healthy.
Description:
This one day stocker conference was focused on "Opening Pathways to Profitability."  Topics for the day included:
Overview of the U.S. Roundtable for Sustainable Beef
Flip This Cow - Adding Value by Reconditioning Cull Cows
Prices and Profitability: Are You Making Money?
Virtual Tours of TN and KY Stocker Operations
Judicious Use of Remote Drug Delivery Systems
The "Pinkeye" Problem
This program was a combined effort of the University of Tennessee and University of Kentucky Animal Science Departments.
One Agent requested the use of SARE funds for this conference.
Outcomes and impacts:
Report of the meeting from the Tennessee Extension Agent SARE provided funds to attend.
With less than 2% of the population having a direct connection to agriculture, the consumer market is increasing its demand on ethically raised and high quality food products. Consumers want to know where their food is produced and to have a sense of connection to that farm.
The beef cattle industry has taken on the responsibility to produce a sustainable product by forming the US Roundtable for Sustainable Beef. The committee is a group of producers, allied industries, processors, retail, and civil society whose goal is to create a single voice for the beef cattle community. Director of the UT Beef & Forage Center, Dr. Gary Bates, serves on this committee and gave a presentation about what they are currently working on. Being environmentally sound is a facet of a sustainable business and one point of conflict is that beef cattle are a major factor in global warming. According to the Food and Agriculture Organization of the United Nations, livestock is responsible for 14.5% of greenhouse gas emissions globally. This is a reduction of 3.5% in just seven years and takes in account livestock production from field to plate. Of these emissions, 5% is from carbon dioxide which takes approximately 1,000 years to break down and 55% produced from methane which only takes about 10 years to break down. Globally, 65% of greenhouse gas emissions are given off by the industrial sector mostly releasing carbon dioxide.
Another objective of sustainable agricultural producers is to maintain economic value. Dr. Matt Hersom, University of Florida, spoke about adding value by reconditioning cull cows that will likely become a food product of whole muscle cuts. This value-added process includes the availability of excess feed resources and space, time to add body weight to increase Body Condition Scoring and change fat color from yellow to white, an opportunity by monitoring the seasonal price index of cull cows. In a University of Florida demonstration, they were able to profit $220 a cow on summer purchases and profit $818 on fall purchased cows. The topic of Prices and Profitability: Are you making money? Was discussed by Dr. Josh Maples, Mississippi State University. In just three years, beef production had increased 14% from 2015-2018 as a result of high consumer confidence and high restaurant and grocery store sales. Dr. Maples explained the largest expense for a stocker calf producer is pasture and feed; minimizing cost of gain is the biggest influence on profits. He demonstrated the use of the UT stocker budget to find hidden costs a producer might not be aware or do not normally think about or that create "holes in your bucket" such as mileage to and from feeding.
Grazing School Training for Extension Agents
Objective:
Train agents to answer the following questions:
• What are the basic principles of grazing management?
• What is the current stocking rate? What is the appropriate stocking rate for a given farm?
• How do you get started with rotational grazing?
Equip agents with tools that will assist them in answering above questions
• Southern Forages book, grazing sticks, access to regional fencing kits that will be created and housed in each Extension Region in Tennessee (3 regional kits; 1 additional kit for Dr. Katy Mason, Animal Science). All kits will be for training purposes.
Description:
Purpose of Grazing Management

Focus on Optimizing quality and quantity, forage digestibility as it relates to forage maturity
Cattle grazing habits, leaves as solar panels, ground cover
Stand persistence and renovation

Field Demo

Forage Availability and Stocking Rate Calculations
What is your starting point?
Determining stocking rate and forage availability

Discussion Group

What is working on producers farms?
What are the common questions agents are receiving? 
What can Extension do to help

Making a Grazing Plan

Grazing Methods
Tools to help layout a grazing plan - plat maps, Google Earth, etc.,

Field Demo

Fencing Kit Setup
Reel "Contest"
Sheep Forage Allocation
This training is planned for June 2021 with funds remaining from this SARE award.  Results and Evaluation of this event will be available after this training is conducted.
________________________________________________________________________
Outcomes and impacts:
Training was conducted for the Central Region Extension Agents in Tennessee on June 14, 2021, at the Middle TN Research and Education Center in Spring Hill, TN.  Twenty-one agents completed the training.  The evaluation summary can be found here: Grazing School In Service Eval Summary
Four Forage/Fencing Kits were assembled for agents to use in their educational programming.  One kit is housed in each region of our state (3) and the fourth is with Dr. Katie Mason, UT Extension Animal Science, Knoxville, as she was an educator for the training,  Grazing School In-Service. Since June of 2021, Dr. Mason, has visited with agents in the Eastern Region of the state about the kits and plans to have a brief publication developed this summer (2022), for use by agents to inform them of how to best make use of the kits in their counties. Forage Kit Contents
Below are trainings conducted by Extension Agents using the Forage/Fencing Kits to educate producers on the use of this equipment.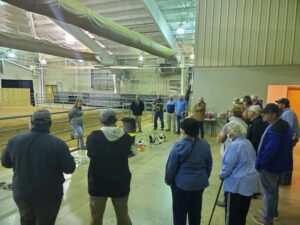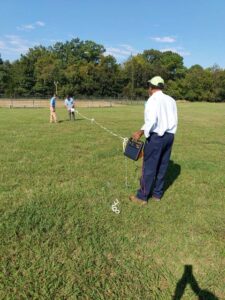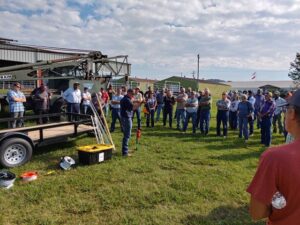 Since June of 2021, 7 training sessions have been conducted by agents using the kits, with 236 producers in attendance.  Producers commented that these trainings were "really great, everyone seemed to enjoy the training."  "All it took was one person looking at something and the next thing we knew they were talking to each other and asking questions; it was great."
Educational & Outreach Activities
1
Study circle/focus groups
Learning Outcomes
287
Participants gained or increased knowledge, skills and/or attitudes about sustainable agriculture topics, practices, strategies, approaches
26
Ag professionals intend to use knowledge, attitudes, skills and/or awareness learned
Project Outcomes
2
New working collaborations
68
Agricultural service provider participants who used knowledge and skills learned through this project (or incorporated project materials) in their educational activities, services, information products and/or tools for farmers
Recommendations:
Involving a Subject Matter Extension Specialist to aid in leading a project/event will prove helpful for the educational program and SARE.   Working with a specialist that possess deep knowledge of the subject area and local agents to assist in planning and then having the SARE program assistant involved with funding of event, communication and evaluation of event/field day, etc., appears to be one of the best ways to navigate educational meetings/trainings/projects.  Successful programs/events/trainings will then be a win for that specialist, area agents and SARE Program Assistant.
Face of SARE
Face of SARE:
The SARE program is a great benefit to agents and specialists in Tennessee as it provides them a means to learn more about sustainable agriculture.  This is done by allowing a number of travel scholarships to agents/specialists where they can learn first-hand by attending conferences, workshops and tours on a variety of subjects.  The process for selecting Extension personnel to attend these events is completed by the SARE program assistant contacting agents directly to gauge interest in a learning opportunity or seeking input from agriculture program leaders that are located in each of the three regions of our state.  The promotion of the SARE program in Tennessee has this year and will continue to be done in the following ways:
Annual Agent In-Service Trainings
Annual Professional Agents' Association Meetings
Personal and Group Emails
Individual Visits with Agents/Specialists
State Website 
Promotional Banners and Exhibits at Trade-Shows, Agent In-Services and Planning Meetings
Efforts are made to exhibit a seamless SARE program that includes Extension Personnel from the University of Tennessee and Tennessee State University.
40
Farmers received information about SARE grant programs and information resources
200
Ag professionals received information about SARE grant programs and information resources