Progress report for SW20-919
Project Type:
Research and Education
Funds awarded in 2020:
$251,036.00
Projected End Date:
09/30/2023
Host Institution Award ID:
G112-21-W7899
Grant Recipients:
University of California Berkeley; University of California Davis; Community Alliance with Family Farmers; Multinational Exchange for Sustainable Agriculture
Project Information
Summary:
Small-scale farmers create innovative strategies for dealing with environmental and societal challenges, yet limited access to land and capital impacts their response capacity. One emerging, farmer-led innovation is a "no-till" management system that requires little capital investment and aims to enhance ecosystem health through a soil conservation ethos that reduces tillage, increases cropping density, and maximizes biodiversity. Farmers utilizing this method have reported promising outcomes for soil health, water conservation, farm profitability, and adaptive capacity to climate change. Yet agroecological research has not caught up, and limited documentation of these benefits exists despite increasing adoption across the state (Biointensive No-Till Symposium Report, February 2019). Furthermore, information on this no-till system has primarily spread through non-traditional channels such as social media and farmer-led courses. Producers have expressed a desire for an accessible and robust learning network, as well as for support from scientists in monitoring farmer experimentation. To address these needs, this project has been collaboratively designed with small-scale, limited-resource farmers in California to sustain economically and ecologically sustainable farms through research, education, and extension on biointensive no-till systems.
Specifically, a coalition of researchers, non-profits, and partner farms will explore how management practices on existing biointensive no-till systems affect soil health (carbon, microbial activity, and biodiversity), water conservation (soil water retention), farm economic resilience (including labor costs, land security, distribution networks), and potential response to climate change scenarios (crop nutrient density, drought response, seed biodiversity). This research builds on existing farmer partnerships that have included co-created colloquia, field days, and preliminary on-farm and field station research. These initial findings will inform replicated experiments at partner farms and trials at producers' existing no-till sites. Further, producers will guide the continuation of no-till experiments begun in 2017 at the Berkeley's Oxford Tract Field Station and 2012 at the UC Gill Tract Community Farm. This extensive experimentation will help a growing network of farmers better understand how their management practices are impacting their soil, farm, and community.
We will also establish a 'community science' training program through a partnership with the Bay Area Farmer-to-Farmer Training Program (BAFFTP) to increase producer participation in research and education, ensure the scientific rigor of farmers' observations, and share science-based extension. Education-based partnerships are already well established in many of our cooperating producers and partners. BAFFTP will expand on these existing relationships, tying together producers in our network with regional training programs in soil science, agroecological management, and basic research techniques. The program will couple online coursework with on-farm field days and workshops. Ultimately, this set of nested programs aims to produce a thriving network of knowledge exchange between growers and their communities who span a range of traditional categories in agriculture (rural and urban, for-profit and nonprofit, volunteer and paid labor) but are united in their struggle against structural land and capital limitations.
Project Objectives:
Assess how producer-selected biointensive no-till practices on replicated field station and on-farm experiments impact functional dimensions of soil health identified by farmers as highest priority: A) Carbon stabilization and nutrient cycling; B) Microbial activity; C) Soil biodiversity, food web complexity and pest suppressive potential; D) Soil hydrologic properties and water retention. Years 2-3. (Bowles, Hodson, Rainey, Tiffany, Baurer)

Assess how biointensive no-till management could help farmers adapt to impacts of climate change in California by: A) Comparing productivity of high-value dry-farmed tomatoes in a replicated experiment in soils with contrasting 5-yr histories of no-till vs. till management; and B) Evaluating water retention, infiltration, and availability for soils under no-till management across a replicated experiment and farmers' fields. Year 2. (Bowles, Rainey, Tiffany, Baurer)

Conduct an indicator-based analysis of economic resiliency through surveys and interviews across a rural-urban gradient investigating establishment cost and time, changes to inputs and labor, land tenure, impacts on total crop production, and distribution networks. Year 2. (Tiffany, Rainey) 

Implement a community science network through partnerships with the Bay Area Farmer-to-Farmer Training Program to establish site-specific, farmer-led internships, agroecological education, and increased knowledge exchange between farmers, community members, and students of agroecology and soil science. Year 2-3. (Atwood, Porter, Tiffany, Kaiser, Kern, Whamond, Rainey, Bowles)

Host a series of field days, workshops, and trainings through the community science network to hone on-farm and producer-driven evaluation of soil health – including nutrient availability, pests and disease, water availability, and food web complexity – and offer technical assistance and resources to students and farmers evaluating the success of their practices. Years 1–3. (Rainey, Bowles, Atwood, Porter, Tiffany)

Through workshops, events, written materials, and online learning platforms, share project findings and facilitate practical knowledge exchange on biointensive no-till adoption, implementation, and continued management. Years 2–3. (Rainey, Tiffany, Baurer)
Modification of project timeline
Our project started in Fall 2020, when the COVID-19 pandemic was still in its early stages. At that time, and through summer 2021, access to our labs at UC Berkeley were severely limited to "essential research" only, which did not include starting new projects. Additionally, our farmer partners were not keen on much on-farm work and in-person meetings during early 2021 when vaccines were only becoming available. Thus, we decided to postpone most  portions of the project by one year. This did give us an opportunity to use WSARE resources for synthesizing more of our past research on biointensive no-till (see Research) and for conducting education and outreach activities not anticipated by the project (see Education). We anticipate needing to request a no-cost extension for our project.
Timeline:
Task

Year 1

Year 2

Year 3

 

Q1

Q2

Q3

Q4

Q1

Q2

Q3

Q4

Q1

Q2

Q3

Q4

Objective 1: Assess how producer-selected biointensive no-till practices affect soil health

Select practices

X

 
 
 
 
 
 
 
 
 
 
 

Implement trials

 

X

X

X

X

X

X

X

X

X

X

 

Collect soil samples

 

X

X

 
 

X

X

 
 

X

X

 

Lab analyses

 
 

X

X

 
 

X

X

 
 

X

X

Data analyses and writing

 
 
 
 
 
 
 
 

X

X

X

X

Objective 2: Drought stress tests

Implement trials

 

X

X

X

X

X

X

X

X

X

X

 

Collect soil samples

 

X

X

 
 

X

X

 
 

X

X

 

Lab analyses

 
 

X

X

 
 

X

X

 
 

X

X

Data analysis and writing

 
 
 
 
 
 
 
 

X

X

X

X

Objective 3: Economic resiliency analysis

Design surveys and interview questions

X

X

X

X

 
 
 
 
 
 
 
 

Implement surveys with producers in network

 

X

X

X

 
 

X

X

 
 
 
 

Analyze survey results 

 
 
 
 

X

X

 
 

X

X

X

X

Conduct semi-structured interviews

 
 
 

X

X

X

 
 

X

X

X

X

Objective 4: Establish 'community science' network

Advertise internship positions, select cohort (1,2 and 3), design curriculum

X

X

X

 
 

X

X

 
 
 
 
 

Intensive trainings at Berkeley

 
 

X

X

 
 

X

X

 
 
 
 

Student work plans set 

 
 
 

X

 
 
 

X

 
 
 
 

Objective 5: Facilitate on-farm monitoring and sampling

Monitoring trainings and sampling by producers and students

 
 

X

X

 
 

X

X

X

X

X

X

Receive samples at UC, lab analyses

 
 
 

X

X

 
 

X

X

 
 
 

Data report-back and interpretation to producers

 
 
 
 

X

X

 
 

X

X

X

X

Objective 6: Build extension and outreach materials

Community workshops with biointensive no-till farmers

 
 

X

X

X

X

X

X

X

X

X

X

Creating extension materials

 
 
 

X

X

 
 

X

X

X

X

X

Build online learning platform and forum

 
 
 
 
 
 
 
 

X

X

X

X
Cooperators
- Technical Advisor - Producer (Educator)

- Technical Advisor (Educator and Researcher)

- Technical Advisor - Producer (Educator)
Research
Hypothesis:
This project is farmer-driven, meaning that it puts community organizations, farmers, and producers at the center of the investigation. From its inception this project has been guided and defined by a growing network of land stewards across California. Through a series of field days, farm visits, conference meetings, programmatic collaborations, and a symposium, growers have been able to shape and define the scope of the project. Most importantly, they have been asked to express their own questions about how minimal disturbance methods affects the soil, and how a soil-first approach to land stewardship can change the trajectory of ecological food production and food sovereignty. This participatory process has allowed us to develop a series of central research questions, determined by farmers and land stewards across the state. For growers seeking to minimize soil disturbance on their farms, what role does soil health have in their land stewardship praxis?  How do different soil conservation and agroecological principles play out across the diverse agricultural landscapes in California? What are the soil health outcomes under no-till farming systems, and how do those outcomes map onto farmer's perceptions?
We hypothesize that while farmers practicing no-till share a similar set of principles regarding soil health, they will be implement those principles in diverse ways depending on their context. Implementation of no-till principles will likely have diverse methods, intensities, frequencies, inputs, and tools. Given this diversity of practice, universal outcomes for no-till farmers will be less likely than relative changes within each landscape. Each of our partner organizations are innovators, often piloting multiple different management systems and soil conservation regimes within their farm. We believe that no-till management will demonstrate significant increases in soil carbon stocks and fractions, water retention, and soil food web complexity when compared to other management systems across partner farms. However we also hypothesize that no-till management's focus on high rates of compost amendment, minimal disturbance, high biodiversity, and intensive management will have a homogenizing effect on soil ecology. Preliminary results from both on-farm and replicated research station trials suggest that the additive, layered nature of no-till soils can create similar soil health outcomes even across diverse soil types, climates, and landscapes. We also anticipate that a common soil conservation ethos across these farms will "smooth out" or converge their divergent land use histories. The farmers and organizations participating in this project span urban and rural landscapes, with diverse land use histories from auto industry, to industrial farming, to oak savanna. We expect that agricultural production that focuses on soil conservation will interrupt these divergent histories, creating ecologically distinct soil profiles over time. 
Finally, it is important to again highlight the diverse coalition of farmers, community organizations, and land stewards participating in this project. The network of practitioners utilizing hand-scale, no-till techniques brings together diverse cultural backgrounds, racial identities, geographic locations, organizational structures, and economic models. What motivates these farmers, land stewards, and community organizations to put soil care at the center of their work? How does soil act as a medium for collective memory, action, and imagination?
We hypothesize that soil can act as a medium of translation. Many growers are turning to small-scale, low cultivation techniques because they believe that soil care is central to a better future. The soil forms a horizon; it holds a future that we can both look to, and stand upon. Each grower engages on diverse landscapes and cultural contexts, and yet they are all embedded in connected struggle against ecological ruination and social injustice. They are linked into networks of mutual aid, knowledge sharing, and collective governance. They seek to create biodiverse and productive landscapes that can nourish, heal, and serve as inspiration for social change. We hypothesize that these systems of land care are knowledge and labor intensive, utilized to overcome the confluence of economic, cultural, climatic, and technological challenges farmer's face. We hope to amplify and uplift collective theory of soil stewardship through a series of transect walks, interviews, and mixed media pieces that showcase farmer perceptions and praxis regarding soil. We anticipate that sharing these stories will deepen and enrich our understanding of how human-scale soil regeneration might be a seed for food systems transformation.
Materials and methods:
Preliminary on-farm research
As noted above, most of the on-farm research was delayed by one year due to the COVID-19 pandemic. Project partners at the Community Alliance with Family Farmers (CAFF) had been able to collect some soil samples from two participating farms, which has helped inform the broader on-farm research effort that is now ongoing. Soil samples were collected to 60cm depth across multiple till and no-till plot, the latter with various ages of management. Soil analyses focused on soil organic carbon.
In addition, our team members at UCB were able to conduct a preliminary analysis at a lighthouse community farm in our network, the Gill Tract Community Farm. In collaboration with the community, our team helped to evaluate soil organic matter stocks, texture, nematode community analysis, ACE protein index, and more from areas of different tillage and disturbance regimes. These findings were of immediate consequence to the community as they negotiated with university and city administration about the future of their land tenure. By engaging the community in soil health sampling and analysis that was of political consequence, we were able to engage dozens of community members in soil sampling techniques, metrics, and data sharing.
Synthesis of prior research station results
WSARE's support of our ongoing replicated field experiments allowed us to analyze and compile the findings from our field station experiment on biointensive no-till. During the summer of 2019 (prior to the start of this grant), our research team had simulated a possible drought scenario in which irrigation to our fields was terminated mid-growing season. This meant irrigating all crops at 100% evapotranspiration (ET) for the initial three weeks to ensure plant establishment, then cutting irrigation to 50% ET irrigation for two weeks, and finally eliminating irrigation entirely for the remainder of the season. For California farmers, this could be the outcome of power outages that terminate well pumps, catastrophic fires that force families to leave their property, or future water shortages due to drained aqueducts.
With support from this grant, we were able to synthesize results from that prior work during the period in 2021 when new on-farm research was delayed due to COVID-19.
On-farm soil health analyses and farmer praxis
One critical arm of our research is now underway doing no-farm soil health analyses for 12 small (<3 acre) farms across California (Obj. 1). Our methodology centers farmer knowledge by conducting a series of farm "transect walks" and in-depth interviews to determine soil sampling frequency, location, and methods. These interviews followed the same script for every farmer. First, we asked them to explain their soil health ethos, and how soil health motivates their work as a farmer and land steward. We then asked the farmer to define soil health in their own words. Ultimately, we used this definition to explore the entire landscape of their farm together, determining locations on the landscape that represented the full range and diversity of soil health outcomes on the farm. From those transect walks and interviews we create soil sampling plans with corresponding maps that look like this: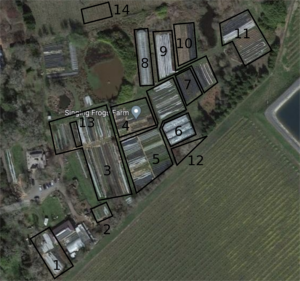 In this way, each experimental unit within the study represents a unique region of soil health properties as defined by the farmer. Each experimental unit is paired with key management practices and systems used by the farmer, including "no-till", "cover cropping", "occultation", "hedgerow", and more. In order to bring ecological and natural science data into conversation with practitioner knowledge, we also asked farmers to rate each experimental unit along a series of Likert scales. This asked the farmer to rate each experimental unit's productivity, resilience to stress, cultivation intensity, tillage intensity, and likelihood of soil contamination. In doing so, we will be able to compare soil health outcomes with farmer perceptions.
Composite soil cores down to 100 cm depth are currently being collected from each experimental unit, and will be completed in May 2022. From there, we will be conducting the following analyses:
Total carbon, nitrogen
Particulate organic matter (POM), mineral-associated organic matter (MAOM) 

These methods may help determine the long-term stability of soil carbon

Plant nutrients (extractable P, K, Ca, Mg, Fe, Mn, Zn, Cu, B, S, Al)
Soil chemical and physical properties (pH, cation exchange capacity, base saturation, texture) 
Contaminants (heavy metals, PCBs, petrochemicals, pesticides, herbicides) 
Soil food webs (nematodes, collembolans, mites)
Soil water retention and infiltration
Praxis is the joining of theory and practice. In order to effect meaningful food systems change, agroecological research must look to the complex intersection of practitioner's methods and the ideas they have about those methods. Thus, in order to better understand farmer praxis and motivations, we have recorded and transcribed all interviews and transect walks with participating farmers. We will also be collecting photographs and videos from our engagement on their farms, including transect walks, soil sampling, future field days, and educational programs. These transcriptions and other media will be used to better understand the motivations and perceptions of growers practicing small-scale, no-till management.
What motivates these farmers, land stewards, and community organizations to put soil care at the center of their work? To answer this question, we plan to compile stories of farmer praxis into a series of short mixed media articles, meant to highlight each farm in the network and how soil informs, shapes, and motivates their work. When soil health datasets are complete farmer perceptions with soil health findings, creating stories of ecological and social networks. By placing farmers in conversation, with soil as the translating medium, we hypothesize a weave together how diverse cultures, geographies, racial identities, economic models, and visions converge in the care of soil. We are interested in using soil as a storytelling medium to reflect on collective memory, action, and imagination.
Research results and discussion:
Analyzing and compiling preliminary results from partner farms
One of the research findings from preliminary work with two partner farms was that soil carbon levels were significantly greater in each farm's no-till plots than their control plots at both the soil surface (0-15 cm) and subsequent soil depth (15-30 cm) (Figure 1). Furthermore, total carbon levels were not just greater in the no-till plots, but specifically the older no-till plots included in the research project. In other words, the longer the no-till practice had been established, the greater the soil's carbon concentrations were. The positive sloping lines drawn through the green dots in the graphic to the left are visual representations of these findings.
Figure 1
At the Gill Tract Community Farm, the "community farm" was under no-till management since 2012, modeled after other farms in our no-till network. There were marked changes under intensive no-till cultivation when compared with the other adjacent management systems (Figure 2), including the heavily tilled university research fields and forested area next to the farm. "Composite footprint" was a particularly interesting metric to include, based on the estimated ecosystem services provided by nematode communities in the soil. Our team found that the soil profile with heavy mulch and leaf litter, in a low disturbance forested area, had the highest metabolic potential from nematodes. This implies tighter nutrient cycling and coupling of metabolic pathways in a low-disturbance, low-input system.
Figure 2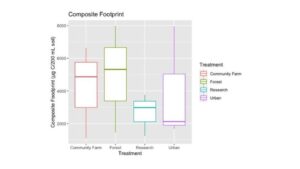 Replicated field station research
Below is a slide from one of our presentations in 2021 (Figure 1), where we were able to inform farmers, community organizations, and agricultural specialists about our findings. We were able to share how no-till dramatically increased the quantity of soil water, with plants showing measurably less stress under drought conditions in our no-till beds.
Figure 3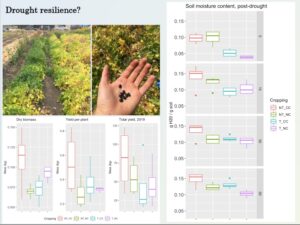 These initial results are informing our current and future research methods. Our team is in the process of establishing a dry-farm variety trial layered onto our 5-year no-till experiment. We will be growing an array of dry-farming tomato varieties across our four tillage treatment systems, and evaluating plant performance, mycorrhizal associations, water acquisition, soil moisture, and more while under drought conditions.
Participation Summary
12
Producers participating in research
Research Outcomes
1
Grant received that built upon this project
15
New working collaborations
Education and Outreach
2
Curricula, factsheets or educational tools
5
Webinars / talks / presentations
Participation Summary:
75
Ag professionals participated
Education and outreach methods and analyses:
Consultations
Transect walks, interviews, and soil health evaluations with:
Acta Non Verba (Oakland)
Agroecology Commons (El Sobrante)
Berkeley Student Farms (Berkeley)
Deep Medicine Circle (Pescadero)
Feral Heart Farm (Sunol)
Gill Tract Community Farm (Albany)
Hillview Farms (Lincoln)
Kern Family Farm (North Fork)
Red H Farm (Sebastopol)
Singing Frogs Farm (Sebastopol)
Sogorea Te' Land Trust (Oakland)
Urban Tilth (Richmond)
Curricula, factsheets or educational tools
Syllabus, Spring 2021, "Agroecology in Action: Food Sovereignty and Land Liberation," Berkeley Student Farms Democratic at Cal (DeCal)
Syllabus, Spring 2022, "Agroecology in Action: Food Sovereignty and Land Liberation," Berkeley Student Farms Democratic at Cal (DeCal)
Both these syllabi included weekly practicals and workshops, including no-till management, soil health, bed preparation under no-till, crop planning for agrobiodiversity, and more.
Syllabus, Soil Fertility Module, Bay Area Farmer-to-Farmer Training (BAAFT), Agroecology Commons, Summer 2022
Development of this syllabus included contributions to the Soil Fertility Module and practical hands-on learning activities at the
On-farm demonstrations
Workshop, "Agrobiodiversity and plant propagation in a no-till garden," Center for Food, Faith, and Justice, February 2022.
We conducted a workshop on plant propagation in no-till farm and garden contexts in partnership with the Center for Food, Faith, and Justice. This was part of their Bay Area Farmer Training program in partnership with MESA, the Multicultural Exchange for Sustainable Agriculture. Evaluations were conducted on-site at the end of the workshop. Participants were asked to share reflections on what they learned about plant propagation, and all participants reported learning new methods for plant propagation.
Workshop, "Soil health in school gardens," Verde Elementary School, Urban Tilth
Members of our team collaborated with Urban Tilth to put on an educational workshop at Urban Tilth's Verde Elementary School site. We worked with 6-8 graders, leading soil science demonstrations to illustrate the importance of soil organic matter.
Online Trainings
"Soil Health Report-back for the Gill Tract Farm Coalition", Gill Tract Farm Coalition, December 2021
This event was held online in December 2021 for the diverse members of the Gill Tract Farm Coalition, and included 20 participants throughout the course of the training. Community members and farmers who participate in the Gill Tract Community Farm were asked to reflect on and analyze preliminary soil health findings conducted in the May 2021. Gill Tract has been implemented an intensive no-till system since 2012, modeled after other farmers in our network including Singing Frogs Farm. In a post-survey, participants shared enthusiastically about the opportunity to analyze soil health data as a community, and learn more about soil sampling and testing. When asked about particular topics they learned more about, responses included phrases like, "

Urban soil is not as bad as I thought," "I learned what nematodes are!" and "That a ton of phosphorus can decrease uptake of other nutrients." 
Webinars, talks, and presentations
Webinar, The Agroecological City, "Ancestral healing through food and land stewardship," Berkeley Food Institute, March 2, 2021
Webinar, The Agroecological City, "Strengthening agroecological resilience in the city," Berkeley Food Institute, March 10, 2021
Presentation, EcoFarm, "Digging into the Research of Small-Scale No-Till Farming Systems," February 22, 2021
Webinar, EcoFarm, "Digging into the Research of Small-Scale No-Till Farming Systems," June 1, 2021  
Ongoing feedback was collected from these webinars and presentations through the creation of our "biointensive no-till" listserv, which now has over 200 members. 150 farmers and others work in food systems joined this online community after participating in our online webinars and presentations!
Education and Outreach Outcomes
150
Producers reported gaining knowledge, attitude, skills and/or awareness as a result of the project
Key areas taught:
No-till principles, practices, and challenges
Soil health metrics and on-farm evaluations
Land-based education and pedagogy
Soil sampling, soil health outcomes under no-till