Final report for WSP19-022
Project Type:
PDP State Program
Funds awarded in 2019:
$28,636.00
Projected End Date:
03/31/2022
Host Institution Award ID:
G242-20-W7905
Grant Recipient:
University of Idaho, Extension
Project Information
Abstract:
We will continue our involvement with University of Idaho's small farmer education program, Cultivating Success, and with the team that is working on a renewal of our Beginning Farmer & Rancher grant. A portion of this year's funds will be used to support the development of an online farmers market exchange that we hope to extend to other communities throughout the state. This is a continuation of the local food system development funded by WSARE in 2018. Helping local producers connect with buyers and plan their production accordingly will improve access to local foods and improve profitability for producers. Buyers will be able to order their products online, with delivery either at the local farmers market during the regular season or at an alternative location. This project will be modeled on the Six Rivers Market that operated in Northern Idaho for six years.  Funds will be used for marketing the project and support staff.  A Steering Committee has been working on this idea for several months. We will also support surveys and at several farmers markets in Idaho to provide feedback on consumers' willingness to participate. 
We will also continue to support professional development opportunities for Extension professionals and others working in sustainable agriculture, including support for mini-grants and travel to conferences for  professional development in the area of sustainable agricultural. We will continue to support a small administrative staff to support our SARE activities, including our Advisory Committee meetings. We will also use the funds to travel to annual SARE PDP meetings.
Project Objectives:
Objectives
-Promote our support of sustainable agricultural programs, workshops, and conferences for Extension Educators and other professionals working in the area of sustainable agriculture research and education.
-Continue our successful program of providing professional development opportunities in the form of travel grants and mini-grants.
-Launch an online farmers market based on the Six River Market for the 2020 farmers market season in northern Idaho.
-Continue our collaboration with Cultivating Success, a program for educating small farmers
Timeline:
Winter – Spring 2020: Using the Six Rivers Market platform, which is available to us and is based on the Oklahoma Farmers Market program, we will be testing our online farmers market software program.
Spring - Fall 2020: Education and promotion of the online farmers market for consumers and producers in northern Idaho using pamphlets, fliers, banners, and booths at appropriate venues for reaching local food system participants.
Summer 2020: Rapid Market Assessment (RMA) and other farmers market surveys to include questions gauging interest in online farmers markets in 2-3 additional markets. RMA with questions on online farmers markets is scheduled for North Idaho in Summer 2019.
Ongoing: Promotion of WSARE opportunities in the form of regional and state level grants and opportunities. Support of farmer education programs focusing on sustainable agriculture. Support of PD opportunities for those working in sustainable agriculture.
Advisors
(Educator and Researcher)

(Educator and Researcher)

(Educator and Researcher)

(Educator and Researcher)
Education
Educational approach:
Online Farmers Market:
Outreach to interested participants, both buyers and sellers, is being conducted through advertisements in a local magazine and through flyers distributed at various locations and events. Two training workshops for the online farmers markets were conducted over the past year in Boundary County. Interested participants learned about the b-local.net website and the linked open source online farmers market platform used to create a local "group" operating as a hub. The "group" option was preferable to a hub in that it wasn't necessary to create a separate business entity to handle financial transactions. Buyers and sellers conduct their transactions directly, but a local pickup site at the Extension Office is an option.
One-on-one consultation via screen sharing is being used to help producers learn how to navigate the online farmers market platform. To date, 14 producers have successfully completed either an online store (7 producers) or a business listing (7 producers). An illustrated step-by-step guide was created that uses numerous screen shots to guide participants through this process. A vendor support board was created (b-local.proboards.com) to facilitate communication among vendors and post market rules, the illustrated setup guide, and other useful information. 
In the final year of the project, we created a local producer website promoting local buying and selling, whether online, from a farmstand, or at the farmers market, https://www.b-local.net/. This site features locally produced foods, handcrafts, and local livestock and animals for sale. This expansion of our original online farmers market allowed us to be more inclusive of those who didn't want to participate in an online farmers market platform. The online farmers market platform was time-consuming to create and maintain, even with our assistance. Weekly updates of inventory for sale, for example, were burdensome to producers, who would rather just show up with what they had for sale at the farmers market. Particularly as businesses opened up after the initial Covid shutdown, local producers preferred a listing rather than an interactive storefront. In consideration of the end of grant funding for this project, and few active participants in the online platform, we transitioned away from the online farmers market hub (although producers were free to continue on their own) to the website format created by the web designer who created the very popular Panhandle Farm Corridor, a guide to North Idaho's farm stands, https://www.panhandlefarmcorridor.com/. This project was supported with a SARE mini-grant and described in the 2020 SARE grant report. 
Education & Outreach Initiatives
Regenerative Ranching in the Idaho Panhandle: Intensive Management of Dryland Pastures
Objective:
This 2-day workshop used a blend of classroom and hands-on teaching, with the hands-on portion located on a nearby ranch that uses regenerative techniques. Management intensive grazing and pasture management techniques were taught from numerous angles, from soil health to economics and direct marketing of grassfed beef.
Description:
Regenerative Ranching in the Idaho Panhandle: Intensive Management of Dryland Pastures was held on June 4 and 5. This unique two-day workshop featured morning classroom instruction at the UI Extension Post Falls Research Park and hands-on, field-based instruction at the Lazy JM Ranch near Hauser Lake in the afternoons.
Keynote speaker Larry Cundall, a Wyoming rancher honored with a national Environmental Stewardship Award in 2019 and a national Champion of Change award in 2013, spoke about managing grazing lands to increase productivity while protecting wildlife and natural resources. USDA Sustainable Agriculture Research and Education (SARE) funding sponsored the keynote speaker and provided additional funding for the workshop.
Gracious farm hosts and regenerative ranchers John and Betty Mobbs gave presentations on their pasture renovation and marketing techniques. John's son Travis Mobbs, who also practices regenerative ranching techniques on a neighboring ranch, led a classroom-style activity in the hay barn, and later gave a tour of his lush pastures during this droughty spring.
Management-intensive grazing techniques and principles were presented by UI Extension Emeritus Faculty Chad Cheyney, who developed the long-running Lost Rivers Grazing Academy in eastern Idaho.
UI Extension Beef Specialist Scott Jensen taught the workshop's twenty participants power fencing techniques for facilitating rotational grazing. As they wandered through lush green pastures, Bonner County's USDA-NRCS Resource Conservationist Cindy Lewis taught students to measure forage using pasture sticks. With this information, participants were divided into three groups and instructed to determine the proper paddock size for a 24-hour period for each group's assigned cattle.
Using a rain simulator, participants viewed both run-off and drainage through three different soil and sod samples. USDA-NRCS Conservation Team Lead Aubrey Hoxie and Soil Conservationist Andrea Burton from Coeur d'Alene applied three inches of rain to the samples. Runoff and drainage comparisons were easily observed in the clear gallon containers located at the bottom of each sample trough and also underneath each sample. Runoff from healthy pasture soils was nearly clear, while the bare soil sample was noticeably muddy.
Friday night featured a producer panel led by John Mobbs and his son Travis, who also practices regenerative ranching techniques on a neighboring ranch, as well as the keynote speaker and Tess Hahn, a local sheep producer using rotational grazing and silviculture techniques. Friday night's Farm-to-Table style dinner featured grassfed, slow-cooked brisket and fresh local vegetables under tents at the Lazy JM Ranch.
Back in the classroom on Saturday morning, Professor Emeritus Gray Henderson explained nutrient cycling in healthy soils within the context of regenerative ranching. UI Extension faculty and Agricultural Economist Kate Painter used a partial budget analysis approach to teach participants how to determine breakevens and risks of proposed changes on the farm. Dung beetles were the featured topic for Larry Cundall's lecture on Saturday, and were a popular topic throughout the rest of the workshop as participants performed inspections in the field.
On Saturday, participants were eager to check the grazing progress of their cattle groups. One grazing cell was too large, one was too small, and one was just right! The final activity of the evening was held at Sue Rohrback's property, the Boisen Ranch, leased and managed by Travis Mobbs. Workshop participants helped Travis create a new grazing cell and move the cattle, who were eagerly awaiting the fresh green pasture. No one wanted to leave this beautiful setting until well after dark.
Regenerative Ranching Brochure_2021_final
2021 Regenerative Ranching in the Idaho Panhandle Agenda
Article featured in the UI Dean's newsletter, https://www.uidaho.edu/cals/archive/2021-news/catching-up-with-cals-7-28.
Capital Press story on the workshop: 
Grazing 'crash course' spotlights dryland ranching
by Matthew Weaver, Capital Press, June 25, 2021
Campus Extension website created for participants and instructors.
Outcomes and impacts:
We had 21 attendees at the 2021 Regenerative Ranching in the Idaho Panhandle Workshop. In addition, we had 9 who attended as instructors, organizers, or hosts. Attendees were encouraged to respond to a detailed survey, either online or a written survey. Responses were received from 10 of the 21 attendees (48%) and 5 of the 9 instructors/organizers (56%).
When asked, "On a scale of 1 to 10, how likely are you to recommend this event to a friend or colleague?" the average response was 9.6. Here are some responses to what they liked most about the event:
Larry Cundall. Excellent and informative - gave a well-balanced overview and a great presentation on dung beetles.
Liked it all! Especially networking and round table discussions, "producer panels."
The chance to interact with knowledgeable instructors.
Enthusiasm of the participants and their openness to new ways of doing things.
The relaxed atmosphere where ideas and information was easily shared and processed.
Diversity of presenters, networking with other producers, hands-on reinforcement of classroom material.
The aspect that I enjoyed the most about this event was 1) gathering with other like-minded individuals, 2) sharing ideas/hardships/meals (delicious!), 3) listening to such well spoken and helpful teachers, 4) the fence product demonstration was so fun--seeing the 'duds' in fencing materials and the 'winners' -- liked this a lot!
Learning how to be more effective in grazing animals on land and a better awareness of the outcome and impact of the land.
Mix of hands on and lecture
Here are some responses to what they liked least about the event:
Classroom time
Too short!
Honestly, the entire workshop was a very positive experience. I have no "least" comments.
The part(s) I enjoyed least about the events were the group sessions estimating grass take down/residue…mostly because I realized I should have paid more attention in my 5th grade math class!?
Time constraints shortened the important presentation about agriculture enterprise finances by Painter.
All of the participants currently own pastureland. They had a total of 404 head of cattle on 9 operations, 238 sheep on 6 operations, and 495 chicken on 9 operations, plus 58 head of bison on one operation.
In terms of rotational grazing practices currently being uses, nearly half (46%) currently practiced rotational grazing with daily moves. Another 38% practiced rotational grazing with less than daily moves. Two of the 14 respondents for this question (15%) planned to start using rotational grazing this year, and one respondent (8%) planned to start using rotational grazing within the next few years.
In terms of practices they planned to implement as a result of this workshop, 10 out of 15 respondents (67%) planned to perform a pasture evaluation this year based on techniques learned in this workshop and 9 (60%) planned to renovate pasture this year based on techniques learned in this workshop.
Respondents were asked to rank their knowledge on various topics both before and after the workshop. Sixteen responses were received, from a combination of participants (9) and instructors/organizers (7). Topics included soil health principles, determining stocking rates, livestock cell design, pasture renovation, and power fence building. Interestingly, scores declined for a few topics, perhaps due to some confusion on calculating stocking rates and perhaps due to the fact that you realize you know less about a topic after being exposed to its complexity. Regardless, the average score of 2.76 over the five areas before the workshop rose to an average score of 3.48 after the workshop, which is about a 26% increase in self-described knowledge by topic overall.
Table 1: Self-described knowledge level by topic, before and after the workshop, 16 responses, rated on a scale of 1 to 5.
| | | |
| --- | --- | --- |
| Skill: | Before the workshop: | After the workshop: |
| Soil health principles | 2.76 | 3.94 |
| Determining stocking rates | 3.24 | 2.76 |
| Livestock cell design | 2.29 | 3.82 |
| Pasture renovation | 3.12 | 3.06 |
| Power fence building | 2.41 | 3.82 |
|             Average: | 2.76 | 3.48 |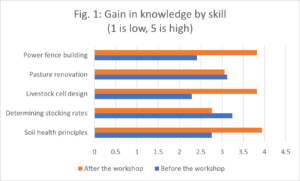 Figure 1: Self-described knowledge by topic, before and after the workshop, 16 responses.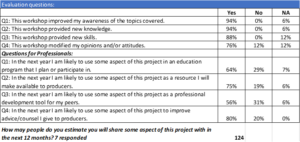 Compost Bioreactors for Community Gardens
Objective:
Demonstration of a low-tech method for generating high quality compost in community gardens that easily replicated by homeowners
Description: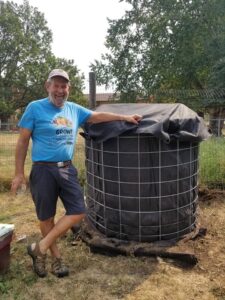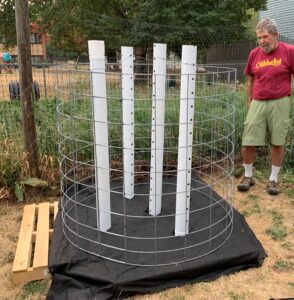 View of the compost bioreactor during construction
The Johnson-Su Bioreactor method of creating compost is quite different from other composting methods in several respects. This method doesn't require turning, doesn't smell, and doesn't attract files. The material is composted aerobically, encouraging a complete breakdown of compost materials that results in a microbially diverse, fungal-dominant product. The final compost product has the consistency of clay when it is finished, allowing it to be used as a seed coating, a soil amendment, or in solution as an extract. It has been shown to improve seed germination, improve water retention and infiltration, and enhance plant health.
Two reactors were built in 2021. One was built at the University of Idaho's Sandpoint Organic Agriculture Center. This center has a large organic orchard as well as smaller organic fruit and vegetable gardens. This UI Center hosts many tours and educational events, so the reactors will serve as permanent educational structures as the composting is underway and the final product is used in various ways. The second reactor was built at the Boundary County Community Garden during the 2021 Open House (see photo). 
Outcomes and impacts:
Workshop participants learned how to create their own aerobically enhanced compost using this low-cost bioreactor. Plans for the Johnson-Su Bioreactor were distributed at the two workshops. The original plans were modified to use a low-cost cattle panel structure rather than the concrete reinforcement wire called for in the original plans (see Johnson-Su Bioreactor). 
The Boundary County Open House on August 4, 2021, was attended by about 30 people, who were able to ask questions and get information on creating their own bioreactor. An unknown number of visitors and gardeners at the community garden continued to use and observe the composter throughout the growing season. Many expressed an interest in building their own version at home, due to poor performance of passive compost piles. 
University of Idaho Sandpoint Organic Ag (SOAC) Educational Market Garden
Objective:
A mini-grant provided tools for the SOAC Educational Market Garden in order to train interns in the use of market garden tools.
Description:
The funds awarded from the 2021 Idaho SARE Mini-Grant were used to purchase tools for our Educational Market Garden.  The market garden is a strong component of the SOAC Summer Internship program.  Each week the interns spend a full day with a local market garden operator (Leigh Bercaw of Blue Fingers Farm), learning techniques and practices that are utilized in modern small scale agricultural operations.  With the funds from the grant, we were able to purchase multiple precision seeders, a broadfork, multiple types of hoes, and propagation equipment.  
Outcomes and impacts:
The 2021 SOAC Summer Internship included three interns from the UI-Moscow campus.  Leigh was able to use her time to demonstrate the use of the tools to our eager interns.  By the end of the summer, the interns were proficient in operation of all the equipment purchased with the grant.  In exit interviews with the interns, they reported the weekly market garden day as one of the highlights of the internship program and said that skills learned in the garden would be valuable for their future plans, whether farming professionally or recreationally.  The tools purchased with the grant funds will continue to be used in the internship program for many years, spreading knowledge of current small scale farming practices for many prospective farmers.
Ten Acres and a Dream: A Three-Part Workshop on Rural Living
Objective:
Teach propective farmers and ranchers where to find resources on a variety of topics, from crop and livestock production to forestry.
Description:
New rural landowners often encounter challenging new situations in pursuit of their country living dreams. Led by a group of Idaho Master Forest Stewards and UI Extension Educators, Ten Acres and a Dream was developed in response to resource needs of an increasing cohort of rural homesteaders in North Idaho. It was offered in two locations in 2018 (Sandpoint and Post Falls), one location in 2019 (Bonners Ferry), and was slated to be presented in St. Maries in spring of 2020. Due to pandemic-related closures, the in-person workshop was cancelled. 
Based on successes migrating other face-to-face pro-gramming to the Zoom platform, 10 Acres and a Dream was restructured as an online workshop in 2020.  This format extended our reach to all of Idaho. Interestingly, educational impacts were more than doubled for the 43 participants. In 2021, support from SARE and other agencies allowed us to further expand this free offering and hire logistical support to streamline registration, evaluation, and technical support for participants and speakers. See flyer, 10 Acres A Dream Flyer Spring 2021.
Outcomes and impacts:
A total of 129 participants from 5 states participated in the 2021 3-part series. A Campus Extension website was created in order to share all the course materials, schedules, and resources with participants and allow multiple instructors to participate. This format also encourages discussion among participants. While all had access to the site, 62 participants chose to use it. Participants self-reported an increase in knowledge as the result of each of the three day programs, averaging 29% increase in knowledge in various rural topics, including crop and livestock production, land evaluation, and forestry. 
Educational & Outreach Activities
3
Curricula, factsheets or educational tools
2
Study circle/focus groups
26
Webinars / talks / presentations
3
Other educational activities: Websites created (b-local.net for the local producer website, and two Extension Campus websites, one for the Regenerative Ranching workshop and one for Ten Acres and a Dream.
Participation Summary:
2
Ag service providers (other or unspecified)
Learning Outcomes
170
Participants gained or increased knowledge, skills and/or attitudes about sustainable agriculture topics, practices, strategies, approaches
10
Ag professionals intend to use knowledge, attitudes, skills and/or awareness learned
Project Outcomes
4
New working collaborations
2
Agricultural service provider participants who used knowledge and skills learned through this project (or incorporated project materials) in their educational activities, services, information products and/or tools for farmers
125
Farmers reached through participant's programs
Face of SARE
Face of SARE:
SARE grants and resources were presented at all SARE-funded programs as well as during regular interaction with my clientele as a University of Idaho Extension Educator. Larry Cundall, from the SARE Speaker's Bureau, gave a presentation at our Regenerative Ranching in the Idaho Panhandle, where he was the keynote speaker. In addition, Jenna Meeks attended this 2-day workshop and provided additional information about SARE. 
145
Farmers received information about SARE grant programs and information resources
8
Ag professionals received information about SARE grant programs and information resources
Information Products