Final report for YENC16-101
Project Type:
Youth Educator
Funds awarded in 2016:
$2,000.00
Projected End Date:
01/15/2018
Grant Recipient:
Big Muddy Urban Farm
Project Information
Summary:
Project Abstract
This grant helped fund residents of Big Muddy Urban Farm's (BMUF) Aspiring Farmer Residency with facilitating programming of the Gifford Park Youth Garden Program (GPYGP). This promoted sustainable agriculture education in two forms. First, each BMUF resident learned to develop and teach a Youth Garden lesson. Second, approximately 30 youth gardeners applied these lessons to their own 2' x 2' plot. This helps BMUF residents build on the work of past residencies and continue to develop quality programming and field trips for the GPYGP and other farm, garden, and educational organizations.
Detailed Project Plan and Timeline
Big Muddy Urban Farm teaches sustainable agriculture practices in our Aspiring Farmer Residency. Residents learn the ropes of farming via our CSA and collaboratively managing our urban farm which operates by organic standards. From this small scale, guided operation, they develop a more realistic understanding of what production-scale farming involves and what they would like moving forward. We teach sustainability by actually doing it - managing soils, analyzing a budget, having conversations about the food system, marketing produce, self-reflecting, cooking community meals with our produce, and following weather patterns.
The interaction between BMUF and the 30 Gifford Park Youth Gardeners is an integral part of both organizations.
For the last 4 years BMUF has been voluntarily managing a large part of the Youth Garden programming and infrastructure. The Youth Gardeners learn about sustainable agriculture by participating in a free summer garden program focused on developing practical gardening, culinary, and creative skills. The 30 youth are provided with their own 2x2 raised garden plot to grow on and a group session each week focusing on different topics including but not limited to, seed germination, composting and soil nutrition, raising chickens, fruit and vegetable preservation, seed saving and the life cycles of nature.
Resources Used
Organizations partnering with Youth Garden Programming: Cooking Matters, WeCompost, Therman Statum Art Studio, Nebraska Wildlife Rehab, Truck Farm Omaha.
Organizations partnering with BMUF: Gifford Park Neighborhood Association, Creighton University, Yates Community Center, The Community Bicycle Project, Nebraska Sustainable Agriculture Society, Omaha Home for Boys.
TBD Curricula: Established "plant your plot" lesson plans, volunteers and parents.
Website development: Little Guy Designs
Outreach
BMUF residents designed an activity for the youth garden program. In so doing, at least one of the activities they design will be formatted and published. The completed content is available free to the public on our website.
We have included in this proposal funding to improve our website so that we can make these lesson plans easy to find and navigate as well as other resources we will be able to offer.
Project Objectives:
3 BMUF residents will develop and teach 2 of the 15 Youth Garden program days. BMUF residents will build on the work of past residencies and continue to develop quality programming and field trips for the Gifford Park Youth Garden Program (GPYGP) and other farm, garden, and educational organizations.
At least one of the activities BMUF residents design will be formatted and published. The completed content will be available free to the public on our website bigmuddyurbanfarm.com and we will include it in The Yearbook, our seasons-end book.
30 GPYGP youth are provided with sustainable agriculture programming in a group session each week focusing on different topics including but not limited to, seed germination, composting and soil nutrition, raising chickens, fruit and vegetable preservation, seed saving and the life cycles of nature.
Youth gardeners take away what is being taught and are able to apply it to their own 2' x 2' raised garden plot.
Cooperators
Educational & Outreach Activities
5
Curricula, factsheets or educational tools
5
Published press articles, newsletters
Participation Summary:
Education/outreach description:
Context
The Gifford Park Youth Garden started during the 2003 growing season. The Youth Garden is located in the Gifford Park Community Garden on 3418 Cass Street in Omaha, NE. The Youth Garden is currently comprised of 44 (30" x 30") raised beds that neighborhood youth design and plant their own garden in. Programming is 16 weeks long from mid-May to late-August every Saturday morning (10:00am-noon).
Big Muddy Urban Farm started in 2012 with a collective of young growers growing produce and raising chickens on vacant lots of land in North Omaha. This evolved into a year-long residency program that supports five residents, 19-26 years-old, who are interested in sustainable agriculture and community building with a place to live while they develop and execute a market farm business plan on five lots of land in the Gifford Park neighborhood. For more information on Big Muddy's history, please watch this video.
The SARE Youth Educator grant helped strengthen a partnership between Gifford Park Youth Garden programming and Big Muddy's residency by supporting resident's research and facilitation of youth garden lesson plans. This helps residents develop educational techniques while also providing valuable educational experiences for youth gardeners. Supplemental to lesson plans, one of Big Muddy's production sites is a 25' x 25' area located at the Community Garden, a few steps west of the youth garden plots. This production plot is cultivated to grow produce for resident's Business Plan and also serves as an educational site, teaching youth gardeners about specific crops and how to grow them commercially with sustainable growing practices.
Activities
Planning
On the morning of April 1, 2017, Big Muddy hosted a planning meeting to structure youth garden programming with community input. Topics learned from this meeting:
Asking youth gardeners directly what they would like to do for programming is highly effective and inspiring.

Taking time at the beginning of the meeting to provide a brief history of the Youth Garden program establishes an inclusive culture for new community members to get involved with programming discussion.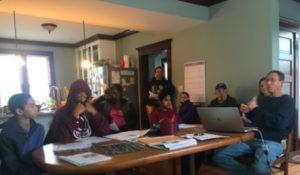 After the initial meeting, we compiled ideas developed for programming, contacted neighbors and partners who could lead certain lessons, and established the schedule for the season.  
The planning meeting set the schedule for the upcoming 15-week youth garden program:
| | | | |
| --- | --- | --- | --- |
| # | Date | Name | Facilitated By |
| 1 | May 13 | Garden Season Opening Event (Community Garden wide, not Youth Garden Specific) |   |
| 2 | May 20 | Get to Know Your Garden  | Big Muddy Urban Farm (Kia Beason) |
| 3 | May 27 | Plant Your Plot (select seeds & plants) | Big Muddy Urban Farm (Cadence Hernandez) |
| 4 | June 3 | Plant Your Plot (select seeds & plants) |  Big Muddy Urban Farm (Kia Beason & Cadence Hernandez) |
| 5 | June 10 | Art in the Garden |  Gerard Pefung // Artist |
| 6 | June 17 | Fungus Amungus |  Chad and Cynthia Lebo // Cure Cooking |
| 7 | June 24 | Sound of Music |  Matt Cronin |
| 8 | July 1 | Bees & Chickens | Big Muddy Urban Farm (Terry Salem) & Lynn the Bee Keeper |
| 9 | July 8 | Wildlife & Animal Care |  Matt Cronin // Nebraska Wildlife Rehab |
| 10 | July 15 | Garden Movement |  Monica Lehn |
| 11 | July 22 | Tree Walk |  Justin Evertson // Nebraska Forest Service |
| 12 | July 29 | Herbs & Health Remedies |  Kate Bodmann // Omaha Whole Living |
| 13 | August 5 | Cooking Matters |  Visiting Nurse Association |
| 14 | August 12 | Canning & Preservation | Big Muddy Urban Farm (Brent Lubbert) |
| 15 | August 19 | Field Trip | Big Muddy Urban Farm (All Residents) |
| 16 | August 26 | Pizza Garden Harvest Party | Big Muddy Urban Farm |
We waited until after the community discussion took place before planning the field trip to receive valuable input. We decided something close would be best, but at the same time want to get to a rural experience for the kids. Crescent and Honey Creek, Iowa are fertile grounds for many sustainable agriculture farms and are 30 minutes from Omaha, NE. We contacted Terry Troxel of Iowana to see about a field trip on her established farm in Crescent, IA. In discussion with her, we learned that there is a tour every third Saturday of the month that allows for guests on three farms in the area. This coincidentally lined up with our projected Field Trip date.
Execution
Week 2
Get To Know Your Garden
It was a soggy day to kick off the 2017 Youth Garden. We didn't get to the planned activities of touring the garden and setting ground rules (this came in week 4). Because of this hinderance, Kia Beason, the Big Muddy resident set to facilitate her lesson plan couldn't because of lack of attendance. However, we kept active by weeding the youth garden raised beds and putting mulch down in the paths, despite the rain.
What was learned:
having the first three weeks open to flexibility allows for adverse weather events to not affect your programming. However, if the weather allows you to move through the first three weeks of programming very quickly, you need to have backup activities ready to go. Backup activities can include: mulching, cleaning chicken coop, turning compost piles, coloring and journaling.
Cancelling should always be last resort, there will be a few participants that will show up even if its raining.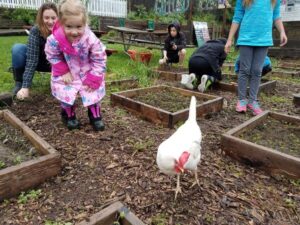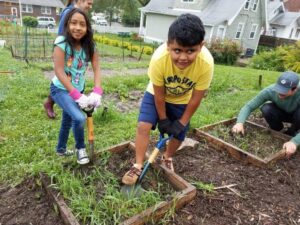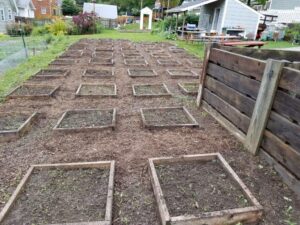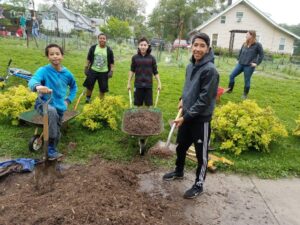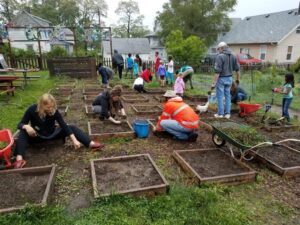 Week 3
Plant Your Plot
It rained at the beginning of the second week of youth garden resulting in lower attendance for the second week in a row. As to not let the rain push our planned activities too far behind the overall schedule, we set up a few pop-up tents. Cadence Hernandez, designated Big Muddy Resident facilitating week 3 lesson, taught the youth gardeners about garden design and spacing, plant varieties, transplants vs seeds, and an introduction to herbs. Cadence's taught these lesson by using a point and grid system. This lessons gives youth gardeners 6 points to use in designing their garden. Larger crops like tomatoes are 3 points and smaller crops like radishes are 2 points. They then drew their garden layout on graph paper. This lesson plan is now publicly available on our website thanks to this grant. You can view the lesson plan here.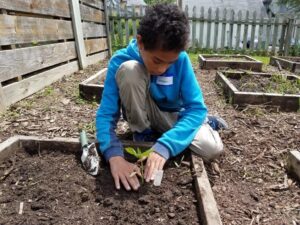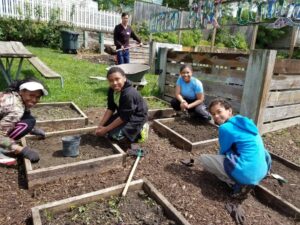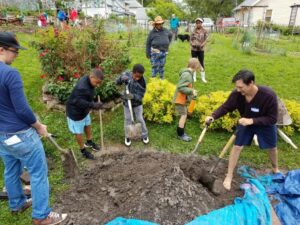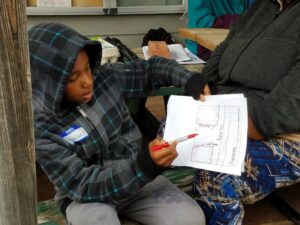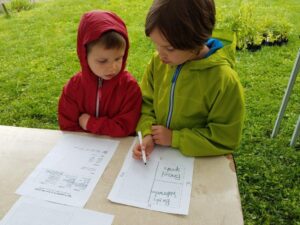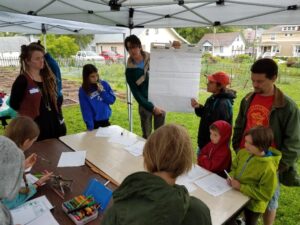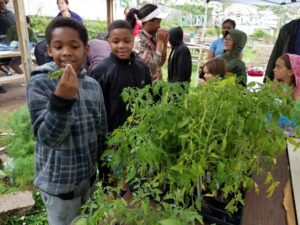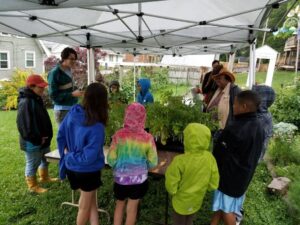 Week 4
Plant Your Plot
Big Muddy Resident Kia Beason taught week 4's lesson. The first sunny youth garden day, this began by getting youth gardeners absent in previous weeks caught up with designing their own garden and adding compost to their beds. Then we toured the whole community garden getting to know what's around, like the Big Muddy demonstration plot, restroom options, chicken coop, and where tools are located. The session ended with youth gardeners setting garden rules collaboratively.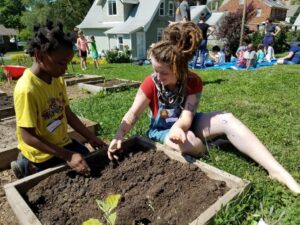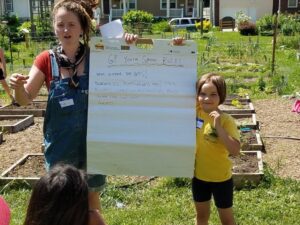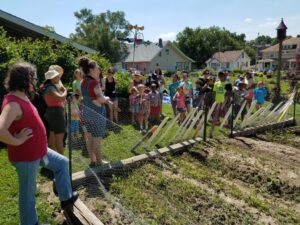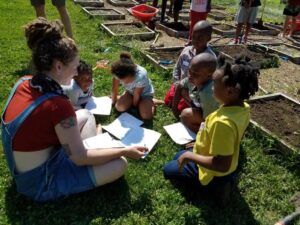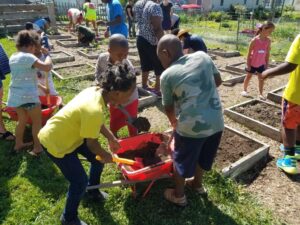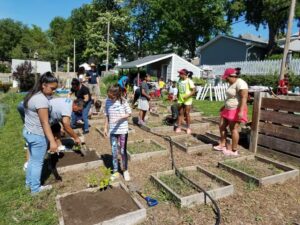 Week 8
Bees & Chickens
Big Muddy Resident Terry Salem provided Youth Gardeners with a lesson on chicken biology and care for week 8. Youth gardeners learned how many eggs a day a chicken lays, chicken anatomy, and what it takes to take care of the chickens. For some youth gardeners, this was the first time holding a live chicken. The chicken lesson was paired up with Lynn the Bee Keeper who brought his observation beehive to discuss bees with the youth gardeners.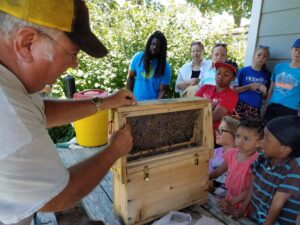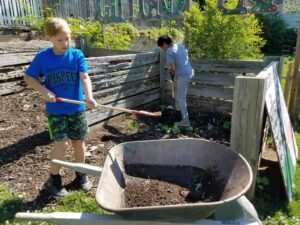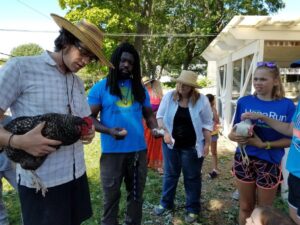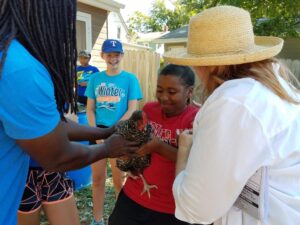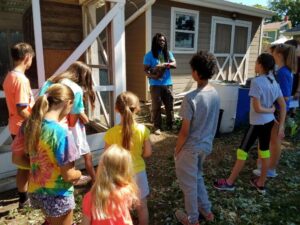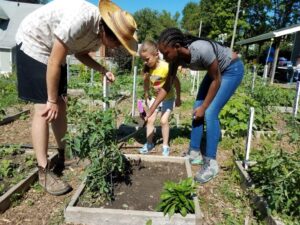 At the time of the progress report (midsummer), five of fifteen Youth Garden Activities had transpired. Roughly .15"
of rain fell on both of the first two programs. Although this affected attendance we had meaningful
programs for the youth gardeners that did show up. We planned room at the beginning of the schedule for
adverse events and had to push back some of the planned activities for drier weather when attendance was
of adequate quantity as to not be redundant in setting ground rules and discussing garden design. Tasks
performed to that point were:
● Plant anatomy discussion
● garden design
● planting individual garden plots
● planting carrots in 25' rows
● weeding and mulching paths
● applying compost to garden beds
● introduction to chickens
● introduction to bees
● garden ground rules
Measurements
Youth Gardeners and parents filled out registration forms containing each child's name, school, age, parent's name and contact information. Parents were also asked to check if they wanted to bring treats one time or volunteer. Parents signed a waiver warning of risk and release of all claims.
Evaluations were performed and collected on an ongoing basis as more parents and youth gardeners showed up. Youth Gardeners drew on graph paper to design their own 30" x 30" garden plots before planting. We will revisit what they drew to see if they would change anything about their design at the end of the season (Appendix-A-garden-plan).
Week 14
Canning and Preserving
The Canning and Preserving lesson took place on August 12 and at this point Youth Gardeners had crops that they could harvest, like peppers and carrots. We were able to demonstrated how to harvest, process, and preserve the vegetables they grew. We also investigated what herbs around the garden we can use in the pickling, primarily looking at dill.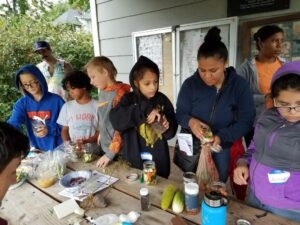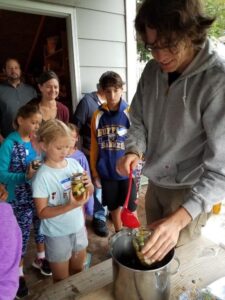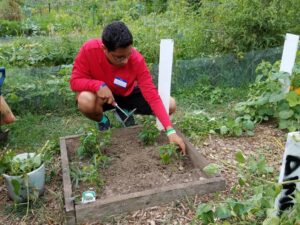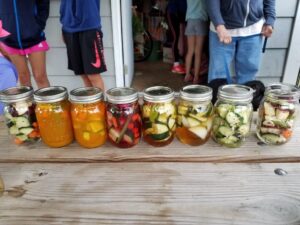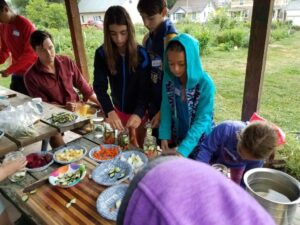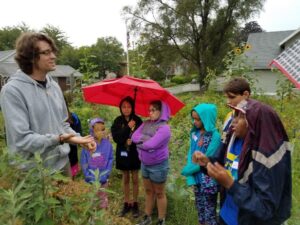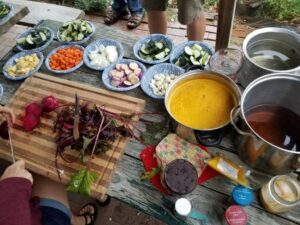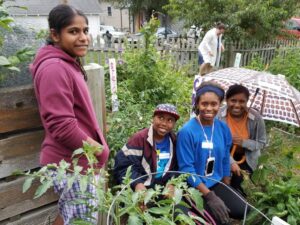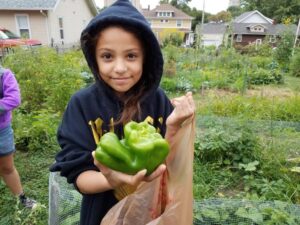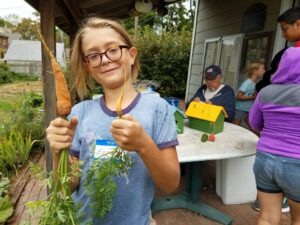 Week 15
Field Trip to Honey Creek Creamery
For week 15, we got out of the urban landscape for a special field trip to Honey Creek Creamery. Of the 28 youth gardeners and 14 chaperones, only 4 of the total group had been to a goat farm operation before and for 16, this was their first experience being on a farm. We planned our field trip to correspond with a pre-existing farm tour called the Living Leoss Tour. This maximized efforts with the farm having already planned organized capacity for tours on the date. We coordinated exact times and where to park a bus beforehand so that the farm knew when a large volume of youth gardeners would be stopping by. We planned to visit two farms as part of this field trip, but after arriving at Honey Creek Creamery we realized that we would have to rush through the experience and decided to make the most of visiting one farm. Another factor in determining to only visit one farm is that our youthful demographic may have stimulus overload if we rushed through what may be the first experience on a farm
What was learned:
Require permission slips be turned in the week beforehand so you can have an accurate number of how many will be participating.

We had permissions slip due day of, which thankfully the numbers fit perfectly to the numbers on the bus, but would have been less stressful having more accuracy before hand.)

Make sure you know the correct route to the farm. The bus driver may rely on you for directions.
There may be pre-existing, organized tours of farms in your area, a youth garden field trip could fit nicely into something already organized.

In contacting a nearby farmer about touring their 10 acre vegetable farm, we learned that there was a pre-existing, organized tour of a regional farm network called the Living Leoss Tour. The tour's time and dates matched up with our projected idea of touring. We joined the Living Leoss Tour, maximizing the efforts of everyone involved and offers an ability to tour multiple farms, however, working with diverse age ranges, there is a limited time frame you should be away from home. Our field trip lasted 4 hours (from 10am to 2pm) and was optimum for participants.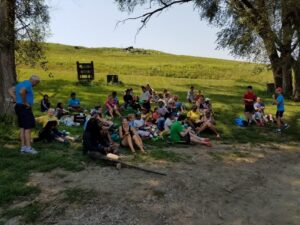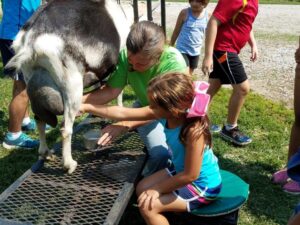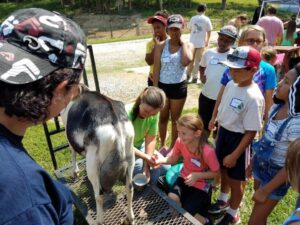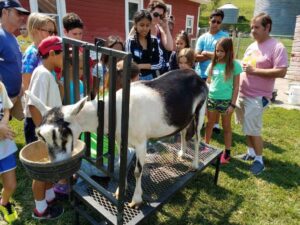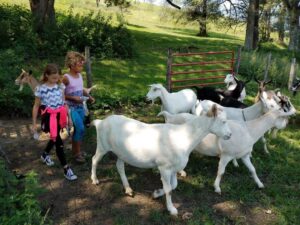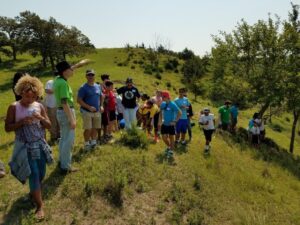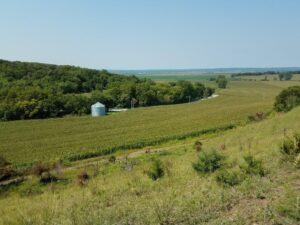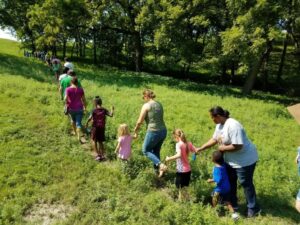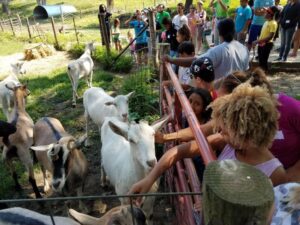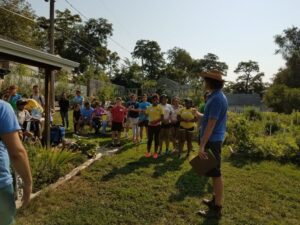 Week 16
Seasons End Pizza Party
We wrapped up the season with a pizza party using ingredients that youth gardeners grew in their garden. After harvesting from the garden, youth gardeners learn how to properly processes their vegetables using a knife under adult supervision. Then youth gardeners created their pizzas by going through three stages: sauce, toppings, cheese. Once they were complete, three neighbors nearest the garden graciously allowed us to cook pizzas at 450 degrees. Youth Gardeners enjoyed their bounty and gained cooking skills to celebrate the hard work they put in tending their garden over the 2017 growing season.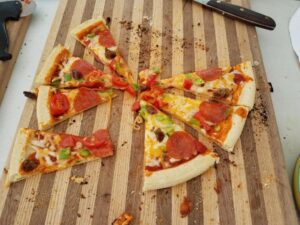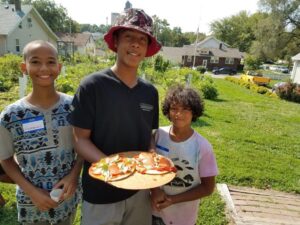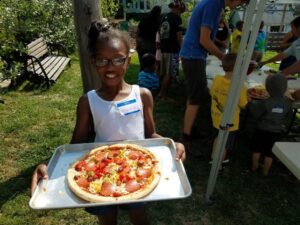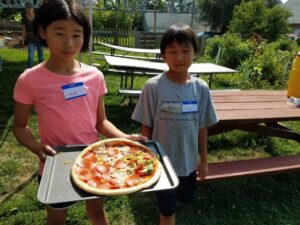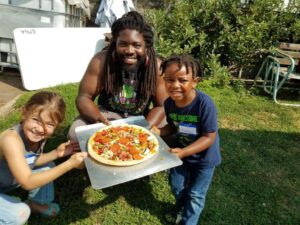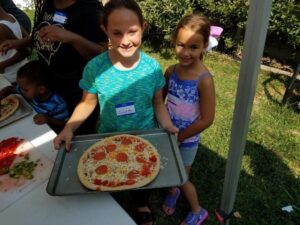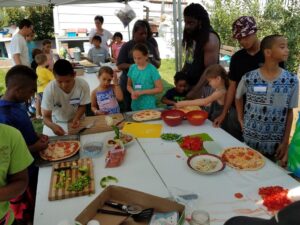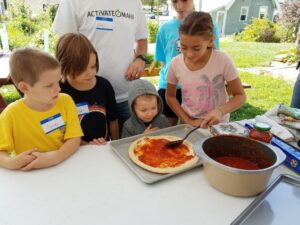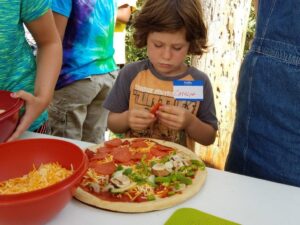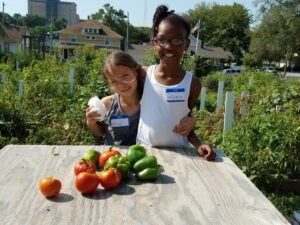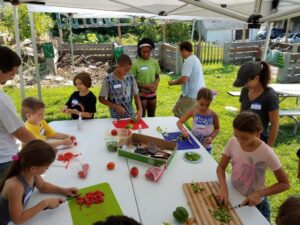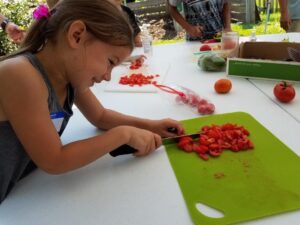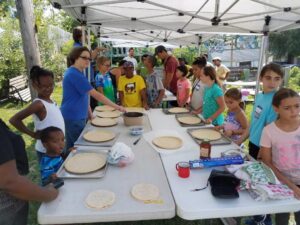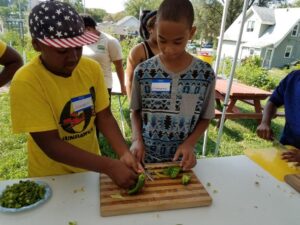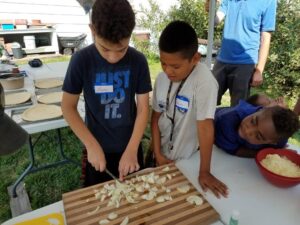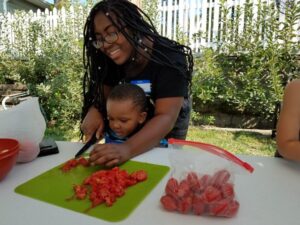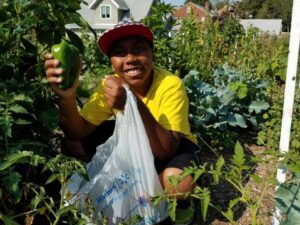 Learning Outcomes
25
Youth reporting change in knowledge, attitudes, skills and/or awareness
Project Outcomes
3
Grants received that built upon this project
2
New working collaborations
Increased organizational support to explore and teach sustainable ag:
Yes
Success stories: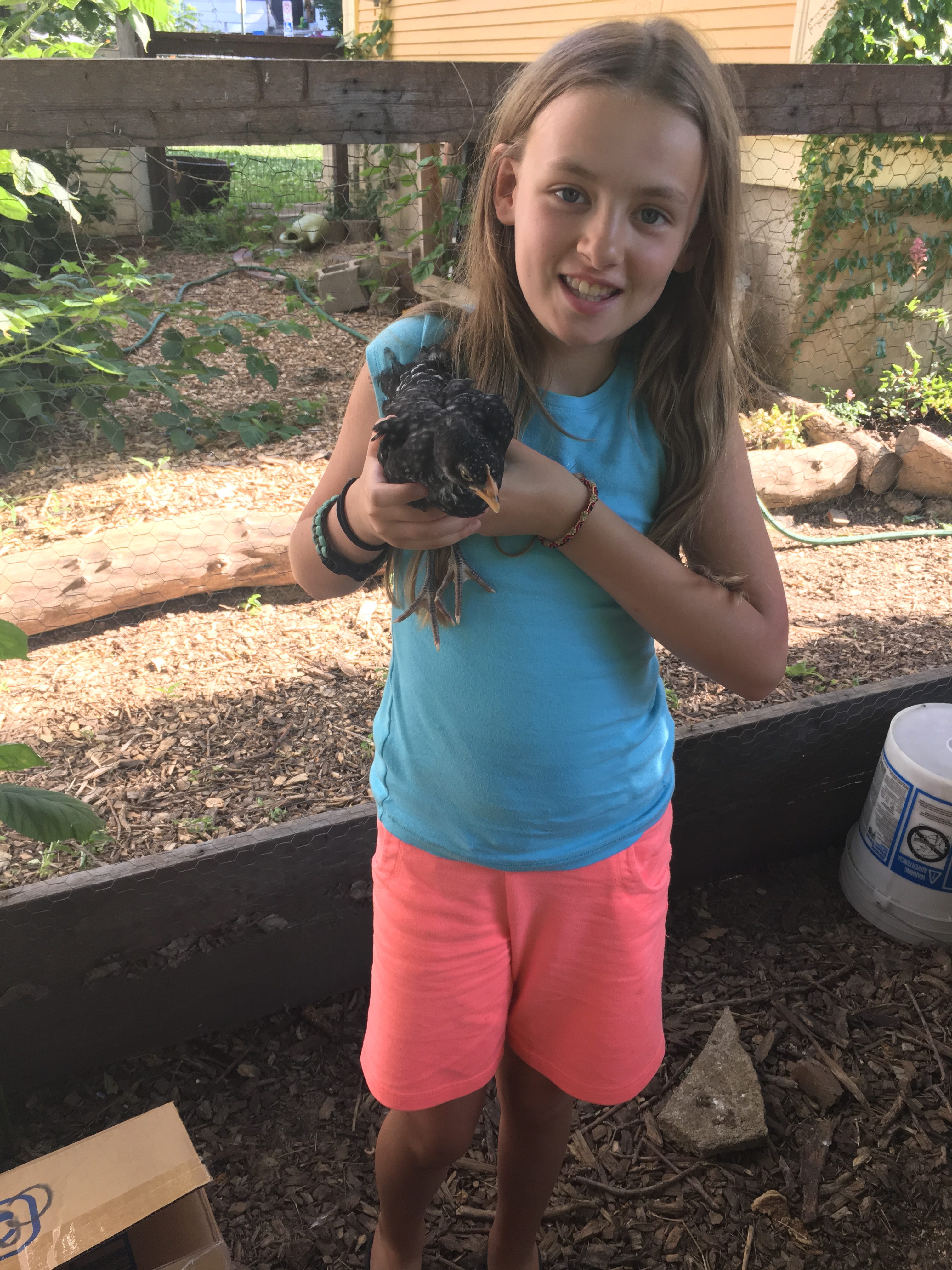 We received help on this project from a 5th grader who lives in the Gifford Park Neighborhood. She is an active gardener at the Gifford Park Youth Garden and during this past growing season, she helped raise the chickens for the Community Garden Coop. She helped pick out the breeds we would keep at the coop: Cuckoo Maran (pictured) and White Leghorn. She raised twenty birds from day old chicks to three-month old hens at her home in the neighborhood. She cared for the birds daily, while also tracking the costs of raising the flock. At the end of three months, she totaled the costs and sold the flock to Big Muddy.
She took ownership of her task and raised a very healthy flock. It was a pleasure doing business with this young entrepreneur in the neighborhood.
Information Products