Final report for YENC17-119
Project Type:
Youth Educator
Funds awarded in 2017:
$2,000.00
Projected End Date:
01/31/2019
Grant Recipient:
Lincoln Land Community College
Project Information
Summary:
Lincoln Land Community College utilized existing high tunnel infrastructure to establish a hands-on sustainable agriculture training program for low-income, disadvantaged community youth in partnership with the Boys and Girls Club of Central Illinois. During the program, participants were introduced to all aspects of gardening from soil to harvest, food system concepts, and culinary preparations of farm produce. The students participated in weekly taste tests to learn seasonality and adopt preferences for new foods. The students were also given entrepreneurial experience by staffing a campus farm stand. In addition, in order to develop leaders and future employees, the kids learned soft skills such as problem solving, working in a team, and communication through farm program activities and connecting with college leaders. 
Through this program, students increased their knowledge and abilities for growing and cooking farm food, and developed a preference for new foods and farm grown foods. For example, through a pre and post program survey, the percentage of students who reported being able to explain how to make compost increased by 206% and the percentage of students who reported being able to harvest a tomato without damaging the plant increased by 191%. Of the three culinary skills measured (trimming and cutting green beans, chopping and preparing a potato, and using a blender) students reported an average increase of 107%. In addition, of the five foods measured (beets, cucumbers, carrots, sage, and fresh juice) students reported an increase of liking the foods by an average of 78%.
When given the opportunity to practice skills for growing, cooking, and tasting sustainably grown foods in an atmosphere of discovery, students like participating in the activities, gain confidence in their abilities, and develop a foundation for being healthy, environmentally-connected individuals.
Students reported intentions to grow food, assist with cooking duties, and work with their parents to eat more farm grown foods. One student shared at the end of the program, "I learned about growing food. I don't go outside much and didn't know anything about it. Now I can grow my own vegetables." 
Project Objectives:
Introduce program participants to agricultural career exploration, food production for self-sufficiency, and entrepreneurial training through instruction in sustainable agriculture, culinary education, and farm stand management.
Engage students with sustainable gardening practices including composting, crop rotation, seed selection for climate, pest and disease resistance, and companion planting.
Develop workforce and soft skills such as budget management, self awareness, employer needs, and career assessment.
Extend impact of program through teacher education, newsletter, press release, social media posts, and journal article.
Cooperators
Educational & Outreach Activities
3
Curricula, factsheets or educational tools
25
Published press articles, newsletters
5
Webinars / talks / presentations
Participation Summary:
Education/outreach description:
Alana, the garden educator, used several publications in her preparations for each class and in the program with the students. For example, she used an Illinois Agriculture in the Classroom publication featuring pumpkins to talk about Illinois being the world's largest producer of pumpkins in preparation for the students to cook with the Dickinson pumpkin. Alana used Slow Food USA's School Garden Curriculum to instruct activities related to pest management and beneficial insects leading students to identify corn earworm damage, and she used curriculum from the National Corn Growers Association to instruct students on corn development so that they could identify the parts of a corn ear. 
Eighteen high school students participated in a six-week summer program where they were divided into small groups and rotated between working in the high tunnels, selling produce at the farm stand, and working with a staff member from Lincoln Land Community College on a topic related to workforce development. The students spent one day each week at the college and the remaining days were spent visiting employers in the community. The same students attended each week of the program. At the end of the six weeks students prepared food from the garden for their parents telling them what they learned about the food. 
Twenty elementary age students participated in a six-week fall program where they rotated between the campus gardens where they learned how to grow food sustainably and the kitchen where they learned to cook foods from the campus gardens. Some of the students participated in each program and some students participated in one or more sessions. 
On farm demonstrations took place on the Lincoln Land Community College campus which houses two high tunnels and 42 outdoor raised beds. The garden educator showed students how to complete a particular task each week of their program, and then they repeated the task many times to learn how to garden sustainably. Demonstrations included soils and compost, direct seeding, transplanting, crop rotation, companion planting, pest management, disease management, and harvesting. 
The college sent out a press release during the program that attracted the attention of our local newspaper who came to visit the program in action with students running the farm stand and farm work. This article http://www.sj-r.com/news/20170717/teens-get-business-experience-running-food-stand was picked up by more than 12 newspapers across the country. Additionally, the college reported on the project in daily newsletters sent to all campus staff informing them of the project, encouraging staff to visit the students at the farm stand, and reporting on successes of the project. The project was featured in the annual report for Lincoln Land Community College and the electronic newsletter for the Illinois Farm to School Network.  
High school students participated in a hands-on farm tour of Parkes Family Produce. Three farmers (including a summer intern from the high school FFA program) led various portions of the tour introducing students to farm operations, farm business management, farm challenges, and the daily life of a farmer, as well as, connecting them to how food is grown and how the food system works.  
The elementary school students were introduced to Gus Jones of Small Axe Market Gardens who spoke to them about the benefits of local food for health and the environment, seasonal growing, and the three main components of soil. The group discussed the tilling process and equipment, and the differences between tilling versus no tilling practices. They also discussed the differences between farmers markets and grocery store foods. 
Staff of Lincoln Land Community College instructed students in activities to help prepare them for the workforce. The director of student success facilitated a program to help the students learn their strengths and weaknesses and how knowing this will help them become more successful. The career development director guided students through an online career assessment. With the financial aid director the students completed a budget management exercise and inputted desired lifestyle data into a program that then told them how much money they would have to earn annually to maintain their desired lifestyle. This was an eye-opening experience for the students and helped them start thinking about their priorities in life and connected well with concepts of sustainability. The truck driver training instructor taught students about employer expectations across industries and talked to the students about how trucks are used in the food system. Finally, the director of the TRIO program helped students understand what it takes to be successful in college.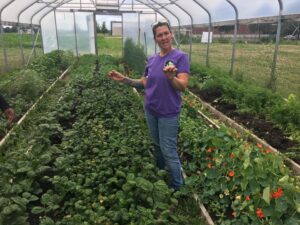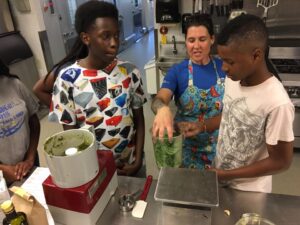 Sent by the Public Relations and Marketing department at Lincoln Land Community College.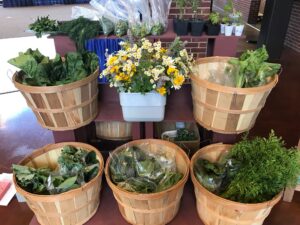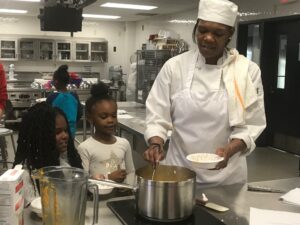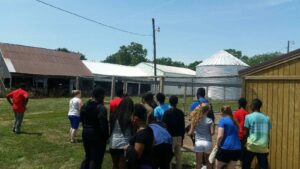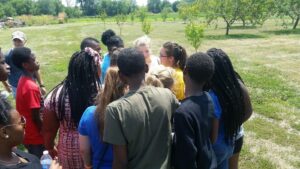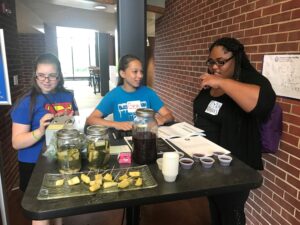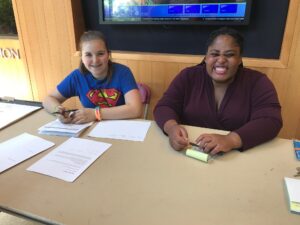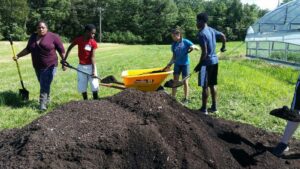 Learning Outcomes
38
Youth reporting change in knowledge, attitudes, skills and/or awareness
Project Outcomes
2
New working collaborations
Increased organizational support to explore and teach sustainable ag:
Yes
Explanation for change in organizational support to explore and teach sustainable ag:
The success of the program brought positive attention to the garden program and provided the encouragement that leadership needed to see the value of investing in sustainable agriculture as a means of educating students.
Success stories:
Beginning on the first day of the program, students would ask what something was if they had not seen it or tasted it before. One person would be brave enough to ask and try the item which gave the others in the group the confidence to try. Sometimes it took a full hour before the stragglers would try, but in the end they all did every time. The group taste tasted mustard greens for the first time which sparked much discussion. One student loved the blackberry and sage cooler exclaiming that she could "drink the entire container" which made others want to try it even though they were not used to seeing such a color in a drink before. This happened with the spinach dip which used fresh spinach and did not look like the spinach dip at Applebee's causing initial skepticism among some students, but with at least one person willing to try the food, the others eventually followed. Seeing new items on a weekly basis, students learned to recognize foods that they had previously not seen such as kale, bok choy, a wide variety of herbs, purple beans, and much more.
The taste tests were conducted at the farm stand so that shoppers and students could try the items, but every week I had to cut students off from samples after sometimes up to 10 or 20 so that everyone would have the chance to try the item. One student commented about the pickles saying, "the flavors keep going and changing in my mouth". Another told me that they could not eat pickles from the grocery store anymore because she had tasted what a pickle should taste like. Students were given recipes for everything they tasted to make at home with their families. One of the educators from the Boys and Girls Club even reported making the cucumber dip for a family gathering.
One student was eager to write receipts so began asking everyone walking by if they want to purchase something from the farm stand. This practice inspired others to do the same and in the second week the group sold $20 above the previous week. At the farm stand a student asked people to buy items from the farm stand to support their learning. They learned many sales techniques to sell produce.
In the kitchen, two of the high school students hugged Alana and thanked her for the cooking experience. During a cooking session with the elementary students a child stated that he "needed a hug" which prompted the entire class to run around giving all of the adults in the room hugs. After eating the pesto pasta made by the students one said "you can taste how fresh the ingredients are and it tastes better".  Almost every student exclaimed repeatedly and astoundingly that the food was so fresh.
One student took pictures of the pesto pasta they made with Alana and then used the pictures to sell basil at the farm stand by showing people what they made. Another student taste tested fresh beans in the high tunnel the previous week and then exclaimed how good they were when she saw them for sale at the farm stand the next week week. This was overheard by a customer who then purchased the beans as a result. 
At then end of the high school program we asked students what stood out as highlights of what they learned. The following is a selection of responses: 
Working the farm stand I learned how to express myself and communicate with people to sell food. 
I learned how to space plants, write receipts, and how good food is. 
I learned how to sell vegetables. 
My most favorite activity of the six week program was cooking with our food. 
I learned that food can be used in many different ways. You don't just have to eat a plain carrot.  
I learned about growing food. I don't go outside much and didn't know anything about it. Now I can grow my own vegetables.