Progress report for YENC22-178
Project Type:
Youth Educator
Funds awarded in 2022:
$6,000.00
Projected End Date:
01/15/2024
Grant Recipient:
Learning Tree Institute at Greenbush
Project Information
Summary:
Capitalizing on an existing hydroponic production greenhouse and in-house culinary arts program, 4 instructors will receive tower gardens, and an additional 8 instructors will receive smaller hydroponic setups. All instructors will receive professional development on implementing an aeroponic/hydroponic program within their classrooms. Students will be introduced to potential careers in agriculture, as well as culinary arts, and restaurant management.  It is anticipated this project will directly impact up to 240 students. Instructors will receive on-site instruction in a production greenhouse and both instructors and students will tour a production greenhouse and culinary arts program in fall 2022 and 2023.
Project Objectives:
Provide four instructors with a tower garden and an additional eight instructors with hydroponic deep water culture tubs for their classrooms.
Provide professional development to instructors on how to start, grow, and maintain their gardens and introduce aeroponics to students.
Provide students with field trip opportunities to a production greenhouse and culinary program to increase career awareness.
Educational & Outreach Activities
2
Curricula, factsheets or educational tools
3
Published press articles, newsletters
4
Webinars / talks / presentations
Participation Summary:
Education/outreach description: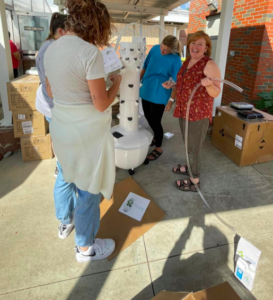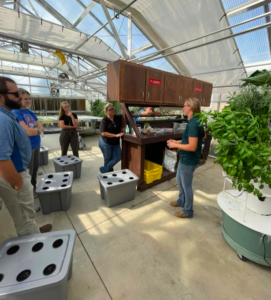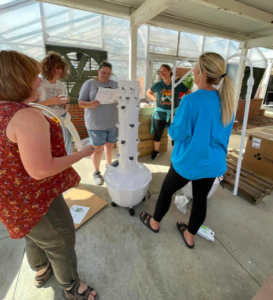 The first phase of our outreach was a day of professional development Sydney Becker provided on the Greenbush Campus for 13 teachers from local districts.  At this time 8 instructors received their hydroponic grow tubs, plants, and supplies. Instructors chose to go ahead and take her aeroponic grow tower, plants, and supplies. (Pictures above, link to presentation: SARES PD Day)
     Over the course of the following month, Sydney Becker traveled to the 3 remaining districts to set up their aeroponic tower gardens and bring plants to stock the tower. We have continued to stay in touch with all the instructors as a resource, as well as to replace supplies, and provide new plants if needed.
We provided participating instructors three dates to choose when they attend a "Farm to Table Career Day" event. We had 3 instructors out on November 8th, 2022, 5 instructors out on November 30th, 2022 and have 4 instructors scheduled to bring classes out on January 17th, 2023.  Students had a rotation in the greenhouse, where they learned about the hydroponic system, water quality, sustainable growing methods, related careers, a fun herb identification activity, and harvested lettuce.  Students then took their lettuce to the next rotation which was with Dawn Jackson our Culinary Director.  The students prepared salads from the heads of lettuce and added other vegetables, and made homemade dressings.  Dawn also talked about ways to reduce food waste by making stocks and broths, donating scraps to local farmers livestock, and our composting program. The third rotation was making omelets with our camp coordinator Emily Roth, highlighting easy to grow produce from our greenhouse, and how you can locally source eggs and other ingredients.  The last rotation was provided by our local K-State Research and Extension office.  They gave a presentation on careers related to agriculture, and had some fun corresponding activities.  We received an abundance of positive feedback from students as well as the instructors involved.
We have posted updates on grant related activities in our campus weekly "All-Call", our Greenbush Monthly Newsletter, and on our Greenbush Student Enrichment facebook page.