Progress report for YENC22-186
Project Type:
Youth Educator
Funds awarded in 2022:
$5,815.00
Projected End Date:
01/15/2024
Grant Recipient:
Allen Neighborhood Center
Project Information
Summary:
This project will focus on the processes involved in local sustainable agriculture via wholesale market participation. Youths aged 11 to 17 will grow, process, and distribute their own herbal tea blends while learning about the experiences of other local farmers, the resources available to develop agricultural products, and the communities that they serve. Each session will denote how a portion of the local agricultural market operates, from the farm spaces to the endpoint distribution.
Project Objectives:
Provide youth with vocational practice in sustainable agriculture sectors, as well as local networking connections with farmers and distributors.
Educate youth on sustainability within local food systems in a culturally relevant and economically applicable manner by collaborating with a diverse group of local farmers.
Prepare young community members for favorable prospective career paths in sustainable agriculture through wholesale marketplace participation with tea blends.
Allow the community access to locally grown, shelf stable food products that are lacking in current distribution yet in high demand.
Report on the results of this project for the benefit of community members and other educators.
Cooperators
Educational & Outreach Activities
2
Webinars / talks / presentations
Participation Summary:
Education/outreach description:
This project entailed three main forms of education for YSC participants: 
1. Hands-on learning via related activities with the project coordinator, Allen Neighborhood Center staff, and other interns and volunteers.
2. Demonstrations of standard practices and techniques needed to complete the project safely and effectively.
3. Farm and community garden tours led by local experts in the Lansing area.
These educational activities allowed YSC members to learn the basics of herbal agriculture, safe and sanitary kitchen practices to utilize when processing and packaging tea ingredients, and how to manage a small business with proper planning and market strategies. The various methods of learning also provided youths with enough time to not only comprehend the information being relayed to them, but also to ask questions and create valuable discussions amongst the group that oftentimes resulted in more effective techniques being established. For instance, streamlining tea processing tasks became the norm at the height of tea production during the summertime, wherein each YSC member attended to specific duties in the chain of production rather than working all together step by step.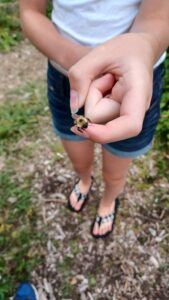 YSC member befriends carpenter bee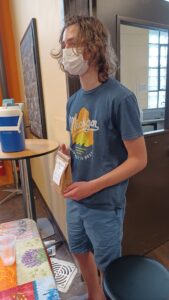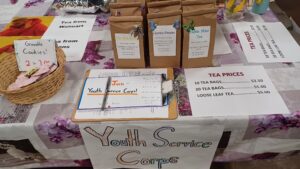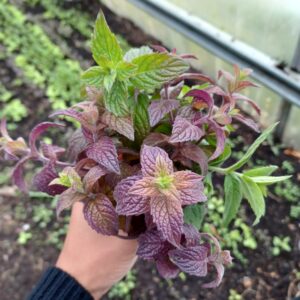 Learning Outcomes
11
Youth reporting change in knowledge, attitudes, skills and/or awareness
Key changes:
Urban agriculture

Tea making

Sustainable agriculture

Culinary arts

Kitchen Safety

Local food

Business management

Herb identification

Health and nutrition
Results and discussion:
To track increases in knowledge gained from our tea blends project with the Youth Service Corps, we used quarterly surveys as well as typical daily discussions in groups and one-on-one chats with youths to gather results. According to initial presurveys of knowledge and experience, approximately 30% of participating youths had some amount of agricultural experience or knowledge of agricultural practices before joining the YSC. When surveyed again after at least one school semester, nearly 85% of all YSC members reported some amount of knowledge gained from participating in the tea blends project as of December 31st, 2022. Other subjects that YSC members particularly gained a heightened comprehension of during this project are culinary arts (92%), local agriculture (85%), business management and savings (54%), and healthy eating practices (54%). Older participants (ages 13-15) were more likely to see an increase in knowledge of topics like business management than younger participants (ages 11-12), while younger participants were more likely to self report ongoing interests in agriculture and other ecological endeavors.
The preset forms of instruction, trial and error, and demonstrations from local experts resulted in positive changes in reported understanding of topics, but peer-to-peer knowledge proved to be invaluable to our endeavors. For example, a few YSC members joined the project with some amount of previous agricultural experience, either with crop farming or permaculture gardening. Although their knowledge of herbal gardening and producing a market-ready item was acquired through instruction in this program, their previous experiences and ease with farming had a noticeable influence on those YSC members with little to no previous experience with these subjects. They were better able to understand concepts like land stewardship and the role that local agriculture plays in sustainability efforts, and were therefore easily able to answer questions from peers and support their gradual comprehension of the practices at hand. If one YSC member knew something new or helpful to the whole of our mission, we all benefitted from the discovery or distribution of information. This type of learning greatly improved the results of our project, and fostered valuable connections between youth participants. 
Project Outcomes
2
Number of youth considering a career in sustainable agriculture
2
Grants received that built upon this project
6
New working collaborations
Increased organizational support to explore and teach sustainable ag:
Yes
Explanation for change in organizational support to explore and teach sustainable ag:
Although the Allen Neighborhood Center was always supportive of the Youth Service Corps mission of community service and youth education, being able to track and report the results of YSC endeavors like the herbal tea blends project allowed all members of staff to better grasp the impact of this youth program. The majority of YSC members have reported substantial increases in knowledge and experience on topics related to this project, some have stated that this will influence their future career or educational pursuits, and others have reported that they use what they've learned to some capacity in their day-to-day lives. The YSC has also made about $200 in profit from their farmers market sales alone as of December 31st, 2022. These results have greatly increased the commitment shown to the YSC by the organization as a whole.
Parents adopting sustainable agriculture practices:
3
Sustainable Agriculture practices parents adopted: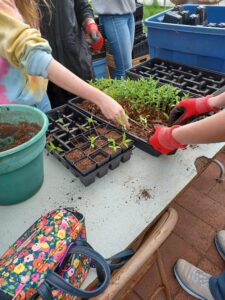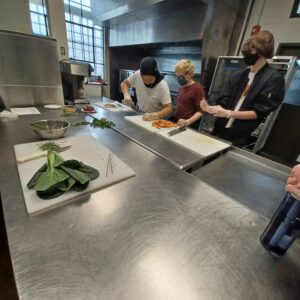 The YSC grew and harvested a lot of native plants like echinacea for its tea blends, and members also created plantable seed paper "cookies" containing echinacea seeds to grow more plants in new gardens. One parent reported having planted their own row of echinacea near their property, along with the seed cookies created by the YSC member, to begin their own edible native pollinator garden.
Two other parents reported that they were visiting the local Allen Farmers Market for most of their produce after their children had gotten involved with the YSC. 
Recommendations:
Thank you for supporting our herbal tea blends project. The YSC is now better able to commit itself to creating local and sustainable options for the needs of its youth participants, as well as Lansing community members, and we're excited to share the final results of this project in the near future.