Project Overview
FNC13-905
Project Type:
Farmer/Rancher
Funds awarded in 2013:
$7,500.00
Projected End Date:
12/31/2015
Annual Reports
Commodities
Agronomic:

sunflower, wheat, grass (misc. perennial), hay

Animals:

goats
Practices
Animal Production:

feed/forage, winter forage

Education and Training:

farmer to farmer, workshop, youth education

Farm Business Management:

budgets/cost and returns, feasibility study

Production Systems:

organic agriculture, transitioning to organic, integrated crop and livestock systems

Sustainable Communities:

new business opportunities, sustainability measures
Summary:
Small dairy goat farms can benefit from growing their own live fodder, especially during the periods of the year when there is no grass for grazing. This project was not able to establish that the live fodder improved the milk production of lactating goats. The evidence for that was not obvious. The economic benefits of the project, as to whether costs involved with growing fodder on a scale large enough to feed goats on a daily basis, are also not easy to show. The increase in milk production was not substantial, but purchasing conventional seeds (non organic or non GMO) and growing them was not costly.
The overall perspective gained by this project is that as a year round food supplement, perhaps 25% of the goats food, live fodder is a good thing. It cannot totally replace dry matter (like feed and hay), but it is nonetheless a healthy supplement. The design of the system, as evolved over time by the owner of the farm and her staff is a good and efficient one.
The dairy goat farmer Linda Dushane  improved on the fodder system funded by NC-SARE and continues to feed her dairy goats fresh fodder, even as the weather in the north and central Illinois turns consistently cooler with the approach of winter.  Photos and videos of the new system are included under the section Future Recommendations)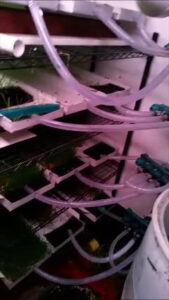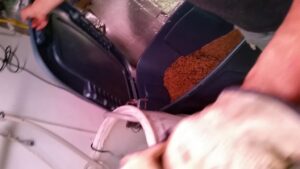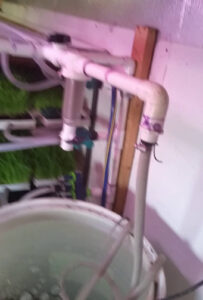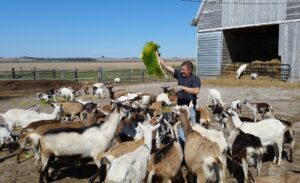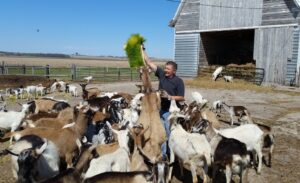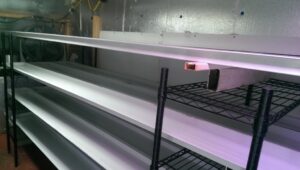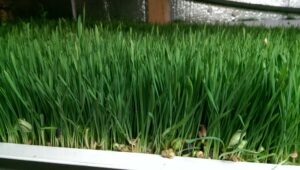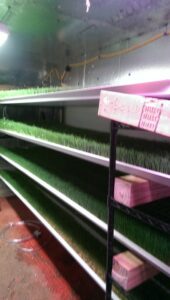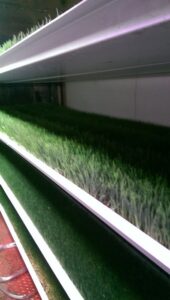 Introduction:
Small dairy goat farms – those with limited acreage – need to supply feed and hay from sources external to the farm. Growing live fodder hydroponically is one way to supply live food year round to the dairy goats. Linda DuShane, a dairy goat farmer for over 10 years felt that the lack of live food for her goats during winter months was not a good thing. Additionally she wanted to explore non conventional feed for the goats, and thought that growing live food would be less expensive than using organic and/or non GMO feed.
One way to grow food year round is to use hydroponic methods. In a temperature controlled environment, sprouts can be grown with just water, and then harvested after one week to feed to the dairy goats. The hydroponic setup can allow racks of trays to take minimum horizontal space. For limited acreage farms, that is a big plus.
Linda decided to retrofit an RV trailer with more insulation and new plumbing and electrical connections. This allowed a 14 by 8 ft space for the racks, watering mechanisms and seed storage. The setup allowed for the growing and harvesting of 70 lbs of fodder per day, all year round. The main costs involved labor, seeds and electricity. With unmetered water available at her farm, water was not a financial concern.
Project objectives:
Since one important objective was to see if growing fodder hydroponcally would be less expensive than going with all organic feed, there is the cost factor to look at. 
In our region where there are no local suppliers of organic feed (such as Linda's area), to obtain organic goat feed via mail order is possible, with shipping adding to the overall expense. Five 50 lb bags of organic goat feed would cost $145, plus $100 for cheapest shipping. That would amount to about $250 for 50 lbs, or $1.00/lb. So, feeding 60 goats 1.5 lbs a day would require 90 lbs of feed, which would cost $90. Lactating goats require more feed, so the cost could go higher, to over $100 a day for the organic approach. 
The local non-organic feed is much cheaper, about $ 15 for 50 lbs, and can be easily obtained locally. This is 34 cents a pound, or $31/day for 90 lbs. With some of the goats lactating, the daily cost could rise to $40/day.
Hay is another item that can be organic and not organic.  Linda is not able to obtain organic hay in sufficient quantity and so relies on non-organic hay.  Goats always need hay, regardless of other sources of food, such as feed, sprouted fodder or grass to browse.