2015 Annual Report for FNC15-1010
Project Type:
Farmer/Rancher
Funds awarded in 2015:
$5,680.00
Projected End Date:
02/15/2017
Grant Recipient:
Perkins' Good Earth Farm
On-Farm Recipe Trials and Yield Impact from fermented compost (bochasi) for vegetables
Summary
The first year of the project we perfected the recipe and method of BC production. We used three raw ingredients- leaves, methane dairy digester solids, and kitchen scraps to produce 3 batches of BC. 
A basic compost analysis (C6 – OM,Carbon, C:N, pH, Salts,S,Ca,Mg,Na,Fe, Al, Mn,Cu,Zn, NH4) was run on all three batches to compare.
See below A and L Lab Analysis of the three types of bokashi compost.
2015 3 Receipes compost analysis
Objectives/Performance Targets
Dr. Hoagland's lab amended potting mix with the amendments (bokashi kitchen scraps, bokashi leaf litter, bokashi methane digests, or vermicompost) at a rate of 10%, 20% or 30%, and planted basil cv. genovese.  Interestingly the leaf 10% and vermicompost 10% are both significantly greater than the control. And check out what happens to the leaf bokashi as the rates go up.  More analysis is being conducted and another round of rates and bokashi will be tested in 2016.  See chart below.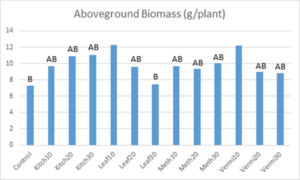 Accomplishments/Milestones
Completed three recipes.
Conducted compost analysis
Completed one greenhouse growth study.
Impacts and Contributions/Outcomes
It appears that the leaf compost will be our best recipe for both yield impact and ready material we have available.
We will repeat in spring 2016 and run a full compost analysis on chosen recipe.
Yield studies from field yield studies in 2016 will further test impact of bokashi.
Collaborators:
Dr. Lori Hoagland
lhoaglan@purdue.edu
Associate Professor of Horticulture and Landscape Archtecture
Purdue University
625 Agricultural Mall Dr.
West Lafayette, IN 47906
USA
Joan Perkins
Bokashi Chef
Farm Member
615 Mercedes Lane
Demotte, IN 46310