Project Overview
FNC15-1015
Project Type:
Farmer/Rancher
Funds awarded in 2015:
$7,476.00
Projected End Date:
02/15/2017
Grant Recipient:
Berry Goods Farm LLC
Annual Reports
Information Products
Commodities
Vegetables:

greens (leafy), greens (lettuces)

Animals:

poultry

Animal Products:

eggs
Practices
Animal Production:

animal protection and health, grazing - rotational, pasture fertility

Crop Production:

cover crops, cropping systems, high tunnels or hoop houses

Farm Business Management:

whole farm planning

Soil Management:

green manures, organic matter, soil analysis
Summary:
Integrated farm systems contribute to sustainability in multiple ways on the farm. The Coop House project attempts to integrate poultry production with winter vegetable production.  The schedules are complimentary here in the Midwest, so that these enterprises allow for year round income for the farmer. Indeed, they allow the sale of winter vegetable crops with chicken harvested from the summer season and frozen, creating the possibility for a mixed meat and vegetable CSA offered year round, which helps with continuity of marketing and customer loyalty.  We did not attempt to offer a CSA during the time of this experiment, but may try one in the future as our farm gets a solid schedule worked out with vegetable and poultry integration.  These houses are built on such a scale that they are best tailored for a farm business that aims to sell poultry largely in the retail market, not necessarily on the wholesale scale.  The use of pastured poultry also contributes to the health of the soil on the farm, increasing soil organic matter and other nutrients for the crops following.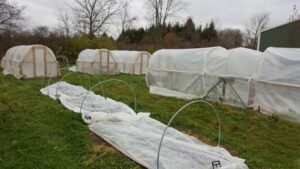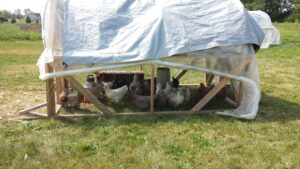 Introduction:
The coop house concept is overall most fitting to a smaller farm operation, although it could be expanded using a larger movable structure.  As a winter low tunnel in Indiana, the two winters we tested this model were pretty successful.  Cold hardy crops such as kale and spinach were harvest-able the entire winter with the addition of a frost protection cloth inside the house.  The coop house used as a hoop house or low tunnel, performs much the same as other unheated greenhouses, having some significant temperature fluctuations in the early spring when the weather is variable, but generally averaging one zone south in its growing capability.  The fact that the greenhouse is movable was a distinct advantage in controlling pest populations.  There was no build up of aphid or other typical greenhouse pests because the houses were rotated off of the greenhouse beds in the summer and different field crops were grown in the place of the winter greens, adding to the rotational diversity. 
The mobile "coop house" is a versatile design well suited to a small farm and/or urban market garden setting.  It allows the farmer to utilize the house for chickens in the summer and high tunnel type growing in winter with very low input costs to build.  The ability to move these houses has been a significant advantage for pest population control and for controlling exactly where the chicken manure is applied to the field.  In our case, we move the chicken houses between rows of blackberries in early spring and through fields that we plan to rotate into vegetables in the next two years.
The farm can also respond to the current business climate, especially in winter, by utilizing the houses for more vegetable growing or for overwintering egg laying flocks depending upon demand. We experimented with both, finding that the greenhouse makes for an excellent heater to keep a flock of egg layers warm in winter as well as allowing for a lot of light to stimulate egg production.  We built 8 houses, 2 of which we used for overwintering chickens in 2015 while the other six were connected together to form three 26ft by 6ft high tunnels in which we planted kale, spinach,lettuce, arugula, chard, mustards and salad mix.  Following a schedule of early fall planting and harvesting mature crops over the winter worked the best.  We replanted some lettuces in early spring, allowing us to harvest a month earlier than the field grown lettuces before putting tarps over the tops of the houses and using them for chicken production again. This year, we will experiment with using one or two of the houses to get an early start with heat loving crops while raising a batch of meat chickens with the other houses.
Project objectives:
Our objective was to have a versatile system that integrated pastured poultry with vegetable production.  The coops had to be moveable and yet combine together to be a large enough growing area to work in during the winter.  We feel that these objectives were met with success.  The pens worked well for pastured poultry, were easily movable and helped us control exactly where the manure was applied.  This allowed us to fertilize between rows of brambles safely.  The pens also serve as a decent, low cost high tunnel, tall enough to work in, but small enough to manage easily with hand tools and to rotate beds for winter market gardening.