Project Overview
FNC16-1039
Project Type:
Farmer/Rancher
Funds awarded in 2016:
$7,435.00
Projected End Date:
01/30/2018
Grant Recipient:
Hudson Farms
Commodities
Agronomic:

sorghum (milo), soybeans
Practices
Crop Production:

no-till

Production Systems:

general crop production
Summary: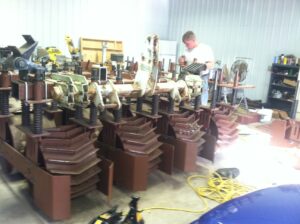 I have spent many hours in  the shop fabricating/building the rolling implement project. At present, I have constructed what I feel is a good start on a prototype of my proposed implement. For the first prototype, I started with 3 sets of two in-line wheels, the front built with a chevron design crushing bars, the second smooth to mash and also apply herbicide directly to the macerated weed.   I was able to use this prototype to make a trial run through about 25 acres of Milo; the crop was matured to approximately a 30-inch stand. For my first run-through, I felt I needed to do a little re-designing but, overall was pleased with the success' that I had. My plan is to finish the machine with 7 sets of wheels to easily move through a 30 row crop. I have also fashioned it with lift assist wheels, my theory was to relieve the weight on the tractor's 3-point hitch lift assembly. I thought this would also allow a smoother turning process.
Project objectives: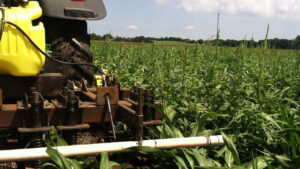 Roller implement in Milo field showing the wicker bar. Note in the photo, you will see tall, problematic weeds that many farmers are trying to manage in no-till row crop. Our objective was to build a mechanical implement that would crush and kill herbicide resistant weeds without tilling the ground in no-till row crop. The target for us is to combat the crop-choking weeds farmers are fighting, such as pigweed, palmer amaranth and other tall weeds that can take over a crop. We were able to do a trial run in a Milo field with the prototype and found it to be effective using the theory of first crimping, then crushing the weeds and following with the application of herbicide. Applying the herbicide directly onto the crushed weeds between rows and also the hitting the taller weeds within the row with the wicker bar.