Project Overview
FNC16-1043
Project Type:
Farmer/Rancher
Funds awarded in 2016:
$7,428.00
Projected End Date:
01/30/2018
Grant Recipient:
Food for People KC
Annual Reports
Commodities
Agronomic:

corn

Vegetables:

carrots, greens (leafy), okra

Additional Plants:

herbs
Practices
Animal Production:

herbal medicines

Crop Production:

no-till, pollinator habitat

Education and Training:

demonstration, mentoring, networking, workshop, youth education

Farm Business Management:

grant making, land access, new enterprise development

Natural Resources/Environment:

carbon sequestration, habitat enhancement

Pest Management:

mulches - killed, prevention, sanitation

Production Systems:

holistic management

Soil Management:

composting, green manures, soil quality/health

Sustainable Communities:

community development, ethnic differences/cultural and demographic change, leadership development, new business opportunities, partnerships, quality of life, social networks, urban agriculture
Summary:
WORK ACTIVITIES
We spent the months of February and March creating a program curriculum and recruiting volunteers and program participants. Recruiting participants was done by word of mouth, networking with other community organizations, creating Instagram and Facebook pages, and posting flyers around different neighborhoods. 
The Program Director is now chairing the Health and Gardening Committee of the Historic Manheim Park Association and has been effective in advocating for the acquisition of another vacant lot for that organization. The Health and Gardening committee has been facilitating development plans for this site, which include a nursery for the benefit of community members and as an additional site for planting native species. There has also been discussion about experimenting with Hugelkultur. Managing this lot will further our goal of introducing healthy foods to low-income community members and educating them about the importance of native plants and sustainable planting techniques. 
We continue to offer workshops to participants in the following areas: organic farming; nutrition; photosynthesis; native plants; pollinators, solid waste management and recycling.
RESULTS OF PROJECT AND LESSONS LEARNED SO FAR
The project is ongoing, so I am sure that we will perennially learn from our challenges and successes.
Obiagele Lake, Program Director, facilitated demonstrations on planting techniques and plant maintenance. Program participants had never planted seeds or seedlings before, so the planting workshop proved very informative. Participants planted their seeds and seedlings in raised beds and also planted melon seeds in other locations on the farm. We also offered workshops on nutrition, native plants, pollinators, and recycling.
Participants attended "Go Native," an event sponsored by the Discovery Center in Kansas City, Missouri, where they received free tree plants and other native plants. There were also workshops where children learned about the kinds of Missouri native grasses and flowering plants. They also learned how to make "planters" out of newspaper and how to make seed balls with clay and native seeds.
Participants attended a Recycling workshop, presented by Mid-America Regional Council (MARC). They learned the importance of recycling as a way to preserve our natural resources and that methane produced in landfills contributes to harmful climate change. We also learned more about what items can be recycled and what materials needed special handling.
We administered pre and post assessments to find out what students had learned from the project. Assessment results indicated that participants gained knowledge about the benefits of pesticide-free faming, planting techniques, nutritional value of consuming fresh vegetables, and the role of pollinators in sustaining the environment.
The lessons learned by Food for PeopleKC (FFPKC) were of a different nature. Although FFPKC staff and volunteers learned valuable information from the workshops and events, we also learned about the cost of labor, materials, and equipment. While we did hire laborers for grounds preparation and maintenance, finding good workers was, and continues to be, a difficult task. The cost of hiring labor from well-established, larger companies was prohibitive, which forces small organizations like ours to hire individuals from on-line sources and face-to-face encounters. Some of these workers have been helpful in preparing the field, but others are unprepared to do the jobs for which they were hired. But we are forging ahead and are organizing a pool of reliable laborers who will be working for us in the near future.
Another problem is the nature of the funding. We appreciate the funding provided by SARE. We would not have been able to begin our project without these funds. Before we began work at Highland Farms, the area was a morass of dilapidated fencing, invasive plants, saplings, and debris that had been in the field for many years. SARE funding helped us clear 95% of the field, purchase soil, amendments, and tools. Funding also allowed us to organize educational workshops. However, our experience has taught us that receiving grant funds in installments prevents us from purchasing larger equipment or structures that are sorely needed. For example, we need a railroad storage container to use as a shed at the farm. These containers can cost $10K or more. Even the cost of a used container begins at $2000. We were not able to purchase one because of insufficient funds. We now keep our equipment in a garage not located at the farm site, which makes it cumbersome to bring tools to the field if a truck is unavailable. If one of our workers is without a truck then we have to rent one, which takes money away from other items. A metal storage container at the farm is an absolute necessity in order to minimize the likelihood of break-ins.
WORK PLAN FOR 2017
The results of our project is that we have converted derelict, abandoned properties into a vibrant landscape. This transformation has changed the look of the neighborhood, created a safer, cleaner space, and has attracted other farmers to purchase adjacent properties. 
Our work plan included retaining a portion of the urban farmers from 2016 and recruiting new participants. Participants in our Growing Families project gained knowledge and experience about growing their own food; how toxins in the environment affect our health; and the relationship between fresh food and disease prevention. 
OUTREACH
We shared news about our events and projects via Facebook, Instagram, email newsletters and face-to-face contacts.
We interface with other community organizations and farmers in order to share best practices and to stay abreast of funding and educational opportunities. In 2017 we also networked with other small farmers and reciprocated work days for our respective projects. 
We continue to network with the following organizations:
The Discovery Center offers workshops and camps that inform participants about native plants, native trees, and beneficial insects.
Bridging the Gap offers workshops on native gardens, butterfly plants, and the importance of providing habitats for bees and other pollinators. These workshops include the role of native plants in sequestering pollutants from the air and the soil.
Mid-American Regional Council has provided workshops and shared information on air and water quality, recycling and recycling resources in Kansas City, Missouri.
Urban Neighborhood Initiative (UNI) has been helpful in providing a platform for meeting other urban farmers, naturalists, and community workers in a setting where we can share ideas and successes. 
UNI has provided additional grant funds to help us expand our native habitat in 2018.
We are also in the process of developing a website in order to augment our outreach efforts. We are using WordPress to develop this site, but, once this is completed, we plan to export the content to another, more flexible site. To customize the site and give it more depth and flexibility, we will need more funding to hire a different web builder. Nevertheless, we are excited about our current site, soon to be published, because it will be our first, and because it outlines our programs, disseminates information to larger audiences; offers volunteer opportunities; and provides another funding channel.
In 2017 we also began planning the extension of our "Growing Families" project to include "Children Grow Native." We plan to work with elementary school teachers to organize programs that focus on native plants and how these plants benefit pollinators. The program includes workshops where children, ages 7-12. Children will engage in hands-on activities with plants and butterflies in order to increase their knowledge of natural ecosystems. The major emphasis in the workshops will incorporate discussions about the life cycle of butterflies. These workshops will be integrated into regular science class material. Subsequent to these classes, we will sponsor a field trip to Powell Gardens Kingsville, Missouri, the botanical garden in the region. Students will participate in the annual Butterfly Festival and be able to touch live caterpillars and walk among a vast array of live butterflies.
In 2017, we bagan a crowd funding (Seedmoney.org) campaign for this project and received sufficient funds for children's admission to Powell Gardens and amenities during the field trip.
This educational project, which we intend to make an annual event, will allow Food for PeopleKC to contact more families and educate them about native plants and pollinators.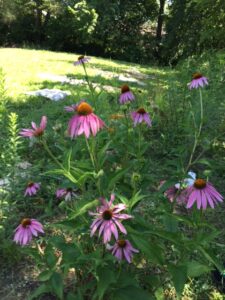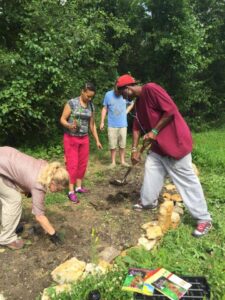 Photo: Obiagele Lake
Courtney Masterson (Bridging the Gap) and "Growing Families" participants building a native habitat at Highland Farms. 
Project objectives:
Project Objectives
Food for PeopleKC objectives are to teach people how to grow their own food, incorporate native plants into the landscape, and grow a variety of pollinator plants. We accomplished this by providing hands-on opportunities for families (adults and children) to grow food in their own plots and by providing nutrition information. This year, as part of our commercial enterprise,  we began growing more herbs and introduced customers to a broader variety of culinary and medicinal herbs. For example, we grew six varieties of basil--sweet, cinnamon, Greek columnar, purple, lime, and tulsi--which were well received. Our profits from this new enterprise were negligible, but, with improved public relations, outreach, and advertisement, we think we can expand our sales in this area.
We will also expand our Children Grow Native program because we are invested in the process of creating healthier environments that improve human and animal health. There is a nation-wide effort to inform more people about endangered bees and butterflies and our goal is to become more integral to these initiatives. While most gardeners and all  farmers are aware of the decline in butterfly and bee populations, my anecdotal findings are that most laypeople are unaware of declining pollinator populations and the significant roles they play in sustaining our food systems and our environment. We are working to increase and sustain pollinator populations by planting more host and nectar plants; educating communities about the role of native plants; and organizing children's programs that will provide hands-on activities with plants and pollinators.
We have also produced a spreadsheet and accompanying photos of  selected native plants as part of a Missouri Master Gardener project.  
 List of  Selected Missouri Native Plants and Their Characteristics