Project Overview
FNE20-957
Funds awarded in 2020:
$13,949.00
Projected End Date:
02/28/2022
Grant Recipient:
Elderberry Pond
Practices
Crop Production:

alley cropping, beekeeping, biological inoculants, catch crops, cover crops, crop rotation, cropping systems, drainage systems, drought tolerance, fallow, food processing, food processing facilities/community kitchens, high tunnels or hoop houses, intercropping, irrigation, nutrient cycling, nutrient management, organic fertilizers, pollination, pollinator habitat, pollinator health, postharvest treatment, row covers (for season extension), season extension types and construction, seed saving, tissue analysis, varieties and cultivars, water management, windbreaks, winter storage

Education and Training:

demonstration, farmer to farmer, networking, technical assistance, workshop

Energy:

energy conservation/efficiency, renewable energy

Farm Business Management:

business planning, community-supported agriculture, farm succession, farm-to-restaurant, farmers' markets/farm stands, value added, whole farm planning

Natural Resources/Environment:

carbon sequestration, drift/runoff buffers, habitat enhancement, hedgerows, soil stabilization, strip cropping

Pest Management:

field monitoring/scouting, flame, integrated pest management, mating disruption, mulches - killed, mulches - living, mulching - plastic, row covers (for pests), sanitation

Production Systems:

integrated crop and livestock systems, organic agriculture, organic certification, permaculture

Soil Management:

composting, earthworms, organic matter, soil analysis

Sustainable Communities:

community planning, community services, employment opportunities, local and regional food systems, social networks, values-based supply chains
Proposal summary:
Elderberry Pond is a certified organic farm in the NY Finger Lakes. We farm  35 acres of fruits, vegetables and pastured animals.  We market through farmers markets a country food store and fine dining restaurant on our farm.  In all of these markets the most important crop is apples.  We have about 500 trees including about 50 varieties including Heirlooms, American classics, and new disease resistant cultivars. Through innovations, some SARE funded, we are able to produce high quality apples with very limited use of certified spray materials.  In midsummer we noticed that many of our trees were losing leaves and by September some were completely defoliated.  (Figure 1)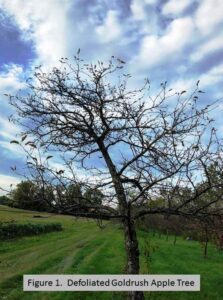 We began getting calls from home orchardists that their trees had lost all of their leaves.  We had NO idea of what was happening.  We did a thorough online search and discovered that there was a new, very devastating apple disease called Marssonina Leaf Blight- MLB.  The disease started in China and Korea, moved through Europe and was discovered in Eastern NY in 2016.  All the previous research literature, which we reviewed extensively, was from Overseas.  Much of this research indicated that the only the most modern chemicals offered any protection and that organic orchards would be decimated.  Fortunately, we found a few US researchers from Cornell and Penn State that were familiar with the disease and were excited to work with us as technical advisors to test potential cultural and OMRI approved amendments. Our orchards, they felt are ideally suited for these tests and agreed to support us and through outreach other growers.
Project objectives from proposal:
Projective Objectives
This project will guide organic and sustainable apple growers who have seen or are about to see the devastating effects of Marssonina Leaf Blotch in their orchards.  We will describe early warning signs and timing (with leaf photographs and diagnostic test reports) leading up to tree defoliation.  We will also report on which of the 50 varieties of apples we grow here in upstate New York we have found to be the most vulnerable and most resistant in 2019 and 2020. Tests conducted in our three separate organic orchards containing some of the same varieties will show which chemical and cultural preventive measures we have found to be the most effective in combating the disease outbreak.   We will compare the treatments to those we and others have successfully developed and routinely use for apple scab, a similar weather related fungal disease that threatens sustainably managed orchards.  This will, I believe, be the first controlled and documented field evaluation of this disease in orchards of the type described here in the northeast.  With the likelihood of more weather related diseases ahead I believe farmers, as first at the scene, have an obligation to carry out such on farm research.