Project Overview
FNE23-067
Funds awarded in 2023:
$20,169.00
Projected End Date:
11/30/2025
Practices
Crop Production:

agroforestry
Proposal summary: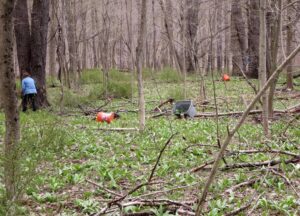 As the popularity and demand for ramps (Allium tricoccum) has increased the sustainability of ramp populations has gained focus. Sustainable practices include limiting harvest, managing forest stands, planting seeds and whole bulbs and leaf-only harvesting methods. One method, replanting the root plate of trimmed bulbs discarded by consumers and chefs, has never been studied.
In the proposed study in Year 1 we will establish six test plots in suitable forest lands and trial replanting the root plates of harvested plants. Eight different treatments varying the timing and size of the plants and the amount of the bulb included with the root plate propagule will be trialed in each plot.
Planting will occur during the ramp harvest of Spring 2023. The plots will be assessed the following Spring for number of surviving plants and number of leaves. In the Spring of the following year 1/2 of each plot will be harvested to measure bulb weight, leaf number and size. In July 2025 we will revisit the plots to determine the number of the remaining plants that have flowered.
A minimum of 240 plants and 30 plants per treatment will allow statistical analysis of data.
A similar proposal is being submitted to Southern SARE by another ramp farmer to compare regional differences. 
We will present a webinar on the study to the general public through established channels where we have previously presented on ramp sustainability. With our technical advisor we will prepare a paper for publication on the outcome of the study. 
Project objectives from proposal:
This project seeks to determine the viability of planting new ramp beds or augmenting existing beds by transplanting the portion of the plant not used in culinary applications - the root plate. The project will test the timing of harvest, the size of the harvested plant, and the amount of propagule transplanted over multiple beds in both existing and new ramp lands.
Metrics include the number of surviving transplants, the number of leaves, the length and width of the leaves, and the weight of the plant. In the second year the metrics include whether the plant shows signs of producing flowers and seeds.
It is expected that the results will be able to be statistically analyzed to determine the optimum method. A similar study is being proposed in the Southeast SARE region to determine if there are any geographic differences in the results.