Project Overview
FS21-331
Project Type:
Farmer/Rancher
Funds awarded in 2021:
$10,780.00
Projected End Date:
03/31/2024
Practices
Farm Business Management:

value added

Soil Management:

composting
Proposal summary:
Our solution to managing specialty mushroom waste is to create value added structure.   Piles of half-decomposed sawdust blocks have enormous potential to become compost for secondary enterprises like on-farm soil fertility applications for plant production,  substrate for mushroom production in the agaricus (button mushroom) genus and wholesale retail compost.
Consumer demand for specialty mushrooms like oysters and shiitake continues to grow in the US with 10% increase year over year.  With growing cultural interest and high price point, these wood-loving organisms can provide our communities a way to digest agricultural and agroforestry waste in the form of soybean hulls and sawdust to produce high protein rich food.  Furthermore, this mushroom growing technique is the primary way that nature decomposes lignin (wood fibre) for smaller microorganisms to digest further into compost.  Compost and healthy soils are continually lost in conventional agricultural communities and urban development. Providing specialty mushroom farmers cost analysis on proper disposal and handling of this half-decomposed waste stream could be paramount to not only providing these farms with extra revenue but also for providing farming communities with rich compost, a much needed input to keep up with the fertility needs and also increase the biodiversity needs of our ecosystems.  The compost at HENOSIS was analyzed by Cornell's Waste Management and given excellent results with regard to micro and macro nutrients as well as our in-field trials using this compost in our vegetable and herb production plots which anecdotally resulted in robust yields. We believe this revenue could easily pay for the additional labor cost, even if done by hand.  Furthermore this mushroom compost can then again be used for diversified farms' vegetable/herb production to lower COGS or sold retail or wholesale to local nurseries. 
Compost Analysis Cornell Waste Managment
Mushroom compost has it's own economic value not only for plant production but as a means to grow secondary decomposer mushrooms in the agaricus family like button mushrooms and portobello.  While these mushrooms are widely produced and consumed in the US and the barrier to entrance may be high for small farms to compete in this industry, looking at lesser known varieties like the agaricus sup. (Almond Portobello) as a secondary crop for specialty mushroom growers could provide another revenue stream for these farmers while minimizing cost of goods sold (COGS).  This mushroom has been studied in the past by SARE by Sharondale Farm (FS08-227), though with outdoor production techniques rather than the indoor production techniques widely used in common button mushroom farms.  Having assessed button mushroom production guidelines by Dr. David Meigs Beyer at PENN St. University and the quality of our in-house produced compost, it seems feasible that we would be able to use these resources and producion practices to produce a higher-valued mushroom, such as the almond portobello as pictured below from HENOSIS' own outdoor  preliminary trial. 
This rare mushroom can provide a secoundary revenue with an estimated value of $25-$50/pound if integrated in production processes if proper attention is given to this waste managment process.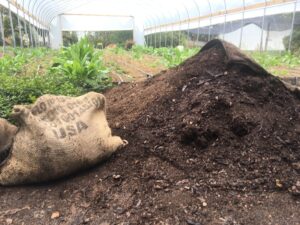 Project objectives from proposal:
HENOSIS will be using thermophilic composting guidelines provided by Pennstate University in the disposal process of our mushroom sawdust blocks, measuring temperature and moisture rates, to ensure uniformity for reliable production of agaricus mushrooms.  
We will establish sawdust block to compost ratios monitoring compost mass reduction for agaricus substrate use to understand the amount of compost that can be produced for upcycling. 
Continuing into Phase 2 production guidelines, we will then pasturize finished compost in plastic bags used in specialty mushroom production with the use of low-tech steam chambers that are adequate in our regular specialty mushroom production process and inoculate  blocks with verifiable grain spawn from Field and Forest, a mushroom spawn company with success in growing Almond Portobello mushrooms 
Spawn expansion will take place for 90 days, as we monitor growth parameters. After blocks are fully colonized we will add them into our fruiting chambers adding casing layers similar to button mushroom production. 
If mushrooms should produce, we will harvest and measure production by weight.  After two harvest we will dispose of blocks in spent compost piles.  The whole process will take place over 1/month for 10 months to account for seasonal weather and market trends
Throughout this process labor cost will be monitored to provide a baseline of cost in producing a secondary mushroom.