Project Overview
FW16-023
Project Type:
Farmer/Rancher
Funds awarded in 2016:
$20,000.00
Projected End Date:
03/31/2018
Grant Recipient:
Real Farm
Annual Reports
Commodities
Not commodity specific
Practices
Education and Training:

networking, participatory research, technical assistance

Farm Business Management:

farmers' markets/farm stands, market study, marketing management, new enterprise development, value added

Sustainable Communities:

community development, employment opportunities, local and regional food systems, new business opportunities, public policy, sustainability measures
Summary:
Our project was aimed at researching and providing additional means for farmers markets on the Big Island to increase sales of local foods. Our planned methodology included visits to eighteen markets collecting data from farmers market managers and local food vendors, collating it and then producing educational materials to benefit producers and consumers. We discovered that conventional data collection methods were inappropriate, many vendors mostly wanted to 'talk story' with us in depth about the range of issues that they confronted in their efforts to make a basic living as farmers and marketing at farmers markets. We have honored these 'experts' by adapting our outcomes and our reporting to include their varied contributions which we consider to be the most valuable and relevant to the intended project outcome.  
The USDA and farmers' market advocates believe that direct marketing provides agricultural producers with improved profit-making opportunities and a venue for selling producers extra produce. Advocates also assert EBT and senior farmers' market programs put more fresh fruits and vegetables into low-income diets. The Resources for Farmers' Markets website asserts, "Farmers markets provide communities with fresh, nutritious, affordable, and local farm products and enable farmers to increase profits by selling directly to consumers who enjoy the opportunity to buy high-quality, fresh products directly from the farmers at competitive prices."  The Hawaii Homegrown website states that "farmers markets are a main driver of our local food economy." Another prominent local writer states "farmers markets are the heart of our island's local, sustainable food system."  Our submitted project proposal originally accepted these basic assumptions regarding farmers markets as fact but as a result of our research the validity of these claims needs to be questioned and many of them are found to be myths.
Other generally accepted benefits that farmers markets offer include providing the perfect entry place for developing a product line for other retail or wholesale venues, fostering community and food linkages, bringing neighbors together, helping children to learn where their food comes from, allowing consumers to talk directly with the farmers and ranchers who grow their food plus promoting community development and tourism. These additional assumptions were also studied and are described here in more detail with our research results determining them as general truths in the case of Big Island farmers markets. 
The term 'farmers market' is used for approximately 25 venues on Hawai'i Island. The number of vendors at each of these markets ranges from 5 to 200. Some serve neighborhoods, others serve whole districts and each is unique.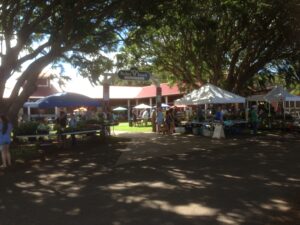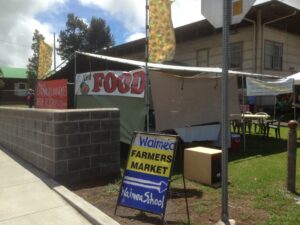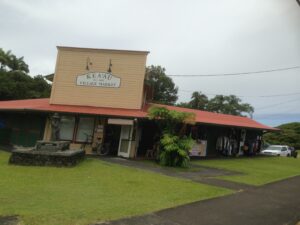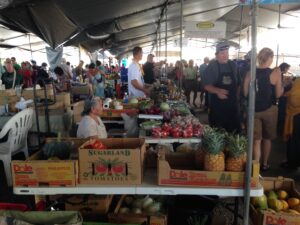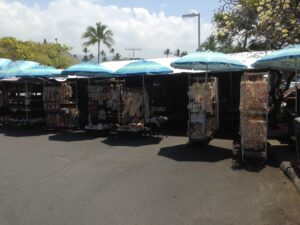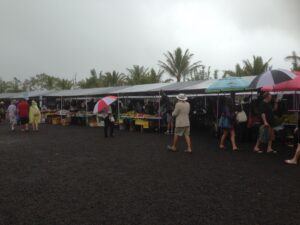 The variety of fresh produce and food products is dazzling.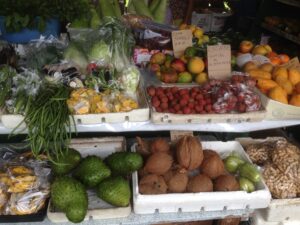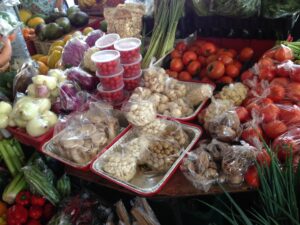 Many food crops and products are grown conventionally, but more vendors are offering certified organic produce and value added products.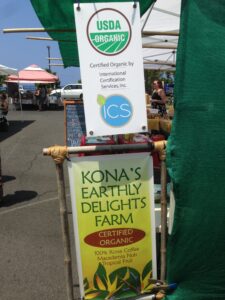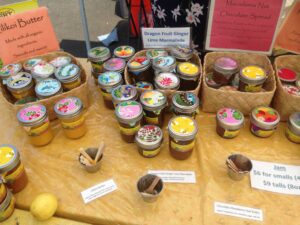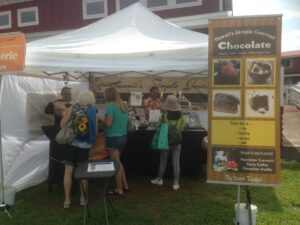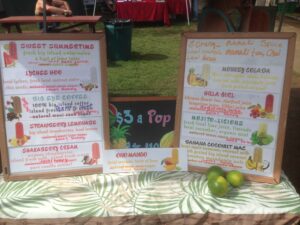 Many markets have plants and flowers. Some markets add arts, crafts, clothing and miscellaneous household items, new and used. Many markets include the sale of foods not grown on the Big Island.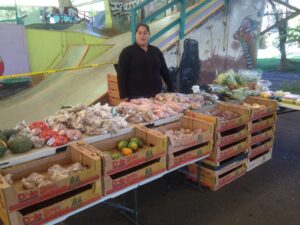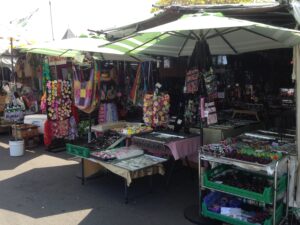 Our research concluded that seldom do farmers markets provide substantial profit-making opportunities for producers of local foods and they seldom function as significant venues for selling producers 'extra' produce. Most long term producers selling local foods at farmers markets are small family farms motivated by both profit making opportunities and a commitment to the other benefits that farmers markets provide.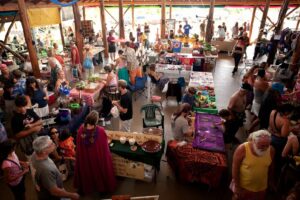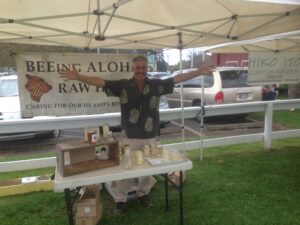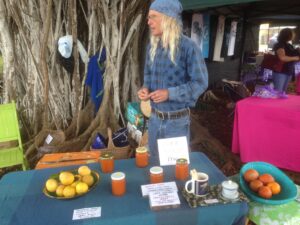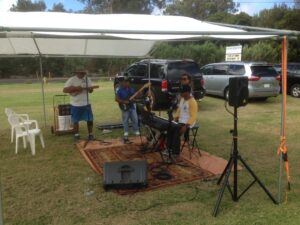 Big Island farmers markets contribute very little overall to EBT and senior farmers' market programs aimed to put more fresh fruits and vegetables into low-income diets. The major reason is that the high quality, fresh, nutritious local farm products  they provide communities are generally not sold at prices competitive with supermarkets and health food stores. Where prices are competitive the local food producer is often not generating a 'profitable business' but struggling to maintain a resilient family farm operation.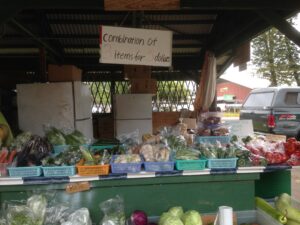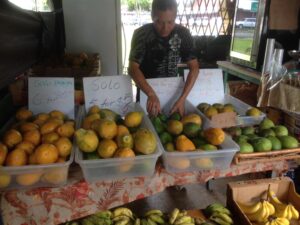 Contrary to the desires and dreams of advocates farmers markets are not a main driver of our 'local' food economy and are sadly not "the heart of our island's local, sustainable food system."
The Big Island, like the whole country, has experienced a rapid growth in the establishment of farmers markets in the last fifteen years but there has been a wide range of expressions and most fall far short of the classic definition of "a market where local farmers and growers sell their produce directly to the public." Sales of imported foods and food products, arts and crafts, prepared foods, used household items and non food items totally dwarf the income earned by producers of local foods at all the markets, but two, of those we researched.  While most of the eighteen farmers markets visited are considered 'sustaining' and three are 'thriving' there are at least four that have experienced severe declines and will probably close down in the near future.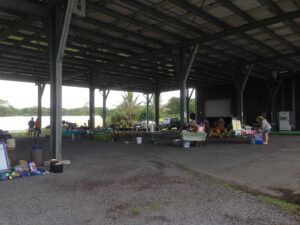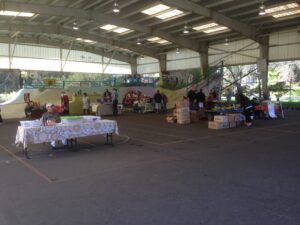 A number of local government reports and plans point to the need to increase local food production but farmers are highly critical of the lack of action to implement this goal. Building a local food system is not easy. Consumers must demand locally sourced products, communities must work together to establish the infrastructure needed to support a local system, and farmers must be supported to work with distributors, consumers and each other. There is consensus among the farmers we interviewed that the local government focus still remains with supporting larger commercial farm operations and not local family farms.  
Discovering the most profitable way to sell a product can be a serious challenge for busy farmers and ranchers. With increasing demand for local food, today's producers are finding innovative ways to access new and existing markets. Farmers Market producers in Hawaii often sell their products directly to consumers,restaurants, retail stores,community supported agriculture (CSA) or online.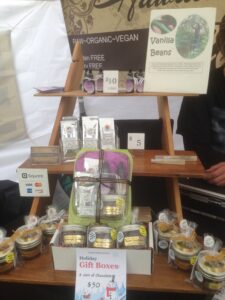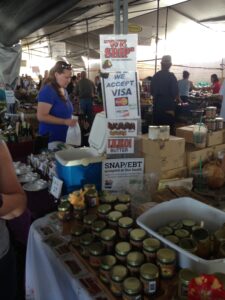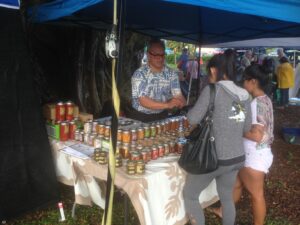 They can also use an intermediary or middleman, such as cooperatives, retailers, restaurants and more recently schools, to help them distribute their produce locally. We discovered that as a risk management strategy, Big Island farmers and ranchers often use multiple sales channels.
Part of marketing is advertising the product and setting the brand apart from competitors. Many of the local farmers we interviewed have done this by sharing their farm story, which provides a personal touch for consumers, who are generally far removed from food production, to satisfy their desire to know the origin of what they eat.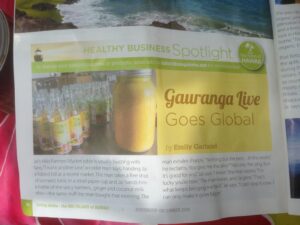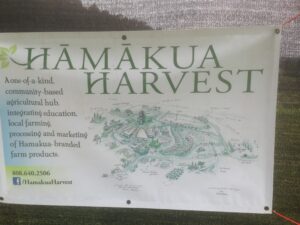 Increasingly, Big Island farmers are realizing that they can earn extra income by selling value-added products both crops and animals by processing them to increase their value. Knowing that customers are willing to pay more for finished products farmers are slowly engaging in overcoming the legalities and complexities of producing and marketing them. Our research discovered a wide range of amazingly creative results and the growing trend for increased sales to tourists and off island consumers via the internet. This is undoubtedly a direction that will continue to develop and produce more income for local farmers but some claim that is taking resources away from the sales of locally produced fresh produce to local residents at farmers markets.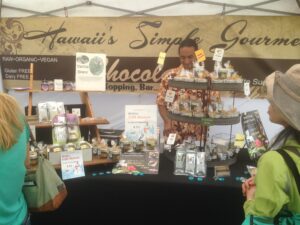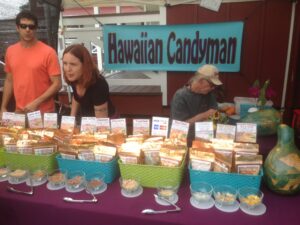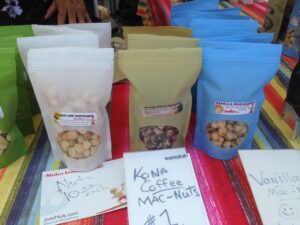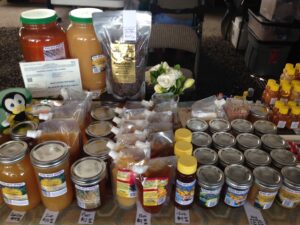 Big-Island-Diet-Farmers-Market-Listing-Handout
Big-Island-Diet-Farmers-Market-Support-Organizations-Handout
Big-Island-Diet-Farmers-Market-Produce-List-Handout
Big-Island-Diet-Farmers-Market-Value-Added-List-Handout
Big-Island-Diet-Farmers-Market-Vendor-List-Handout
Project objectives:
Conduct pilot market research at four market days at the Real Farm stand at Kamuela Farmers Market surveying consumers on their purchase history of existing and potential farm produced foods and value added products. 
Create a producer survey and visit eighteen farmers markets around the island. Collect data from producers / retailers at the 18 markets of all the farm products and value added products offered to consumers.
Research value added products legal requirements, recipe suggestions, processing facility options and marketing options.
Compile a list of 12 island residents who consume high percentages of local foods. Submit a draft article and request media writers and editors to include articles about these local folks in their publications to promote a Big Island Diet.
Create a handout listing of locally produced foods and value added products currently available at Hawaii Island farmers markets.
Provide a handout with contact information of organizations supporting farmers market activities and value added products support with legal requirements,  processing facility options and marketing options. 
Encourage the creation of a Big Island Farmers market managers network.
Create recipes that primarily use local foods with descriptions of how to prepare and serve local food items.
Create a handout listing locally grown foods sold seasonally at the 18 Hawaii Island farmers markets.
Create an updated handout listing Big Island Farmers markets with location and opening times and distribute it to local news media sources.
Support farmers markets with efforts to establish 

Supplemental Nutrition Assistance Program (SNAP)

services for their customers.
Complete Report writing requirements for SARE.