Project Overview
GNC23-369
Project Type:
Graduate Student
Funds awarded in 2023:
$14,988.00
Projected End Date:
09/30/2024
Practices
Pest Management:

cultural control, integrated pest management, residue manangement
Proposal abstract: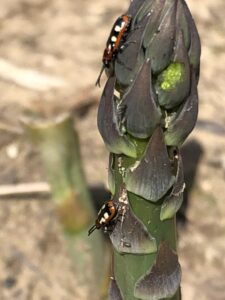 Our project titled "Develop grower-appropriate plant residue management methods to reduce asparagus beetle damage" investigates sustainable agriculture management methods for a major pest of the Michigan asparagus industry, the common asparagus beetle. This beetle causes $1 million in economic losses annually for Michigan growers; 4% of crop value due to only one pest. To manage asparagus beetle populations during spear harvest, growers primarily rely on foliar insecticides with a 24-hour preharvest interval. These are sprayed frequently to remove adult beetles and deter eggs from spears that are picked daily for the fresh market. Reliance on insecticides is not sustainable and growers need alternative methods to suppress beetle populations during harvest. My research will target the overwintering stage of the asparagus beetle's life cycle. Previous research in the MSU Vegetable Entomology Lab determined that adult asparagus beetles seek shelter mainly in asparagus residue in asparagus fields. My research project builds on this by examining the impact of various mowing methods and mow timing on asparagus beetle overwintering. The goal of this project is to create a sustainable, economical, and effective management method for asparagus beetles. I will establish a replicated trial in collaborating growers' fields with four different mowing treatments. I will then evaluate overwintering asparagus beetle survival in the plant residue produced from these treatments using cage experiments and field observations. Learning how to manage plant residue to suppress beetle populations will reduce the number of insecticide applications and thereby costs of production. Outcomes will improve grower knowledge of integrated pest management, reduce input costs, and decrease pesticide residues. A decrease in insecticide use will promote environmental sustainability that generates better produce and healthier communities. To evaluate growers' perceptions of plant residue management, I will conduct surveys and a focus group evaluation to better understand current management practices in addition to learning about viable avenues for incorporating new practices into crop management systems. From my research project, growers will learn that implementing residue management practices can lower asparagus beetle pressure. Growers who establish residue management practices in their asparagus production will increase their return on investment while decreasing asparagus beetle populations. By decreasing asparagus pest populations using sustainable agricultural practices, we can promote economic stability, healthy communities, and safer environmental practices in the asparagus industry.
Project objectives from proposal:
From my project, growers will be able to learn about the importance of integrated pest management through the incorporation of cultural control methods in asparagus production. Growers will learn about how different mowing methods can control asparagus beetle populations prior to the harvest season. Growers will learn that there are economical and efficient means of controlling pest species besides utilizing pesticides. Additionally, my project will serve as an example of a successful cultural control method in vegetable production for extension specialists and related researchers.
In terms of action outcomes, growers will adjust their current asparagus beetle management from relying on insecticides to a cost-effective residue management practice. Presenting my findings at grower meetings and in publications will increase growers' awareness about new asparagus beetle management practices. I will measure these action outcomes by surveying and interviewing growers about their current asparagus beetle management practices, their willingness to alter their practices, if they have reduced insecticide applications, their economic perception of incorporating mowing as an asparagus beetle management practice, and their awareness of my project outcomes. My research project outcomes will establish sustainable asparagus beetle management practices among growers, and it will promote an economically viable cultural control method.