2015 Annual Report for ONC15-003
Maximizing Pollinator Services from Native Bees
Summary
 In 2015 we made 31 visits to the three primary blueberry grower cooperators. We also made an additional 17 visits to 4 other blueberry growers not stated in the grant to increase our exposure to pollinators and their nesting habitat as well as surrounding forage opportunities. 
We collected a total of 1379 pollinator specimens from these visits. To date these specimens have been identified to genus and we are in the process of identifying the Andrenid genus specimens to species. Andrenid genus bees represented some 564 or 41% of the samples taken. It is our opinion that these are the primary pollinators of blueberries along with bumble bee queens. This opinion comes from our observations of Andrenid bees actively visiting blueberry flowers, whereas the 505 bees belonging to the family Halictinae are sweat bees encountered in our bowl traps but not often seen visiting blueberry flowers. We will continue to observe this phenomenon. 
We also believe that bumble bee queens are a significant pollinator of blueberries in Minnesota. We did not attempt to capture these individuals as they are the queen bumble bees who will be initiating individual hives. We felt this could have a negative impact on the population. In this the 2016 field season, we plan to capture bumble bees, chill, identify and release so that we can get the data and not impact the population. 
We discovered more than 1000 nests of the bee genus Colletes in one of the blueberry sites. However, this genus has too short a tongue and is unable to access the nectaries or buzz pollinate and release blueberry pollen. We did not observe them visiting blueberry flowers even though they were present in great numbers having adopted the blueberry field as their nesting site. This was due to the light loamy sand nature of the soil at that site. 
We were not able to find many Andrenid or Bombus nests as they are quite furtive in this respect. We will be addressing this in this years studies. 
Objectives/Performance Targets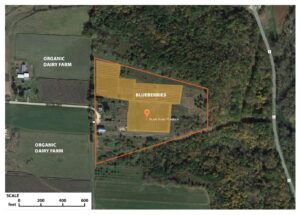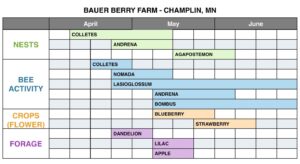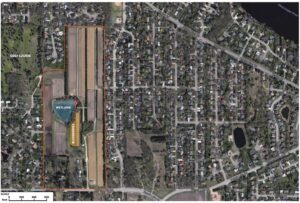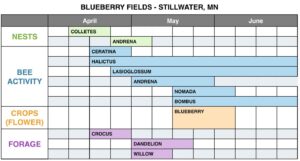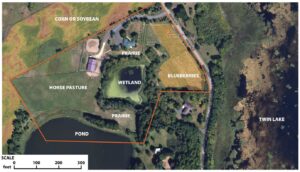 Objective 1: Identify the best candidate native bee species to provide pollination services to the fruit and vegetable growers in the region
In 2015 we visited the three primary blueberry field sites 31 times. Because we needed greater exposure to Mining bee nesting activities, we also visited 4 other blueberry fields. We visited these latter sites 17 times.
We have collected some 1,379 insect specimens during these field visits. These have been identified to genus and we are in process of identifying the greater candidate pollinators to species. This will include the 564 specimens assigned to the genus Andrena. There were 505 specimens of the genus Lasioglossum, but although they show up in the trapped specimens we do not believe that they are a significant pollinator force as we rarely see them in the blueberry flowers. The other bees of importance in pollinating blueberries are bumble bees in the genus Bombus. Given that these are queen bumble bees and to trap them eliminates a whole hive we chose not to trap or net these individuals. In the coming year we will be netting the bumble bees and cooling them in an ice chest. This will allow us to identify them and then release. These individuals are much easier to identify than the Andrena species. I am attaching the Excel file with the database as it stands at present.SARE DATABASE 2015 ONC15-003 Award 2014-38640-22156
Objective 2: Determine critical parameters of nesting habitat for these identified species
In one of the blueberry fields we discovered over 1,000 nests of bees in the genus Colletes (Plasterer Bees). It turns out that this genus has a strong preference for sandy soils for its ground nests. This was the perfect area as the majority of the field 83.1% was loamy sand with the remaining 16.9% being sandy loam. However, Colletes bees have a very short tongue (2 – 4 mm) and do not have the capacity to pollinate blueberry flowers that have a longer (11.3 mm) corolla. So they were nesting in the field for its soil type not for its proximity to forage in the form of blueberry flowers.
The majority of the candidate pollinators were from the genera Andrena and Bombus, Mining and Bumble Bees, respectively. These bees are much more furtive in where they locate their nests and do not appear to have an obligate need for sandy soil. The other blueberry fields in the study had mostly silt loam soils. We had difficulty locating Andrena nests. We found some, photos of which are presented in the PowerPoint presentations used in outreach education and included as exhibits in this report. We placed emergence traps on many holes encountered in the fields, but this did not yield many samples. These traps were placed during the height of activity as determined by optimum flying conditions. This being warm weather (> 70 F), low wind speed, and clear skies. We will be considering different ways to address this challenge. In addition bumble bee nests are notoriously difficult to locate. We were able to locate several, but were not able to discover enough to draw any conclusions as to what to recommend to growers regarding nesting habitat for either genus, Andrena or Bombus.
Objective 3: Develop recommendations for native bee nesting habitat for fruit & vegetable growers
This subject was addressed in the discussion of Objective 2.
Objective 4: Develop a suggested plant list specific to each site which will provide forage outside the flowering window of the crop and meet the needs of the identified pollinators
We have begun to develop a plant list and this is illustrated in exhibits 1 to 7. Exhibit 1 gives a general approach to the plant list by showing bees observed and other plants in bloom relative to the blueberry flowering window. Exhibit 2 is a similar chart but specific to the Rush River site and Exhibit 3 is an aerial view of that site. Exhibits 4 and 5 are the same for the Bauer Berry site as are Exhibits 6 and 7 for the Blueberry Fields site.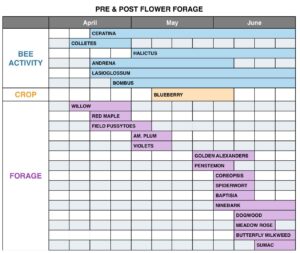 Objective 5: Develop a video demonstrating nesting habitat recommendations
We will be looking to capturing footage in this the 2016 growing season to create this video
Objective 6: Develop a video demonstrating forage recommendations
We will be looking to capturing footage in this the 2016 growing season to create this video
Objective 7: Present findings at Upper Midwest Fruit and Vegetable Growers Conference
We made a presentation of the preliminary results at this year's conference on January 14, 2016.
If I was to attempt to load the actual presentation, it would not be accepted as all of the videos shown came to 192,536 mb. So I have simply labeled the slides that contained video and will upload the videos separately.
Maximizing Pollinator Services from Native Pollinators 1 12 2016
I hope you can access these as attachments. Inserting into post seems problematic. My 7 exhibits have been misplaced and one still seems missing. 
I am also presenting the preliminary findings of the research to the Minnesota Landscape Arboretum Staff tomorrow March 2, 2016.
I have 4 scheduled invited presentations where portions of the research will be presented to various audiences as follows: 1) Carver Scott Master Gardener's Garden Fever, 3/5/16, 2) Isanti County Horticulture Day Burst into Spring – Keynote address, 3/12/16, 3) Third Crop Producer Meetings 2016 Rural Advantage 3/21/16, and 4) Southwest Research & Outreach Center Horticulture Day, 4/6/16. 
Accomplishments/Milestones
 We captured some 1379 specimens in our work in 2015 and having identified them to genus, we are continuing to identify to species. The Andrena genus is quite challenging as there may be some 90 species in Minnesota. The specimens need to be keyed to sub-genus prior to keying to species. We are presently working with Joel Gardener, whose Masters level work involved identifying many native bees. He continues to be employed through Marla Spivak's lab and is considered a local expert. Our contribution is to work his sub-genera key to iron out "kinks". In addition we are working with him to create a companion photo gallery aiding decisions at each of the couplets in the sub-genera key. Our goal is to take the very challenging work with these bee identification keys and make the system much more approachable by those not specifically trained to be an expert bee anatomist. 
Our cooperating farmers continue to be excited by our work and we thoroughly enjoy working with them.
Impacts and Contributions/Outcomes
 I believe it is too early to address this topic when we only have one field season behind us.
Collaborators: