2016 Annual Report for ONE16-267
Project Type:
Partnership
Funds awarded in 2016:
$11,200.00
Projected End Date:
04/15/2018
Grant Recipient:
Merrimack County Conservation District
Soil health management outreach using mechanical aeration
Summary
Starting in 2011, the Merrimack County Conservation District(MCCD)has worked with state-wide entities and Dr. Bianca Moebius-Clune in developing innovative conservation plans for soil health. Several producers received soil health plans to improve soil health. Many of these plans suggested the use of mechanical aeration to reduce soil compaction, but access to a mechanical aerator to rent was limited to one in the Seacoast area and many agricultural producers did not have the necessary farm insurance to rent the equipment. Many of these producers also spread manure in the spring. The idea of using a mechanical aerator while spreading liquid or semi-solid manure is an idea that many producers would be interested in trying and possibly adopting for the future pending results. As part of a USDA Natural Resources Conservation Service Conservation Innovation Grant, MCCD will be purchasing a mechanical aerator to alleviate soil compaction and to improve injection of semi-solid and liquid manure. But, many farmers need assistance in properly using the equipment, education in soil health, soil compaction, and manure injection, and access to equipment that will allow for the equipment to use. This grant will assist in the labor portion of this project for on-the-field training on how to improve soil health, soil testing to compare pre- and post- aeration results, and education to interested farmers. Outreach will include workshops and one-on-one assistance with the equipment for best implementation.
In 2016, MCCD purchased a mechanical aerator, engaged with equipment dealer/ independent contractor L.A. Glines to teach farmers how to use the equipment on-the-field, conducted numerous soil tests on test fields, and conducted three trainings for people interested in using the equipment.  The four partner farms were aerated in 2016 along with four additional farms.  MCCD has a waiting list for the use of this equipment.  Additional outreach and aeration is planned for 2017.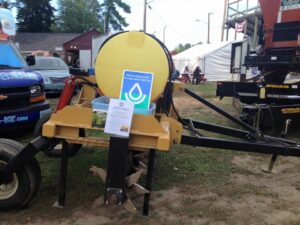 An image of the aerator as displayed at the Hopkinton State Fair
Objectives/Performance Targets
Below is a summary of our progress towards meeting our Objectives/ Performance Targets:
i. Purchase of mechanical aerator with the ability for manure injection. 
This objective has been completed.  Along with the mechanical aerator, the aerator includes a seeder, chain harrow, and water tanks added to the aerator for additional weight and the ability to add water to the soil while aerating; it was found that the aerator did not work well in our dry, droughty soils.
ii. In order to get farmers interested in the project, outreach in the form of letters, press releases, and newsletter articles to NH agricultural producers with hay and pasture land.
MCCD sent letters to farmers all throughout Merrimack County to introduce the aerator.  MCCD also advertised the equipment and soil health through MailChimp e-blasts, such as this one for our November 2nd workshop: November 2nd_ Come Learn about Cover Crops at Bohanan Farm- 1.  MCCD also displayed the equipment at the Hopkinton State Fair to generate more outreach and interest in soil health.  MCCD is including the aerator and its other rentable equipment in their upcoming newsletter.  
iii. Identification of four agricultural producers to demonstrate manure injection using the mechanical aerator along with an assessment of their soil health pre- and post- treatment. This assessment will involve: 1. Cornell Soil Health Assessments and Penetrometer readings each year of the project that will assess the soil health conditions in pre and post treatment for each plot at each demonstration farm. 2. Assessments of the quantity and quality of forage from each plot for each year of the project.
MCCD engaged six farmers to work on the manure injection in conjunction with aeration: Adam Crete, Marty Bender, Carole Soule, Jeff Moore, Steve Cochrane, and Peter Glines.  Soil health assessments were taken, interviews were conducted related to quantity and quality of forage, instruction on how to use the aerator was provided, and Building Soils books were provided.
iv. New Technology & Innovative Approach Fact Sheet with applicable NRCS practice standards that will be used for outreach events and available on the MCCD website.
In development and will be finished in 2017.
v. Continued outreach including a workshop on the use of the equipment, press releases, newsletter articles, and one-on-one technical assistance using a team approach to assist farmers in successful use of the equipment and successful injection of the liquid or semi-solid manure.
In development and will be continued/ finished in 2017.  The equipment currently has a waitlist for 2017.
vi. Program evaluation through surveys, interviews, and a review of the results with the team: initial farmers, NRCS, UNH Cooperative Extension, and MCCD. 
On-going with synthesis for final report.
Accomplishments/Milestones
The aerator was purchased and Roy Glines (consultant) was engaged by MCCD to work with farmers on soil aeration.
Six farmers were chosen to work with the aerator with manure injection, though only five of those underwent aeration in 2016 due to timing issues and a suspension of aeration during the worst of the drought.
Each of the farms received a Cornell Soil Health test as well as in-depth penetrometer readings.  Two of those farms received follow-up penetrometer readings before the snow arrived. Soil penetrometer readings and nutrient analysis will continue in 2017.
Most farms aerated approximately 10 acres with one farm aerating approximately 40.  This equipment is more popular than expected and MCCD has a waiting list for 2017.
MCCD conducted three outreach events in which soil health, soil aeration, and the use of the equipment for manure injection occurred in April, September, and November.
MCCD sent out over 40 letters to farmers in October and sent e-blasts about the program in January, April, September, and October- approximately 97 farmers on our e-blast list.  MCCD also promoted this program on Twitter and Facebook and will publish an article in our newsletter in January (publication = 1200 individuals).
MCCD learned that soil aeration does not work during drought.  The soils were too dry to penetrate the soil.  Because of this, MCCD discontinued aeration during the height of the drought.  In order to increase weight for greater soil penetration and add water to soils while aeration, MCCD added water tanks onto the aerator.  The results of this are still to be determined.
Impacts and Contributions/Outcomes
 The first impact that has been seen is an unexpected interest in the equipment.  MCCD has a waiting list of four farmers for the spring of 2017.  These farmers wanted to aerate in 2016, but MCCD chose to discontinue aeration during the drought as aeration did not appear to be effective during the height of the drought.  One of the farms that was aerated during the drought (Steve Cochrane) will be re-worked in 2017 as Mr. Glines stated the tines did not penetrate.  The four farms on our waiting list and the Cochrane farm will be the priorities of 2017.  
Collaborators:
Martin Bender
Farmer
Little Hill Road Farm
230 Little Hill Road
Webster, NH 03303
Adam Crete
Highway View Farm
River Street
Boscawen, NH 03303