2016 Annual Report for OS14-085
Project Type:
On-Farm Research
Funds awarded in 2014:
$14,308.00
Projected End Date:
03/14/2017
Management Impact on Sustainability of Native Legume Component of Warm-season Grass Pastures
Summary
The evaluation of periodic grazing exclusion on performance and stand longevity of herbaceous mimosa (Mimosa strigillosa) was initiated in the 2015 production season.  Cattle were excluded in different areas during 3 periods through the summer.  Available forage was assessed at the end of each exclusion period.  Herbaceous mimosa stand was similar in grazing excluded and non-excluded areas.  Extremely dry conditions limited forage growth during the last half of the growing season.
Objectives/Performance Targets
Performance targets in the first year of the project was to determine a site in the pasture for monitoring herbaceous mimosa and set grazing exclusion cages during periods of the grazing season. Plant growth was to be monitored periodically through the grazing season as grazing exclusion was relocated.
Accomplishments/Milestones
The trial was successfully set up in late April 2015 and wire cages were installed to eliminate grazing in certain areas during May through June, July through August or September through October. Forage growth was assessed when grazing exclusion cages were removed after each exclusion period (Table 1).  Available forage accumulation during the grazing exclusion periods was approximately twice as much as that in areas open to grazing.  Herbaceous mimosa stands were comparable between the grazed and grazing excluded areas through the production season.  By the end of the growing season, in early November, it was difficult to identify herbaceous mimosa in the sod mixture.
Table 1. Forage production and herbaceous mimosa (Mimosa strigillosa) stand in harvest areas during 2015 season.

 

Dry

Mimosa

Grazing Exclusion Period

Forage†

Stand‡

(kg/ha)

(%)

July 7, 2015

 
 

May – June

5721

18

None

2468

20

August 28, 2015

 
 

July – August

5538

14

None

2761

21

 
 
 

November 11, 2015

 
 

Sept. – Oct.

1085

0

None

450

1

†Herbaceous mimosa was less than 5% of dry forage yield at any harvest.

‡Mimosa stand represents number of 100 cm2 areas containing mimosa in 0.5 m2 area divided by 50 (number of 100 cm2 areas possible in 0.5 m2 area) X 100.
Forage samples were collected to determine nutritive value of the forage. The nutritive value analyses indicated that crude protein ranged from 8 to 13% and total digestible nutrient content ranged from 42 to 46%.
Plant growth during the latter part of the season was hampered by extreme dry conditions. Rainfall was adequate for plant growth through the first week of July but subsequent precipitation was minimal until the last week of October. Although grass exhibited severe response to dry conditions by the end of August, herbaceous mimosa remained green though growth was minimal (Photo 1). Herbaceous mimosa did eventually loose leaves and was only slightly identifiable in the sward by the end of the assessment period.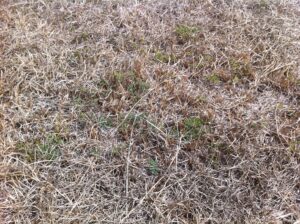 Photo 1. Drought effect on grass and herbaceous mimosa as of September 4, 2015.
Impacts and Contributions/Outcomes
Preliminary information about this study was included in a presentation at the Louisiana Forage and Grassland Council annual meeting concerning native legume presence in pastures.
Collaborators:
Kun Jun Han
khan@agcenter.lsu.edu
Associate Professor
LSU AgCenter
104 M.B. Sturgis Hall
Baton Rouge, LA 70803
Office Phone: 2255781305
Greg Kincaid
Producer
Hwy 873
Winnsboro, LA 71295