Project Overview
OS22-152
Project Type:
On-Farm Research
Funds awarded in 2022:
$19,000.00
Projected End Date:
03/31/2024
Practices
Animal Production:

animal protection and health
Proposal abstract:
Because of our veterinary work we are familiar with the various portable equine stocks used for reproductive and dental work.  We also have worked extensively with various bovine hoof trimming chute systems.  These bovine systems have been developed to facilitate the routine hoof trimming of large numbers of dairy cattle and have become quite advanced in recent years.
We intend to use our expertise to develop modifications to existing portable equine stocks that can permit them to be used for farrier work on horses of varying sizes. Adapting the innovations found on bovine chutes to an equine usage. We will work with a local machine shop to fabricate and install the needed modifications.  We expect that this system will require several revisions to become truly useful.  In order to test and improve our design we have partnered with Tatum Standley who is a certified farrier in addition to being a working draft horse farmer.  They will assist us in testing the stocks performance for farrier work and will advise on improvements to be made through out the project.
Project objectives from proposal:
We will modify an existing set of portable equine stocks manufactured by T.H.I.S. of Clements, CA.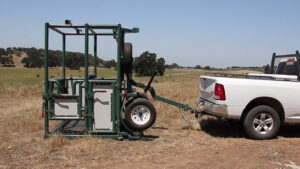 Following designs widely used in bovine trimming stocks, we will add belly bands that can be raised by winches to support the weight of the equine.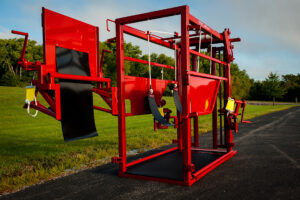 On the support pillars adjacent to the front legs we will add adjustable winches and hoof rests.  A wide padded strap will be secured around the cannon bone and connected by a non-deforming rope to a hand cranked winch. Once the hoof is raised it will be pulled against a padded bar supporting the caudal aspect of the fetlock.  This will allow the hoof to be held securely for farrier work, but without the risk of injury to the lower limb.  This entire mechanism will be vertically adjustable to accommodate various size equines.  A similar system used in bovine work can be seen below.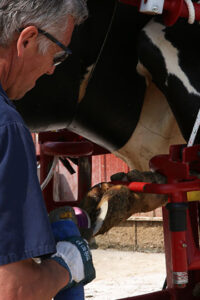 On the rear of the stocks we will attach a mounting bar between the rear support pillars. This bar will be vertically adjustable to accommodate varying equine sizes.  A hand crank winch will be mounted to this bar connected by a non-deforming rope to a wide padded strap that can be secured around the cannon bone.  As the hoof is raised the lower leg will be pulled into a padded "U" shaped channel supporting the leg below the hock and preventing sideways or rearward movement while the strap prevents forward motion. A similar system used in bovine work can be seen below.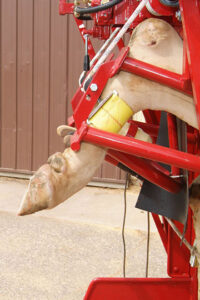 We will also modify the side of stocks to allow for lateral adjustment.  This may involve adjusting one set of front and rear support pillars laterally, or adding a removable interior bracket to act as a supportive "squeeze" for smaller equines.
Fabrication work will be performed by Moore's Machine shop with multiple sessions of testing and revisions anticipated.  We will use these stocks for equine foot work, and also test each version with our partner farrier.