2016 Annual Report for OW16-338
Project Type:
Professional + Producer
Funds awarded in 2016:
$20,548.00
Projected End Date:
03/31/2019
Grant Recipient:
A to Z Wineworks
Improving Water Saving Techniques and Fruit Quality in Oregon Vineyards
Summary
In our project OW16-338: Improving Water Saving Techniques and Fruit Quality in Oregon Vineyards, porometers were used to improve our understanding of water use in the vineyard at 4 irrigated and 2 dry-farmed Oregon Pinot Noir sites located across the state. Porometers measure the stomatal conductance of plants, which can be used to determine whether or not the plant is experiencing water stress. Our theory was that irrigated sites using a standard regulated deficit irrigation (RDI treatment) program with scheduled irrigation sets could save water by using porometers to more precisely impose the desired water deficit (PRID treatment). Deficit irrigation programs have been shown to increase certain fruit quality parameters, so in addition to saving water we predict a potential increase in fruit quality. Stomatal conductance was also monitored at two dry-farmed sites to see if we could draw any conclusions from the comparison of readings between the two farming styles (irrigated vs. dry-farmed). In the first year of this project we were able to meet many of the objectives defined prior to the start of the project, identify areas of improvement in protocols and data collection, observe the accuracy of our initial predictions, and set the foundation for our outreach program.
Objectives/Performance Targets
In accordance with the Western SARE program we have defined objectives for both the research and education components of our project. The comprehensive objective for the research component of our trial is to decrease water use in vineyard through the introduction of the leaf porometer as a tool to improve vineyard irrigation programs. The completion of this objective is supported by data collection and irrigation records reported to the PI by the grower participants. Fruit quality parameters analyzed in years 1 and 2 of the project will be monitored to determine the effects that any changes in irrigation may have on the fruit. If we are able to improve or maintain fruit quality with a reduction in water use, our methods will be validated.
After conducting the trial for one year I have added three additional objectives for year two.
Use the data from year one of the study to help participating growers feel more comfortable with targeting greater water deficit.
Make sure participants and growers are clear on the purpose of protocols and objectives of the trial.
At sites – where it is possible – add a yield component to the trial.
For the education component we plan to educate participating and regional growers about the trial, techniques used to conduct our on-site research, and the support of the Western SARE program. This was accomplished in 2016 at various industry meetings over the course of the year where we were able to inform regional growers about the project, Western SARE, and even demonstrate the use of a porometer in a field setting. Through these opportunities we aim to stimulate grower interest in Oregon, which will facilitate further outreach opportunities and grower adoption of irrigation techniques used in the trial.
Accomplishments/Milestones
The first year of our project was a success. Participants were eager to work with the porometers and adopted the trial protocols very well. By the end of the season participants were proficient at using the porometers and understanding how to use readings to alter irrigation practices and save water.
Trial Implementation/Data Analysis
The greatest accomplishment of last year was that water was saved in the PRDI treatment replicates at all irrigated sites. This supports our theory that porometers can be used to impose a more targeted water deficit and save water. Pearl Family Vineyards had the greatest water savings of all irrigated sites with an equivalent savings of nearly 30,500 gallons per acre for the whole season (see Table 1).
Table 1: Irrigated site water use and savings 2016
| | | | |
| --- | --- | --- | --- |
| Vineyard | PRDI Treatment Average Water Use (Gallons/Acre) | RDI Treatment Average Water Use (Gallons/Acre) | Average Water Saved (Gallons/Acre)  |
| Pearl Family | 135,817 | 166,286 | 30,469 |
| Dancin1 | 37,337 | 56,0061 | 18,669 |
| Garnier | 36,799 | 47,724 | 10,925 |
| Panner Hanson | 71,129 | 77,943 | 6,814 |
| Jacob Hart Vineyard | – | – | – |
| Sims Vineyard | – | – | – |
1The grower participant at Dancin did not understand when to start irrigating the RDI treatment, and PRDI and RDI reps were irrigated exactly the same. The RDI Treatment Average Water Use number reported was calculated based on when they started irrigating the rest of their vineyard, which is when they should have started watering the RDI reps. As a result, the fruit quality parameters to follow were measured based on treatment, but there were not actual differences between the treatments.
Clusters samples were collected from each site just prior to harvest and frozen for later fruit analysis to determine whether the treatments had any impact on fruit quality parameters. There was only one site this year that experienced the predicted increase in fruit quality parameters. Pearl Family had not only the largest water savings, but also experienced the greatest increase in certain expected fruit quality parameters2 (see Table 2). That being said, we were able to maintain fruit quality with a reduction in water use at all irrigated sites.
Table 2: Fruit Quality Parameters 2016
Site & Treatment
Average Berry Weight (g)
Average Total Anthocyan ins (mg/L)
Average % Berry Water
Soil Texture % Sand
Soil Texture % Silt
Soil Texture % Clay
Pearl Family RDI
0.689
746
72.7%
64%
26%
10%
Pearl Family PRDI
0.623
884
70.9%
Dancin RDI3
0.773
909
71.3%
31%
31%
38%
Dancin PRDI3
0.815
886
71.5%
Garnier RDI
1.025
669
73.7%
67%
24%
9%
Garnier PRDI
1.006
727
72.7%
Panner Hanson RDI2
0.510
1945
62.0%
42%
21%
37%
Panner Hanson PRDI2
0.568
1445
66.2%
Jacob Hart Vineyard
0.942
1123
71.3%
31%
44%
25%
Sims Vineyard
0.755
1310
72.0%
27%
44%
29%
2 Panner Hanson experienced increased levels of dehydration and sunburn which had a great impact on fruit quality parameters, and made it impossible to determine differences base on treatment
3 see note 1
The data in Table 2 suggests that site differences may have a greater impact on fruit quality parameters quantified than irrigation at most sites this season. In 2016 the sites with the highest % sand in their soil composition had lower total anthocyanins than sites with soil consisting of higher % clay. This observed relation between anthocyanins and soil composition could help us address necessary differences in irrigation techniques between sites with sandy soils and those with clay or loam soils. Slight alterations in irrigation strategies at Pearl Family and Garnier will be implemented in 2017 in an effort to increase anthocyanins at harvest. If slight changes to the irrigation techniques at these sites have no effect on anthocyanins levels observed in comparison to sites with higher % clay, we will be able to draw some conclusions about the importance of soil characteristics.
Outreach
The outreach plan described in our proposal outlined minor outreach in year 1 and 2 of the project, while it would be the focus of the project in year 3. We were able to discuss the project and Western SARE program with over 50 growers from across Oregon this year. Of those growers we obtained 39 completed surveys which were distributed at three separate industry events. Survey responses revealed that 56.4% of people surveyed had never heard of the Western Sustainable Agriculture Research and Education program. Questions targeting irrigation practices provided some great insight into use of irrigation in Oregon. Of the growers who irrigate:
37.8% initiate irrigation based on historical start dates OR "they feel the time is right"
50% irrigated based on a weekly or bi-weekly irrigation schedule
22.7% irrigate based on plant physiological indicators
22.7% irrigate based on some plant water stress measurements
These irrigation specific responses will be critical in the development of our outreach program and indicates there is room to improve irrigation techniques by introducing and displaying the benefits of this technology on sustainable farming practices in the vineyard.
In addition to the grower focused outreach I had the opportunity to share information about Western SARE, NIFA, and our project in an interview with B Magazine (http://www.bethechange.com/bmagazine/) for an article on the drought in California to be released in the March issue. This magazine is an offshoot of the B Corp program. B Corps are defined as "for-profit companies certified by the nonprofit B Lab to meet rigorous standards of social and environmental performance, accountability, and transparency." The B Corp program has participants in 42 countries with more than 1600 participants, so there is the potential to reach a rather large number of people with the reference in this article.
Impacts and Contributions/Outcomes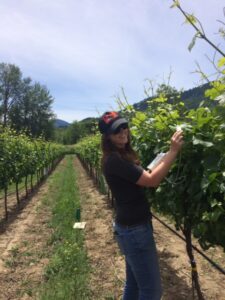 The results from 2016 are ery promising from a water saving point of view. There were areas of improvement that we plan to address in 2017. By augmenting our data collection and protocols, and improving participant understanding of the trial, 2017 will be another successful year for our project.
After data has been collected, combined, and analyzed from both 2016 and 2017 outreach will be our focus. Presentations, pamphlets, meetings and surveys will be distributed in 2018, which will address what impacts we have made on irrigation practices and grower understanding of porometer use, water saving irrigation techniques, and the Western SARE program.
Collaborators:
Collaborators: