Project Overview
SPDP22-14
Project Type:
Professional Development Program
Funds awarded in 2022:
$59,999.00
Projected End Date:
06/30/2024
Grant Recipient:
VISITRICO
Commodities
Not commodity specific
Practices
Farm Business Management:

agritourism

Sustainable Communities:

ethnic differences/cultural and demographic change, local and regional food systems, sustainability measures, food security
Proposal abstract:
Puerto Rico could be facing a serious food crisis over the next two decades due to its dependence on imports, worldwide demand for food, and continued decline in local production.  The most recent USDA agricultural census shows that the number of farms in Puerto Rico declined from 13,159 in 2012 to 8,230 in 2018 and that farms of less than 10 acres in size experienced a 57% reduction over this period. Most of these smaller farms are owned by individuals or families that make their living from the production of crops sold in the local market. While 80% of small farms are dedicated to crops, 72% of farms over 100 acres in size are dedicated to pasture or grazing.  Hence, smaller farms are an extremely important source of locally grown crops and efforts to strengthen their operation and increase their numbers will have a positive effect on Puerto Rico's food security and economy. The Visit Rico professional development program seeks to increase the number of professionals that can teach and mentor small farmers in low- and moderate-income communities in interpretation and sustainable farming practices to improve farm production and long-term sustainability. Visit Rico's own experience shows that farmers taking advantage of a growing interest in agritourism, and healthy foods can generate supplemental income and increase sustainability. However, most extension professionals do not have this skill set. The training program will promote diversity, equity, and inclusion (DEI) by teaching agricultural professionals and educators how to integrate these principles into their practice.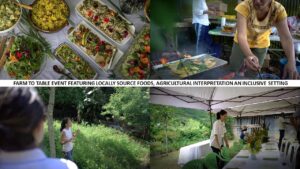 Project objectives from proposal:
The Visit Rico professional development program's main goal is to enrich the agricultural professional's toolkit and knowledge base so that they can continue to create impact through their professional practice and strengthen Puerto Rico's small farmer communities. The program seeks to impact 40 agricultural professionals and educators out of an eligible population above 400 in a one year span and has three training objectives: 1) providing courses and experiences that lead to competency development and mastery in agricultural interpretation and interpretation training, 2) Increasing or updating knowledge in organic and sustainable agricultural production and ability to transfer knowledge, 3) and educating about the importance of DEI in the agriculture profession and in promoting DEI through their professional practice to impact agricultural communities positively. The program's target audience are Extension Service agents, USDA field personnel, agricultural professionals and educators, and mentor farmers across Puerto Rico.