Project Overview
SW22-935
Project Type:
Research and Education
Funds awarded in 2022:
$349,979.00
Projected End Date:
07/31/2025
Host Institution Award ID:
G122-23-W9209
Grant Recipient:
University of Hawaii
Practices
Animal Production:

range improvement

Education and Training:

decision support system, extension, farmer to farmer, networking, on-farm/ranch research, participatory research, workshop, youth education

Natural Resources/Environment:

wildlife

Pest Management:

competition, disease vectors, economic threshold, field monitoring/scouting, integrated pest management
Proposal abstract:
Hawai'i lacks native ungulates, but introductions of hoofed mammals have resulted in population explosions of wild ungulates on each of the islands in the archipelago (Figure 1). These ungulates are unmanaged, aside from domesticated livestock, and can thus be considered feral, invasive, or both (Table 1). Although ungulates are a potentially unifying issue linking diverse stakeholders in meeting common challenges regarding food security and environmental health, to date, the needs of ranchers, farmers, state wildlife managers, and hunters have been framed as competing, rather than complementary. State agency management of game in Hawai'i, in contrast to the mainland, does not extend to private lands, creating a tremendous management burden for producers on private lands. Meanwhile, producers on state lease lands find themselves in a position of accommodating hunting access and regulations that may directly hinder their operations or prevent them from optimizing conservation practices. By identifying individual landowners and managers as decision makers for land parcels, while simultaneously addressing issues of land adjacency and potential synergistic solutions amongst stakeholders, we plan to create collaborative change in ungulate management that will lead to stability and sustainability for agriculture in Hawai'i. In this project we will determine relationships between ecological and economic health of ranch and agricultural lands, identify densities of unmanaged ungulates, and develop data-driven Integrated Pest Management (IPM) decision guidelines to improve on-farm wildlife management and profitability.
Related WSARE projects have successfully quantified economic damages from wildlife to livestock (Elser et al 2019) and highlighted benefits of native wildlife to agroecosystems (Smith and El-Swaify 2006; Price et al 2021). Producer collaborators indicated that species such as swine and deer are major pests, decreasing productivity and seriously threatening the viability of agriculture in Hawai'i. Negative impacts of unmanaged ungulates are well-documented in native, non-agricultural ecosystems (Leopold & Hess 2017), but economic damage from ungulates inhabiting agricultural lands in Hawai'i has not been quantified. Ungulates are valued by both hunters and producers for recreation, cultural practices, and food security (Conover 1998, Lohr et al. 2014, Luat-Hūʻeu et al. 2021, Luat-Hūʻeu et al., under review). In this project we will identify management actions that will improve food production, profitability and accessibility, reduce pests, and increase native biodiversity, while respecting cultural values.
We will survey ungulate presence and impacts using economic, social, and ecological criteria. Economic benefits will include improved forage, crop, and soil quality/quantity for producers; improved livestock production; incentivized hunting of invasive ungulates; and improved public relations, marketing, and conservation values for producers (Sergio et al. 2006, Ribaudo et al. 2010, Wilcox & Giuliano 2011, Brondum et al. 2017). Ecological benefits will include better biodiversity conservation and decreased soil erosion in watersheds and coastal ecosystems. We will weigh criteria from multiple stakeholders to determine IPM recommendations, seeking conservation of native species and culture, while providing local food security through protection of crops, increased accessibility of protein from ranching and hunting, and decreased sedimentation run-off to coral reef fisheries. Extension will be through publications, webinars, workshops, producer events, targeted youth outreach, and websites.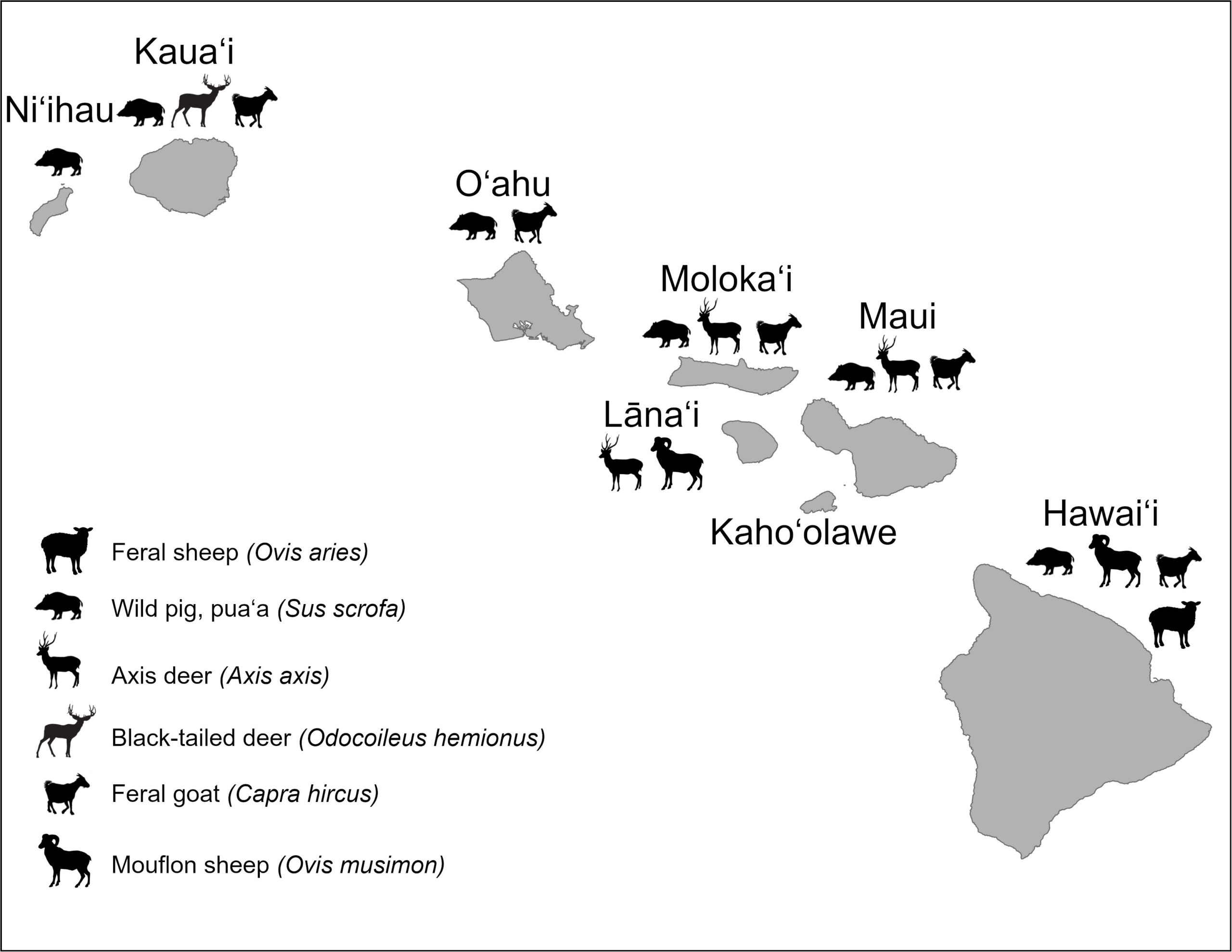 Table1_ungulates_WSARE
Project objectives from proposal:
Research Objectives:
Quantify economic impacts of invasive, unmanaged ungulates to agriculture in the Hawaiian Islands.

Quantify impacts of unmanaged ungulates on forage production in agricultural landscapes in Hawai'i.

Identify cultural significance of managed and unmanaged ungulates in agricultural landscapes of Hawai'i.

Identify culturally appropriate and economically viable methods of control for unmanaged ungulates, in order to improve food security in Hawai'i. 

Educate stakeholders and policy decision-makers about the impacts of unmanaged ungulates on economics, agriculture, food security, and ecosystems in Hawai'i.

Develop decision support guidelines that facilitate stakeholder choices for economically viable and culturally appropriate Integrated Pest Management Practices (IPM) for these ungulate populations, in order to mitigate damage to agricultural lands and ecosystems in Hawai'i.
Education Objectives
Educate stakeholders and policy decision-makers on the impacts of wild ungulates on agriculture and food security through Peer-to Peer learning modules and workshops.

Use Peer-to-Peer learning modules to increase awareness, and knowledge, skills, and abilities of stakeholders to recognize and discuss potential impacts of wild ungulates.

Educate stakeholders on culturally appropriate IPM practices developed to control wild ungulate populations and mitigate damage to agricultural lands.