Project Overview
YENC17-108
Project Type:
Youth Educator
Funds awarded in 2017:
$1,999.00
Projected End Date:
01/31/2019
Grant Recipient:
Auburn Public Schools
Information Products
(Article/Newsletter/Blog)
(Article/Newsletter/Blog)
Commodities
Not commodity specific
Practices
Crop Production:

nutrient management

Soil Management:

composting, earthworms

Sustainable Communities:

urban agriculture
Abstract:
The goal of this project was for students to be able to think creatively about agriculture and food production. Throughout this project, students learned about mechanics as the students had to build all of the garden towers from small pieces. They had to put all of the tower pieces together, assemble the wheels and casters, and attach them to the towers. The students had to do this on their own with little direct instruction.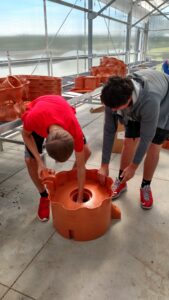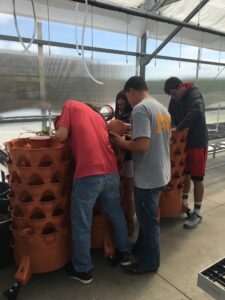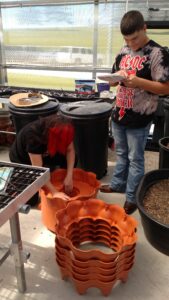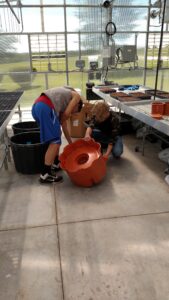 In addition, students learned about sustainable agriculture practices. They learned about how to raise worms. We got their worms in before we were ready for them in the garden towers. Therefore, they had to learn about creating the proper environment, keeping the environment moist and how to provide food. Students learned about food waste, as we were able to collect some of the food waste from the cafeteria to use for the composting. Students were also able to see how composting can help improve soil quality. We are looking forward to doing some experiments to compare using compost, different types of worms, and no compost at all.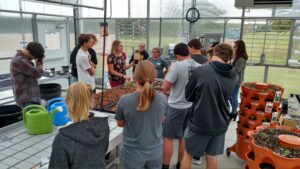 Most of this instruction occurred through hands on learning and discussion in the greenhouse. Through this project, students can describe the purpose of garden towers. Students can describe the proper environment for raising composting worms. Students can identify the benefits of composting. 
The neatest part of this project was that one student really latched on to the garden tower idea. He planned out an experiment, he came in during study hall to water and take care of the towers, and he is constantly brainstorming new ideas that he could use on with the garden towers. 
In conclusion, this project allowed students to think creatively about agriculture and recognize that agriculture doesn't have to be growing corn and doesn't need to have acres of land. Students are able to see how they can include this type of agriculture in their future, regardless of what their career or lifestyle is. 
Project objectives:
Engage students with alternative growing systems, as well as the benefits of earthworms and vermiculture.
Conserve soil and land by using less land and having minimal erosion and water loss due to being a self-contained system.
Positively impact hunger in our local community through growing and donating produce on the Farm Tower.
Foster teaching opportunities for high school students, who will teach 3rd grade students about the benefits of earthworms.
Introduce Farm Towers and the benefits of vermiculture through hosting greenhouse towers.