Project Overview
YENC18-132
Project Type:
Youth Educator
Funds awarded in 2018:
$2,000.00
Projected End Date:
12/31/2020
Grant Recipient:
Golden Hills RC&D
Commodities
Not commodity specific
Practices
Education and Training:

youth education

Sustainable Communities:

urban/rural integration
Abstract:
This 2018 summer day camp project was conducted at six local farms, providing age-appropriate understanding of sustainable food production through the lens of creative engagement. Each day camp was paired with a local farmer and a local artist using adapted, age-appropriate curricula. The project united two established organizations: the Southwest Iowa Food and Farm Initiative and the Southwest Iowa Arts Council. In addition to providing hands on experience on a working farm, each youth participant created art, visual or theatrical, to tie into the lessons of the day and deepened their engagement with agricultural themes.
Summary of camps:
June 7, 2018: Fork Tale Farm (Avoca IA):
Students classified the different breeds of chickens; learned about the benefits of raising chickens; learned the process of raising chickens; outlined the stages of growing a garden; made a rhubarb crisp with fresh rhubarb from the garden; wrote an agricultural themed story; performed an agricultural themed story; created and painted a clay pot –1 farmer, 1 artist, 1 educator; 7 participants (1st-4th grade)
June 11, 2018: Rolling Acres (Atlantic IA): Demonstrated how to grow food; tasted locally-grown food; listened and performed "The Three Sisters;" engaged in storytelling activities; listened to an agricultural themed story by Chad Elliott; collaborated with artist Chad Elliott to create an ag song and painting- 1 farmer, 2 artists, 1 educator; 3 YMCA helpers; 44 participants (YMCA 1st-5th grade)
June 13, 2018: Resilient Farms (Red Oak IA): Painted a farm scene; designed and built an art structure with various media; create an agricultural themed story; planted one of the "three sisters," and learned how to care for the plant; ate a locally-sourced meal; 2 farmers; 2 volunteers; 2 artists; 1 educator; 2 YMCA helpers; 25 participants (YMCA 1st-5th grade)
June 15, 2018: Jerry Banks Acreage (Malvern IA): Explored an Iowa prairie and identified plants with a naturalist; sketched and painted with pencils and pond water; recognized goats and chickens; created nature bundles with a Native American artist and healer; discussed the story of the "Three Sisters;" explored and practiced playing drums and learned about Native American clothing and importance of fire; listened to a flute; 1 naturalist, 1 farmer, 1 landowner; 1 educator; (28 participants; YMCA 1st-5th grade)
June 20, 2018: Teachout Farm (Shenandoah IA) – Explained the importance of soil health; summarized how to grow plants; discussed the importance of cover crops; created and performed a story; engaged in theater games to enhance creativity; constructed soil art; 1 farmer; 2 theatre educators; 2 volunteers; (Shenandoah Elementary 15 participants; 1st-5th grade)
June 22, 2018: Maple Edge Farm (Hastings IA)–crafted pots with soil from the farm; explained the importance of soil health and planted seeds; sampled herbs from the garden; designed and created agricultural themed masks; – a blend of ages, families; 3 farmers, 2 theatre educators, 1 potter, 3 volunteers (13 participants from the Ronald McDonald House)
June 29, 2018: Maple Edge Farm (Hastings IA) – created a farm scene with clay and other natural materials; learned about the importance of livestock, specifically goats, chickens, cattle; assisted with feeding livestock; designed and created sock puppets and performed with them; sang songs with a saw player; 4 farmers; 3 volunteers; 1 educator (12 participants from the Ronald McDonald House)
Project outcomes: Attendees learned artistic and agricultural skills from farmers and artists. Attendees connected with urban and rural community members to learn about ways to eat healthier, locally-sourced foods to make positive impacts on the environment and in their communities.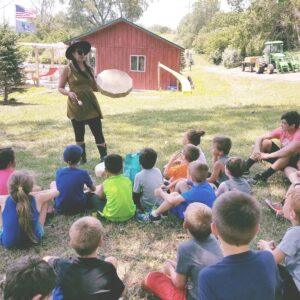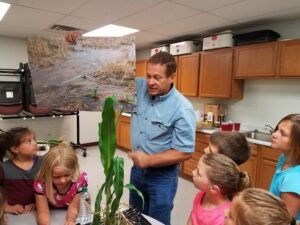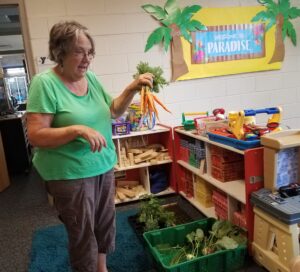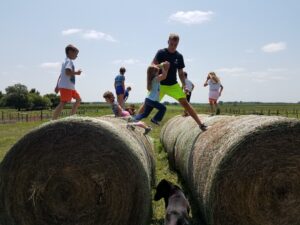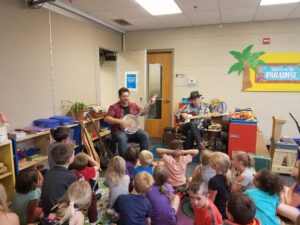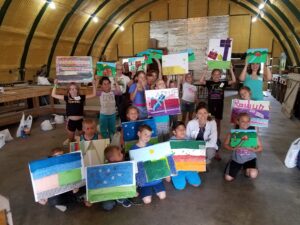 Project objectives:
Objectives of the Ag Arts Camp program for children included the following:
1. Participants gained experiential, age-appropriate, agricultural knowledge by visiting and engaging with five unique, local farm environments that use sustainable methods as part of their operation
2. Participants learned to recognize how food is grown and produced through hands-on engagement
3. Participants learned about the importance of local food production and/or land conservation, using creative drama and theater techniques, storytelling, and visual art projects