Final report for EW14-002
Project Type:
Professional Development Program
Funds awarded in 2014:
$65,559.00
Projected End Date:
11/30/2017
Grant Recipient:
University of Arizona
Project Information
Abstract:
Our goal for Year Two of this project was to reach out and make up to five (5) face-to-face presentations at county centers located in different regions of  the state of Arizona. Unfortunately, due to scheduling difficulties, we were unable to reach our goal. We did conduct two (2) full day-long presentations to cooperative extension groups.  The first group was with faculty and staff associated with with Arizona Project WET; a non-profit extension-outreach group providing water education to schools in Arizona. The group had heard about our workshop presentations and expressed interest in learning to incorporate solar photovoltaic water pumping fundamentals into their water festival activities. Staff members from Pima and Maricopa County centers participated in the workshop training. The second workshop was conducted in Yavapai County at the Cooperative Extension office. Attendees included Master Gardener trainees and Cooperative Extension personnel. In an effort to promote the workshop in the northern part of our state, we accepted an invitation to set up a booth with our solar teaching and demonstration materials at a sustainability-themed health & education expo hosted by (name) in Kayenta, Arizona. Local folks were provided an opportunity to view the demonstrations, ask questions about solar photovoltaic energy systems, and receive information about available grants. We continue to contact individual county office personnel to set up dates for spring and summer 2017. We will attempt to add three (3) workshops to our third year of our project. 
Workshop Format. A pre-workshop survey was sent out to the participants and a request made for their participation to complete prior to attending the workshop. As an introduction, all workshop participants viewed a powerpoint presentation of a summary of energy sources (both renewable and nonrenewable) and demand sectors (Annual Energy Review)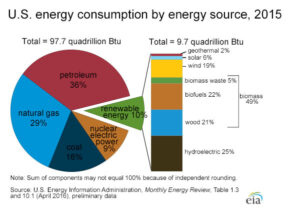 The information was compiled from the U.S. Energy Information Administration (www.eia.gov) and from the document, Empower Arizona. The purpose is to provide workshop participants with what size of a role renewable energy sources, and specifically solar PV; play in contributing energy on a national level as well as in the state of Arizona. We continue the presentation with a primer on "electricity basics". This was added to the presentation following feedback from our Year One presentations. We learned there needed to be an understanding about how electricity works and the differences between both alternating current (AC) and direct current (DC), and specific terminology including "watts", "volts", "amperes", and "Ohms Law".  We covered solar photovoltaic effect, and what is happening in the solar cell with electrons. Solar PV system types, components of systems, and safe use of multimeters in the use of measuring voltage & current, and calculating electrical power rounded out the classroom presentation. 
Hands-on activities included working with 20-watt multi-crystalline solar PV modules to create a simple circuit (source to load), a series circuit (two modules connected to a load = voltage is summed; current remains the same), and a parallel circuit ( two modules connected to a load = current is summed; voltage remains the same). Following a demonstration of interpreting information found on the back sheets of solar modules, we had participants assemble and test simple PV-direct water pumping systems using the 20-watt modules, 12 volt DC water bilge pumps, five-gallon buckets, and PVC pipe components to create solar fountains. A solar irradience meter (pyranometers) was used to show participants how to measure solar irradience (W/m2) intensity and the relationship to solar PV module power output. An inclinometer is used to show how module tilt and orientation affects power output. Working in small groups, participants used digital clamp-on multimeters to measure and record DC voltage, and DC current, and compute power output, and see what happens to the flowing water when the module is shaded from direct sunlight.
Finally, all participants collect materials and build their own demonstration systems. Using industry-grade hand tools, participants build PV cable connectors with multi-contact connectors (MC-3) to wire to their solar modules, and separate male (+) and female (-) PV home run leads to connect between their solar module and the 12 volt DC water bilge pumps. In addition to measuring and cutting PVC pipe, and drilling holes in clear PVC pipe each participant collects connectors, tubing, end caps, and wire nuts to assemble a complete working system. Digital clamp-on multimeters to test their demonstration systems, and reference materials. We provide a flashdrive loaded with solar PV curriculum, a copy of a Teaching Solar reference book from the Rahus Institute, and a complimentary copy of Home Power Magazine. 
Our goal for Year Three was to schedule and conduct three to four additional summer workshops, and complete large, PV-direct water pumping systems for county centers desiring to have their own large solar-powered water pumping demonstration system. Two county presentations (La Paz, and Santa Cruz County) were made. A workshop was made to volunteer staff members of the Tucson Village Garden (TVG) project, part of the Pima County Cooperative Extension Center, and to staff of Arizona Project WET. 
Additionally, a separate workshop was made (by invitation) to an audience of high school agriculture educators during the California Agriculture Teachers Association (CATA) annual Summer Conference at Cal Poly State University in San Luis Obispo. Eight teachers attended the day-long workshop. 
Project Objectives:
2016 - Year Two
Reaching out to county extension offices and arranging dates for face-to-face workshop presentations.
Responding to county extension agents agreeing to have a face-to-face workshop presentation made at their county office.
Making face-to-face workshop presentations to extension educators, researchers, outreach educators, master gardeners, and 4-H leaders.
Collect pre-workshop online survey data from workshop participants.
Conduct hands-on demonstration of safe use of solar PV hand-tools to workshop participants.
 Have workshop participants use hand tools to assemble demonstration solar PV water pumping systems.
Have workshop participants complete post-workshop survey.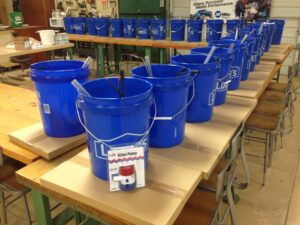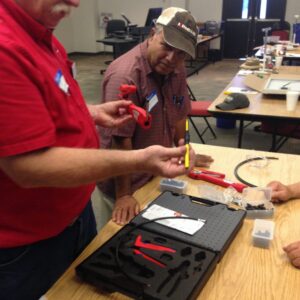 2017 - Year Three
Hands-on solar energy education workshop conducted for extension educators of La Paz County Cooperative Extension Center in Parker, Arizona.
Hands-on solar energy education workshop conducted for extension educator, volunteer staff, and science educators attending Santa Cruz County Cooperative Extension workshop in Nogales, Arizona.
Four (4) solar demonstration workshops were made to high school agriculture science students participating in district-level FFA Agriculture Mechanics Career Development Event (CDE) Team Activity. Workshops were conducted for students at Arizona Western College in Yuma, AZ., Central Arizona College in Casa Grande, AZ., Round Valley High School in Snowflake, AZ.,  Arizona State University Polytechnic Campus in Mesa, AZ
An invited solar PV demonstration was made to students and faculty of the Star Charter School in Leupp, AZ on the Navajo Reservation. 
Cooperators
Education
Educational approach:
This project utilizes a hands-on approach to instructing workshop participants of the fundamentals of solar photovoltaic energy systems. A link to an online pre-workshop knowledge exam/survey was emailed to all workshop attendees before the workshop. A powerpoint presentation was made at the beginning of each workshop to introduce participants to solar photovoltaic (PV) energy systems. The presentation included electrical wiring basics, solar PV terminology, a description of types of solar PV systems, sun location, peak sun hours, hand tools, and safety instruction on use of digital clamp-on multimeters to measure voltage and current. 
Education & Outreach Initiatives
Electrical Safety
Objective:
Workshop attendees will be able to:
1. Turn on a digital clamp-on multimeter.
2. Select the appropriate setting on a digital clamp-on multimeter.
3. Take DC open-circuit voltage (Voc) readings of a solar module using a digital clamp-on multimeter.
4. Take DC short-circuit current (Isc) readings of a solar module using a digital clamp-on multimeter.
Description:
Workshop attendees are shown how to use a digital clamp-on multimeter to safely take open-circuit voltage (Voc) and short-circuit current (Isc) readings of solar PV modules using a 20-watt polycrystalline modules. The demonstration stressed (1) what we expect to get; (2) what we obtained; and (3) going to back to re-measure our circuit to determine if the multimeter is operating correctly. 
We used an energized 120 volt AC circuit to demonstrate. We took measurements to determine what values we expect to to obtain. We confirmed our expected readings. Then we measured the unknown circuit. Did we obtain values what we expected? Then, we went back and measured readings from the first circuit to e sure our multimeter is reading correctly.
Workshop attendees repeated this process using 20-watt DC solar PV modules. We discussed what values we expected to obtain, then took readings and recorded our obtained values. Then we discuss what values we obtained to determine if the values were in range. If values were not as we expected we discussed why, and what may be variables affecting our observed values.
Outcomes and impacts:
Workshop attendees were able to to turn on and select the appropriate readings on the digital clamp-on multimeter to obtain open-circuit voltage (Voc) and short-circuit current (Isc) values. 
Workshop attendees felt more confident in their ability to use a digital clamp-on multimeter to take various electrical circuit measurements (both AC and DC). 
Series and Parallel Wiring Connections
Objective:
All workshop attendees will be able to:
1. Wire two solar modules in series and take electrical measurements.
2. Wire two solar modules in parallel and take electrical measurements.
3. Explain the difference in electrical values obtained when wiring in series or parallel.
Description:
Two (nearly) identical solar PV-powered water pumping systems are set up in the sun and operating. Each system includes a two 20-watt polycrystalline solar modules, a five gallon bucket of water, and a 12-volt DC bilge pump connected to a PVC water fountain. Digital clamp-on multimeters are connected around the PV homerun leads of each system. Workshop attendees observe the flow of water moving through each pumping system, and observe the DC current values. 
Shading is applied on one or both modules of each system and the effect is observed and noted.
Workshop attendees will use connect two or more solar modules in series and measure the effect on total circuit DC voltage and DC current. 
Outcomes and impacts:
Workshop attendees observe that connecting solar PV modules in series results in the total voltage of each module is added, while the total current stays the same (as one module). Workshop attendees observe that connecting solar PV modules in parallel results in the total voltage of module remains the same (as one module), while the total current is summed.  
Water flow from the bilge pump is greater (faster) when the modules are connected in parallel. The current is doubled, and the pump reacts to higher current. As long as the minimum DC voltage (12-volts) is met, it has no or little effect on the rate of flow of water through the pump.
Stand-Alone Solar PV Demonstration Water Pumping Systems
Objective:
To construct and distribute solar PV demonstration water pumping systems to county extension centers.
Description:
University of Arizona undergraduate students enrolled in AGTM 100 and AGTM 200 lecture and laboratory courses in fall 2017 and spring 2018 semesters are constructing, assembling, and testing portable solar PV demonstration water pumping systems, which will be distributed to county extension centers for use in solar PV outreach education activities. 
Students in AGTM 100 (fall 201&) constructed frames for supporting a solar PV module, safety disconnect switch, and solar pump controller. 
Students in the AGTM 200 (spring 2018), will assemble the pumping system and connect the pump system to the mobile frames. The systems will be tested, and distributed to the county extension centers.
Outcomes and impacts:
Four mobile systems were constructed in the fall semester course. Four pumping systems will be assembled and connected to the mobile systems. The pumping systems are composed of submersible pumps, pumping cisterns, 100 gal water troughs, and water return lines. 
Educational & Outreach Activities
6
Curricula, factsheets or educational tools
6
Published press articles, newsletters
6
Webinars / talks / presentations
Learning Outcomes
75
Participants gained or increased knowledge, skills and/or attitudes about sustainable agriculture topics, practices, strategies, approaches
39
Ag professionals intend to use knowledge, attitudes, skills and/or awareness learned
Project Outcomes
3
New working collaborations
Project outcomes:
Impacts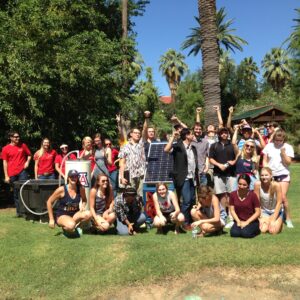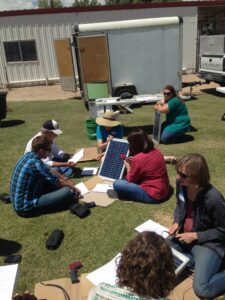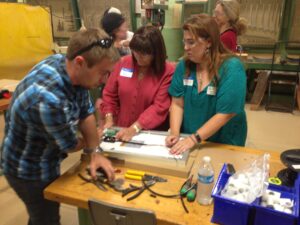 2016 - Year Two
Through the work of this ongoing project and word of mouth, additional audiences have been reached. Solar PV modules, pumping systems, and hand tools are used to engage recipients. The groups included:
An invited  demonstration setup made to folks attending the Tuba City Garden Expo 2016 on the Hopi Reservation in Tuba City, Arizona. Approximately 70 people stopped by the demonstration booth during the day.
An invited demonstration to students and teachers attending the Ag Youth Day at the Tohono O'odham Community College near Sells, Arizona. Approximately 150 students and teachers attended and rotated through our demonstration presentation.
A demonstration to multiple groups of high school students and teachers attending the Southwest Agriculture Summit at Arizona Western College in Yuma, Arizona. Five groups of 20 students rotated through our presentation demonstration. 
A demonstration to Hispanic high school engineering students, and agriculture science students at San Luis High School in San Luis, Arizona. Two full days spent at the school with presentations made to seven classes per day.
An invited  hands-on presentation to group of Beginning Farmers attending a workshop in Florence, Arizona. Approximately 45 adults attended.
An invited hands-on solar fountain assembly workshop to high school agriculture instructors attending an electrical wiring professional development workshop hosted by Iowa State University in Ames, Iowa. Twenty two teachers attended, and assembled their own solar PV demonstration water pumping systems.
An invited  presentation and demonstration of solar PV energy systems to secondary agriculture educators attending the New Professionals Conference in Fresno, California. Approximately 75 teachers attended the 90 minute presentation.
An invited presentation and demonstration to attendees of a USDA-sponsored Food Safety Conference at the San Xavier Cooperative Farm, in Tucson, Arizona. This workshop included the installation and demonstration of a solar PV powered submersible well project to be used for low-flow irrigation. About 20 adults attended and participated.
An oral presentation of benefits of solar PV instruction to attendees of the annual NACTA Research Conference, University of Hawaii, Manoa. 
An innovative teaching  poster presentation of use of a solar PV mock well project to university instructors and students attending the National Agricultural Mechanics Professional Development Committee (NAMPDC) Blue-Ribbon Research Presentations, in Indianapolis, Indiana.
A solar PV hands-on workshop for Arizona Agriculture Teachers Association (AATA) conducted in fall 2016, included similar topics of Cooperative Extension workshop presentations, as well as other solar PV teaching activities including pizza box solar ovens, and lunch box solar chargers.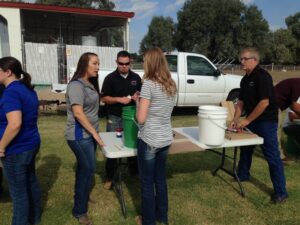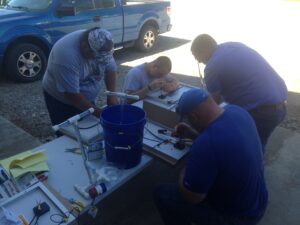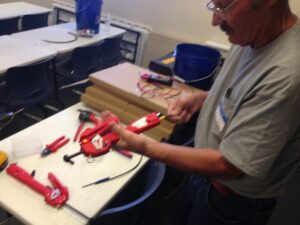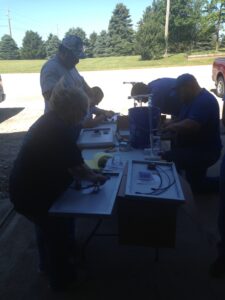 Three solar PV-related extension factsheets were published in 2016:
az1703-2016 05-26-16 Mounting your Solar Photovoltaic (PV) System
az1702-2016 05-23-16  Hand tools used for Solar Photovoltaic (PV) Systems
az1701-2016 05-23-16  Demystifying the Solar Photovoltaic (PV) Module
Accomplishments
2016 - Year Two
Conducted two face-to-face workshops with cooperative extension agents and related outreach extension personnel. One group was made up of 15 faculty and volunteer of Project WET  training organization. Attendees represented two separate county office locations; Pima County and Pinal County. All participants engaged in hands-on activities including safe use of digital clamp-on multimeters to measure electricity. Workshop attendees worked in small groups learning to assemble a simple PV-direct system (20-watt solar PV module wired directly to a 12-volt DC water bilge pump). Groups observed the setup and operation of two separate pumping systems: two solar PV modules wired in series, and connected to a 12-volt DC water bilge pumping system, and two solar PV modules wired in parallel, and connected to a 12-volt DC water bilge pumping system. The measuring of solar PV power output using using a digital clamp-on multimeter revealed different voltage and current values. Using solar PV handtools such a a pyranometer to measure and record solar irradience levels, an inclinometer to measure module tilt, and a non-contact thermometer to measure solar cell temperature. A discussion of the relationship of all three variables: solar irradience, module tilt (and directional orientation), and solar cell temperature have on the power output using a solar fountain (the direct current --DC) as the load.
Second cooperative extension center presentation was to a group attendees at Yavapai County Extension Center. Six workshop attendees representing 4-H and master gardener organizations engaged in solar fountain assembly and testing.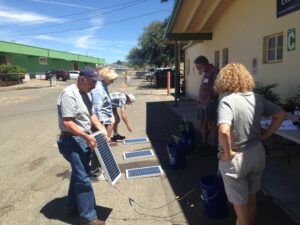 6
Agricultural service provider participants who used knowledge and skills learned through this project (or incorporated project materials) in their educational activities, services, information products and/or tools for farmers
45
Farmers reached through participant's programs
Additional Outcomes:
From 2017 summer workshops, workshop evaluation feedback is provided here:
What did you like most about this workshop?
"Great examples - a lot of information"
"The hands on learning and getting an in depth look into solar panels and modules"
"Both hands on and powerpoint were excellent"
"The hands-on activities"
"Learning more about solar"
"The hands on"
"The lecture & hands-on experience"
"Hands-on activities"
"The hands-on activities"
"The construction of the fountain"
"The hands-on training"
"Building fountain"
     2. What did you like least about this workshop?
"Too hot outside - do again during the winder"
"There was nothing I didn't like, it was a fun and good workshop"
"Nothing"
"Dont know what Im missing  because I dont know much about solar energy"
"I liked it all"
"Nothing very informative"
"Everything is awesome"
"Everything was covered"
"Suggestion:: The ppt presentation should come first before the hands-on to refresh us on parallel/series circuits or everything about electricity"
"None. Great job"
"Nothing!"
"Electrical jargon"
Scaled responses to statements (1= Strongly Disagree - 5 = Strongly Agree)
Average score is presented for each statement.
The workshop was organized in a way that made sense. 4.46
The workshop content was complete. 4.84
The workshop addressed concepts that I thought it would. 4.76
The workshop provided more information than was expected. 4.84
I have become more competent in this area because of this workshop. 4.53
The materials used in this workshop helped me understand the content. 4.69
The hands-on component of this workshop fit with the learning objectives of the workshop. 4.84
The workshop was good value for the information that I received. 4.92
My center can make use of the materials provided by this workshop. 4.76
The facilitator was organized and prepared. 5.00
The facilitator was knowledgeable in the subject area. 4.92
The facilitator expressed  subject material clearly. 4.92
The facilitator welcomed questions and encouraged discussion. 4.92
I would attend another workshop related to this topic if offered. 4.92
An additional comments you wish to share.
"Very knowledgeable - thanks"
"Thank you for conducting this wonderful workshop"
"Would like to attend any other workshops"
"The workshop is very interesting and very appropriate for our climatic condition"
"This was an excellent program. Thank you very much"
Recommendations:
Conduct other types of renewable energy-related hands-on workshops. Additional solar energy-related workshops could focus on stand-alone battery-based systems.
Information Products