Final Report for FNC15-984
Project Type:
Farmer/Rancher
Funds awarded in 2015:
$7,492.00
Projected End Date:
02/15/2017
Project Information
Summary:
Spice Acres will collect local restaurant non-meat food waste within a 100-mile radius to supplement our pig feed, thus reducing restaurant landfill waste as well as reducing our pig feed costs, and in the process create a replicable food collection method that can be shared with other area farmers.
Introduction:
     At Spice Acres we spent the last two years supplementing hogs on pasture with non-GMO grains, and both non-compostable (NCFW) and compostable food waste (CFW).  Ultimately we were successful in reducing purchased feed amounts, as compared to conventional hog rearing data; and reduced the amount of food waste destined for landfills.  Conversely we were unsuccessful at keeping labor costs low enough to justify the continuation of the "Let Them Eat Waste" program.  Through trial, error, and partnership, Spice Acres has begun the pursuit of a new alternative feed, and closed waste loop program.
     To begin, a comparison of averaged year one and two data is juxtaposed to conventional hog rearing data (Hog Scrap Tracker; Comparison to Conventional tab).  Through this comparison our feed amounts purchased in lbs/hog were 20-30% lower, but our feed costs were about 10-20% higher.  The cost difference primarily lies in our use of non-GMO grain, and lack of bulk ordering due to the small volume of hogs that we were raising.  Additionally our feed conversion rate (FCR) and final hog weight was on-par with conventional systems, although our use of averages over multi-stage hog raising may have exaggerated these data points.  With that being said, purchased feed data should not undermine the importance of food waste use in this project.  Our hogs were supplemented with 56-113 lbs/mth/hog in NCFW and CFW.  This may explain the reduction in overall pounds of feed purchased.  Additionally this means a total of over 12,000 pounds of food waste were kept-out of a landfill and ultimately used to raise food itself.  This achieved the goals of closing waste loops, pushing the definition of "sustainably-raised meat", and reduced the environmental impact of our pork production operation.
     To continue our comparison to conventional hog rearing it is important to look at the labor costs involved.  In conventional operations the infrastructure, scale, and low wages allow labor costs to come to $1.79/mth/hog.  We were significantly higher in our labor costs at an average of $55/mth/hog.  This is due to a number of factors including, but not limited to:  scrap collection and delivery, bucket cleaning, fence moving, non-automated feeding and watering, pasture set-up, and livable wages.  Over the term of this project we experimented with several hog food distribution methods; from the least-effective mixing of grain, scraps, and water, to the more-effective dumping of food scraps where pasture needed more turning-over.  Ultimately our food waste collection was a lot of time, effort and fuel.  For our scale, this was not justifiable, hence we cut-back in year two and relied mostly on on-farm CFW to supplement the hog feeding.  If we were a larger scale operation, with more hogs and enhanced infrastructure (delivery truck and bins) this may have been more cost-effective.
     With regards to the NCFW and CFW the restaurant did save money by not having to utilize a compost pick-up service in year one, but had to re-instate using the service in year two.  This service charges about $500/mth to pick-up and compost over 150 gallons of food waste.  On the farm end, we were at an average of $101/mth for pick-up of scraps alone, not including vehicle and fuel expenses, and then hog feeding labor hours and bucket cleaning.
     Overall this was a very informative project, that does have potential to be replicated, and may even be profitable on a larger scale.  In terms of Spice Acres we have decided to use this concept of closing waste loops and alternative feed sources, and take it in a slightly different direction.  By teaming-up with the restaurant's compost pick-up service we are experimenting with a more comprehensive compost method, black soldier fly larvae.  By utilizing these larvae the compost service has been able to collect both CFW and NCFW, in the effort to supplement our chicken feed with either dormant or dried larvae.  This is an exciting endeavor that may prove to be much-more cost effective as an existing service with established infrastructure will handle the food waste, and produce a lighter, less labor-intensive, and drastically more nutritious and high protein feed supplement.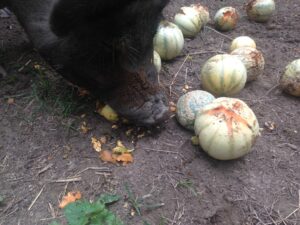 Cooperators
Research