Final report for FNC16-1057
Project Type:
Farmer/Rancher
Funds awarded in 2016:
$22,500.00
Projected End Date:
01/30/2018
Grant Recipient:
Great Lakes Hydrogrow
Project Information
Description of operation:
I ,Tim Small, reside on a 40 acre farm, located in Calhoun County. The farm consists primarily of hay production with 25% of the area wood lot and 25% row crop. I have worked in commercial and residential landscaping and irrigation installation for 26 years. Included in my experience are greenhouse operation and maintenance, retail garden center sales, plant propagation and production, sales and marketing. I have owned and operated farms for a period of 10 years.
Collaborator, Gary Small. Bachelor of Science and Masters in Forest Pathology. Owner of Applewood Landscaping and Garden Center 21 years. City of Jackson Forester 10 years. Mr. Small will act as liaison with Michigan State University to achieve state of the art technology for sterile tissue culture propagation. Gary's greenhouse experience with be beneficial for this project.
Collaborator, Dr. Rob Sirrine will assist in all information contributed by MSU.
Collaborator, Marty and Stephanie Moga own and operate High Five Hops Farm LLC. A 5 acre hop farm in Marshall, Mi. They have been growing hops since 2008 and have first hand experience with root stock hardships. They will be providing feedback as well as planting and monitoring plants produced by this project. They are
members of the Michigan Hop Growers Association. They will be expanding their operation in the coming years.
Collaborator, Steve Peck has extensive experience in landscaping and irrigation, and hydroponics.
Collaborator, Sean Trowbridge owner of Top Hops Farm located in Goodrich, Mi including 10.5 acre hop yard. He has a bachelor of science from CMU and works as an environmental scientist.
Investing in commercial hop acreage is a serious long term commitment. Startup investment and need for specialized equipment is immense. However, hop plants are the most critical part in the success of Michigan hop farmers. Virus positive and diseased plants can decimate the farmers investment. I have seen how infected and poor quality plants can: lower product quality, lower yields, increase pesticide expense, buying replacement plants, labor for planting replacement plants, lost yield because of replanting, and spread of virus and disease to a healthy hop yard. New farmers are unable to recognize insect and disease infected plants and may lose plants before the problem is recognized.
Commercial hop farmers in Michigan use rooted cuttings for planting new acreage and only two propagators exist in the state. While one propagator is doing a good job he can only supply a fraction of the need. I have received plants with visible downy mildew infection. With cool humid growing conditions in Michigan, hop plants are very susceptible to disease. Healthy plants are crucial to enable a good harvest. A few diseased plants can spread infection throughout the hop yard. I have plans for expansion but to be successful I need virus-free disease-free pest-free propagation.
Summary:
Upon approval of the grant, work began March 1, 2016.  Substantial research was initiated for the project.
Upon determination that tissue culture labs are cost prohibitive, several tissue culture labs were contacted. One tissue culture lab was able to produce three varieties of Certified Virus and Disease free hop plants. 
Great Lakes Hydrogrow was created for the research and development phase of Virus and Disease Free Hop Plant Production. Our website http://www.greatlakeshydrogrow.com/ was produced to disseminate information about this project. 
Project Objectives:
We began to study the process of tissue culture and what is required to be successful using this method. We studied the uses of tissue culture in hop plant production.  We reviewed the status of current research being completed.  We researched the feasibility of using tissue culture to produce disease free Hop plants.
As a result of our research we located a project using tissue cultures for Hop plant production:
'Addendum A'  The Elimination Of Viruses And Hop Latent Viroid From Hop In Poland.  '2005'
ISHS Acta Horticulturae 668: I International Humulus Symposium
THE ELIMINATION OF VIRUSES AND HOP LATENT VIROID FROM HOP (HUMULUS LUPULUS L.) IN POLAND
Authors:  
M. Grudzińska, E. Solarska
Keywords:  
virus and viroid elimination, in vitro culture, meristem tip, hop plants, PNRSV, HpMV, HLVd
DOI:  
10.17660/ActaHortic.2005.668.19
Abstract:
Hops in Poland are commonly infected with Hop latent viroid (HLVd) and viruses: Prunus necrotic ringspot virus (PNRSV) and Hop mosaic virus (HpMV). Previous experiments were successful in obtaining virus-free hop plants by heat therapy method but appeared to be inefficient for HLVd elimination. In these studies virus and viroid free hop plants were obtained by meristem-tip culture. The meristem tips were excised from lateral shoot tips of naturally infected plants and placed in vitro. In vitro regeneration ability varied between 0 and 46% of regenerated explants depending upon cultivar, depending upon the time at which meristems tips were obtained. The regenerated plants were tested by ELISA for the presence of viruses and by RT-PCR for the presence of HLVd. Plants with no detectable viruses and HLVd were used for further propagation.

Article - full text (enhanced PDF format, 78920 bytes)
Translate

Select Language Afrikaans Albanian Amharic Arabic Armenian Azerbaijani Basque Belarusian Bengali Bosnian Bulgarian Catalan Cebuano Chichewa Chinese (Simplified) Chinese (Traditional) Corsican Croatian Czech Danish Dutch Esperanto Estonian Filipino Finnish French Frisian Galician Georgian German Greek Gujarati Haitian Creole Hausa Hawaiian Hebrew Hindi Hmong Hungarian Icelandic Igbo Indonesian Irish Italian Japanese Javanese Kannada Kazakh Khmer Korean Kurdish (Kurmanji) Kyrgyz Lao Latin Latvian Lithuanian Luxembourgish Macedonian Malagasy Malay Malayalam Maltese Maori Marathi Mongolian Myanmar (Burmese) Nepali Norwegian Pashto Persian Polish Portuguese Punjabi Romanian Russian Samoan Scots Gaelic Serbian Sesotho Shona Sindhi Sinhala Slovak Slovenian Somali Spanish Sundanese Swahili Swedish Tajik Tamil Telugu Thai Turkish Ukrainian Urdu Uzbek Vietnamese Welsh Xhosa Yiddish Yoruba Zulu

Powered by Translate

Download Adobe Acrobat Reader (free software to read PDF files
URL www.actahort.org      Hosted by KU Leuven      © ISHS
Cooperators
Research
Research results and discussion:
Impacts
Our contact with Hark Orchids resulted in conformation of the study cited in addendum A.  See pictures below. Secondly we are able to purchase Certified Virus and Disease Free Hop Plants from Agristarts Inc.  These plants are considered thumb plugs and need to be grown larger for transplanting to a hop yard.  It is our intent to purchase plant material and increase their size in a sterile environment in 2017.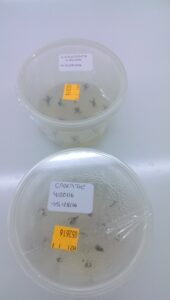 Accomplishments
As a result of our investigation of current tissue culture facilities, we discovered one tissue culture lab 'Hark Orchids' in Kalamazoo, Mi.  Another tissue culture lab 'Agristarts'  was located in Apopka, Fl.  Hark Orchids currently produces six million tissue cultured in vitro orchids per year.  We collected meristematic tissue from four varieties of Hop plants from High Five Hop Farm in Marshall, Mi during the month of April.  Tissue was collected from the top three inches of the new growth, then placed  into sterile containers, then transported to Hark Orchid tissue lab in accordance with previously cited study.  Upon tissue culturing samples, two of the samples were found to be virus free.  This result replicates the previous cited study.  Because Hark Orchid are unable to produce rooted plant material we paused for further evaluation of their involvement.  Secondly we visited Agristarts in Apopka, Fl. They currently produce nine million tissue cultured plant plugs a year.  We discovered that they currently produce three varieties of Virus and Disease Free Hop Plants.
Participation Summary
1
Farmers participating in research
Educational & Outreach Activities
1
Curricula, factsheets or educational tools
1
Webinars / talks / presentations
Participation Summary:
3
Ag professionals participated
Education/outreach description:
The communication of our project was presented in many ways. At the 2017 annual Hop & Barley Conference in Michigan, 3 of our team members spoke as part of a panel to 500 attendees relating to our project. Additionally we communicated with the owners of Hark Orchids from Germany regarding their experience in plant tissue culture. We also met with Roseville Farms and Agristarts Inc. both from Opopka, Fl regarding their experience in the industry. As a result of our involvement in the Michigan Hop & Barley Conference, a representative of The Michigan Dept. of Agriculture and Rural Development, and their plant pathologist visited our farm to gather more information about our project. Their interest was peeked because they informed us that have been unable to locate a hops grower providing virus free hops in the State of Michigan. Our team also received many phone calls from prospective hops customers, at which time we were able to provide much information about the value of virus free hops. We also communicated with representatives from Northeast, Great Lakes, and Canada, regarding the availability and necessity of virus free hops. Representatives from 8 states and Canada were informed of our project and website. Our website that was created for this project has been an effective communicator for the importance of utilizing virus free hops in hop yards across the country.
Please visit http://www.greatlakeshydrogrow.com/ for more information and photos.
Learning Outcomes
550
Farmers reported changes in knowledge, attitudes, skills and/or awareness as a result of their participation
Lessons Learned:
The necessity of producing and growing hops plants in a virus free, environmentally controlled greenhouse structure. The necessity of producing virus free hop plant stock. The necessity of educating hop yard owners about the importance of planting virus free material. As a result of this project we at Great Lakes Hydrogrow, (GLH) decided to construct a insect/virus free greenhouse structure. As a result of this project, Michigan State University, has contracted GLH to produce field ready hops plants from selected cuttings provided by The Clean Plant Network. Because of this project GLH has been able to provide a viable source of virus free hops plants for the hop industry.
Because a bonafide tissue culture laboratory costs in excess of $500,000, we chose to cooperate with an existing plant tissue lab in Florida to produce tissue cultured mother plants. Once the hop plant was tissue cultured and grew a supporting root system the plants were then shipped to Michigan and grown to a size suitable for field planting. Plants were then hand delivered to AGDIA, Elkhart, In and tested for multiple viruses. The test results showed no viruses present. The advantage is to provide the hop industry with virus free plants that will require much less pesticide control and result in greater hops production. Their are no disadvantages of a project such as this. For more information on this project farmers can visit http://www.greatlakeshydrogrow.com/
Project Outcomes
1
New working collaboration
Recommendations:
This project resulted in its original objective of providing virus free hop plants to growers. Unfortunately, most hop yards today are planted with rhizomes(root) which in large part are infected with virus; however, are very inexpensive. Though a virus free hop plant requires much less chemical application and has greater yield as a result, it is difficult for a producer to accept additional cost of a virus free plant. We recommend as a result of this project: (1) It is incumbent upon university staff to educate hop yard owners about the advantages of virus free plant material. (2) Because of the fact that existing hop plant growers are not providing virus free plants it is necessary that the Michigan Dept. of Agriculture mandate that all hop plants planted in the state of Michigan be certified virus free.