Final report for FNC17-1094
Project Type:
Farmer/Rancher
Funds awarded in 2017:
$20,175.00
Projected End Date:
07/31/2019
Grant Recipients:
Dorothy's Range; Old Smith Place
Project Information
Description of operation:
This project assesses the feasibility and demand for a cooperatively owned, federally licensed and woman-farmer led mobile slaughtering unit and/or retail butcher establishment in South Central Wisconsin, primarily servicing the counties of Green, Lafayette and Iowa.
Summary:
Problem
This project addresses two key problems: lack of local meat processors in southern Wisconsin in addition to amplifying representation of women in the meat industry.
In the tri-county area in Southern Wisconsin (Lafayette, Iowa & Green Counties), there are only four state inspected facilities; however, there remains increasing unmet demand from area farmers for meat processing, especially a facility specializing in no stress kill, organic and artisan-cured meats. The current facilities available are only Wisconsin licensed and have long waiting times. Furthermore, the majority of state facilities trim recipes include ingredients that contradict the quality and integrity of the meat, such as adding MSG and high fructose corn syrup. With our close proximity to Illinois and Iowa markets, many of the local producers are forced to use federal USDA facilities located long distances from their farm.
Over twenty area farms have expressed interest in potentially using such a facility; however, due to the scale of such a potential project, our local community has not been able to bring it to the next level of strategic planning, which this grant would wonderfully be able to support.
Additionally, this project provides learning and insight into how to increase the role women play in the meat industry. While women farmers are increasing in number at over 20 percent in the last 20 years, we still remain significantly underrepresented in the meat industry, male-led professions: male ranchers account for 97% of all US livestock sales (2012 census).   This statistic manifests itself locally with no female leadership in the current meat processing facilities. We see the need for improved networks, training, and support to get women involved.
Solution
This project address the two key problems as follows:
1) Establishing a plan for a new local meat processor
We will collaboratively bring together key stakeholders to develop a strategic vision and detailed business plan for launching a cooperatively and women-led processing facility in our region. Specifically, we will research opportunities for a:
USDA Federally inspected (or a State Facility that has a reciprocity agreement) Butcher facility
Federally USDA (or reciprocity)  licensed Mobile Slaughter Facility
Retail meat market featuring local and sustainably raised meat
Learning space for meat enthusiasts
Organic Approved Facility
Charcuterie furthering value added
Larding, and specialty sausage making
Feasibility of further utilizing butchered animal, using hides for local leather, bones for broth and soil amendments
Through engaged research (including on-site visits of existing facilities), facilitated community focus groups and discussion and meetings with various state and federal regulatory officials, we will establish the foundation for a business plan and funding sources as well as provide a template and insights for other communities that have a need for increased local processors. Additionally, we will dial into the financial feasibility of such a facility and find additional funding options if the project proves to be feasible.
2) Amplifying representation of women in the meat industry
Being uniquely female farmer led, this whole project process will be documented in a detailed case study with various outreach materials (articles, workshop, etc.) to help support other female farmers in similar situations. Gender barriers will have the forum for discussion and collaborative solutions which will then via these outreach materials help inspire and guide other women to take leadership roles in meat processing.
In order for more women to engage in the meat processing industry, we need to see increased role models to aspire to. Through the documentation of both the successes and challenges of this project, this project will achieve exactly that.
Project Objectives:
Assess the feasibility and demand for a cooperatively owned, federally licensed (or a reciprocity agreement)  and woman-farmer led mobile slaughtering unit and/or retail butcher establishment in South Central Wisconsin, primarily servicing the counties of Green, Lafayette and Iowa.
Benefit the environment by growing local meat production, which decreases the amount of fuel used to transport product and encourages practices these farmers are known to use including: using local feed sources that are traceable, pasturing, organic production, and spreading manure over large areas rather than being concentrated and turned into a negative externality.
Increase income in the long-term for area farmers by providing additional sales outlets, additional products and opportunities, increasing ease of processing meat and decreasing time spent away from the farm, keeping more money earned in the local economy, and creating local jobs with the mobile slaughtering unit and potential retail facility.
Provide social benefits including a model for other regions, preservation of area cultural tradition, customer and farmer education about the local market supply, and a local meat production model that is transparent and ethical throughout the production and labor process.
Cooperators
Research
Materials and methods:
2017. Prusia visited local grocery stores and interviewed owners: Emberson's in Blanchardville, Wisconsin and Gempler's in Monticello; both have active meat counters and with aged out butcher facilities on site.
December 2017. Visiting butcher facilities: Prusia volunteered at Prem Meats, in Spring Green, a butcher facility to gain an inside look and understanding of their story.  Prem Meats is a new state facility that works with a mobile slaughter unit, Natural Harvest. They do not presently have a kill site. She came to understand the process of breaking down animals, as well as the physical and mental demands of butchers at their facility.  Also she recognized the volume of animal waste produced in a day's work. She was able to see different equipment in use and further understand what is needed for a fully functioning facility , such as vacuum sealers, scales, labeling, rail system, band saw, refrigeration, water and efficient layout .
September 2018. Storm contacted Green, Lafayette and Iowa county Zoning regarding current regulations, ordinances and zoning requirements on butcher facilities.
survey-for-users1 draft:
October 2018. We developed a survey using Survey Monkey and distributed hard copies with self addressed envelopes. The goal of the survey is to assess the feasibility and demand for an additional brick and mortar butcher facility and mobile slaughter unit (MSU)  to service farmers in south central Wisconsin. The survey was dispersed at farm events, farmer's markets, farm related Facebook groups, through Ag extension agent contact lists, County Land and Water Conservation departments and farm list serves. We took care to not exclude any sized local farm. Evaluating the butcher needs of existing farmers through conversations at farm events, online farm list serves, and Facebook farm chat groups.
2018. Prusia joined Niche Meat Processor Assistant Network (NMPAN), an amazing niche meat processing listserve, and has had real time discussions online with others in the industry around the country.  
NMPAN Webinars attended:
February 2018

. "Looking Back to Look Forward: Reflections on 10 years in the Niche Meat Processing Sector"

September 2018

. "This Study May Save you Millions: Writing a Quality Feasibility Study for your Meat Business"

Used as a resource to build our survey and evaluate the result. Provided comparisons about different business structures (i.e LLC and Cooperatives)
December 2018. "Buy or Build: Evaluating buying, renovating, or building a new meat plant"
2017-2019. Prusia and Storm currently used Natural Harvest a state certified MSU for abattoir services for hogs, goats, and sheep. They have now seen how a licensed facility works and have taken the opportunity to ask observe and ask questions throughout the process.  We have now seen first hand how the process works.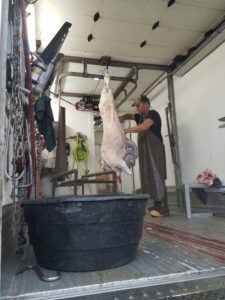 November 2018. Prusia, Storm and Anderson attended Woman Food Ag and Network (WFAN) conference in Des Moines, Iowa. Toured a slow meat processor in Story City ( see photo). Lessons learned: They started 5 years ago.Their employees are their first customers-They realize keeping employees happy keeps the facility running.  They have a tiered pricing structure for custom or standard butchering.Toured their humanely designed kill site. Learned that their only regret was not building a poultry processing facility on the same site, across the parking lot from their large animal facility-they see this as a need in their community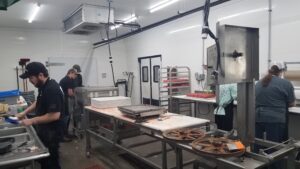 December 2018. Met with Driftless Poultry Processing Cooperative to discuss the possibility of pooling resources and building a facility that serves both the poultry producers and large animal producers in Southwestern Wisconsin.
January 17, 2019. Met with Jeff Sindelar, UW Extension Meat Specialist University of Wisconsin-Madison. A subject that comes up time and again is the need for more trained staff. Jeff teaches a HAACP course teaching the 7 principles of HAACP for $250-275. Includes how to write a plan for state and USDA, and International HAACP Alliance stamp.
January 2019. Survey Monkey Survey. Local female farmers contacted via 200+ email listserve. Flyers were posted in 6 places throughout the study area promoting the Survey with paper versions of the survey available and links to the online version. Ad space was rented in local shopper insert (34,000 reach). 82 total surveys collected; 3700+ animals raised by the cohort in our survey. Farms ranged from small 5 acre producers to producers managing 800 acres. Complete answers to the data are found here:All SM Data Summaries See power point.Focus-group-presentation
March 2019. Engaged in discussions with local technical institute regarding meat processing classes. Currently there is no curriculum for the program. Dusty Williams with Blackhawk Tech Ag would develop a program if there were people ready to sign up.
April 18, 2019. Met with the Southwest Business Development Center; the staff helped us focus our next step efforts and assisted with business planning and organizational charts.
April 26, 2019 Visit Jeff Swenson with DATCP, discussed what options there are for more slaughter facilities in Wisconsin. He likes the idea of more MSU and is willing to help us find ways to make it happen. He explained the reciprocity between states that border Wisconsin and he believes we can get a reciprocity agreement for an MSU.
May 17, 2019. Met with Kelly Maynard from the UW Extension's Center for Coops to discuss forming a cooperatively run MSU.
May/June. MOSES Organic Broadcaster article Team approach needed to address lack of meat processors
August 2019. Host discussion of results with farmers at In Her Boots workshop in Brodhead, Wisconsin.
Research results and discussion:
In order to evaluate the feasibility and demand for a cooperatively owned, federally licensed and woman farmer led mobile slaughtering unit and/or retail butcher establishment; April Prusia, Bethany Storm and Betty Anderson asked their community. They reached out to women farmers at local gatherings and potlucks, they invited livestock producers from Green, Iowa and Lafayette Counties to take an online (or on paper) survey through direct invitation, posters at local groceries, banks and post offices, and even took an ad out in the local papers. Eighty two producers responded. The results were evaluated and shared with the community at four local events; two focus group meetings, a local Wisconsin Farmers Union meeting and at the Annual MOSES conference in LaCrosse, Wisconsin. We met with dozens of folks personally and reached thousands more through local news articles. Many were excited to learn about the possibility of mobile slaughter. All agreed-" we need more meat processing options".
To learn more about the process and how to go about building a brick and mortar facility and a mobile slaughter unit, the group met with many local extension agents; contacted the local zoning offices; discussed the process with the Livestock and Meat Specialist at the Department of Agriculture and Consumer Protection; discussed business models with the Southwest Business Development Center; searched online resources; and attended webinars on the topic through Niche Meat Processor Assistant Network (NMPAN).
Looking beyond the scope of this project, we realize that supporting the butchery trade by helping to lift up the trade and get people excited about cutting meat again is an important next step. In addition to the many articles written about the project, April, Bethany and Betty were guests on A Public Affair, a radio talk show on the Madison Community Station on July 29, 2019. Listen here: Women in Agriculture Also, lifting the slaughter burden for our local brick and mortar butcher shops could give them the time they need to process more animals, to render lard, to customize products or to create charcuterie. We believe that the producers that we surveyed, the folks we met with in our many public meetings and through everyday conversation would hire a mobile slaughter unit (MSU) if they were able to get their carcasses to the butcher shop of their choosing. That would include having a reciprocity agreement to sell their carcass to butchers or restaurants in the states that border Wisconsin; namely Illinois and Iowa which are most accessible to our producers in the southwestern part of Wisconsin.
We have begun looking into options to create a women run, cooperatively owned mobile slaughter unit. This fall we will be creating the cooperative. One of the first steps the co-op will be taking is to host a fundraiser with an emphasis on awareness of the issues at hand; lack of human capital and too few processors that are USDA certified in our stateline area. We will host a couple of educational events which will demonstrate whole carcass deconstruction, and a dinner planned around whole carcass use.  The event will be held at a local farm-to-table restaurant or the farm of one of our organizers. We will be reaching out to farm to table chefs in Madison, Milwaukee, and Chicago to join us either as a participant in the deconstruction, a meal planner, or simply as a guest who is passionate about the local food movement. 
The Cooperative plans to build a mobile slaughter unit (MSU) using a Ford 750 type cab, as we recognize that a semi is too big to maneuver in our driftless area farms.  We will work with the Wisconsin Department of Agriculture, Trade and Consumer Protection to insure that we have the proper specifications that will allow us to be state inspected with a CIS agreement to allow us to move carcases across state lines. The Cooperative will hire a Client Services Representative to work on agreements with local butcher shops, restaurants and cooperatives to further break down the carcasses.
Participation Summary
82
Farmers participating in research
Educational & Outreach Activities
2
Curricula, factsheets or educational tools
6
Published press articles, newsletters
3
Webinars / talks / presentations
1
Other educational activities: WORT 89.9 -Madison, Wisconsin community radio station. Discussed project on A Public Affair.
Participation Summary:
2
Ag professionals participated
Education/outreach description:
February 13, 2019 and March 2, 2019. Hosted Focus Groups in Monroe, WI and Dodgeville, WI respectively. We discussed the findings of our Survey Monkey survey and future plans for the project. Fifteen people attended; farmers, butchers and educators. Brooke Bechen from Country Today newspaper (reach of 25,000) attended Monroe meeting and wrote two articles about our project. See attachments.
https://www.leadertelegram.com/country-today/environment/couple-prides-themselves-on-sustainable-state-of-mind/article_a6818180-2c05-5219-86a0-b6fe5ea33c5e.html?utm_medium=social&utm_source=facebook&utm_campaign=user-share&fbclid=IwAR1MqrjFrUNiXkZhZTUmuKPqpL4h4GqTjie58F-PfIJrfH-fqRoMAA80zdY
February 17, 2019. Updated Wisconsin Farmers Union South Central Chapter members on the project. Over 60 people in attendance. Many great questions and local interest in utilizing a USDA facility
February 22, 2019. Hosted Women in Meat: Meet-up at the Midwest Organic and Sustainable Education Service (MOSES). 48 people in attendance. A lot of interest from people all over the Midwest. Women (and men) recognize the need in their own community. Agri-View reporter followed up with us for an article in that publication.  See attachment.
February 21-23rd, 2019. In Her Boots booth; project information on display at MOSES conference, estimated reach of 250 conference participants.
Focus group summary: Everyone in attendance (farmers, butchers and extension agents) agreed that there is a need for more processors. The butchers focused on the need for more trained staff. The farmers were interested in more options, mobile slaughter and butcher dates. Extension staff recognized a need for additional educational needs.
July 29, 2019. Guest speakers on A Public Affair on WORT 89.9 Madison Community Radio. April, Betty and Bethany spoke to the audience and answered listeners questions regarding the project.
August 2, 2019. Betty and Brandi Bondi facilitate discussion at In Her Boots-Soil Sisters event.
October 17-19, 2019. April, Betty and Brandi will be facilitating an intensive workshop at the Women in Sustainable Agriculture Conference.
Learning Outcomes
70
Farmers reported changes in knowledge, attitudes, skills and/or awareness as a result of their participation
Lessons Learned:
From talking with local agencies and people involved in the butcher industry in our area we found that the biggest gap in the system is the human capital.  It is hard to find and retain staff to cut meat and even more challenging to find someone to work the kill floor. Everyone we spoke with, including our local butchers, believe that there is a demand for a new brick and mortar butcher shop with an associated MSU, it is necessary to keep our current number of farmers in business. During the course of our project 3 local butcher shops closed their doors.
As farmers we recognize that solving our problem of not having enough access to USDA butcher facilities, would help solve the same problem for many of our local farmers. If we don't do something to change the way things are, we will lose more farmers. Thankfully we believe the Wisconsin Department of Agriculture, Trade and Consumer Protection (DATCP) and the University of Wisconsin Extension Service (UWES) recognizes this issue and is eager to work with citizens interested in solving these problems. 
We believe our method of reaching out to folks through the survey, meeting with many through local focus groups, and talking with professionals at the University of Wisconsin and DATCP has given us the resources we need to create a more detailed business plan when we answer the questions of; what, where and how. After meeting with the Southwest Business Development Center we realize that the detailed business plan for a brick and mortar facility is complicated to define without having a definite location or building in mind. There are many financial variables to consider such as, whether or not we are building a facility from the ground up, what local incentives can we find (maybe we can locate in a Tax Increment Financing District to help defray costs for sewer, electric, etc), what grant funds are available, what financing rate is available to us, and what is our source of equipment (new, used, auction, etc). We found many great online resources through  Niche Meat Processor Assistant Network (NMPAN) including calculators which would help steer a final business plan; slaughter cash flow template and mobile slaughter unit cost calculator. The resources are easily found on NMPANs website. We have developed the Job Requirement Qualifications (Client Services JRQ and Meat JRQ) for future employees each document includes a business description.
As we recognize a lack of human capital in the butcher trade, we will continue to work with our local UW extension service agents and DATCP personnel to develop apprenticeship programs. To address the immediate need of more slaughter options we will continue to work towards developing a cooperatively owned MSU.
We learned that until we address the human capital deficiency we will not be able to address the value added whole carcass utilization issue that we hoped to address with this grant.
While the existing facilities do not fill all of our hopes for our products, we recognize that they are a huge asset to our communities and it is important that we continue to work with them, not against them as we move forward.
Project Outcomes
5
New working collaborations