Progress report for FNC19-1166
Project Type:
Farmer/Rancher
Funds awarded in 2019:
$26,993.00
Projected End Date:
02/28/2021
Grant Recipient:
Scenic Valley Perch
Project Information
Description of operation:
Scenic Valley Perch is a non-operational dairy farm on seven acres of land that remains after the former acreage had been sold off. The property still has its buildings and manure pit intact and the manure pit was converted into a perch raising pond. The buildings were repurposed to accommodate rearing tanks inside.
Summary:
The weakest link in the perch production process has been and currently is obtaining high-grade feed trained fingerlings for grow-out.  In the 1980s and 90s Wisconsin had several facilities which supplied feed trained fingerlings to new indoor recirculation aquaculture systems (RAS).  Unfortunately, all of the RAS systems in Wisconsin, as well as other states, went out of business because of the poor supply of feed trained fingerlings as well as poor RAS designs.  To achieve a premium grow-out perch, fish have to be continuously size graded (high graded for premium quality) in order to make grow-out profitable.  We currently have a ready market for premium feed trained fish in grow-out systems such as the use of pond-side tanks at Blue Iris Fish Farm, most high school aquaculture systems and aquaponics systems the last two being viable RAS systems.  Unfortunately, there are no growers supplying feed trained fingerlings for these markets.   We intend to address that problem head-on and develop an intense recirculating perch rearing system that will allow each farmer to supply multiple grow-out facilities with the required number of feed trained fingerlings they need yearly.
Project Objectives:
Objective 1 will ensure that all participants obtain the training to conduct feed training perch fry.
Objective 2 will have each participant prepare onsite hatching and feed training facilities designed to create an adequate supply of feed trained fingerlings for sale to grow-out facilities.
Objective 3 is to create a local network of farmers supplying feed trained fingerlings.
Cooperators
Research
Materials and methods:
All three farms already have sufficient water resources to carry out the project.  Both Van Ornums and West carry broodstock and will have fertilized perch eggs available for the project.  The West facility will not need additional equipment.  The Van Ornum facility has recently constructed a hatching facility but will need sufficient fry culture tanks for feed training and size grading.  The Van Ornums are in the process of expanding the number of ponds so that fry numbers will not be limited by the number of tanks that houses the feed training.  Since ponds will be used in addition to the fry culture tanks, the Van Ornums will need hand nets, fry seines, and graders.  The Hallams will need to set up hatching tanks as well as fry tanks.  The Hallams have both an indoor aquaponics facility and a vacant barn which is intended to house the fry tanks.  As with the Van Ornums, the Hallams will need to be provided with several fry tanks, hatching tank, hand nets, a fry seine, and fish grader.  Both the Hallams and Van Ornums will need to have pumps for water transfer, an oxygen backup system and assorted tubing for plumbing.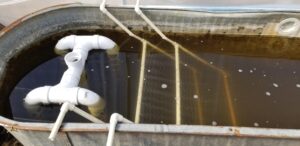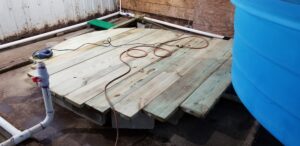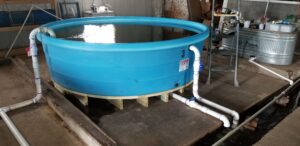 Participation Summary
3
Farmers participating in research
Educational & Outreach Activities
3
Published press articles, newsletters
1
Webinars / talks / presentations
Participation Summary:
60
Ag professionals participated
Education/outreach description:
FSA tour of Blue Iris:  The agency representatives were seeking exposure to aquaculture and were treated to a short presentation and a tour of Blue Iris Fish Farm given by Bill West and assisted by Tami Hallam.
Various articles written for Wisconsin Aquaculture Association publication, The Creel written by Bill West and Tami Hallam.
On farm seining demonstration given at Scenic Valley Perch by Tami Hallam to ~20 invitees.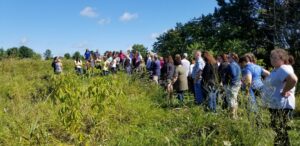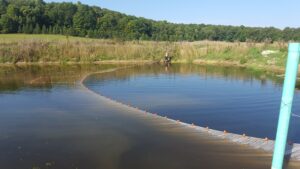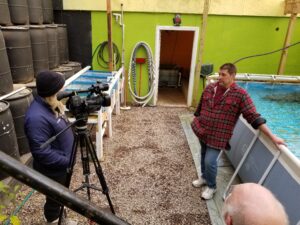 We have had inquiries from NY, PA, MI, IA, IL, WI, and MN for interviews and site visits that may have to be completed after COVID-19.
Some training sessions have been put off until 2021 while we try to navigate proper COVID-19 safeguards.
Blue Iris is just now completing a perch hatchery/feed training facility and this will be available for use as a training site in 2021 again, assuming proper COVID-19 safeguards can be navigated.
Learning Outcomes
3
Farmers reported changes in knowledge, attitudes, skills and/or awareness as a result of their participation
Lessons Learned:
We were very successful in identifying what makes the feed training in the pond so successful.  We can add to that knowledge for more success next year.
Blue Iris Fish Farm ordered fry feeds in February 2019. Fry feeds included fry powder plus several other ingredients which are blended with the fry powder. Together, this blend covers the gamut of ingredients required as first feeds for perch and includes feed of high protein and fat, vitamins, assorted minerals supplemented by blends of egg yolk, plankton, krill, and spirillum. It is important to note that our particular style of feed training yellow perch fry considers that this blended feed is initially considered only a partial diet for the fry with much of the feed considered to be natural pond generated plankton. The second item of note is that yellow perch have a very small gape and most first feeds are too large to be ingested. Hence the reliance on natural pond culture and fry powder supplements. Feed supplements were blended weekly by Blue Iris. Supplements were distributed weekly to the participants of the project or as often as requested. There was no intent to make up large batches for distribution because it is better to make up smaller batches to insure freshness. In addition, because the diet changes weekly, the recipe had to be changed weekly to consider the growth of the perch and their ability to ingest larger sized feeds. For example, in the first two months we are going from a perch that is less than a quarter inch to about a two-inch fish. The range in size of base feeds is from a fry powder through two sizes of a crumble then through 1mm size up to 2mm size. At the same time, we anticipate that the fish will be weaned off natural plankton and onto 100% prepared diet which at that point we call it "feed trained." There are other procedures to accomplish feed training. For this project, most of the effort was done in an outdoor setting. However, some of the feed training was attempted while hatching and first feeding indoors. Here we supplemented the water with pond water or cultured water. These efforts were not successful in getting any substantial amount of fry feed trained. Another technique is to hatch all the eggs in a fertilized pond and allow the fry to eat natural plankton until they are about one inch in size. At that point they are seined out of the pond, brought into a tank system, and exposed to fry feeds from one to three weeks. Those that take to the feed are returned to the pond as feed trained. This project was most successful feed training fry by exposing fry to prepared diets as early as five days post hatch. Fry were observed to be taking prepared diets as early as three weeks after initiation of the feeding regimen. This resulted in fry that grew much faster than other techniques attempted. For instance, with natural feeding only, our records indicate that perch will obtain about one inch in length from late June to July 1st. With supplemental feeding commencing at about five days post hatch, we have obtained growth rates of one inch per month each month of summer. This is not critical, but this technique does get fish larger by fall and we are more comfortable size grading fish to obtain premium fish for cold banking and grow-out operations. One should mention that there are a few assumptions that go into feed training. For instance, one should have a fair knowledge about just how many fry you have hatched. This could be quite variable unless you have knowledge of how many eggs you started with and what was the success rate of the hatch - parameters that vary substantially year to year. When we start feed training, we try to feed at a rate of between 4-6% body weight for fry. This rate is reduced to about 2% body weight by the time the fish reaches about 2 inches. However, from above, we initially try to hit a 10% supplemental feed/90% natural feed ratio and slide that to 100% supplemental by the time they are 100% feed trained. The final variable is to address the attraction to light exhibited by the fry. Not mentioned above is the fact that we also feed fry 24 hours per day. Assuming 10% supplemental for day feeding is one thing but if we add a solar light by the feeder, we now must assume that the fry are getting nearly 100% supplemental feed as long as the light is on (between 6 to 8 extra hours). Use of positive photo response should be considered at least for the first 6 weeks of fry training and reduce the photo hours to between 16 - 18 hours or regular summer daylight hours after two months. This set of feeding protocols should be based on site observations and will vary widely site to site. For this project, Blue Iris was able to feed train and set aside about 15,000 fingerlings. Of that, between 6,000 to 8,000 were considered candidates for cold banking. Those fish were transferred to Hallam's fish farm (Scenic Valley Perch) where they are presently being stored in a cold banking environment. At the present time, these fish are successfully being cold banked and are available for sale to indoor facilities who are raising perch and may need to harvest and restock their tanks. As planned, restocking of indoor facilities could begin as early as December and last until the end of March or early April when over wintered stocks from ponds might again be available.
We learned how to be much more successful in outdoor feed training within 10 days of hatch.
Specific recipes for indoor feed training without green water is yet to be found.  Success ratio remains about 20%.
Advantage:  Without specific resolutions of the issues will result in continued failure rate of the industry.  It will not result in a sustainable perch food fish industry.
We are on the cusp of success.  We have an absolute deficit in the industry supplying components of what we need.  The perch market is as high as it's ever been.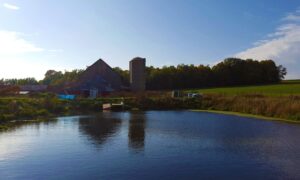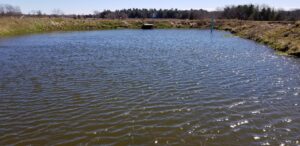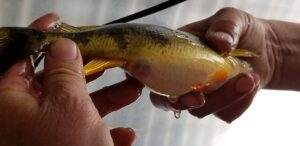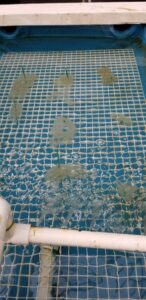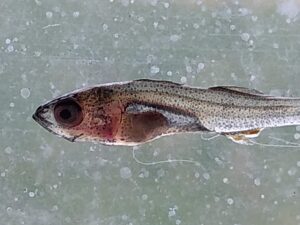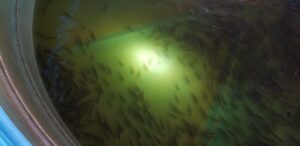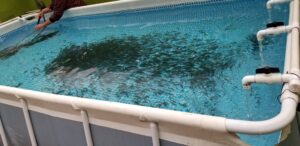 Project Outcomes
5
Farmers changed or adopted a practice
3
New working collaborations
Success stories:
We have local farmers and at least three high schools who are now using the feed trained fingerlings from this study in their businesses/programs.
In 2020 tragedy struck our family at Scenic Valley Perch Farm.  We lost our beloved son to a horrible car accident in early March.  Subsequently, we lost our hatch as our grief was so great, we did not spend the necessary time and effort to make sure our eggs were looked after properly.  Our part in the research was greatly impeded.  Van's Flippin' Fish Farm did very well though, raising 40,000 feed trained fish to over one inch.  We are still following the progress on those fish.  Blue Iris Fish Farm expanded to add a training facility and already has orders for 25,000+ fingerlings for 2021!
Recommendations:
Assuming success, we would need to offer numerous training studies.  We can train people who have access to very little water.  We would like to specifically target farmers who have been driven out of business that still have their manure pits and agricultural buildings intact.
Information Products