Final report for FNC20-1231
Project Type:
Farmer/Rancher
Funds awarded in 2020:
$17,564.00
Projected End Date:
01/31/2022
Grant Recipient:
Custom Foodscaping
Project Information
Description of operation:
We are leasing a spot in the back of one of the greenhouses at EarthDance.
Summary:
The goal of this project is to develop a market in the St. Louis area for locally-adapted organic fruit species. Climate conditions in the lower midwest challenge ecologically-conscious home gardeners, orchardists, and market gardeners who wish to produce fruit without harmful chemical inputs. Awareness of locally-adapted cultivars (such as grafted pawpaws) and climate-suited exotics (such as bush cherries) is low. 
Partnering with EarthDance Organic Farm School as its educational partner and provider of a nursery space, Custom Foodscaping will create a line of foodscaping fruits to be sold at local retail stores. Each product will be packaged with a link to an educational video and care instructions. The line will focus on low-maintenance native plants and exotics suitable for the limited space of urban and suburban customers. It will also reduce the skilled labor and knowledge needed to bring these trees to fruition. 
While maturing at EarthDance, the foodscaping nursery will provide a unique educational tool for EarthDance apprentices, volunteers and visitors, including underserved populations. EarthDance will host Foodscaping Day (June 2020), a half-day foodscaping workshop taught by Matt Lebon of Custom Foodscaping. The workshop will educate participants on foodscaping practices with an emphasis on well-adapted nativars and exotic fruiting plants.
Project Objectives:
Promote adoption of organic practices among home growers and small orchards by increasing the local availability of locally-adapted fruiting foodscape plants in St. Louis retail nursery market.
Educate the public on the ecological value and caretaking process of fruiting nativar and exotic trees and shrubs though educational videos and instructive product materials.
Create value-added fruit tree products by maturing bareroot transplants for a year, then selling them as potted branching trees. This product line will eliminate skilled labor for the customer while delivering well sized, locally-grown and aesthetically-pleasing trees and shrubs ready to plant.
Cooperators
Research
Materials and methods:
1
Custom Foodscaping pre-orders plants, including:
Nativars: Cultivated varieties of native fruiting plants chosen for their desirability as food crops, including:
Grafted pawpaw

Grafted Persimmon

Elderberry cultivars

Aronia cultivars

Clove currant cultivars
Exotics: These non-natives are specifically chosen for their ease of growing.  In some cases these are species that simply have very little pest and disease pressure and in other cases we choose susceptible species that offer specific varieties that have great pest and disease resistance.  For example, pears are well known fruit trees but almost all the common varieties suffer from fire blight, a pervasive disease in our region. Our line of foodscaping plants will offer only fire blight resistant pears as well as:
Apple (Disease resistant varieties like "Liberty")

Pear (Disease resistant varieties like "Magness")

Asian Pear (Disease resistant varieties like "Shinko")

Bush Cherries

Hardy Fig

Trifoliate Orange (Hardy Orange)

Currants

Jujube
2
In coordination with EarthDance, Custom Foodscaping prepares nursery for maturing bareroot transplants for customers seeking branching trees. By growing fruit trees locally, we avoid the steep shipping costs involved with shipping potted plants. Custom Foodscaping calls four nurseries to gather data on inventory of nativar and exotic products at four local nurseries.
3
EarthDance hosts Custom Foodscaping's half-day event "Foodscaping Day" in June 2020. The event will feature an interactive tour as participants learn foodscaping practices.
Participants will be surveyed on their before-and-after knowledge of plant species and variety selection, propagation techniques and grafting techniques and their intention to plant natives and exotics. EarthDance will receive exposure and an opportunity to showcase their existing foodscaping plants.
4
Custom Foodscaping team packages potted foodscape plants with Custom Foodscaping branding and educational materials. Distributes to Greenscape Gardens and other local nurseries. Custom Foodscaping gathers inventory numbers from four local nurseries carrying its line to demonstrate emerging nativar and exotic species market.
Research results and discussion:
NURSERY ASSESSMENT
Custom Foodscaping called four local nurseries to assess the availability of the seven species we are carrying in our fall line: Shinko Asian Pear Tree, Nanking Bush Cherry Tree, Trifoliate Orange, Consort Black Currant, Red Lake Currant, Captivator Gooseberry, Pixwell Gooseberry and Jostaberry. 
Greenscape Gardens: none carried as of August 2020. Sold our first line to Greenscape Gardens in October 2020 -- success! 
Garden Ridge Nursery: none carried of August 2020 or October 2020
Maypop: none carried as of August 2020 or October 2020
Rolling Ridge: none carried as of August 2020 or October 2020
These results demonstrated a need for organic nativar and exotic fruit and shrubs in the St. Louis market - and that we were able to fill that need in a small but significant way! 
NEW NURSERY LINE AND PUBLIC EDUCATION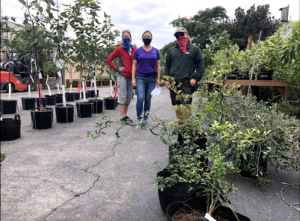 We sold our first Custom Foodscaping line at Greenscape Gardens in the fall of 2020. The owner there was enthusiastic to see us contributing more native fruit trees to her inventory. To date, Greenscape Gardens did not carry some of the plants in our new inventory so it's exciting to be bringing more native plants to the public. We achieved our goal. 
We sold 30 plants including Shinko Asian Pear Tree, Nanking Bush Cherry Tree, Trifoliate Orange, Consort Black Currant, Red Lake Currant, Captivator Gooseberry, Pixwell Gooseberry and Jostaberry (2-3 each). They were potted in 3 or 5 gallon pots depending on size.  Greenscape Gardens sold the plants within the range of $25-$30. 
For other famers curious about the economics of creating a nursery line, we cannot offer a solid number on how much labor, time and money went into creating this line. It all depends on the farmer's access to land (near or far?), water, renting costs, utility costs. Time wise, each plant took only about 3 minutes to pot up. Ordering these bareroot trees takes about 25 minutes.  Each pot costs $1.50. Plant costs vary by variety. The planning and coordination to drive to EarthDance (our nursery site) is a unique situation that most likely won't apply to most farmers.
There is not a lot of data for shipping plants in a five gallon container outside of the tractor trailer scale loads received at big box stores like Home Depot. Shipping a medium to large sized plant is cost prohibitive, which is why we chose to grow them bareroot and mature them to sell to local nurseries in the fall. Maturing these trees addresses a common disappointment customers experience when they order a fruit tree, only to receive a tiny bareroot plant in the mail. It's not as satisfying of an experience to grow a tiny twig vs a more mature plant. When we can grow them and sell them at a desirable size, we are creating a value-added fruit tree that's hard to find (actually, nearly impossible!) in the St. Louis region. We are helping to move the needle to what people expect when they want to plant fruit trees. 
As for the future, we have decided to sell another round of our uncommon fruits line to Greenscape Gardens of the same varieties.  We will not be approaching the other nurseries we cited in this grant. We have a longstanding relationship with Greenscape Gardens and we want to be fair to them until we can develop a critical mass. We want to continue to prove this concept can sell out quickly and create a product its customers can count on each fall. When we can increase our supply and perhaps even hire a person to manage our nursery, then we will be ready to approach other local nurseries. Greenscape Gardens has agreed via an email confirmation that they will be carrying our line in the fall of 2021.
The plants in our 2021 nursery line (to be sold at Greenscape in the fall) are labeled with care information for locally adapted plants. Each plant was sold with a Custom Foodscaping label that included: the plant's common name, scientific name, planting instructions, care instructions, short description, zone and our name, Custom Foodscaping.
You can see an example here: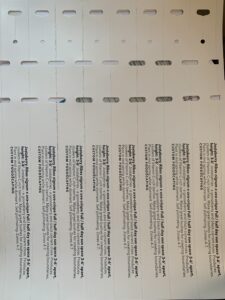 We learned a big lesson about printing labels and the significant labor that goes into printing each label. If farmers are wanting to print their own labels, we highly recommend using a computer with Microsoft Word. It is nearly impossible to print labels on a Mac -- we placed dozens of calls to label manufacturers and it was quite a time suck trying to configure labels on a Mac. We wish we would have included the purchase of a Windows computer in our budget as we had to buy a $300 laptop out of pocket for the 2021 season. We used these tags from Gemplers.
VIDEOS
On our website we have a new page with the videos produced from this grant. We're calling it "Stars of the Foodscape." As a way to help educate the public on the locally-adapted plants covered in this grant, each video covers the care instructions and advantages of each plant. It is now published on You Tube. We have been promoting the videos on our social media channels each week, also tagging and giving credit to the SARE program on Facebook. The videos have received a lot of enthusiasm from our audience!
You can view them on You Tube by clicking this link. The videos are also posted on our new publication, The Foodscaper. 
FOODSCAPING DAY ASSESSMENT
Foodscaping Day in June 2020 was a great success! Participants filled out an assessment to evaluate knowledge before and after the workshop. The results reflected a significant increase in knowledge and skills. 
Participants evaluated their knowledge of the statements in the assessment on a scale of 1-10 (1 - Not true at all, 5 - Somewhat true, 10 - Totally accurate). 
We measured the percentage of increased knowledge with this formula: (statement score after - statement score before) / statement score before. Then we added all the total percentages and divided them by the total number of participants (18) to reach an average percentage for each statement.
Here are the results: 
The participants' ability to easily identify five native and / or exotic (or locally adapted) fruiting plants saw a 134% increase.
The participants' understanding of the role and importance of native and adapted plants in an ecosystem increased by nearly half (45% increase). 
The participants' confidence in their propagation skills increased by 157%. 
The participants' confidence in their ability to create an edible landscape increased by 152%.
The participants' understanding the value of growing with organic farming practices instead of conventional farming practices increased by 37%.
These results show that we achieved one of the primary goals of this grant: to create public awareness and education on the benefits and caretaking process of locally adapted nativars and exotics. Foodscaping Day created more interest and demand for these species among St. Louis gardeners and homeowners. 
The event had a waiting list and registration was full within two days of announcing it online, despite having to reschedule it due to Covid. We did have a lot of last minute cancellations due to Covid precautions and illnesses.
We received a lot of positive comments in person from Foodscaping Day participants.
We will have more success stories to report this fall when we receive feedback from Greenscape Gardens.
Participation Summary
2
Farmers participating in research
Educational & Outreach Activities
7
Curricula, factsheets or educational tools
Participation Summary:
Education/outreach description:
Foodscaping Day Flyer (This is the flyer we used to promote Foodscaping Day on Facebook and Instagram.)
We created a promotional flyer and posted it on Custom Foodscaping's Instagram page. Before EarthDance could post it on their page, the event was already full. We had to cap the attendance at 30 people due to Covid restrictions, but the response demonstrated a strong interest in foodscaping. 18 people showed up -- there were a lot of last minute Covid cancellations unfortunately. 
We have also documented the process of beginning the nursery at EarthDance through social media posts on Instagram and Facebook.
During the event, EarthDance posted photos of participants and facts learned on Instagram and Facebook. Custom Foodscaping did the same, sharing a "Fun Facts learned at Foodscaping Day" post including a video of Matt teaching about Elderberries. The video was viewed by 444 people. 
Here are photos of Foodscaping Day - one of the farm walk tour and another of the grafting demonstration. Also pictured is the greenhouse at EarthDance where Custom Foodscaping has been growing its new line. 
Learning Outcomes
18
Farmers reported changes in knowledge, attitudes, skills and/or awareness as a result of their participation
Lessons Learned:
We have received a lot of enthusiastic support from our efforts to promote foodscaping skills and native and locally-adapted exotics. Foodscaping Day registration filled up within days, demonstrating a hunger in the St. Louis region for this knowledge. We have observed that Covid has been a positive push for people inspired to learn how to grow their own food at home.
As a growing small business, Custom Foodcaping is excited to extend its enterprise and meet a significant need in the nursery retail market. Creating a market for these cultivars supports our vision of creating access to the fruiting plants that thrive in our zone. Growing them locally eliminates the wasteful shipping and carbon costs. We consider this project a big success thus far!
We are excited about creating a dynamic foodscaping culture in St. Louis. With that goal comes the barrier of public awareness of these plants and the practices of edible landscaping. We have a lot of work to do to help the public rethink their lawns as spaces for a foodscape.  This grant affords us a big step in the right direction as we work to build public awareness and education through workshops and build the capacity to grow these cultivars locally as part of our nursery operation. 
Project Outcomes
18
New working collaborations
Success stories:
CREATED A MARKET
The big success of this project is that we created a market for locally-adapted fruiting trees. With Greenscape Gardens as our first customer and the excitement they shared for our offerings, we see a bright future for nativars and locally-adapted exotic fruit trees in St. Louis.
The three other nurseries all stated that they did not carry these seven varieties but were open to follow up when the CF line was ready. There was openness and interest for the future.
PRESENTED AT SARE CONFERENCE!
We were excited to share our process of grant writing at the SARE online grant writing session where we presented a slideshow on our project. You can view our slideshow here. The SARE Farmer Rancher Grant Writing Workshop was on Tuesday, October 13, 2020.  This program is a collaboration with University of Missouri Extension's Debi Kelly and the Innovative Small Farmer's Outreach Program (ISFOP) of Lincoln University Cooperative Extension. It is a great resource for farmers considering submitting a SARE grant! 
Recommendations:
For future study...
We could see ourselves reporting on the growth of the market we are creating for fruiting natives and exotics in the next couple years to demonstrate how the SARE grant helped support a successful new offering for home gardeners. 
How the SARE grant helped support our goals at Custom Foodscaping
Helped us create our first nursery line to sell at Greenscape Gardens

Develop educational videos that demonstrate and celebrate the advantages of planting exotics + nativars

Supported our long term vision for cultural change - suburban and urban lawns being transformed into foodscapes! 
Future Foodscaping Promotion
Our newest project we are very excited about is the launch of a new foodscaping trade publication, The Foodscaper. This is an online publication for foodscaping professionals as well as anyone interested in growing ecological edible landscapes. We are highlighting the expertise of the leaders in the foodscaping industry as well as within our own staff. You can check out The Foodscaper at https://www.thefoodscaper.com/. 
In addition, we have an active social media presence where we are posting educational videos and content regularly. This is our biggest outreach tool and we are nearly at 3,000 followers. We have started doing regular "office hours" Instagram videos in which followers can send us their foodscaping questions and our team answers a handful at a time. We have them stored under our Instagram highlights. We have also posted the grant videos on customfoodscaping.com and thefoodscaper.com so that we can reach an even wider audience.
Future Custom Foodscaping Line Promotion
Because we are going to continue to prove this concept at Greenscape Gardens in the fall of 2021, we are not yet anticipating how we will promote the line in the future. Staffing is a limitation for the growth of the line. It would require someone with advanced grafting skills and with a strong horticultural background, and would have to make good business sense for us. So for now, developing the line is not a top priority for our business. As we continue to grow, we could see promoting the line by using our sales history with Greenscape Gardens as data to show the demand for these uncommon foodscaping plants in the St. Louis region. We foresee social media - primarily Instagram - being an impactful way to get the word out about the line should we sell them at other nurseries. Workshops at the nurseries may also draw in more business while achieving our goal of increasing knowledge about these plants in the region.  
Information Products